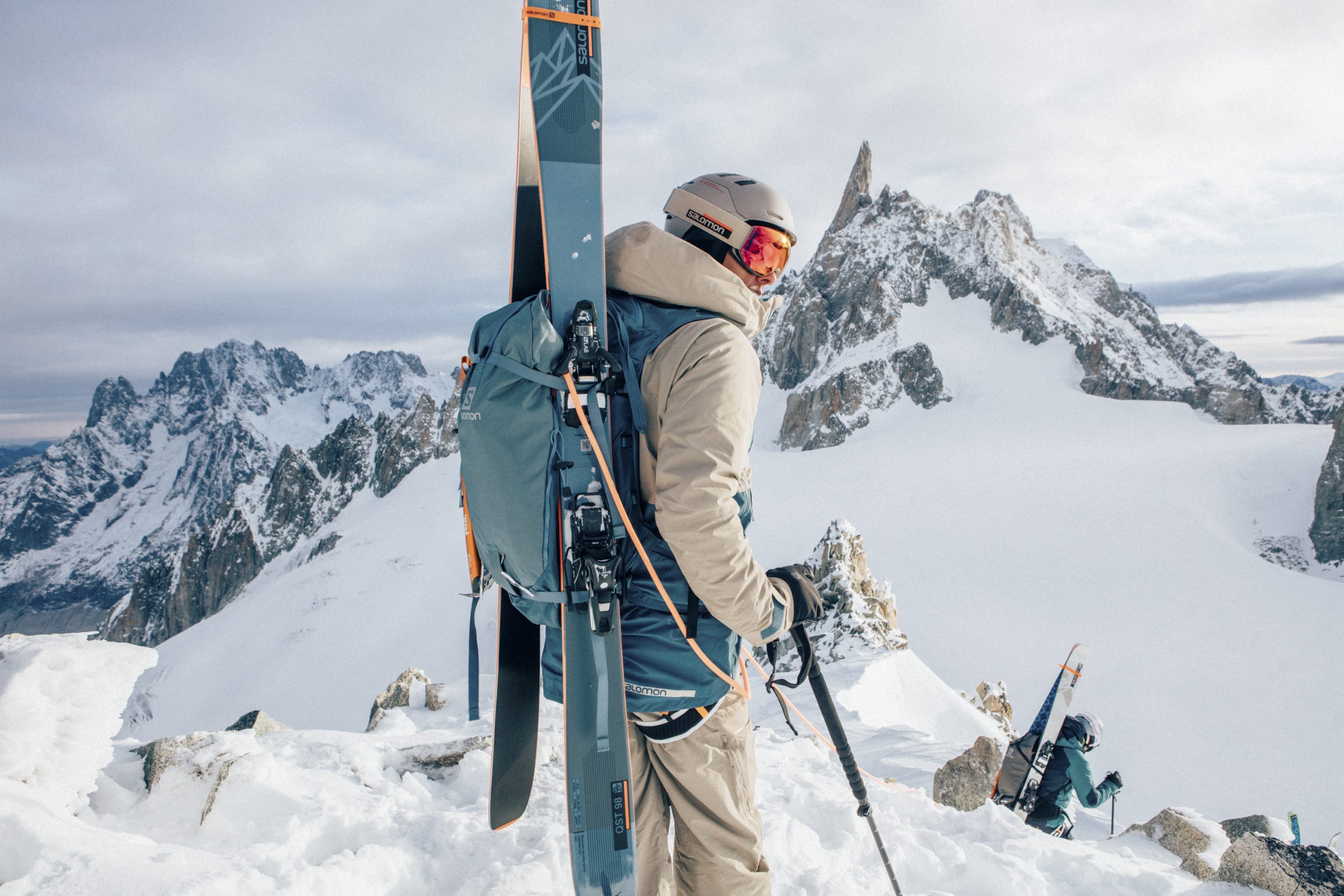 Salomon 2022/23 Snow Goggles Preview
Retail Buyers Guide: Snow Goggles 2022/23 Retail Buyer's Guide
Brand: Salomon
Interviewee: Chris Bellamy, Salomon Protective Marketing
What are the major trends in the snow goggles market?
There are a few major trends which have dominated in recent years and continue to do so. Lens Interchangeability (incl magnetic), High Contrast Lenses, Photochromic Lenses and Field of Vision.
We can also see a big growth in sustainability in the upcoming years as well as Fit/Sizes/Comfort, Customization and Collaborations.
Regarding style – cylindrical lenses are popular at the moment and semi framed goggles are preferred
What do customers expect from their goggles?
Most customers list Anti-Fog, Fit/Comfort, and Style as their main priorities.
What were your biggest sellers in FW21/22? Why?
The Salomon S/View goggle was our best seller in FW21/22. It has a progressive cylindrical semi frame design, at a price point less than 100 euros, which makes this a very desirable combination. In addition it features famous Salomon's first class comfort and lens SIGMA and PhotoChromic lens technology.
Our next best seller was the new Radium Pro goggle. With it's interchangeable lens, maximized field of vision, and outstanding comfort , alongside the SIGMA lens, it is a highly desirable product
Where do you expect the biggest growth for FW22/23?
We expect to see significant growth in our higher priced products (>120 Euros), particularly our new Radium Prime goggle with magnetic lens
How are you segmenting your snow goggles and what are the main price points in each segment?
We have our goggles divided in three segments.
⦁ Spherical – targeted at technical performance focused consumers
⦁ Cylindrical – targeted at more modern, progressive and style-oriented consumers
⦁ Access – our most affordable goggles for those who just want something that works
What are the most important technological features in your FW22/23 collection?
In FW22 we will introduce two new technologies The SIGMAPhoto Lens and the Magnetic Interchangneable Lens. The SIGMAPhoto Lenses are the most advanced lenses on the market and only offered by one other brand. They offer enhanced contrast, reduced eye fatigue, as well as adjusting to the brightness of the conditions. They are the holy grail of lenses.
The Magnetic Interchangeable Lens introduced on our new Radium Prime goggle, offers the most convenient lens change possible. After 2 years of development with athletes like Stan Rey, Chris Reubens, and Drew Peterson – we have found the perfect balance of convenience and security. Using 16 magnets it can be removed while wearing gloves, but wont detach in a crash or by accident. Simple, but perfectly executed
What is new in terms of construction and materials in your FW22/23 goggle collection?
Salomon leads the market with the materials and perceived quality of our goggles. All of our frames are made from flexible TPU, only possible due to using the same advanced techniques we use on our ski boots. We are also introducing more sustainable materials, such as recycled TPU in the frame, recycled ventilation mesh, recycled strap materials, and bio-based nylons
What colours and designs are you featuring in your FW22/23 collection? Any standout collaborations?
For FW22 we have special editions aligned with key Salomon initiatives. We have a full Olympics collection for Beijing which will be featured on all our athletes as well as innovative lightweight ski touring goggle – the S/View MTN – to match the new Salomon MTN Helmet, Skis, Poles, and Apparel. This is the lightest fully ventilated goggle on the market that features a photochromic lens and spare clear lens, making it the perfect goggle for the booming backcountry and ski touring market
How are you helping retailers to sell this category?
We offer a full range of PoP materials highlighting Salomon's key products and explaining and demonstrating our technologies.
We have a selection of Goggle Holders, Stands, and slat walls, lens Selectors, Visuals, Banners and Lightframes. To top that off we've introduced a Custom ID Fit and SIGMA Lens Technology Demo Tools. This allows the customers to experience the benefit of high contrast lenses
Did the restrictions at resorts last year impact the sell-through of the FW21/22 collection? If so, how have you addressed this issue?
Yes – this had a huge impact, particularly on more last minute or resort based product purchases like ski goggles.
We have addressed this issue with as much support as possible, with stock management by having high carry over rates in the new range and also helping dealers with cashflow
Have you had problems with the supply of FW21/22 product? If so, how have you addressed this issue, and will this result in changes to your FW22/23 sell-in?
Luckily we did not have any problems with our supply chain
The Radium Prime selling at 220 – 280 Euros.This is the most technologically advanced goggles Salomon ever made. A magnetic lens-changing system makes it easy to switch lenses, while the oversized, contrast enhancing, and light-changing SIGMAPhoto lens ensures perfect vision in all light conditions. The execution of Radium prime is perfect! It has 14% more vertical field of vision than the Smith I/O Mag, Antifog+ to keep the fog at bay, Custom ID Fit to adapt to the face of the customer, it is compatible with glasses, has a Frameless design and 50mm wider straps
The S/View MTN selling at 100 Euros. This goggle is designed to accompany you in the backcountry on the toughest ascent and steepest descents. These minimalistic goggles are the lightest fully ventilated pair on the market. Featuring a modern frame and Photochromic lens, they flawlessly adapt to varying light conditions. At 87g and with a compact design, these are meant to stay in your backpack for most of your day. However when you need them, the photochromic lens, full frame ventilation and optimized field of view will give you the best possible vision for the descent. This goggle is also available with a clear spare lens, for those night time resort tourers  and the alpine sunrise starts
The Aksium 2.0 selling at  50 – 90 Euros. This goggle is the best value goggle on the market. Sporting a fresh look, Salomon's fully revamped Aksium 2.0 and now delivers all the fit and protection you'll need at the reasonable price. Featuring a flexible TPU frame, two layers of foam, an OTG friendly design. Available in medium and small sizes – this goggle has the best comfort of any entry level goggle. With an optimized field of vision and a  photochromic lens, you can get high quality vision, at an affordable price point.