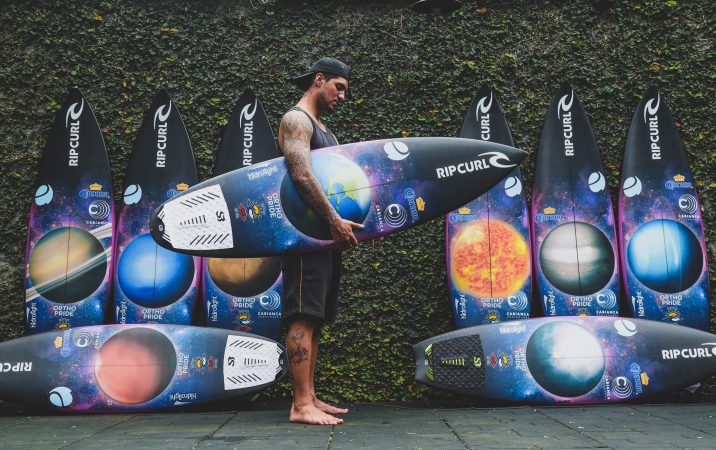 Cabianca 2023 Surfboards Preview
Retail Buyers Guide: Surfboards 2023 Retail Buyer's Guide
Brand: Cabianca Surfboards
Interviewee: Johnny Cabianca, Shaper and Owner
Looking back to 2022, the past year could be tagged as tricky: weakened spending power, overstocks in some segments, shortages for others… What was the '22 bottom line for your brand and what do you foresee for '23?
2022 was by far our best year. We were really busy and the hard work of building a team to meet the higher demand in 2020 and 2021 was already done. Everything went much smoother and we got more professional in all areas.
Which category(ies) is(are) performing most within your range: entry-level, high-perf, midlengths & retro crafts, funboards, longboards?
No change for us.. high performance boards are our best sellers.
What used to be considered as alternative crafts (twins, midlengths) are the new normal and overtook the classic performance shortboard sales. Does this mean the fun factor is more important than the actual performance? If we were to quote Phil Edwards: "The best surfer out there is the one having the most fun."
We have all types of surfboards in our range. Depending on the country we are selling to, different kind of boards / models are selling better. For example, we sell many longboards to Korea, while we sell only high performance boards to Japan, while in Israel summer toys are popular. But as we said and also see at our local beach, in most places with good waves and good surfers, high performance boards are standard.
A few years back, high-end techy EPS/carbon surfboards were the hype. But eventually the masses stick to an old-fashioned PU board. Isn't the lack of innovation a threat for the development of the surfboard industry?
We feel EPS/Epoxy has never taken a big piece of the cake. The standard has always been PU/Polyester. Even though EPS/Epoxy also only makes a small percentage of our production, we still feel it's important to offer it. Hardly any factory builds custom EPS/Epoxy boards in Europe, and especially athletes love them for smaller waves. We feel there is a lot of innovation in new materials. For example the BMB (biomass balance method) EPS from BASF – easy to integrate in the production, way more sustainable and no compromise in performance. Or other composites like polypropylene blanks, bringing new dynamic into the core of the boards. We are constantly experimenting with new ways to build surfboards.
Nowadays e-com is everything but negligible in the surfboard market: how do you deal with this channel (D2C, distribution partners, etc.)?
As all boards we build are pretty much custom made, we still talk in an old school way to people by email, on the phone or here at the factory – and sell to shops.
Best Sellers
DFK 2.0 The board Gabriel Medina surfs 90% of the time. Just like his surfing, Gabriel's go-to board is evolving constantly. Tuned to excel in quality waves, the DFK 2.0 will allow you to hit the lip with more power than ever before, while maintaining smooth flow and momentum down the line.
MULEKE our grom model, tested by many promising young talents, is based upon the DFK, re-dimensioned and adapted for surfers weighing less than 40kg.
SEMI-GUN: a new model in 2023, without a name yet – as many athletes and clients asked for a board which excels in more extreme conditions, we worked on this model. Despite being a semi-gun, Johnny designed a board that is easy to control and move: more new soon on our website!