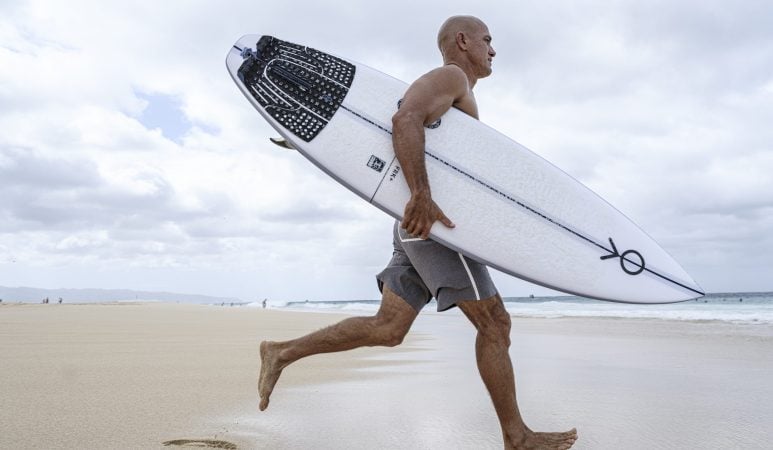 Firewire 2023 Surfboards Preview
Retail Buyers Guide: Surfboards 2023 Retail Buyer's Guide
Brand: Firewire
Interviewee: N/A
Looking back to 2022, the past year could be tagged as tricky: weakened spending power, overstocks in some segments, shortages for others… What was the '22 bottom line for your brand and what do you foresee for '23?
2022 was a mixed bag. On the one hand our EU and UK businesses were affected by the twin impacts of the ongoing conflict in Ukraine as well as concerns around inflation, and Australia, while holding its own, was soft when compared to prior years. The U.S. market grew significantly though and carried a strong result for the year for Firewire. Not our most profitable ever, but very good. We expect a fairly similar 23′, with the possibility of additional upside if the US continues on its current positive trajectory. The general ' doom and gloom ' global economic forecast seems like it may not be as problematic as previously forecasted.
Which category(ies) is(are) performing most within your range: entry-level, high-perf, midlengths & retro crafts, funboards, longboards?
For us all the ranges are doing well, and that means high performance, midlengths and longboards out of the categories you mention. Midlengths continue to be a very real segment in the market, and not a trend as some had wondered several years ago when they became more visible in lineups everywhere. Back at the time for us this was experienced with the success of Rob Machado's Seaside and Beyond model, and today it's his Sunday model, along with Harley Ingleyby's Mid 6 model, and Ben Skinner's OVA model, among others.
What used to be considered as alternative crafts (twins, midlengths) are the new normal and overtook the classic performance shortboard sales. Does this mean the fun factor is more important than the actual performance? If we were to quote Phil Edwards: "The best surfer out there is the one having the most fun."
Fun Factor is more important than overall performance yes, because fun factor is really just a way to reference overall performance for very talented surfers – talented surfers have fun when their performance is peaking, and that happens on shapes like the FRK, which remains a staple in our line. But to twins and midlengths specifically – yes the fun factor is alive, well, and reaching further into the market than ever before. Our Seaside model with Rob Machado remains a bestseller after many years, and Dan Mann's Sweet Potato has held a very strong position in the market over the past year or more. Surfboards that go fast and catch waves easily are here to stay.
A few years back, high-end techy EPS/carbon surfboards were the hype. But eventually the masses stick to an old-fashioned PU board. Isn't the lack of innovation a threat for the development of the surfboard industry?
The masses don't stick to old fashioned PU, in our case. Our success is built on elevating the surfing experience with material innovations, and today 100% of our production for retail is built under Sustainable Surf's ECOBOARD standard, using EPS foam and Epoxy Bio Resins. For us, innovation is the foundation of our business, and we don't think the surf industry is in any danger of becoming stale, not just because of us, but because of the breadth and depth of surfboard builders around the globe tinkering and experimenting. We're fortunate to get a first look at most material innovations that many of these crafts people are seeking to refine and scale, and during any given month there are always things on our radar that could make big innovative impacts over a two-to-five-year time horizon.
Nowadays e-com is everything but negligible in the surfboard market: how do you deal with this channel (D2C, distribution partners, etc.)?
We're very focused on meeting the surfboard customer where they're at, whether a physical retail location or a digital environment, and the primary way that manifests is in the way we drive traffic from social media. We create landing pages that clearly offer different routes to purchase per region, with clear links to physical surf shops and online stores. In social captions though, we're very deliberate about mentioning surf shop environments whenever fitting, because surf shops are the cornerstone of our surfing culture, offering education and excitement for surfers of all styles and skill levels.
Best Sellers
The FRK Plus is a classic squash tail, high performance short board, refined and calibrated over the past three years with Kelly Slater, Brodi Sale, Betty Lou Sakura Johnson, and others. This new squash version of the FRK is meant to be ridden slightly shorter than the original FRK round tail. It has all the on-wave benefits of the original FRK with a touch more release through turns that comes from the squash tail and minor adjustments to how the concave and fin placements relate to the increased surface area of the squash when compared to a round tail.
The Mid 6 range has been designed to give maximum mid-length performance in all wave types. The fine, round pin tail, curvy plan shape, smooth rocker, with a bit of nose flip is equally comfortable turning deep in the pocket or long open-face arcs. High nose rails through to mid tucked and low hard in the tail, foiled from the center for a nice balance of drive through sections while maintaining hold through tight turning arcs. While the Mid 6 fires in everyday surf, it is tuned enough to handle some pretty serious surf comfortably.
Small wave grovel, fast and fun. The Sweet Potato is probably the widest, flattest rockered, most thick surfboard you will ever surf. You can now ride a shortboard in lineups traditionally ruled by long boarders. Keep it in your trunk so that you can always surf it in the junk, because from buttery floaters to no-paddle takeoffs, our new Sweet Potato is a favorite small wave surfboard for our entire team, as well as our friends and employees at Firewire. It's high performance but it's definitely a groveler. The Helium Sweet Potato is the absolute most fun you can have in really bad waves.