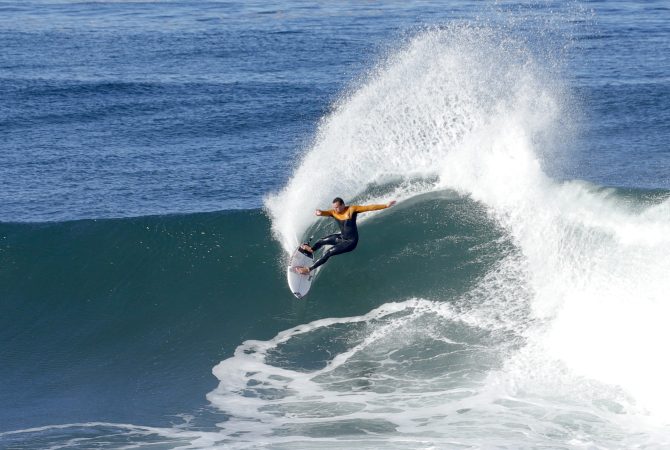 Semente 2023 Surfboards Preview
Retail Buyers Guide: Surfboards 2023 Retail Buyer's Guide
Brand: Semente
Interviewee: Nick Uricchio – Shaper and Co-Owner
Looking back to 2022, the past year could be tagged as tricky: weakened spending power, overstocks in some segments, shortages for others… What was the '22 bottom line for your brand and what do you foresee for '23?
Yeah, 2022 was definitely a tricky year. There were a lot of different things going on for sure. But 2022 was coming out of the Covid madness for the surfboard industry. At the outbreak of the pandemic, and up until mid-2022 things were booming for the surfboard industry, with production of surfboards at an all-time high. Surfboard builders all lived an amazing period of sales and production during 2020/2021 worldwide. Last year it started to drop off, and we are now seeing the negative effects of the pandemic on our industry. Transportation prices, the rise of material cost, overstocking, and the rising cost of living in general are all playing a part in the drop of surfboard production and sales right now. We at Semente have been very fortunate, I think it hit us pretty  late, in the last months probably, but it has been pretty brutal on the industry in general.  I think it's just part of the ball game, you can't go too far up without having a drop down once in a while and as board builders we all lived the highest times I can remember during the pandemic. For 2023 I foresee a questionable year. With the war in Ukraine and the way things are with prices right now and political instability worldwide it's hard to say what's going to happen. I do hope for the best for my business and all the other surfboard-based businesses. "Surfing" is a huge industry with a lot of clothing and other stuff sold around it, the surfboard is the foundation of our industry. I hope we all get by this year and every year.        
Which category(ies) is(are) performing most within your range: entry-level, high-perf, midlengths & retro crafts, funboards, longboards?
We sell a lot of beginner's boards and high-performance because of the team riders we have behind us. The market for Midlengths, Retros and Twinnies has grown a lot this year and Funboards and Longboards still fill a part of our production. Landlocked city waves and wave gardens have opened up an interesting new market. High performance kids boards have also started to occupy a lot of our time recently, there is a swarm of kids on the surf scene in Portugal right now. All in all I am pretty stoked that we are catering to a pretty well rounded market.  
What used to be considered as alternative crafts (twins, midlengths) are the new normal and overtook the classic performance shortboard sales. Does this mean the fun factor is more important than the actual performance? If we were to quote Phil Edwards: "The best surfer out there is the one having the most fun."
I don't know if alternative crafts have overtaken the shortboard sales, or that the fun factor is more important. I do believe that in general there are a lot more people surfing, We sell a lot of twins and midlenghts and funboards to beginners, people that are passing through and surfers who are a little older. Surfing is a fun beautiful sport and anyone who has surfed will agree. So aside from the seasoned surfer that can ride the "classic performance shortboard" we have a huge group of surfers riding alternative crafts.  But I don't think the fun factor is more important than the actual performance, as all are steps forward in board design stem from the performance side.. "The best surfer out there is the one having the most fun." I totally agree with Phil Edwards. As a lot of us have seen the best surfer in the water is not always the guy having the best time. 
A few years back, high-end techy EPS/carbon surfboards were the hype. But eventually the masses stick to an old-fashioned PU board. Isn't the lack of innovation a threat for the development of the surfboard industry?
I don't think that statement is true. When Clark Foam shut down there was a major flux to EPS because of the lack of PU blanks in America. So there was a big hype about the EPS taking over at the time and a lot of focus on EPS. When the PU blank supply stabilized the talk and hype died down. The spotlight was turned off but development continued. I think there is a huge development going on right now within the "high end techy EPS/carbon surfboard" market. There are all kinds of combinations of very technical materials for super-resistance and super-light boards in the making. I don't think the hype is gone, all major board labels are evolving EPS Epoxy models with a great visual look and high performance level. I don't think there is a  lack of innovation, and actually feel there has been a lot of interest and initiatives in our industry recently. There has been huge innovation on design, finishing , and  use of new more sustainable materials, people are looking for more stuff outside of the box , and in general we are in a creative healthy period.     
Nowadays e-com is everything but negligible in the surfboard market: how do you deal with this channel (D2C, distribution partners, etc.)?
Here at Semente our company was built on trust and maintaining a strong personal relationship with our clients throughout the years. The importance of keeping that personal contact is number one on our list. Times have changed and e-com is the new reality and an important factor in all markets. Sales online from our site or third-party sites are on the rise. We are working with a combination of distribution partners and D2C channels to reach our clients. Communication via facebook, Instagram or our site and platforms from our partners all play a role in the promotion of our surfboards. Solid relationships with shops in Portugal and throughout Europe, and respecting individual territories is important for a healthy market. Personally, I have always been a hands on guy, not the kind of guy that sits at home and orders from Amazon. I like to do the shop thing and I think it's cool people like to do that. Surfboards for me are something that I have to physically look at and feel. I am Hopeful that the surfboard industry we'll keep the hands-on element  where people are still holding the board, feeling the rails and checking the rocker in proper surf shops.  
Best Sellers

The Stray was more then a year in the making, first tested with team riders and passed on to a variety of surfers all with varied levels of surfing, weight and age. The end result is a super fast and responsive modern shortboard for small to medium wave size. The Stray is a super well-balanced board in both thickness and rocker, low entry rocker and a single concave running into a kick tail combine for constant speed and quick pivot for fast top to bottom surfing. The plane shape is one of the keys to the Strays success with the hip of the board running pretty full behind the wide point and a more paralleled drawn tail in the last 12". The fin positioning is also different than the majority of our models to enhance its pivot and tighten the turning arc. We run Swallow and Squash tails on this model and it is available in PU and Epoxy. If you are looking to spice up your small to medium wave performance this will be your go to. The best dogs are always Strays!
Dimensions:
Length: 5'5" to 5'11"
Width: 18 3/8" to 19"
Thickness: 2 1/8" to 2 3/8"

The D-2 model is a mix of the past and present, designed to capture the true feeling of twin fin surfing. The plane shape, rocker and thickness distribution all work together for a balanced board that is functional in all types of waves. We run a concave bottom on this model with a slot channel through the fin area with modern rails. All the components of this board guarantee drive and projection through all maneuvers with no loss of speed. The D-2 has been ridden and tested by our team riders and close friends and the feedback has been amazing. Definitely a board to add to your quiver for the fun days or simply for a bit of variety in your surfing. Designed by in house shaper Daniel Bartoli. Available in PU and EPS construction. Optional wing.
Length: 5'0" to 5'10"
Width: 18 3/8" to 20 3/4"
Thickness: 2 1/4" to 2 3/4"

The Hitch is a project that Nick Uricchio has been playing around with for a while now. The rocker, concave and thickness distribution are very similar to the "Catcher" which is one of our most popular and versatile models.
The main difference in the Hitch is the plane shape (outline) as Nick designed this to be a three Fin. The wide point as in the Catcher is placed forward of the center, but the draw in the back of the board is tighter and more suitable for a three-fin set up. Semente's family member Miguel Fortes played a major role in developing this model. Speed, drive and stability in the tube are strong features of this board.
We suggest round or swallow tails. Great model for older surfers. Surf it from 0.5m- 3.0m size waves.
Length: 5'10" to 6'4"
Width: 18 3/8" to 20"
Thickness: 2 5/16'' to 2 5/8"