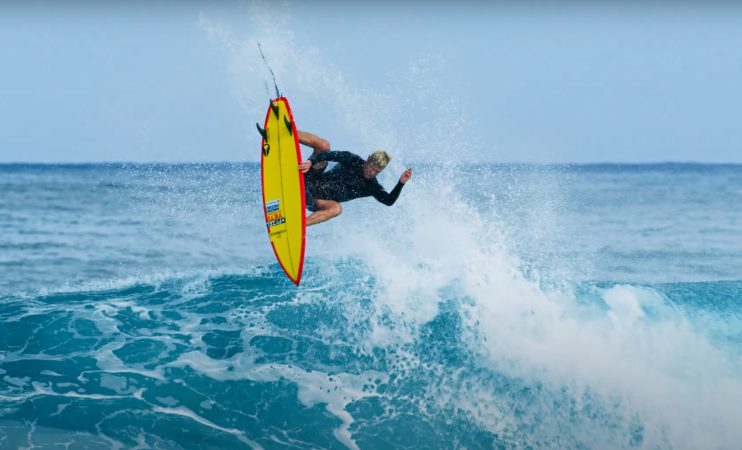 Pyzel 2023 Surfboards Preview
Retail Buyers Guide: Surfboards 2023 Retail Buyer's Guide
Brand: Pyzel
Interviewee: Rémi Chaussemiche, Marketing Europe
Looking back to 2022, the past year could be tagged as tricky: weakened spending power, overstocks in some segments, shortages for others… What was the '22 bottom line for your brand and what do you foresee for '23?
2022 has been a decent year for Pyzel in term of sell in. But as you mentioned the consumption hasn't been as high as everybody expected. As the result many retailers are facing over stocks which hit the pre orders on 2023. In my opinion it is very characteristic of a post crazy growth in 2021. After the sanitary crisis, the surfboards'market went crazy, some ne surfers were buying boards, existing surfers were renewing their quiver and on the top of it the supply was very limited. So, the whole market purchased lot of stock for 2022, which appeared way more challenging due to geopolitical / economic instability and a very poor waves season. That said, I feel confident for the future, because the surfing population keeps growing and surfers need boards. 2023 will be tough for sure, as we will have to wait for the retailers to sell their stock before placing new orders but, in my opinion, they will clear it through the season ad come back to regular preorder for 2024 for a steadier growth. 
Which category(ies) is(are) performing most within your range: entry-level, high-perf, midlengths & retro crafts, funboards, longboards?
Pyzel Surfboards is really known for its performance Shortboards. We do have some a mi length (Mid length crisis) and several twins (Wild Cat, Happy Twin and Astro Fish) that are selling good but our best sellers remains performance shortboards. What used to be considered as alternative crafts (twins, midlengths) are the new normal and overtook the classic performance shortboard sales.
Does this mean the fun factor is more important than the actual performance?
If we were to quote Phil Edwards: "The best surfer out there is the one having the most fun." Having fun is key in surfing, but not all the surfers have fun on alternative crafts. Plenty of surfers have fun on performance shortboards too. So at Pyzel we do have fun boards like twin fins (Wild Cat, Happy Twin and Astro Fish) and midlength (MLC) and we each time ad a performance edge to it so those fun boards ca also shred. We call them the fun-formance. In the same category we have all the grovellers and the fun small waves boards. We just released a new one, the White Tiger developed in collaboration with John John Florence which is a super fun board that is fast and maneuverable and brings lot of fun in small conditions. Our best-selling models remains the performance shortboards and Daily drivers. The reason for this is Pyzel has developed a full range of performance shortboard that remains user friendly for average surfers, most of our models features a good paddling power which is key for most of the surfers. Indeed, to have fun you need to catch waves. In the summer it will be more about our daily drivers and for the autumn it will be more about our performance shortboards. We Just released a new daily driver, The Red Tiger, which is basically a High performance version of the White Tiger. It goes fast, it turns well and has a lot of pop. We already have a serious demand on this model which will fits perfectly the European needs. A few years back, high-end techy EPS/carbon surfboards were the hype. But eventually the masses stick to an old-fashioned PU board.
Isn't the lack of innovation a threat for the development of the surfboard industry?
EPS and carbon surfboards keep seducing more surfers but PU remain strong. To me it is also explained by the price EPS are more expansive and carbon boards are nearly double the price of PU board so PU remains more accessible. Recently all the board prices have increased and PU is the most competitive. I don't think there is a lack of innovation, I just think PU present a better ratio Price / performance at the moment. Everyone keeps innovating, but it has a cost and not every surfer are keen to pay more a new material.
Nowadays e-com is everything but negligible in the surfboard market: how do you deal with this channel (D2C, distribution partners, etc.)?
Yes E-com is important. We do D2C but the idea is to keep the price policy so we don't compete unfairly with our retailers. Also, we make sure to redirect final client to our retailers if they have the board they want. Last but not least we make sure we prioritize our retailers on the orders delivery.
Best Sellers
Silky smooth, even in junk waves, and possibly our fastest board yet, The Red Tiger is John John Florence's new High Performance Shortboard unlike anything we have released in the past.  It is the ultimate performance machine for medium sized, slower, weaker waves, based on John's simple guidance -" make it Fast and Fun". The idea for this board was hatched when John began riding some different "fun" boards during some breaks from competing.  By far his favorite in the last year has been our new flat rockered, Funformance board, the White Tiger (5'6''), and he asked me to turn that design into something he could take back on tour to ride when the surf was less than pumping, or on the weaker side.
The White Tiger is the latest offering in our Funformance category – a fun, stubby little board designed for average/below average waves. It gets up and goes easily, flies through the weakest sections, but still lets you smash the lip and boost airs along the way.
The Wildcat channel bottom twin is the second offering under our Velocity Project label, which we have been testing and refining with our team riders and friends over the past 2 years and it's finally ready for everyone to enjoy. Inspired by beautiful twin-fin designs of the past, built with my curves and contours. The boards look and feel timeless, yet allow the type of modern performance that we strive to bring to all our boards.