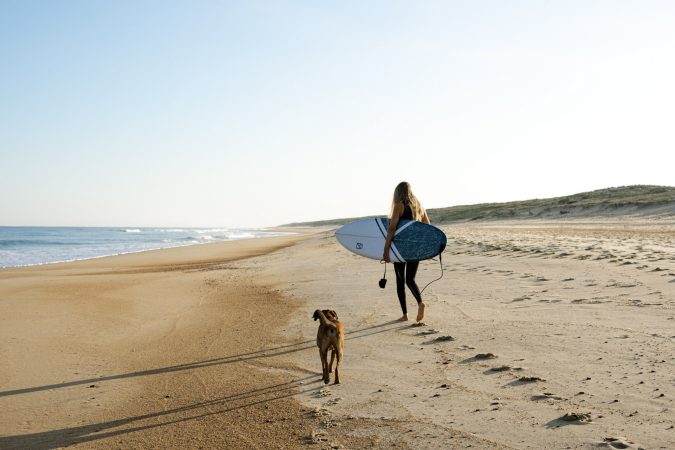 Kanoa 2023 Surfboards Preview
Retail Buyers Guide: Surfboards 2023 Retail Buyer's Guide
Brand: Kanoa
Interviewee: Thilo von Osterhausen, Founder & Product Development and Andreas Jügelt, General Manager
Looking back to 2022, the past year could be tagged as tricky: weakened spending power, overstocks in some segments, shortages for others… What was the '22 bottom line for your brand and what do you foresee for '23?
While we can confirm the above challenges to some extent, we still had the most successful year in our young brand's history, with solid 2-digit growth. In 2023, we plan to expand further with our product ranges, entering new markets, refocusing our marketing on supporting athletes and using new sales channels, we have validated in the previous years.
Which category(ies) is(are) performing most within your range: entry-level, high-perf, midlengths & retro crafts, funboards, longboards?
Our split between surfboards for the ocean and artificial waves is about 50/50 – specifically, river boards are part of our DNA. Same with performance foamys and hardboards – not counting the B2B rental equipment sales to wave and schools. Currently, apart from river boards, we have been focusing on the entry level and on funboards for our landlocked Central European customer group. But moving more into the French market we are introducing an entire Polyola Eco-Board Collection consisting of a twin fin midlength, a newly designed fish shape and a high-performance shortboard. The 2023 river board collections will also surprise with a couple of innovative features, greatly improving durability.
What used to be considered as alternative crafts (twins, midlengths) are the new normal and overtook the classic performance shortboard sales. Does this mean the fun factor is more important than the actual performance? If we were to quote Phil Edwards: "The best surfer out there is the one having the most fun."
Absolutely, and to add to that, we would say that – for many – the amount of waves you catch per session is as important as the actual performance. With our shaping concept, we focus on helping people increase their wave count, because that's what creates more fun and also progresses your surfing quicker.
A few years back, high-end techy EPS/carbon surfboards were the hype. But eventually the masses stick to an old-fashioned PU board. Isn't the lack of innovation a threat for the development of the surfboard industry?
We believe it's an opportunity for us with our innovations in the composite space and other areas. Apart from our sustainable Honey Roots Technology, all our future collections will incorporate more eco-friendly material from recycled or renewable resources. Those choices strongly affect the future world we are going to live in. So customers are confirming this environmental trend and need for transparent, shorter supply chains more and more. We focus on working more with innovative, local EU suppliers like Polyola eco-foam, use unique aerospace grade fibres to reinforce our boards to increase board lifespans, eco-certified raw materials and much more. We love being innovative, but being a first mover at the forefront of an industry is also a risk as consumers only move so fast when adopting new products, which tend to be as good or better but more expensive. So, yes, unfortunately PU boards are going to stick around for a while, but someone has to make the first move. Timing the market is crucial as consumer sentiments shift towards sustainable products – and KANOA Surfboards has been placing a big bet here for years
now.
Nowadays e-com is everything but negligible in the surfboard market: how do you deal with this channel (D2C, distribution partners, etc.)?
For us, it's actually our biggest channel, aside from standing waves and wave pools, that we supply with boards. We've focused on D2C/e-com from the start, because it allows us a more direct contact with our customers. We offer premium customer service, e.g. through our interactive chat, helping each customer to find the right product for their level and requirements. The direct contact also helps us when improving and developing new products. At the same time, we value our selected retail partners and are planning to further grow our network globally.
Best Sellers
The CREEK 3.0 comes with a range of unique updates this season. First and foremost,
we've worked with Polyola and their first ever Polyurethane blanks based on recycled
materials, which is 100% recyclable. We've added innovative aerospace grade reinforcement material to make the rails and fin boxes more durable. And last but not least added more nose rocker to the shape. This all round river board is the ideal choice for intermediate to advanced riversurfers looking for a performing and reliable all round hardboard. Also available as MOBY CREEK 3.0 with a wider outline.
Evolution in leash design: reliable, light and comfortable. With the unique recycled material composition, the CMP/R sets new standards on all levels and represents one of the most eco-friendly competition leashes on the planet. It features Recycled low drag 5 mm urethane chord, Recycled webbing construction, Stainless steel bearing swivel, Exchangeable chord system, 3D low profile Hyperloop, Ergonomic cuff with honeycomb anti-slip silicone, Low drag rubber rail saver and a 2-year warranty.
Our FOAMY range received a major upgrade this year. Not only did we change the design, but we've added the first ever exchangeable multi system fin box. This means you can exchange a broken fin box easily, or decide whether to use FCS or Futures fins. This light and durable performance softtop river board is the perfect surfboard to start rapid surfing and progress fast. The choice for beginners and up & comers on the CityWave®, Unit or other artificial and natural river waves.