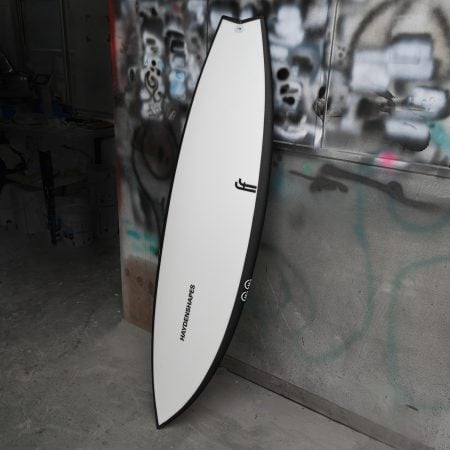 Haydenshapes 2023 Surfboards Preview
Retail Buyers Guide: Surfboards 2023 Retail Buyer's Guide
Brand: Haydenshapes
Interviewee: Hayden Cox, Shaper/ Owner
Looking back to 2022, the past year could be tagged as tricky: weakened spending power, overstocks in some segments, shortages for others… What was the '22 bottom line for your brand and what do you foresee for '23?
Haydenshapes brought back it's global distribution from Surftech in 2022. This meant that we were back in full control of our brand from start to finish and allowed us to control the direction entirely. We have a successful year, finally keeping up with our Custom surfboard production from our Sydney, Australia factory, which supplies about 35-40% of the global boards that we make. By the end of the year, our production line partnership with Cobra in Thailand had also stabilized, and we were able to spec up a lot of new production techniques for our 2023 range of boards. We have entered into 2023 with a much deeper lineup globally, with some exciting new shapes across the performance short board, everyday drive, and mid-length categories.
Which category(ies) is(are) performing most within your range: entry-level, high-perf, midlengths & retro crafts, funboards, longboards?
The Hypto Krypto still remains our strongest performing board model, with continued growth in annual numbers since 2014. Sitting in the "one board quiver" category with an all round performance, this is still our best category. We have seen more brand growth in our performance short board category with the Cohort_I leading the models, and the new pending release of the Micky Clarke signature model – Cohort_II.
What used to be considered as alternative crafts (twins, midlengths) are the new normal and overtook the classic performance shortboard sales. Does this mean the fun factor is more important than the actual performance? If we were to quote Phil Edwards: "The best surfer out there is the one having the most fun."
Agreed, the best board is the one you are enjoying the most and feels most comfortable for the waves you're riding. More and more, consumers are willing to experiment with shape and technology, but our brand also connects with the art application and the blend of new application techniques with the traditional ones such as resin pigments. The feeling of what you were riding and your excitement to ride it is what rates the best.
A few years back, high-end techy EPS/carbon surfboards were the hype. But eventually the masses stick to an old-fashioned PU board. Isn't the lack of innovation a threat for the development of the surfboard industry?
FutureFlex, the original Carbon Rail / EPS technology which paved the way for the industry to adopt new materials into their lineup, is still our number one performing construction with 80% of our sales coming from it. I never designed this technology to replace traditional PU constructions, and I have still always shaped my team both versions. I feel that parts of your quiver are more aligned with either technology, and this is a personal preference on what you like to feel under your feet in what conditions. They have very different flex patterns, and respond differently to your surfing. The durability and lifespan in terms of flex pattern in these constructions allows them to sit in your quiver for longer and last 3-4 time longer than a traditional PU board. This means, surfers may rotate through more PU boards whilst they are still sitting on a FutureFlex board in their quiver. I don't see any threats created by the industry in terms of adopting new technologies, there is always an opportunity to design and develop something better that traditional PU.
Nowadays e-com is everything but negligible in the surfboard market: how do you deal with this channel (D2C, distribution partners, etc.)?
We have global partnerships with our distributors on our DTC channels. It is an important channel to offer the full depth of our brand to our consumers without putting the pressure on our retailers to carry stock that may not do the turns as fast as other models / designs. There is a place for both, and they offer something different to each other, and will co-exist for many years to come.
Best Sellers
The Hypto Krypto FutureFlex is a highly versatile performance everyday shape allowing you to surf anything from 1ft to double overhead. With forward volume and refined tail, you can catch waves easily and still main performance off the tail end of the board. Great for all types of surfers.
A new model for 2023 with a blend of the Hypto Krypto and Holy Grail. Having more entry rocker, longer rail line with a performance nose, this shape will surf like your everyday driver with the speed and flow of the Hypto. Great for a variety of waves, and all types of surfers.
A Micky Clarke signature model, high performance curves with high level of response and speed. Approach this shape with confidence and power and it will respond back to you in all areas of the wave. Great for 2ft to 10ft faced waves in all conditions.