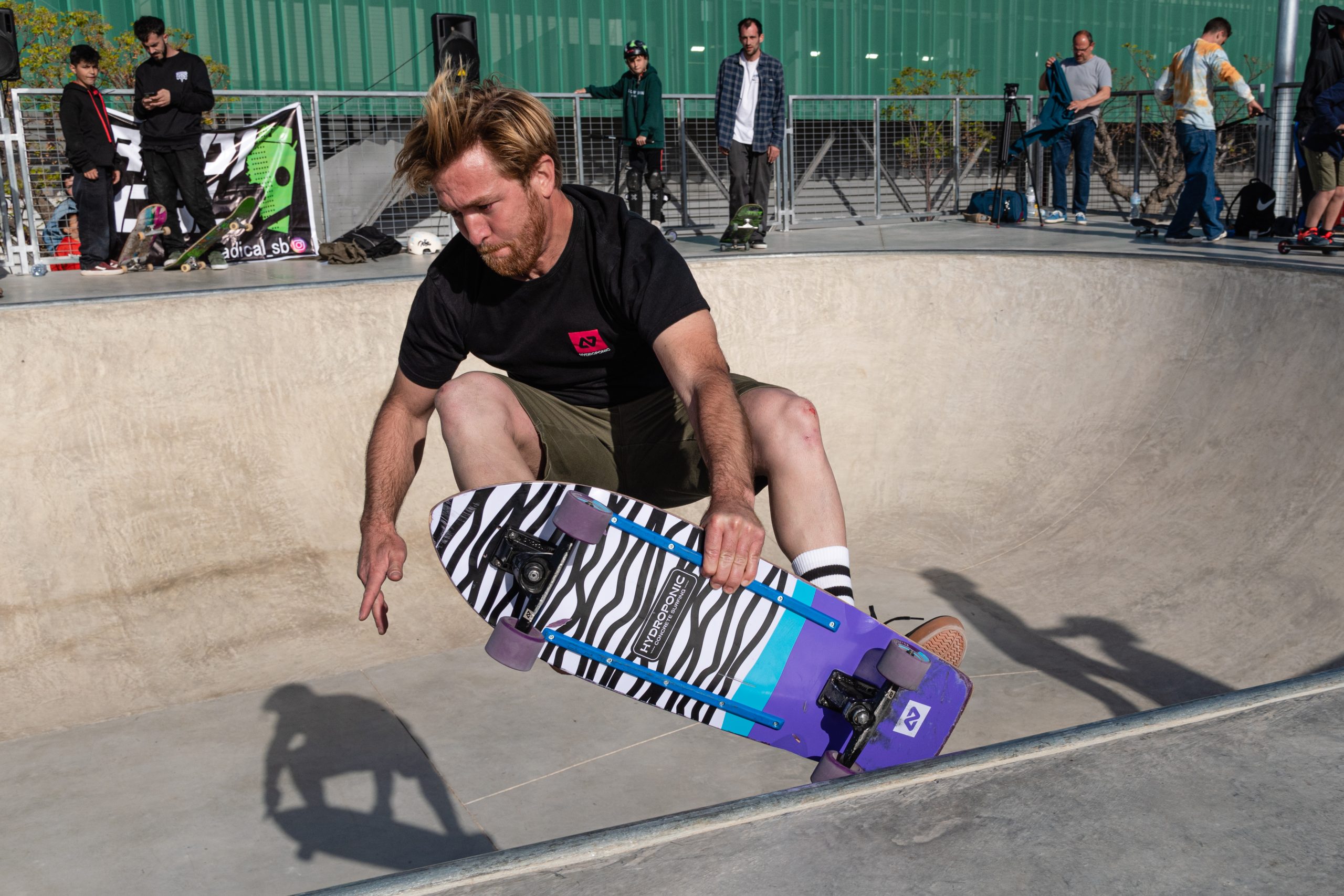 Hydroponics 2023 Surf/Skate Preview
Retail Buyers Guide: Surf/Skate 2023 Retail Buyer's Guide
Brand: Hydroponic
Interviewee: Jordi Quinto, Skate Specialist
SURF SKATE
How Is the surfskate market still going strong?
The Surfskate market remains strong and healthy since its popular introduction a few years ago. Riders of all ages see it as an easier practice to master than traditional street and skatepark skating, and especially older riders and those who have been surfing for a while have embraced it quickly and passionately. The link to surfing is a powerful advert for those who have always felt attracted to skateboarding but hadn't taken action yet.
What are the main products in demand in the segment right now (completes etc)?
Complete surfskates, at the moment, are the first option for the vast majority of riders, since we are still in a time of expansion. Likewise, the Hydroponic Surfskate Gliding trucks are selling very well thanks to their friendly price and user-friendly features.
What are the "stars" right now. Products you couldn't live without?
We are very happy with the performance of our 3 main products related to Surfskate, such as the boards, the trucks and also the wheels of our Buddha Wheels brand.
 What are the main features on your surf skate completes?
Hydroponic surfskates come with boards between 28 and 33 inches in length, so any rider, regardless of weight, height, age or ability, can find a model that suits them. The shapes follow the general aesthetics of surfing, with fishtail or diamondtail boards, as well as other models closer to 80s skateboarding. One of the most outstanding elements of Hydroponic surfskates is that each complete (and each set of trucks) comes with an extra set of bushings of superior hardness, so that all riders can configure their turn to suit them, being able to combine the bushings (cone and barrel) in the most comfortable way for your riding.
What kinds of trucks and wheels do you offer for this segment?
The Hydroponic Surfskate Gliding trucks are extreme reverse kingpin trucks, they incorporate no springs in their functioning system, so they are pretty easy to ride and master without the hassle of maintenance, they offer great stability (especially for new riders) and they weigh less than regular spring trucks, so it's easier to take them to other surfaces (we are thinking of bowls and pools) where too much weight will hamper you. Hydroponic Surfskates come with Buddha Wheels, our own in-house wheel brand, with a fine, quality urethane in duros ranging from 78A to 85A. The new models for SS22 and FW22 are 65 mm x 45 mm & named 'ARENAS' after our team rider and skate guru Sergi Arenas, one of the first guys in Spain to ride surfskates and the responsible for developing most of our products.
Which technical features are you the proudest of?
We are extremely proud of the new batch of decks coming this SS22, with a deeper concave that helps the riders position their feet for vertical maneuvers, and also the different possibilities of wheel base that they provide. Our decks have been designed in-house after listening to the tips and recommendations our surf and skate riders & friends have told us for the last few years.
What are you doing with materials and tech next season?
We are being true to what we know, which is skateboarding in any form, so as you can expect, there are not many novelties in materials. Fine Canadian maple wood and Epoxy resin for the decks, the best aluminum we can get our hands on for the trucks, and some of the best-performing urethane in the market are more than enough to present a really good product.
 What are your main price points for next season?
Hydroponic Surfskates have a price point of 189,98 euros (don't worry, you won't need to take a loan from your bank to surfskate this summer!), while single decks go for 79,98 euros. The Hydroponic Surfskate Gliding trucks are 85,98 euros, while the Buddha Wheels Arenas wheels go for 45,98 euros.
Best Sellers
Inspired by the fishtail surfboards so popular in the world of surfing, the FISH 31.5 model has a length of 31.5 inches and a width of 9.75, with a variable Wheel Base between 17.5 and 18, 5 inches and is the best selling model in Hydroponic since the beginning. You can find up to 7 different designs and it is a safe bet to start getting familiar with the world of Surfskate.
Our longest board to date, created by popular demand after the success of the SQUARE model in 31.5 inches. The SQUARE is a fan favorite thanks to its chunky shape, 10-inch width (bigger riders appreciate it), and a square tail that's very effective at handling the board on ramps and bowls.
A skate-based Surf Truck, super turny and stable at the same time thanks to an improved geometry of extreme reverse kingpin. Easy to use from day 1 (unlike the Traditional Surf Trucks which are very unstable on the front truck, weigh a lot & need constant maintenance) and adaptable to any deck. The Hydroponic Surfskate Gliding trucks come in a nice square box accompanied by a set of risers, nuts and an EXTRA SET OF BUSHINGS (in a harder duro) so each rider can figure out the best combination of Barrel and Cone Bushings for their set up.