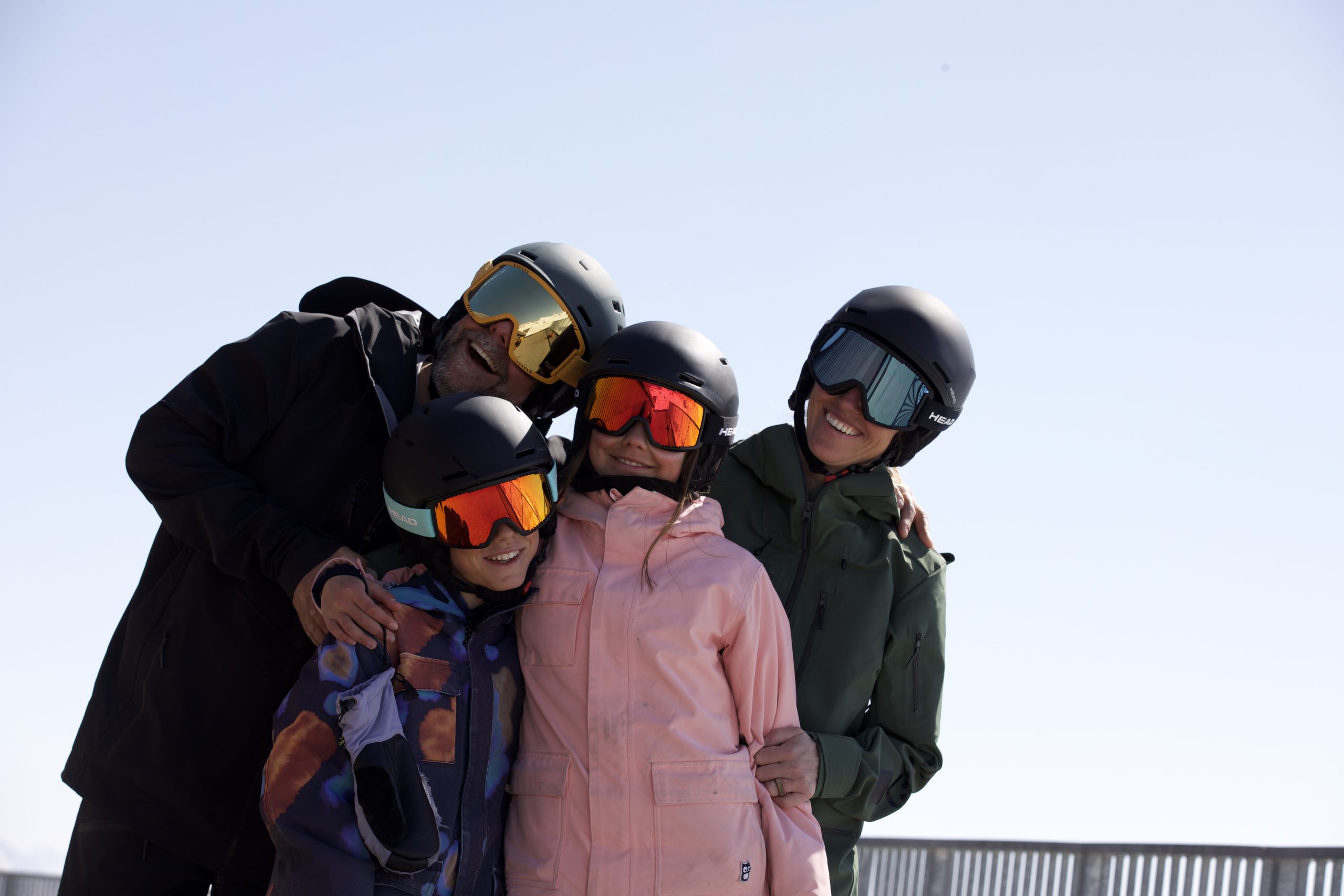 Head Goggles 2023/24 Preview
Retail Buyers Guide: Goggles 2023/24 Retail Buyer's Guide
Brand: Head
Interviewee: Katharina Acham, Operative Marketing Manager
What are the key trends in the snow goggles market?
Key trends are firstly innovative lens technologies that improve the consumer's vision in alpine light and any weather conditions – precisely because this is a safety aspect. Furthermore, maximum field of vision and anti-fog treatment plays a big role in not missing any detail in front of and around you. This also goes hand in hand with safety in winter sports. And last but not least, the goggle's design also plays a decisive role even at the lowest price points – one prefers a frame, and the other attaches more importance to the straps or the lens color and mirror. Offering a good product mix here for all ages, all genders, and every style and taste is crucial.
What were your biggest sellers in 2022/23? Why?
Our best-seller in season 22/23 was the CONTEX platform. This goggle has a timeless and modern look with its frame design and offers excellent anti-fog properties. There are different models available: the PHOTO models come with a photochromatic lens, the PRO models come with a Laminated Double Lens and our innovative 5K lens technology and the standard versions with a standard double lens and mirror coating for the smaller wallet. With the development of the CONTEX platform, we fully focused on offering high-tech, stylish products packed with features at price points between 70- 130 EUR! What is new in season 23/24 is that all CONTEX models will be available in another size small, next to the sizes medium and large, because size matters! The sales figures show that this is what a lot of customers a looking for. Besides that, the F-LYT platform counts as our biggest seller in 22/23. It is the follow-up model of our very popular SOLAR goggle that received an ISPO Award for a reason. Both are slim-line, very lightweight goggles with a frame-free construction and supreme anti-fog and UV protection. The face foam is fitted directly onto a toric double lens, creating the perfect goggle for style-conscious, fun-time winter sports enthusiasts with a small wallet or for touring as it fits perfectly into the jacket's pocket. The F-LYT is available, in two sizes, medium and large and available in four trendy colors with fullmirror coated lenses for bright weather conditions but also one bad weather option.
How are you segmenting your snow goggles?
240 – 200 EUR Goggles featuring photochromic & contrast-enhancing 5K lens 180 – 130 EUR Goggles with 5K lens and additional spare lens included or standard photochromic lens 140 – 100 EUR Goggles featuring 5K lens 70 – 50 EUR Goggles featuring standard mirrored lens .
Where do you expect the biggest growth for 2023/24?
We expect further growth in the mid-price segment – models that don't blow the budget but still feature plenty of features. .
What are the most important technological features in your 2023/24 collection?
LDL Laminated Double
Lens For a standard double lens construction, an inner lens is glued to an outer lens. The space between the lenses reduces the angle of the field of vision. For LDL, the inner lens is laminated directly onto the outer lens. Therefore, there is no more space between the lenses which increases the field of vision by 15%.
5K
The challenging and ever-changing weather and light conditions on the mountain require lenses that help you to see crystal clear in any conditions. This is why we invented 5K lens technology. Lens technology is based on the principle to filter the incoming, and visible light, and optimizing the perception of color and contrast. Depending on the purpose of a specific lens, those filter characteristics are different and are reflected in the transmission curve. The most important factor to define the characteristics of the lens is the lens dye. Depending on the formula of the dye, the filter characteristics can be optimized to only focus on specific wavelengths of the visual light spectrum, hence controlling brightness, color brilliance, and contrast. The formula for this lens dye is the highest brand asset – HEADs formula is called 5K. 5K is featured in several goggles platforms and is available in several lens tints, depending on the light conditions on the mountain.
Photochromic Lens
Photochromic lenses automatically adapt their lens tone between categories S1 to S3, depending on the weather conditions. The lens is toned down in bright, sunny conditions and allows more light to enter the eyes in cloudy, overcast weather conditions.
Dynamic Ventilation System
The ventilation system is designed to allow air to enter the goggle from three sides, therefore creating an airstream that assures a perfect climate inside the goggle.
Optimized Traction Straps
The strap outlets of this goggle are placed in the front, therefore assuring a snug and secure fit when worn together with a helmet, by optimizing the traction applied.
What is new in terms of construction and materials in your 2023/24 goggle collection?
In season 23/24 all our CONTEX goggles will be available in another size, small, in addition to the existing sizes medium and large. Every person is different, and so are their facial proportions resulting in different sizes required. The right size can have an impact on safety as well as perfect integration into the helmet. Size matters.
What colours and designs are you featuring in your 2023/24 collection? Any standout collaborations?
We introduce HEAD's new color world for our helmet and goggle program – the Intermix Design. Throughout the whole range, any helmet can be matched with any goggles. Next to seasonal trend colors, like earthy, warmish tones or also eye-catching, loud colors, a variety of timeless classics will be available, making for over 600 possible combinations. Thus, everyone finds his perfect combination of helmet and goggles!
Are you implementing sustainability in your products and production processes?
We at HEAD call it Rethink: we rethink our workflows from the beginning to the end – from developing to packaging. By reducing waste and using natural, recycled and certified raw materials and processes, we are in a good way, but we are only at the beginning. So far we adapted all our packaging by only using certified cardboard boxes and for printing, we only use water-based ink, both for better recycling. In addition, concerning goggles' packaging, we consciously do it without any plastic see-through windows. In terms of professional athlete supply, we have also introduced steps that have resulted in great resource savings. By offering bulk packs of goggles and lenses the following packaging add-ons are no longer included: a printed user manual for each item, spare lens, hangtags, stickers, and a separate EVA case. The last is most of the time not needed anyway, as athletes usually only need one case to carry the goggle in their backpack up the mountain or they'll get a convenient goggle bag from us to store all their different goggles and lenses at once. For the future, there are further steps planned to also implement sustainability more in the products.
What are your marketing stories for 2023/24?
Intermix Design (above)
Contex – Size matters. (above)
How are you helping retailers to sell this category?
We mainly provide our retailers with high-quality content, including info and videos about products, features, technologies, fit and use helping them to present and sell HEAD goggles to their customers. Furthermore, we offer high-quality, durable, and sustainable POS items such as metal branded goggle holders, highlight counter displays, and much more to highlight our products in the stores. Regarding the line structure, we have increased the number of carry-over products and multi-seasonal colors, based on our Intermix Design strategy. By doing so, we offer our partners the option to sell our goggle line in multiple seasons without the pressure to close out. But nothing beats putting the goggle in the hands of the customer and letting them try themselves to see features like the outstanding wide field of vision or our contrast-enhancing lens, depending on what the customer is looking for or his/her available budget.
Is your production impacted by raw material scarcity or cost increase? If so, what solutions have you put in place?
As in almost all industries, we are also confronted with increased resource costs and high shipping costs. But we have thought ahead and anticipated the consequences, which is why we have brought forward our order cycles early and are thus able to deliver our core products on time for the start of this season and are also well positioned for the sell-in FW23/24.
3 key/hero products for the 2023/24 collection.
The F-LYT goggle is focusing on the essentials: great look, super lightweight & easy on the budget. New technologies combined with new industrial design enabled us to increase the ventilation performance and anti-fog characteristics of this goggle, available in two sizes, medium and large. In addition, this is the perfect goggle for the splitboarding and touring segment, as it is super light and has a low storage volume!
The CONTEX ticks all boxes in terms of features, function, and design while being easy on the budget. Now also available in a third size S, for narrow head shapes and/or small nose heights. Depending on the model, this platform features a photochromatic lens, or contrast-enhancing 5K lens, and an extended field of vision due to a Laminated Double Lens or an exchangeable double lens with flashy mirrors, supreme anti-fog, and UV protection packed in a modern frame design.
The MAGNIFY with magnetic lens exchange solution enables swapping lenses on the go. By using the biggest lens option possible a superior field of vision is guaranteed. It offers OTG allowing the wearer to wear prescription glasses under the goggle. The straps are guided over an angled ramp, optimizing the traction applied when wearing it together with a helmet, for a snug and secure fit. Its sealing lip secures the lens in position even in case of a fall and prevents any air, snow, or water from entering the inside of the goggle.