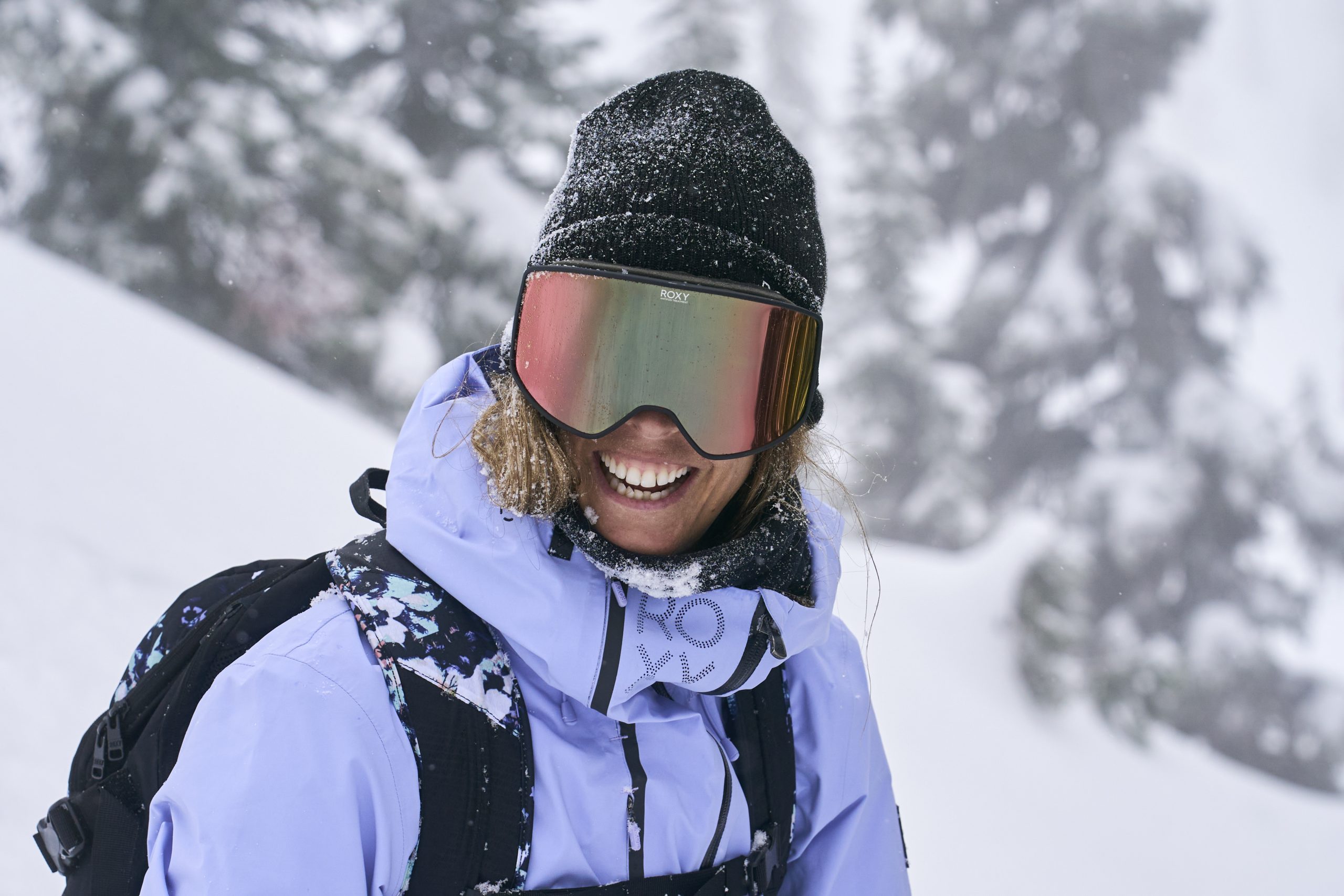 Roxy 2023/24 Goggles Preview
Retail Buyers Guide: Goggles 2023/24 Retail Buyer's Guide
Brand: Roxy goggles
Interviewee: N/A
What are the key trends in the snow goggles market?
Roxy collection, Key trends is still the clarity & contrast enhancer in terms of vision  and system to easily change the lens to adapt to weather conditions. Any maner to provide comfort, visibility and style for the best day experience in the mountain.
What were your biggest sellers in 2022/23? Why?
Our best seller this season was the Feelin model, a rimless frame, super comfortable with nice colors and details and jacquards patterns straps, with our color luxe lens technology.
How are you segmenting your snow goggles?
Segmentation is remaining the same as last season. I think that we found out the right equilibrium within our high end products to our girl range. We have 3 different segments, which is more the price level and product technology that creating the logical segmentation, then into those segments we are splitting into types of colour palette and matching back our outerwear collection. The first segment is our high end range with color luxe lens technology (photochromic or classic everyday tint lens in cat S3), with bonus lens offer and speed connect technology.  A range of product from 140€ to 220€. The second segment is our range offer to sport distribution, which is products from 60€ to 100€. The third segment is our girl to teenies (starting at 2 years to 12 years old to shred on the mountain) This segment is becoming to be realluy important in our business.
Where do you expect the biggest growth for 2023/24?
We want to stabilized our sales in our mid to high end Color luxe segment after 3 seasons a bit complicated in terms of distribution.
What are the most important technological features in your 2023/24 collection?
The most important features in our 23/24 collection is the Speed connect technology with magnets, available in our Rosewood product and sold with a bonus lens. The Color Luxe lens offer with our Zeiss partner and Essilor NXT® photochromic lens as well. All our products in our Color luxe range are now offered with an extra Anti-fog expanded to >120s, mesh filter on the frame and silicone grip on the inside strap, with a 3 layer confort foam.
What is new in terms of construction and materials in your 2023/24 goggle collection?
Nothing really new for the roxy goggles range next season, we focus our efforts and strategy to use sustainable raw components and eco consious product construction. That's why wa can claim than 100% of our Color Luxe range is made with at least 30% of bio TPU frame injection and recycled nylon straps.
What colours and designs are you featuring in your 2023/24 collection? Any standout collaborations?
Yes we have the famous "ROXY x Cynthia Rowley" collaboration back in the collection, 3 years after the success of our previous collaboration. The Rosewood model will be part of a complete and capsule proposing complete snow outfits and accessories. This products is using a mix of colored flowers prints, offered with a nice printed hardcase, and printed sock to protect the goggles, sold with a bonus lens for bad weather.
Are you implementing sustainability in your products and production processes?
Yes and since many, many years. We are using BIO TPU frame injection since more than 5 years now, and 100% of our Color Luxe range is using Bio TPU injection and recycled nylon strap. At least more than 30% of components (frame and straps) are sustainable. We are also working with partners who have sustainable approach in terms of production as well, re-using and cleaning water, solar energy in the office etc. We are also working with our partner to trying to offer a sustainable lens in coming seasons.
What are your marketing stories for 2023/24?
Our marketing campaign will be focus on our collab and capsules. Sure, the Cynthia Rowley rosewood model will be part of the conversation, but as well our "Peak chic" capsule with the storm model, and the Roxy life capsule with the feeling model for our heritage capsule. Every outfit of each segment of the outerwear collection is marketed with the accessories which are matching back the prints and the color palette. Meaning our marketing team is doing an amazing job to cover the entire goggles collection in their campaign, and providing amazing assets to our clients and digital campaigns.
How are you helping retailers to sell this category?
We would like to do more, but trying to provide POP's, and nice campaign images support in store when needed with events, and tradeshows.
Is your production impacted by raw material scarcity or cost increase? If so, what solutions have you put in place?
Sure, price increase, $ conversion, raw materials, long leadtimes etc.. it is all the things we have to work with… And we are taking drastic decisions. We are reducing our SKU count, offering less colorways or shapes in our range, in order to increase the product efficiency and simplify the production on the assembly lines. Hard work to do, and never a sympathic one, when you have to kill a part of the range or reducing partnership with vendors etc.. But, that's the reality of our business.
Please name and describe in about 60 words your 3 key/hero products for 2023/24 collection.
The ROXY x Cynthia ROWLEY Rosewood goggles. Sold in pack with color luxe lens technology, hardcase and protective socks. Using the speed connect lens technology to easily adapt the lens to the weather conditions.
Roxy Peak chic capsule. Feminine and functional, peak Chich brings graphic patterns and bolds color to life in the most sophisticated silhouettes.
Third capsule, the Roxy life Feelin goggles. A frameless goggles with Color luxe lens technology, part of the outerwear capsule. Roxy life draws inspiration from styles we made iconic over the decades of dedication to women. Vintage threads made with modern technology.