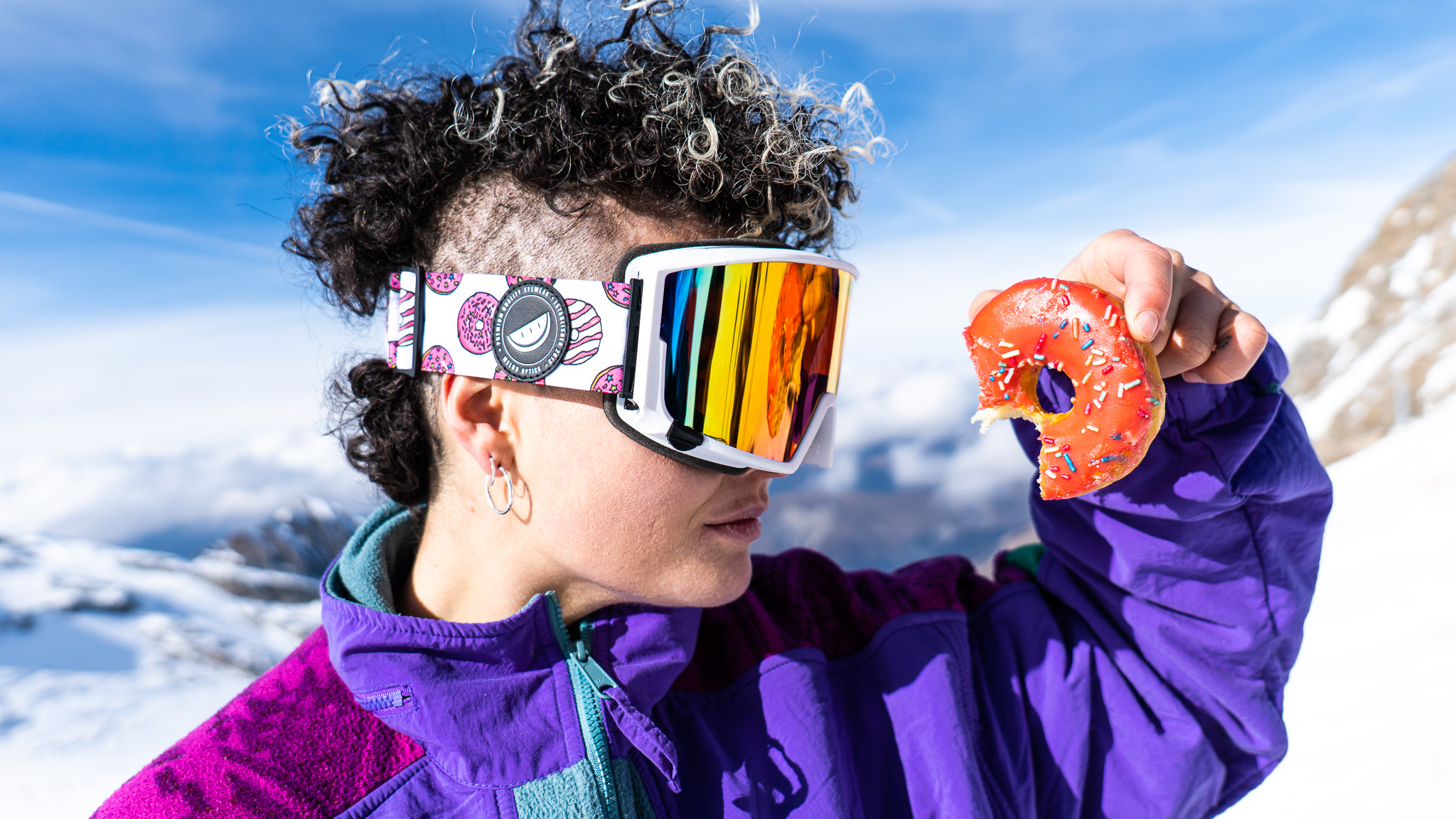 Melon Goggles 2023/24 Preview
Retail Buyers Guide: Goggles 2023/24 Retail Buyer's Guide
Brand: Melon
Interviewee: Neil Slinger, International Sales
What are the key trends in the snow goggles market?
After a couple of survival seasons for most brands in the snow market, let's hope now we can look at being creative and have fun with it again. Seems magnetic lens change systems are here to stay and have improved across the board. Straps are getting bigger, giving an improved hold and design space. It also seems that lens is key – we almost exclusively sell the Zeiss Sonar lenses now, and not so much the regular Zeiss lenses, with shops and customers really knowing what they want and opting for optical clarity in even the worst conditions.
What were your biggest sellers in 2022/23? Why?
Our new magnetic lens change goggle AKIRA did really well, despite the still Corona vibes in the market. Launching into core retailers and on our own site, and some special collaborations with the likes of Eivy – it's sold pretty quickly and the feedback from shops, customers, and rides alike was really positive.
Again, Zeiss Sonar lenses are for the win on all models, especially their Sonar Lowlights which are unmatchable in terms of clarity in whiteout or flat light conditions.
Our snow customers continue to enjoy the freedom of design choice, opting for some of our louder strap designs, and of course, being able to change them out during the season due to the Switchfast strap system. 
How are you segmenting your snow goggles?
We don't really segment much – just on pricing slightly depending on the tech available. We have 2 regular click in lens models and then 1 magnetic lens model which sits slightly higher in price. The type of goggle style is it cylindrical or spherical/toric is then all down to the customer. 
Where do you expect the biggest growth for 2023/24?
I think we will see the two extreme ends grow strong as people start to have a rejuvenated feel for a fun in the snow again. Not everyone got out there during corona, so hopefully, now the ones who left it out the past years will be getting back on boards and skis and while there is an economic crisis out there, the smaller products such as accessories still tend to get sales – it's the big stuff which slows down.
So I think magnetic/tech high-end lens products will sell to the freaks and those who want to treat themselves, and the slightly cheaper and lower tech models which have a focus on style to the core segment who is buying for style and looks this season to keep things fresh (while they may not have the cash to buy a new board)
What are the most important technological features in your 2023/24 collection?
We continue our close relationship with Zeiss – releasing new colour/tint options on the Sonar lenses, so we can cater to all needs and tastes.
And while it's not groundbreaking tech, the Switchfast strap system just means customers can refresh their goggles look this season with a simple change of their strap rather than have to splash out on a full new goggles – could be important in a financially tight period. 
What is new in terms of construction and materials in your 2023/24 goggle collection?
We have not changed a winning team. So construction remains the same as do materials for this upcoming season. 
What colours and designs are you featuring in your 2023/24 collection? Any standout collaborations?
We work a bit differently from most brands, as in we don't preforecast huge production runs over a year in advance of the season we will be selling in – this is what leads to overproduction and a lot of wastage. So trend colours we will decide nearer to the time and produce the in time for delivery in September/October 2023. This also allows us to be more on the pulse.
As for collaborations, we love a good collab and working closely with partners over the seasons. We will be working again with our friend at Eivy, to create some of the most on the pulse women's goggle designs out there. Also this year sees a continuation of our collaboration with Tomorrowland Winter music festival and also into 2023 with goggles and Alleycat performance sunglasses. We have some very special limited editions lined up, but they are top secret for now.
Are you implementing sustainability in your products and production processes?
We are constantly striving to improve, so the first step has been a move to bioplastic in our performance sunglasses range. The next step will be recycled material in the microfibre soft bags, and a push to biomaterials in the goggle straps. Our packaging is moving towards as low impact as possible, with biodegradable packaging bags for our clothing made from cassava starch being a good example. 
What are your marketing stories for 2023/24?
Collaborations and close partnerships are big things for us. Working together to create unique and exciting products and keep us rethinking our game.
We also are working strongly on our Shred Heads program, which focuses on nurturing the rawest and most promising up-and-coming riding talent and providing them a platform to show their content. It has been a huge success for us in the MTB segment, and we are now getting it rolling in the snow. 
How are you helping retailers to sell this category?
Our concept of custom design and NOS products is about as supportive as one can possibly get. We don't push for minimum orders, we don't push shops to take strange models they cannot sell – they have full flexibility. If they want to sell safe premade designs, sure. If they want to have the full range of component colours and a custom in-store then reorder when needed, sure, even better. The key factor is low risk, and the most fun selling, because you will never have overstocked and never need to discount the product to get it off the shelf – which means more margin too.
We have interactive tablet displays for those wanting to customize, and our focus on customer service means we are always on hand to restock stores fast once they are in need.
For core key retailers, we also offer the unique opportunity to create their own small run of straps for their stores. We did an amazing one recently with X-Double with a design showing the Nordkette panorama, and love doing these small specials with creative stores to help them sell more products and have fun doing it.
Is your production impacted by raw material scarcity or cost increase? If so, what solutions have you put in place?
We definitely were faced with issues with china sourced products and have been working over the summer to make sure we get product on time for Winter. The knock-on effect is a lack of confidence in China and we do have eyes open for alternative production possibilities closer to home. 
3 key/hero products for the 2023/24 collection
AKIRA:
The leader of the pack. A magnetic fast-change lens system goggle, with a large cylindrical field of vision utilizing the very best Zeiss Sonar lens technology for the best contrast on the mountain whatever the weather.
PARKER:
All you need and plenty of styles. The Parker is a team-rider favourite. Rugged styling and a solid field of vision are all packed into a lightweight, flexible model. Also with a fast change strap system to freshen up your look, and the very best Zeiss Sonar lenses for the perfect contrast.
JACKSON:
No nonsense, slick looking and solid performing toric lens shape goggle. This huge field of vision, lightweight frame and snug fit are all you need and none of the extra bells and whistles you don't. Switchfast strap system, and the very best Zeiss Sonar lenses for a perfect contrast.