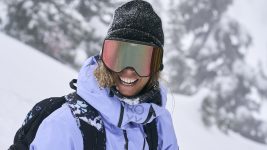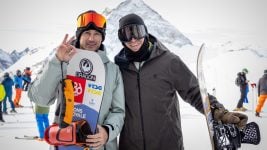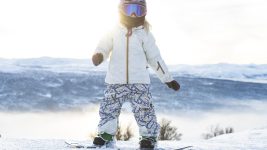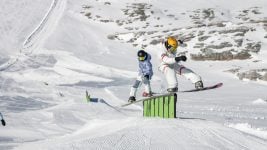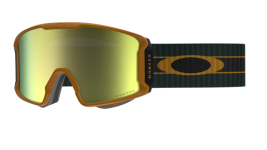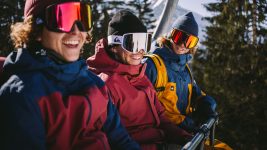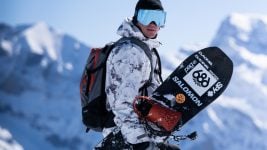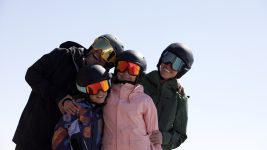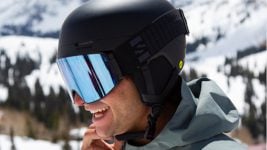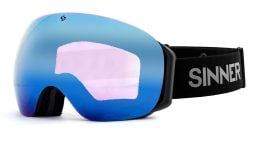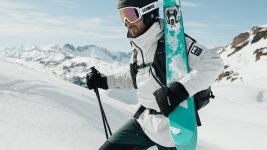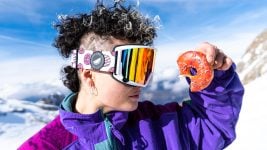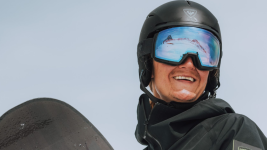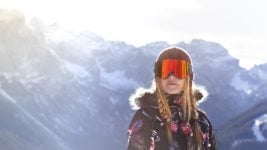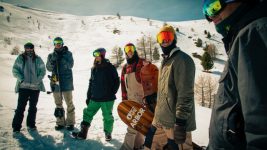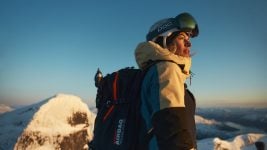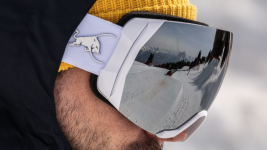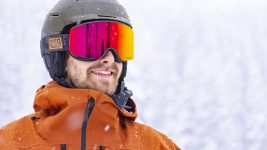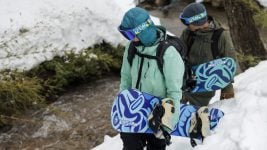 Goggles 2023/24 Retail Buyer's Guide
Educated users are demanding optimal vision clarity paired with ease of use, all while respecting the environment. The challenge has been accepted by goggle brands who are delivering and even rising above these demands. By Rocio Enriquez.
Lens technology is the key trend in snow vision. Customers want optical clarity even in the worst conditions. Easy and quick lens changing systems are high on demand. Fit is also important. We see variety in frame sizes to adjust to all faces. Wider straps improve the hold of the goggle. Most brands report their most technologically advanced lenses as their bestsellers. Dragon offer the "LUMALENS® Photochromic adaptive goggle lenses which feature a light base tint for dim outdoor lighting conditions and automatically darken and change color in bright sunlight," says Lauren LaCour, Product Development Manager. Giro boast their Expansion View Technology (EXV+) and Vivid contrast enhancing and infrared lenses. Sinner's Sintrast offers high contrast. Zeal has done well with their Observation Deck Technology (ODT) and Automatic+ lenses. Spy+ did best with the Marauder series, featuring Happy Lens and Happy Boost technology. Smith's best-selling styles featured their ChromaPopTM lens technology. Red Bull Spect did good business with their pano tech styles and their iBoost lens technology. Melon's models with Zeiss Sonar lenses did best. Out Of capitalised on their Electra electronic goggles with their award-winning Irid lenses. Salomon's Sigma technology htat amplifes colour contrast landed very well with consumers Magnetic lens changing systems have offered great sales too.
It is the case for Rossignol's Magnelens, Dragon's RVX Mag OTG, Melon's Akira, Quiksilver's Switchback, Zeal's Lookout, Sinner's Avon, and Giro's Contour. Aphex counts five goggles with this technology as their bestsellers. Smith has had good momentum with their MAG family too. 
In terms of style, we see the return of cylindrical lenses. Frames are popular, after a few years or rimless styles. Many frame designs go back to the noughties. "There is a Back to Roots, MX inspired kind of trend like the ones seen on early days' core freestylers", says Darius Heristchian from Giro. 
Sustainability stays high on demand. Customers want long-lasting materials, ideally biobased. They expect that every aspect of the production factors in care for the environment. 
Magnetic lens changing systems and high-end lenses will drive growth. However, some brands expect some growth in entry and mid-price styles, due to the economic challenges looming. Goggles that don't blow the budget, but still offer plenty of features. TSG already reports their best sales in their Goggle Four and Four S. "They offer the right design, fit, performance and ease of use at an attractive price", says Nadja Herger-Bogdarenko. "We are introducing our proprietary Prizm Lens Technology to our entry goggle, Target Line", announces David Muir from Oakley. Easy has kicked off their goggle collection with two affordable models packed with technological features.
Technology.
Lenses get a lot of R&D attention. Some brands opt for well-proven brands. Such is the case of Melon, Rossignol and Spektrum, use Zeiss Sonar lenses, and Spektrum. Roxy and Quiksilver use Zeiss' Fusion lens mixed with Colour Luxe tints, which will expand their anti-fog range to >120s. We can find it in the all-new Webb goggle next winter. Inspired by their iconic Hubble, and in collaboration with Travis Rice, it features a new toric shape with very wide vision. Roxy also uses Essilor's NXT® photochromic lenses. Other brands offer their own in-house solutions. Dragon will use the IR lens technology in their NFX Mag, RXV Mag, PXV and R1 models. They increase sharpness and clarity by reducing infrared radiation from UV light.
Oakley releases the new Prizm Argon. It is built for specific wavelengths of light that reflect from the snow, enhancing contrast. Out Of uses their patented, award-winning Irid lens. Smith relies on their ChromaPopTM to enhance contrast, and the BirdsEye VisionTM to increase the field of view. We can find these in their 4D Mag and 4D Mag S goggles. Spy+ pushes their Happy Boost lens that redefines the view of the terrain while boosting your mood. Head chooses Laminated Double Lenses. The inner lens is laminated directly onto the outer one. The lack of space between the lenses increases the field of vision by 15%. They are proud of their 5K lens technology. It filters the incoming, visible light, optimising colour and contrast. Depending on purpose, the filters are set differently to focus on a specific wavelength of light.  Salomon continues to highlight their Sigma lens technology, adding a new Gunmetal cat 3 option. Spektrum keeps pushing their BIOptic lenses. "A three-layer sandwich made of two crystal-clear cellulose acetate with a polarised sheet in between" describes Robert Olsson. They keep using Kyoto inner lenses for fog management. Dirty Dog features polycarbonate lenses treated with a special anti-fog coating. They are paired with their Custom Venting Airflow Technology (CVAFT), which uses selected areas for the intake and exhaust of cooling air. Zeal releases the Cloudfall, the first spherical goggle featuring their Observation Deck Technology.
ODT creates an angle that increases vertical peripheral vision without distortion. Bollé uses their own high contrast lens Volt in the Eco Torus M and Eco Blanca styles. For their Nevada goggles signed by Alexis Pinturault they choose the Phantom photochromic lens. Sinner introduces the new photochromic, high contrast Sintrast Trans+ lens. "All conditions and all lights covered in one lens", explains Kevin Whitehouse. Giro relies on the peripheral vision of their EXV+ technology and the contrast enhancing of their Vivid lens. Bliz offers three variants of their Nano Optics lenses: Nano Optics, Nano Optics Nordic Light, and Nano Optics Photochromic. Aphex offers frame and lens packages. "We will also offer new special packages of Photochromic, Black Edition, Clear and QView high contrast lenses", says Maarten van der Laan. TSG offers contrast enhancing lenses with blue filter for a sharper view. POC keeps pushing their Clarity lens. Rossignol's new Toric Jr. brings the wide field of view and optical clarity of a toric double lens to a kids goggle. "A high-end goggle for Juniors was a need for us", says Marine Cessans.
Lens changing systems are omnipresent. Dragon presents the ground-breaking Swiftlock 2.0, found in the RVX Mag and the NFX Mag. It has more magnetic contact points, coupled with a one-sided release lever to create a secure and quick lens change. Quiksilver and Roxy present the new Speed Connect press sealed system without magnets. Look for it on the Roxy Rosewood style. Salomon strengthens their magnetic offer with the Sentry prime. Smith keeps pushing their MAG technology, using magnetic contact points and a patent pending dual locking mechanism. Zeal's new Cloudfall will feature their Rail Lock System. TSG features their magnetic quick lens change technology in their Goggle Four and Goggle Two lines. 
Construction and Materials.
Venting, fit, and helmet integration are key factors in goggle construction. Dirty Dog releases a new super soft, open cell, technical foam designed to maximise comfort. POC's new Nexal has a completely new design. "We have added a new design element that protects the zygomatic bones, which has comfort and safety advantages", says Damian Phillips. Head's Contex goggles will be offered in an added small size, to make sure they fit different facial proportions. They also feature optimised traction straps. The outlets are placed on the front, assuming a snug and secure fit when worn with a helmet. Smith has developed their Precise Fit Integration of goggles and helmets. The curve of the goggle's frame corresponds to their helmets design. This enables precise alignment and eliminates gaps. The vent foam on the goggles aligns with the helmet's AirEvac ventilation system, minimising fogging. 
New frame designs aim to optimise ventilation. Smith's new Blazer and Rally have updated the venting. The new lattice design on the top of the goggle helps to vent hot air, while adding some rigidity to the frame. Head works with their Dynamic Ventilation System designed to allow air to enter the goggle from three sides. Bollé's Eco Torus M has a toric shape that eliminates distortion while optimising airflow. Their cylindrical Nevada style signed by Alexis Pinturault features a triple density foam and vented lenses. Other design innovations are found in Red Bull Spect and Smith's collections. "We are introducing the Reign, a single frame that holds spherical and cylindrical lenses", announces Marius Cadalbert from Red Bull Spect. Smith's new Blazer and Rally feature a unique micro-frame design with solid lens retention. 
Talking about materials is talking about sustainability. Bio-based frames and lenses and recycled fabrics for straps are widespread. Quiksilver's new Webb goggle is made in Italy. It uses Bio TPU frame injection and recycled nylon fibre for the strap, with no varnish. Roxy uses the same materials in their Colour Luxe range. Out Of keeps pushing their Bio Project line, using the most bio-based or recycled options available. Spektrum sticks to their bio-based materials derived from castor beans, as well as recycled straps, for the bulk of their styles. They also feature hemp straps in their RAW and BIO+ lines, as well as cellulose acetate in the BIOptic lenses. Zeal uses Sorona® instead of nylon on their straps. Sorona® is a renewably sourced bio-based yarn that uses fermentation instead of chemical synthesis in its bonding. It requires 40% less energy and reduces greenhouse gas emissions by 56%. The straps on Bollé's Eco Torus M and Eco Blanca are made with 65% recycled polyester and integrate 100% recycled patches. Both frame and adjusters are bio-based. Aphex also works with bio-based materials. POC's new Nexal goggle has a bio-based plastic frame.
Looks.
Goggles are a great product to feature collaborations, so it's no surprise that most brands offer a few. Dragon creates custom graphics and colours in collaboration with many of their athletes. Melon continues to work with Eivy for some women's styles. They keep offering a special edition Alleycat in collaboration with Tomorrowland Winter Music festival. More limited editions are lined up, but we'll have to wait to see those.
Oakley offers some athlete signature goggles, some of them part of a head-to-toe collection. Out Of chooses their goggle The Void to release a Fabian Boesch pro model. Roxy brings back their famous collaboration with Cynthis Rowley three years after the success of its first release. Smith offers two collaborations this season. One with the brand Oyuki showcases the Japanese big snow culture. Another one with The North Face features gender-free goggles aimed at young snowboarders. This collaboration features the Squad XL worn by Jess Kimura and the Squad worn by Eric Leon. Spy+ has goggles signed by their team athletes and artist collaborations with Célia Petrig and JuneShine. Spektrum announces new collaborations for 23/24, although we'll have to wait to know more. For now, they have confirmed one with P.O.W. Zeal will present their Haa Aani collaboration. Giro will tweak their collaboration with Fender. POC will release a signature Fovea goggle with Jeremy Jones and P.O.W., a signature Zonula with Marco Odermatt, and an Orb signed by freeride star Hedvig Wessel. 
Cross merchandising is important. Oakley works closely with the apparel team for the signature collections. Roxy's Rosewood model will be part of a flowery capsule collection with snow outfits and accessories. Head has created a new colour coding for their helmet and goggle programme called the Intermix Design. It allows to match any helmet with any goggle. TSG also focuses efforts on goggle and helmet matching.
Sustainability.
Most efforts in sustainability are focused on bio-based and recycled materials. Other efforts are found in packaging and production processes. 
Windows are disappearing from goggle boxes as part of the war on plastic. Smith, Salomon,  Head, Zeal and TSG confirm they have ditched them. Alternative materials are being used for boxes and pouches. Melon uses recycled microfibre soft bags. Oakley packs all their Prizm lenses goggles in a soft case covered by a cardboard sleeve made of post-consumer recycled materials. Smith has partnered with GoggleSocTM for their MAG models and select capsule collections. They have removed all polybags and all retail boxes are made with recycled cardboard. Head only uses certified cardboard boxes, and they only print with water-based ink. Spektrum ships their Östra RAW goggle with a case made of recycled wool. Zeal uses rPET goggle bags. TSG adds a pocket to their goggle bag to carry the interchangeable lens. 
Production processes are monitored. Quiksilver and Roxy work with partners who reuse water and function on solar energy. Out Of is in the process of becoming a certified B Corp. Head has rethought the athlete supply, now offering bulk packs of goggles and lenses. This way, they save on add-ons such as printed manuals, hangtags, stickers and cases. Spektrum injects their dye into the raw materials rather than paint it, saving workers and the environment from harmful chemicals. Dirty Dog has all their factories monitored by Bureau Veritas.
Retailer Support.
Brands will make noise about their technological innovations, as this is what consumers most want to hear about. There is a focus on education. Oakley has a training platform called Leonardo that features training modules with HQ videos. Out Of offers clinics with explanation videos. Smith invests in staff training through several programmes, including a collaboration with the ENDVR app. Head produces high quality info videos about products and their technology, fit and use. Dirty Dog and Sinner offer in-store staff training plans. Bliz produces specific sales material that explains the lens technology in a simple way. 
POS materials remain relevant. Red Bull Spect is introducing new premium displays. Quiksilver and Roxy provide POS materials for stores, and for any event retailer gets involved in. Smith has added resources to their trade marketing division to create new displays, graphics and POP materials. Head produces high quality POS pieces such as branded goggle holders or counter displays. Giro enables the cross merchandising of their goggles and helmets. Sinner, Zeal and Dirty Dog also offer a display programme to tell their stories at retail level. 
Support with stock management is highly appreciated in these times, and brands are reacting. Melon does not push for minimum orders, they let shops have full flexibility to choose what they think they can sell. That way they minimise the risk and optimise the margin. Head has increased the number of carry-overs and multi seasonal colours, eliminating the pressure to sell within one season. Spektrum points all their social media and digital presence to their retailers for purchase, rather than driving traffic to their eCommerce site. 
Supply has been challenging. Factory shutdowns and raw material scarcity resulted in longer lead times. Transportation costs have increased dramatically. Most brands have worked hard with their vendors to avoid drastic price increases, while keeping the quality of the product intact. However, we'll find some goggles mildly more expensive. Melon says they are keeping their eyes open for production facilities closer to home, as they have lost confidence in China. Smith, who produces in North America, has not suffered such an impact. Quiksilver and Roxy are reducing their SKU count and offering less colours, to simplify production on assembly lines. The key to secure well-timed deliveries has been to bring forward buying cycles. This is a common effort that requires retailers forecasting blindly and brands showing flexibility if later amendments are needed.