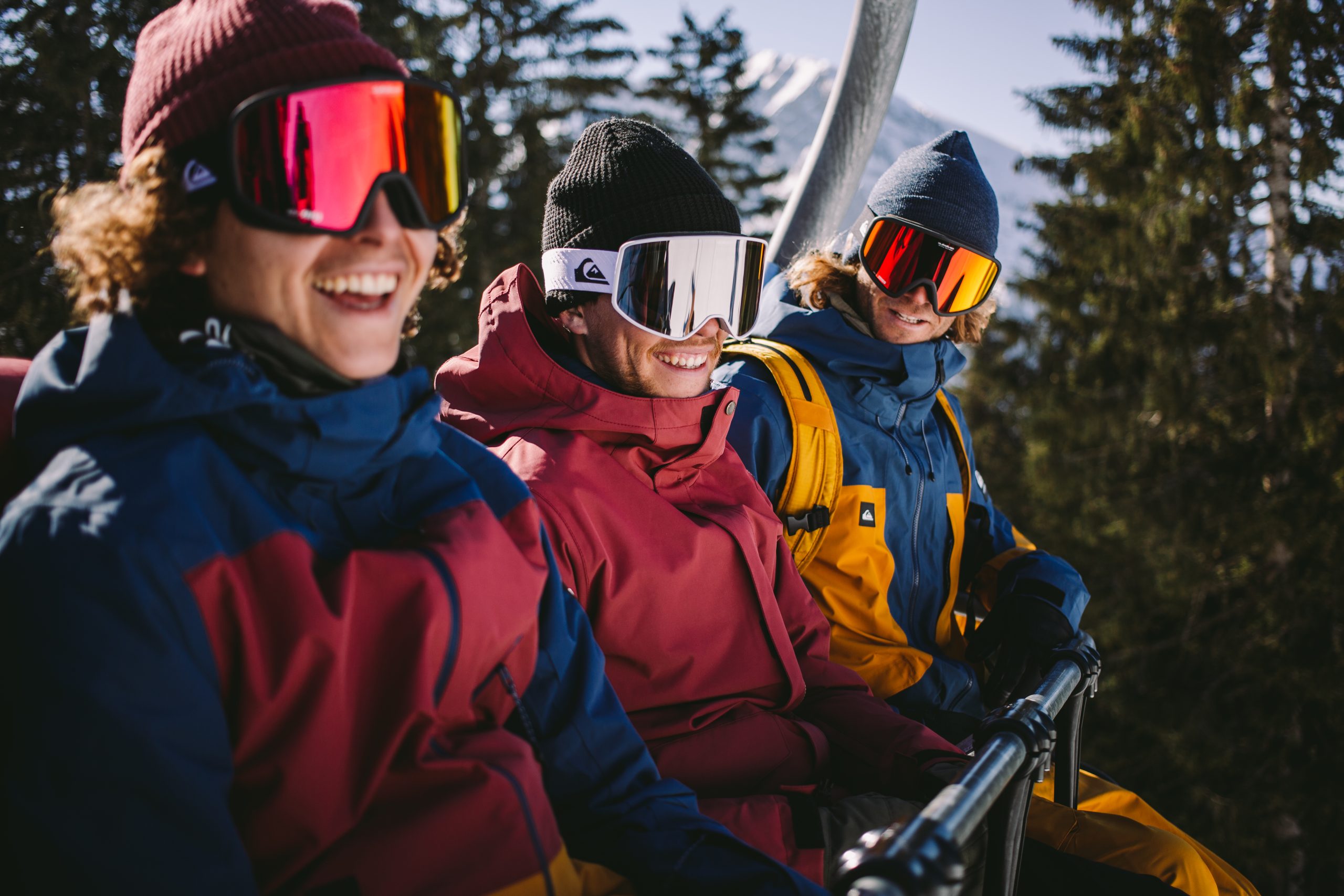 Quiksilver 2023/24 Goggles Preview
Retail Buyers Guide: Goggles 2023/24 Retail Buyer's Guide
Brand: Quiksilver
Interviewee: Stephanie Fontenille
What are the key trends in the snow goggles market?
Key trends on the market for coming season, is still the clarity & contrast enhancer in terms of vision  and system to easily change the lens to adapt to weather conditions. Any maner to provide comfort, visibility and style for the best day experience in the mountain.
What were your biggest sellers in 2022/23? Why?
We introduced our rider signature collection last season and have been a real great success for the Austen Sweetin Signature collection with his Browdy shape (Retro look, with our NXT® Color Luxe lens technology photochromic) and the Switchback goggles with the speed connect technology with color luxe lens as well sold with a bonus lens. Offering the best in terms of lens contrast & vision clarity enhancer, the perfect adaptability to the weather conditions with a complete offer of photochromic lens NXT® and Color Luxe Lens made with our partner Zeiss. The collection was matching back our Heritage outerwear capsule, on the trend of retro and heritage of 90's and 2000's looks. Austen is one of this guys with an everyday smile and nice spirit,  always happy to work with our design team here in France to develop the best products.
How are you segmenting your snow goggles? 
Our segmentation is remaining the same as last season. We found out the right equilibrium within our high end products to our kids range. We have 3 differents segments, which is more the price level and product technicity that creating the logic segmentation, then into those segment we are splitting into types of color palette and application to offering a more "performance look" or a "street & heritage" look. The first segment is our high end range with color luxe lens technology (photochromic or classic everyday tint lens in cat S3), with bonus lens offer and speed connect technology.  A range of product from 140€ to 220€. The second segment is our range offer to sport distribution, which is products from 60€ to 100€. Finally, the third segment is our youth to little grom (starting at 2 years to 12 years old to shred on the mountain) This segment is becoming to be really important in our business.
Where do you expect the biggest growth for 2023/24?
The biggest growth in our range for the coming season would be on the high end product, with an introduction of a new special project in this segment.
What are the most important technological features in your 2023/24 collection?
We are introducing on complete new product in our range. After 4 years of work, with chaotic pandemic situation and 11 years after our iconic Hubble goggles. We are super proud to introduce THE WEBB goggles, inspired by the Hubble technogoly and benefits and collaboration with Travis Rice.  This Webb goggles have been created to provide the best benefits and comfort to the rider. A new "Fusion lens" technology with particularity of thoric shape, to provide the widest vision and clarity with an extra antifog. A Fusion single lens which avoid the construction of the traditional 2 lenses with gasket to assemble the lens, this technology mixed up with our Color Luxe lens tint. A new Speed connect press sealed system, without magnet, a wide strap and rotative and removable strap system (to easily change the strap) inside silicone grip, aeraprene filter mesh. Product made in Italy, using Bio TPU frame injection and recycled Nylon fibre for the strap, with no varnish. These new goggles have been made to be easily repaired, if a lens must be replace, the strap of the side clip, where almost each part of the goggles can be repaired or easily changed by our after sales service.
What is new in terms of construction and materials in your 2023/24 goggle collection? 
The newness in terms of contruction is our new Speed Connect "press sealed" system, a kind of contruction like the lego® or tupperwear® brands have been created. We searched in many other industries and even inspired by nature to try to find the new frame/lens connection. The other new construction is the particularity of this "Fusion Lens". The Dual-lens goggles have been the standard in winter sports since the 1960's with the inherent flaws in a dual lens construction (refraction, reflective mirroring, fog…). However, the vision of a single lens is becoming better. The Fusion lens technology solves the conundrum by fusing the two lenses into one without gap in between. Obviously, the optics reaches to perfection with non-refraction or mirroring. Moreover, the field of vision is wider without a foam in between, and solve the concern of fog apparition in between the 2 lens.
Are you implementing sustainability in your products and production processes?
Yes and since many, many years. We are using BIO TPU frame injection since more than 5 years now, and 100% of our Color Luxe range is using Bio TPU injection and recycled nylon strap. At least more than 30% of components (frame and straps) are sustainable. We are also working with partners who have sustainable approach in terms of production as well, re-using and cleaning water, solar energy in the office etc. We are also working with our partner to trying to offer a sustainable lens in coming season.
What are your marketing stories for 2023/24?
We will base our marketing campaign on our highline pro range with the WEBB  Travis Rice signature, as well as with our Heritage capsule with Austen Sweetin signature on the Browdy goggles and a new Signature introduce with Miles FALLON on the switchback goggles. We don't have dedicated marketing for goggles this year, but the products will be integrated in the brand marketing campaign and Snow outerwear stories. 
How are you helping retailers to sell this category?
We would like to do more, but trying to provide POP's, support in store when needed with events, and tradeshows.
Is your production impacted by raw material scarcity or cost increase? If so, what solutions have you put in place?
Sure, price increase, $ conversion, raw materials, long leadtimes etc.. it is all the things we have to work with… And we are taking drastic decisions. We are reducing our SKU count, offering less colorways or shapes in our range, in order to increase the product efficiency and simplify the production on the assembly lines. Hard work to do, and never a sympathic one, when you have to kill a part of the range or reducing partnership with vendors etc.. But, that's the reality of our business.
Please name and describe in about 60 words your 3 key/hero products for 2023/24 collection. 
The WEBB Travis Rice. "THE" new project of the season, with its new Fusion lens technology, the speed connect feature, the Color luxe lens,the expanded peripheral vision… this new goggles is a "bijou" of technology and comfort. Your can wear the Webb as if you wear nothing on your head, you can get the freedom of ride as a new experience never seen in the snow goggles world.
Miles FALLON signatures on the Switchback : one of the famous rider in our team, Miles collaborated with us to develop a special colorway on the swithback range, part of our "high Altitude" capsule, Miles goggles are sold with a Color luxe extra lens, in a nice hardcase and with a socks to protect the lens.
Austen Sweetin Browdy signature, with our NXT® color Luxe lens technology to adapt to any weather conditions. Austen collaborated with us to create an intemporal design looks, which fit any of your outfit. The Retro look of this goggles is part of our heritage collection. Browdy Austen Signature is sold in a nice goggles hardcase, with a socks protection.