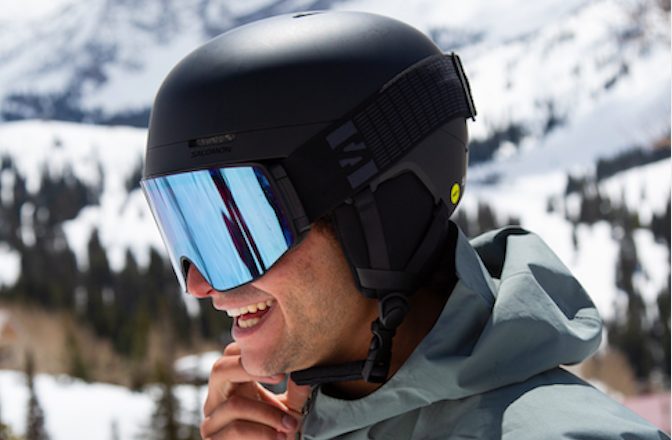 Salomon 2023/2024 Goggles Preview
Retail Buyers Guide: Goggles 2023/24 Retail Buyer's Guide
Brand: Salomon
Interviewee: Awena Jouannic, Protective Marketing Manager / Delphine Polycarpe, Goggles Product Line Manager
What are the key trends in the snow goggles market?
There are a few major trends which have dominated in recent years and continue to do so. Lens versatility is the main one including easy lens interchangeability with magnetic system, photochromic and high contrast lenses to offer the best vision possible whatever the weather conditions. There has also been a resurgence of interest in more refined shapes in recent seasons, with frameless and cylindrical models.
What were your biggest sellers in 2022/23? Why?
The Salomon S/View goggle is still our best seller in FW22/23. It has a progressive cylindrical semi frame design, at a reasonable price point, which makes this a very desirable combination. In addition, it features Salomon's great comfort and a wide lens offer with SIGMA and photochromic options.To follow the success of S/View success and bring more consistency, we have completed our range with its spherical counterpart: the Radium. Featuring the same advanced technologies, it offers a wider field of vision.
How are you segmenting your snow goggles? 
Salomon's goggles range is divided in three segments. Spherical: maximizing vertical and horizontal peripheral viewing angles for a better quality of vision, targeted at technical performance focused consumers. Cylindrical: following the curve of the face and reducing optical distortions, targeted at more modern, progressive and style-oriented consumers. Junior: combining the tried-and-tested benefits of our adult models, adapted to even the youngest riders. In each of these segments, a Good/Better/Best classification is also applied and defined according to the technology toolbox used. This allows us to offer different price levels and thus meet the expectations of the greatest number of consumers.
Where do you expect the biggest growth for 2023/24?
We expect to see significant growth in our higher- priced products. Also, with the renewal of our cylindrical offer thanks to the launch of the Sentry goggle, our objective is to gain market share with the core, free community and hit younger consumers.
What are the most important technological features in your 2023/24 collection?
We'll for sure continue to highlight Salomon's innovative Sigma lens technology that significantly amplifies color contrast on snow by adding a new Gun Metal Cat.3 option. The Sigma range is now made up of 10 lenses, photochromic cat.1-3 but also cat.3, 2 and 1 to cover our consumers' needs in all weather conditions and offer a wide choice of colors to suit everyone's style. Following the successful launch of the Radium Prime last season, we are also strengthening the magnetic offer with the integration of the Sentry Prime into the range. Its lens changing system is super easy and intuitive to use and it also features a locking system to secure the lens. And because 42% of goggles are replaced due to scratched lenses, it will also come with a foldable and magnetic lens protector so the goggles can stay protected and clean when not in use. Finally, our new models also feature Salomon's exclusive Custom ID Fit technology: adaptive foam and frame complexes which offer an advanced and anatomical fit no matter the shape of your face.
What is new in terms of construction and materials in your 2023/24 goggle collection?
As previously mentioned, we extended the magnetic offer for FW23/24 with the Sentry Prime model. The strong magnets are strategically placed, and 2 side locks ensure the lens is held securely in place no matter how hard you go. All our new models are also built with 100% PU frames, a durable and flexible material for durability and maximum comfort.
What colours and designs are you featuring in your 2023/24 collection? Any standout collaborations?
For this season, a huge work has been done on cross-merchandising to ensure a consistency in the range and a transversality of the colorways between the models. We have kept our basics, but more "free" and unisex colors have been added (Olive Night, Atlantic, Rainy Day…) to offer plenty of possibility in terms of combos. Still with this aim of targeting the freeski community, we combined Salomon's know-how with Nico Vuignier's influence and creativity and we'll launch for FW23 a complete protective capsule collection made of two goggles (Sentry Prime and Sentry Pro), one helmet and poles, all with an organic and uneven design to give a root effect and fit with Nico's unique universe.The children's offer has also been completely renewed and split into 2 segments: kids and junior. The junior colors are inspired by what has been done on the adult products, while a real design and color identity has been worked on for the youngest riders.
Are you implementing sustainability in your products and production processes?
On the goggles side, and since FW21 already, all our packaging has been reviewed with a more eco-responsible approach. Boxes, user manuals and hangtags are now made of FSC certified paper and we removed all the polybags as per our "no more plastic" objective. Sustainability also means offering products that last longer and as 42% of goggles are replaced due to scratched lenses, we worked on a magnetic lens protector compatible with our new Sentry Prime goggles. So your goggle can stay protected and clean when not in use. We also have a wide lens aftermarket offer so consumers can easily replace their lens without changing their goggles.
What are your marketing stories for 2023/24?
Our main marketing objectives for this new season are to be the brand of choice for the core community and address younger consumers. Our speech will therefore focus on the new Sentry franchise, which perfectly meets the expectations of this target. We want to be part of their own approach of sport which is to see skiing or snowboarding as a great way to show their own personality and style. A special focus will also be made on the Nico Vuignier capsule collection with specific social media activations.
How are you helping retailers to sell this category?
We offer a full range of PoP materials highlighting Salomon's key products and explaining and demonstrating our technologies (Sigma demotool, Custom ID fit demotool…). Dedicated protective visuals have also been developed for the retailers to be able to create a real universe around our products in shops.
Best Sellers
Salomon's Sentry Prime goggles combine a street-style vibe with the best goggle tech. To ensure flawless vision in all conditions, they come with two easy-to-swap magnetic lenses held in place by a latch for extra assurance. It's super-easy to pull a lens off, click another one on, and go as hard as you want to go. 
Designed for riders wanting to look good and feel good, Salomon's Sentry Pro goggles balance style and performance like no others. Whether you are shooting cool new tricks or riding big puff lines, they will always keep your vision sharp and your style bold!
Nico's inspiration, your story. Skiing as a mean of self-expression, where creativity, style, innovation and performance all have an equal value, captured in a boldly designed collection.