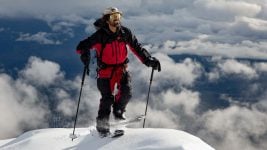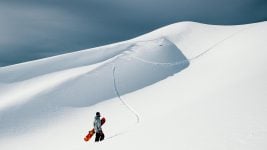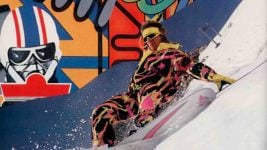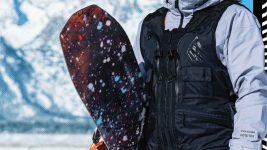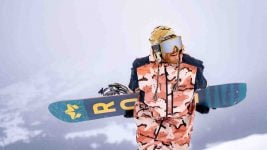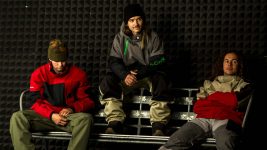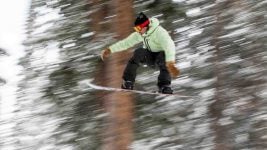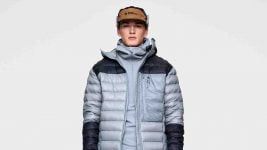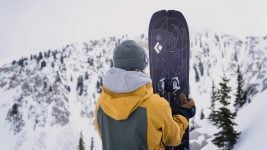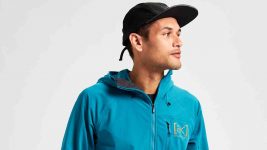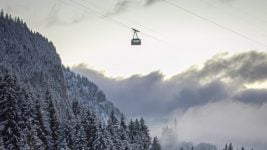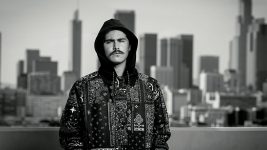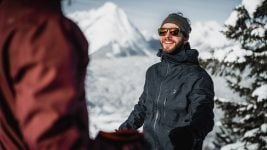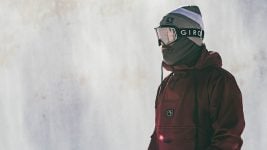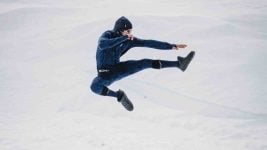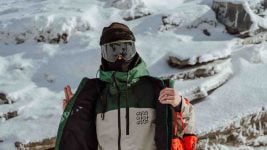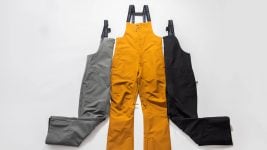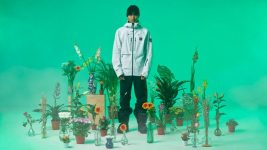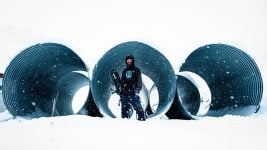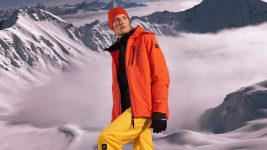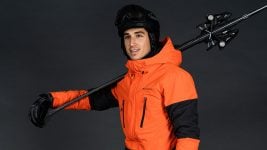 Men's Outerwear 21/22 Retail Buyer's Guide
As we enter 2021, off the back of one of the most challenging starts to a winter season for resort owners, retailers, and snow brands alike, there is definitely an air of caution about the future. Consumers have been in lockdown for so long that there is a huge amount of pent-up demand to go outside and be active though, and as soon as they are allowed to, these customers will seek continuity and freshness – brands can't afford to disappoint. Ruth Cutts reports on the trends for Men's FW21/22 Outerwear.
Adaptable Outerwear
Multiplicity is key for many pandemic consumers, with value for money being important to those who may have been hit financially over the past year. Tapping into that mentality with an adaptable range is a smart move for brands. Burton's Christine Egger explains how their AK Fall Collection is designed "for riders that think about riding as a part of their bigger outdoor lifestyle – not separate." Meaning that items in the range such as the Softshell jackets with their breathable and stretchy fabric are ideal for "taking on long tours and skinning track laps alike." For Oakley, gaining insights from their Team Athletes is an integral element of product development, and in their 21/22 collaboration with rider Ståle Sandbech they sought to meet his needs for style and functionality. Preferring pieces that transition from on-mountain to off-mountain without sacrificing comfort, style or technology, the collaboration includes classics like flannels and hoodies with more durability and tech round out the collection.
For many brands, the need for their outerwear items to be both functional and stylish continues to be of paramount importance. Brethren, for example, will maintain a focus on the technical streetwear vibe that is currently dominating snowparks, and DC are focusing on "balancing advanced mountain performance with city street wearability" through items such as their DC-43 Anorak which performs well in the mountains but looks comfortable in the streets thanks to the bold colour blocking design. Black Diamond are introducing their Vision Hybrid Hoody which features a revolutionary Japanese liquid crystal polymer ripstop construction in high abrasion areas for extra durability, falling in line with the brand's ethos of being "Built To Last". 
Similarly, Protest are focusing on the idea of hybrid clothing, wanting a range that is adaptable, comfortable, and functional with an urban edge. Ingrid Kalma, Head of Menswear Design describes how "in a time where we need to be consuming less, it's important that our clothing is made from quality fabric with classic cuts and functional details." Jackets such as the Komodon and the Meltin can be worn heading into the mountains, but also for a weekend walk along the beach.
A big news story at vintage brand Elho for FW21/22 is their range of down jackets. Elho has a huge reservoir of styles from the 80s and 90s, a time when the brand was a forerunner for serious down jackets with bright colours, signature down quilting and removable arms. "We are going to take the spirit, look and feel of these heritage jackets and adapt it to today's needs" explains Elho's Ulrich Hautzel.
Similarly, ColourWear are going back to their roots in FW21/22 and are paying homage to some of their early styles. Items such as functional anoraks, puffas and parkas are seeing a comeback once again from their initial popularity "back in 2010 when the ColourWear brand was challenging the industry status quo", as well adding some new styles to the collection finding inspiration from skate and urban culture.
For adventure brands such as Columbia, the pandemic proved a somewhat fruitful time with outdoor exploration being more or less the only activity which allowed the public to exercise whilst also respecting social distancing. They saw the situation as a massive opportunity to bring new and younger consumers to the table, and this is reflected in the expansion of their winter outerwear collection. They've created a range that is not only suitable for those that enjoy hiking or snowboarding, but which also appeals to the emerging urban active consumers that are eager to seek out micro adventures. As Yoann Patural, European Merchandising Manager, explains, "we really worked hard to inject a lot of inspiring products in that range in Puffers, Sherpa fleeces, and insulated jackets for all consumers who wanted to have a piece of the outdoors with them anytime, anywhere."
High-End Technical Gear
At the other end of the spectrum, the need for high-end touring outerwear is still palpable. Recent winters have seen a boom in snowboarders venturing into new locations, due in part to the more readily available and higher quality backcountry touring equipment but also, in part, to a cultural change in which there is now an accepted norm that backcountry is here for all to enjoy rather than it being the specialist activity it was potentially once viewed as. This has increased furthermore during the 20/21 season with a number of resorts opening but with their lift operations remaining closed leaving snowboarders no other choice but to don a splitboard and head off piste to go riding.
For Arc'teryx, their Procline & Shashka Stretch ranges are set to be an extension of their already extensive offering of backcountry friendly gear, "in recognition of an ongoing explosion of interest in that realm" explains Senior Product Designer Sarah Wallace. The collection is a new performance proposition, offering a differently weighted prioritisation of breathability and protection. Built entirely out of Gore Infinium, it offers excellent breathability with good weather protection. To complement the performance attributes of the materials, both jackets and pants have been designed with generously long vent zippers for quickly shedding heat build-up.
FW are staying true to their premium positioning with a collection that successfully combines high-end backcountry functionality with their signature, understated aesthetic. Their MANIFEST Tour 3-Layer Jacket and Bib, boasts premium waterproofing, breathability and stretch characteristics in a modern cut with minimalist branding.
Black Diamond's BoundaryLine Mapped Jacket, a carry-over product, includes EMPEL Technology for sustainable water-repellency, alongside the brand's own BD.dry Technology waterproof/breathable/windproof solution, which is engineered to shield you from whatever the weather holds.
Patagonia's touring garments have been refined to suit the hardiest of mountain dwellers with 100% waterproof 3-layer stretch (54% recycled face) fabric and H2No® Performance Standard featuring in their Stormstide jacket. Innovative modifications such as extra degrees of hip and knee articulation in their Upstride and Stormstride pants cement their purpose as products for those going the distance.
For Sweet Protection, their aim has always been to create the perfect armour for those who enjoy the backcountry with some of their classic best-sellers, such as the Crusader X GORE-TEX® jacket and pants having been revamped with all-new GORE-TEX® materials for FW21/22. The focus is similar for Mammut whose overall theme for FW21/22 surrounds Pro Team athlete Jérémie Heitz and his new movie project – a sequel to La Liste. The collection is built on the genetics of their EIGER X mountaineering pinnacle collection and offers the ruggedness and durability needed when riding down from peaks in 6000m altitude.
Picture are a brand trying to bridge the gap between functionality and adaptability with their products. The Utility range which has replaced the previous Adventure range, is moving away from the hybrid, urban and first price product, and toward a very technical product (albeit with an urban visual connotation), but which remains above all a technical product dedicated to mountain use.
Fit / Silhouette
It's no secret that surf, snow, and skate all take influence from each other and that themes can emerge across the board. It's hardly a surprise therefore that the baggy style that's been circling back around in skating is set to appear in snowboarding outerwear too for many brands.
Last season, Brethen's first range of outerwear was launched to big praise, so for this winter they've gone back to the lab, made a few tweaks on the items to improve functionality, but have kept the same old school early 90s/2000s baggy vibe.
L1's Ventura collection is a fun and playful silhouette and introduces their most relaxed / oversized fit in the line paired with a contemporary interpretation of 90s snowboarding. Oakley's Ståle Sandbech pants have been updated to a baggier style with adjustable features, and Horsefeathers, having noticed a "comeback of the regular/baggy pants", have included a number of looser silhouette pants which sit in their range alongside popular anorak-style jackets, such as their long-fit Norman anorak and other sporty designs. 
For ThirtyTwo, the Sweeper Pant (the brainchild of Scott Stevens and JP Walker), continues its legacy as a super stylish, easy riding pant on the mountain. With its unique mix of old school sweat pant styling, and modern functionality, the Sweeper Pant is a shred ready pant that can hold its own from deep pow to down rails in the park.
Colours / Prints
Many brands are looking to nature for inspiration, Protest, for example, have four main colour groups on offer which all feature grey and a clay hue. In the first group, brown and black are combined with an electric lime. The second group is made up of red, forest and sea green, dark yellow and a berry purple. The third is a high contrast group with red and black and the last group has blue and the same deep-sea green. Black Diamond's FW21/22 collection is bringing warm colours such as amber and crimson alongside different variations of blue. 
FW are also looking to the great outdoors with rich monochrome and vibrant accents. Vivid colours such as deep teal and fresh mint are inspired by coastal shorelines, and luminous red tones represent wild berries and red maple. Darker hues include a warm pine bark and a deeply saturated dark stone inspired by the alpine skyline at dusk. As Anna Smoothy, Head of Marketing states, "whether it's the mountains, valleys or the ocean, nature is at the core of our brand and inspires our colours."
Others are looking to the past for influence, such as Sessions' retro street look from the 90s which focuses specifically on the retro arcade games of the era. The brand has chosen certain colours that would best complement and showcase their silhouettes such as neon green, deep sea, and orange.
L1 are taking it back to a similar time with a grid check print that is reminiscent of the 90s, DC send a nod to this era with tie dye and paisley prints within their collection, and Protest join this trend with plaids and stripes as a point of difference.
Retro in its entirety, vintage outerwear brand Elho are looking to FW21/22 to celebrate life and being free again after a disrupted pandemic winter season. Elho's choice of bright colours in the 1980s were always in homage to a positive lifestyle, and this is what the brand continues to promote to this day. However, they are going to be adding a few more basic colours for riders who do not want to be as prominent on the slopes.
Camo continues to be a proven classic print and can be found at Strafe in an oversized black and navy print combo on a heavier nylon ripstop, at Protest in a new form of their classic camo print, at ColourWear in an updated print, and at Thirty Two in traditional green hues alongside a sandy alternative. At DC they kitted out some of their popular outerwear pieces with the Mossy Oak® camo Country Roots Midnight print, and O'Neill are featuring three distinct camo colour stories: red and yellow combined with a warm beige and black, navy and military green are combined with cobalt blue, and black and military green are combined with poison green.
For 686, their new off-white colour, called Putty, is the superstar of their upcoming range with their most popular GORE-TEX® jackets and bibs all available in this colourway for head-to-toe styling. Whilst Oakley are bringing introducing a unique golden colourblock pattern in their collaboration with Team Rider Yuki Kadono.
Lightweight Protection
In order to be effective, outerwear undeniably has to keep the wearer warm, but this cannot afford to be at the compromise of performance. Bulky insulation simply does not cut it. The team at Bonfire are bringing in a new lighter weight Cordura© fabric to support their Zone Mapping Technology from last season within the Aspect Jacket, Master Bib and Torch Pant. By using different fabrics to best suit the coordinating body zones, it will add breathability and lighten the overall garment weight.
Strafe are continuing to expand on the use of Primaloft Gold Cross-Core insulation in items such as their Aero full-zip and pullover insulators and also their Conundrum jacket. Its warmth-to-weight ratio is unmatched by any other synthetic insulation, which in turn makes their insulated products packable and less bulky.
Volcom will continue to use their Thermal Defense System (TDS) within a number of their key products in the 21/22 season. The TDS technology features infrared thermal panels filled with RDS duck down, that are then strategically placed to ensure the wearer's natural body heat is recycled efficiently back to the core.
Columbia's Omni Heat Infinity lining technology works similarly by reflecting the wearer's body heat to increase warmth, and next season they will be increasing the reflective surfaces from 30% to 50% using materials similar to what you would most commonly find in emergency blankets.
Keeping warm is key and keeping dry is an integral component of this. Next season, Airblaster will be (re)launching their limited-edition Sasquatch line which features fewer than 100 pieces per colour per style based on their most popular silhouettes but built using technical fabrics available from Schoeller® for ultimate water- repellence and excellent breathability.
For Mammut, the core element of their La Liste PRO HS outfit is the innovative bib, which features a comfortable hardshell pant with a removable vest-like bib functioning simultaneously as wind and cold protection. The robust and waterproof 3-layer GORE-TEX® Pro material guarantees durable water protection with excellent breathability.
Sustainability
The direct environmental effects of COVID-19 lockdown are far-reaching (the reduction in transportation and industrial production, reduced CO2 emissions, improved air pollution to name a few), and for many brands continued greener processes and improved eco-friendly materials are at the forefront of their company manifesto.
The all-new Jones outerwear line consists of environmentally minded, movement-focused technical apparel that's designed to be extremely functional for dynamic days in the mountains. Every piece in the collection is also made from unique recycled fabrics and materials.
The Peak Bagger jacket in the Uphill collection is made from a ground-breaking fabric that was developed in partnership with Tenjin. Exclusively made for Jones, the four-way stretch, soft touch fabric offers an impressive 20K waterproof / 40K breathability rating, and is made with 100% recycled polyester, 40D knitted face fabric and PFC-free DWR.
The Jones Shralpinist collection has been designed to withstand the harshest conditions whilst being extremely breathable, the zones where the wearer would most likely get wet are made with rugged 100% recycled GORE-TEX® Pro fabric, and the areas where you move and sweat are made with the most breathable 100% recycled GORE-TEX® Pro fabric available.
DC will be launching their 'DC RE/SOLVE' sustainability program which will result in increased recycled content within their fabrics, a revamped headwear line with Polylana® yarns, post-consumer recycled insulation with the introduction of PrimaLoft Black and PFC-free DWR coatings.
The overall theme for the O'Neill range is sustainability with the entirety of their range being labelled as 'O'Neill Blue' (a product is identified as 'O'Neill Blue' when it is made from at least 40% recycled materials). Every item in their range has a Carbon O durable water-repellent finish, in a bid to move away from harmful finishes.
Protest have challenged themselves to 'Green Up' on their path to improved sustainable practices and the PVRE Green series is a part of that journey. Within this range, every part of the garment from the fabric to the zippers and the other trims are made as sustainably and ethically as possible. This season also sees the introduction of an exciting new fibre created from fusing coffee grinds with recycled polyester.
Baselayers
Fewer things are more capable of spoiling your day on the slopes than getting cold when you're out snowboarding, sitting shivering on a chairlift because you didn't layer up properly. The job of an effective baselayer is to help regulate your temperature whilst you're out and about on the hill, and the emerging global growth of participation in outdoor activities and sports is anticipated to be one of the prime factors for an increased demand for this market.
For Airblaster, their focus continues to be on their Ninja Suit. "Simply put, it's the best base layer on the planet" claims Marketing Manager Ricky Hower. Designed for alpine touring, the Ninja Suit protects the wearer from falling snow and ridgetop gusts with a 4-way stretch Schoeller® NanoSphere® softshell that provides excellent water-repellence and breathability. The merino fabric panels also provide a barrier of warmth at the core.
Horsefeathers continue to push their successful Riley top and pants in their baselayer offering. Both made from stretchy and lightweight fabric, they feature Silverplus antibacterial odour protection with flat seams and quick-drying, breathable Bluesign approved fabric.
Baselayer brand Mons Royale will continue their use of Merino wool and wool blends within their FW21/22 range, sourcing their materials from New Zealand's ZQ Merino; the world's leading ethical wool brand. Within their Cascade series they will be introducing Merino Flex technology that provides all the warmth of merino with a 4-way stretch for added performance power.
RAW is FW's merino baselayer collection and it features lightweight merino crewnecks, t-shirts, three-quarter tights, a midweight balaclava hoodie and warm joggers. The collection is made from natural merino wool, which is both breathable and warm, and features anti-odour properties too.
Black Diamond's base layer selection is designed with innovative technologies, such as the Nuyarn, which produces 35% stretcher and loftier fabric while making it dry 5x faster, thanks to its special spun, and BD Solution Wool, which is responsibly sourced wool, certified non-mulesed merino wool.
The Jones Layering collection includes a fleece button down shirt, a short sleeve sun shirt and several technical tees including a merino tee. All of the Jones technical layers are made with no less than 95% recycled fabric.
Collaborations & Marketing
Every year brands collaborate with other brands, organisations or simply with creative artists to add something new to their products. For FW21/22 a lot of focus has been put on 'give back' campaigns.
In line with their 'people over profit ideology' and heightened by the current economic difficulties the planet has endured lately, Brethren have partnered up with the Snow Camp Charity. "We felt we could use our small but loyal following to do some extra good, and actively support the charity who help young people from inner city communities build positive futures through snowsports. We donate £1 from every online sale to the charity and have also left an option for every customer to leave a tip when they complete at checkout … and it's been working!" explains Co-Founder Chris Kyte.
And Brethren aren't the only ones to prioritise philanthropy. Within Airblaster's Erik Leon C.O.R.E. outerwear range (C.O.R.E stands for Community Outreach Riding Equipment), each product is designed to be at the lowest price point possible to reduce the barrier to entry as well as keeping the environment in mind during production. By offering affordable products Airblaster and Erik Leon are working to make snowboarding more accessible.