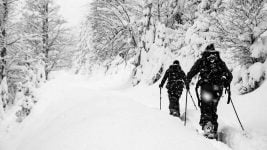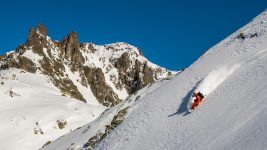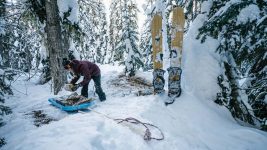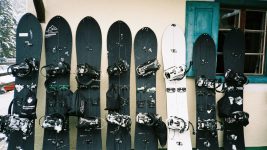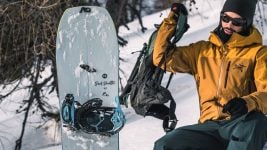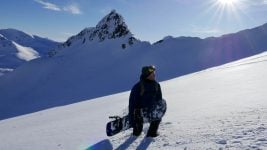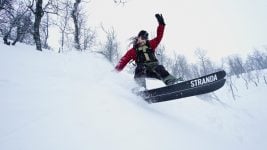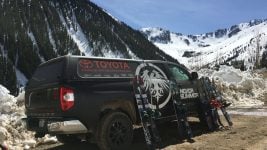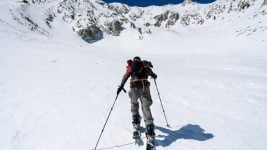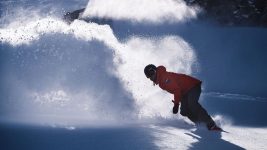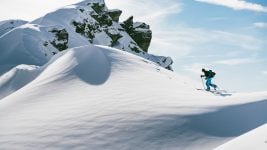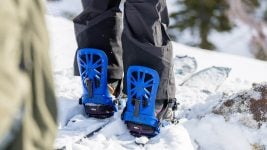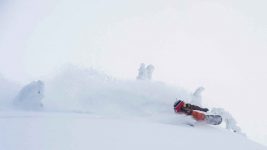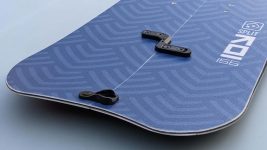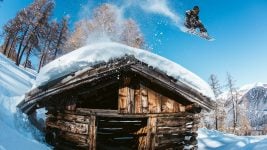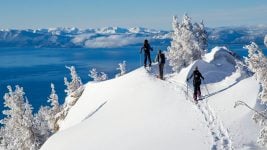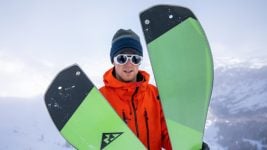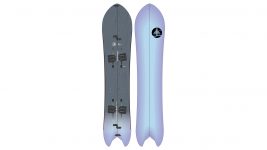 Splitboard Hardgoods 21/22 Retail Buyer's Guide
Splitboard brands always talk about the massive potential for growth in the sector; and despite COVID-19 (or perhaps even because of it), 2021/22 looks like it could be the year to boost the number of backcountry partakers higher than ever. Andrew Duthie rounds up how brands are adjusting to the new normal.

COVID Dividend
"There has been a TON of demand for our splits online in Autumn 2020," says Seth Lightcap, Global Marketing Manager for Jones. It's a sentiment echoed across much of the splitboard sector, and one that has in no small way influenced how companies will be approaching the 2021/22 season. Having the option to ride at a time when the lifts might not even be spinning is attracting more mountain-dwellers to the poles-and-skins option.  
"It really feels like splitboarding is going to receive significant focus in this socially distanced pandemic climate," notes Mervin Co-Founder Pete Saari. "Like mountain biking, which boomed this summer, splitboarding offers you the complete experience of exercising and keeping fit on the climb and endless thrills on the descent." Arnaud Repa from Rossignol sums it up pretty neatly: "It is a niche market that takes its roots in isolation, therefore is well prepared for pandemics." 
Then there's the sustainability angle; having done away with the need for chairlifts, gondolas, piste-bashers and mountain cafes, splitboarders tend to be an eco-conscious lot, so it's a chunk of the market that'll be primed for carryover more than most. Borealis owner Ben Hall certainly thinks so: "To me, the carryover approach is, quite simply, more sustainable and in complete opposition with the 'consume > throw away' culture we live in. I think it's good to focus on making high-quality, long-lasting products, if possible, made using materials with a reduced impact on the environment."
Base Camp
With all this fresh interest, it makes sense to begin with what's out there for newbies. After also witnessing a spike in inquiries post-COVID, the team at Never Summer set about creating lower-priced options for the uninitiated of both genders. Gone is the carbon fibre that's found on the higher-end models, but, to a degree, changes to the thickness and taper of the cores have compensated for this.
Less costly boards are great, of course, but for anyone new to splitboarding, there's plenty more on the shopping list. For that reason, Burton will continue to offer all-in-one splitboard gear packages for both men and women in 2021/22. Similarly, K2 are adding a new model called the Freeloader which features a new, significantly lighter core designed for touring. 
Want to get the kids into the backcountry? Nitro potentially have the answer in the form of a new kids-specific splitboard, the Miniganger. Don't worry about having to find skins and bindings to fit; both are provided in a neat little entertainment package that'll knock the Playstation 5 into a cocked hat.
Over at Union, they've got some new approach skis on the way. The Rover, built at CAPiTA's Mothership facility in Austria, will give riders the opportunity to stick with their solid board and standard binders, making it an affordable way for never-evers to enter the backcountry. Look out for a compatible backpack too. 

Onwards and Upwards
For customers already familiar with the art of glide, there's plenty to get excited about for 2021/22. Arbor are among the brands avoiding carry-over in the splitboard sector altogether. "We believe it will be important to offer retailers and consumers some fresh products and drive excitement through this," explains Chris Siebrecht, Sales & Marketing Manager. "We hope this decision will be appreciated by our retailers". Among the new arrivals are two women's models; the split version of Marie-France Roy's Veda freeride board, and a camber version of the Swoon. All Arbor splits will now also feature 'Rise Above Plastics' construction which eliminates the need for fibreglass in the topsheet, as well as the option to buy pre-cut skins.  
Rossignol have also looked to one of their standard-bearers in order to up their women's offering. Freeride World Tour three-peater Marion Haerty gets a split version of her After Hours, which leans a bit more towards backcountry freestyle than most. Meanwhile Burton have added a split version of the resurrected Leader Board. "This is geared towards more technical mountaineering-style splitboarding," says Lesley Betts, the B's Senior Product Line Merchandiser.
Even more fresh gear is incoming from Nitro; even with the Incline boot and Vertical binding barely out of the gate, the brand is doubling down. The Skylab boot features a single-piece construction on the lower section, making it all but impenetrable, as well as lightweight. What's more, it's reinforced against the wear and tear caused by bindings and crampons on the way up. There's also a set of 4-piece foldable poles on the way. With skins also available, as well as a range of decks (including the new split version of the Slash), as of 2021/22 Nitro will be joining the ranks of brands offering a full splitting setup.
Endeavor have looked to the past for inspiration, resurrecting topsheet technology last seen on Option snowboards (RIP). According to Brand Manager Joel Giddings, Armtex is "a continuously laminated fiberglass topsheet that is pre-cured under tension. This provides insane pop and flex memory. Added to this, no plastic topsheet is required, reducing weight and the need for more plastic to be out in the environment." A new urethane configuration, designed to prolong the life of their splitboards, will also be applied in 2021/22.

Continuity Candidates
Of course, this is splitboarding, where the need to refresh the whole line on an annual basis wasn't a given, even before the disruption caused by the pandemic. Mervin, for example, were already planning on carrying forward the Gnu GORP and Lib-Tech Split BRD. "We hope that it gives retailers the confidence to bring in splitboards knowing they will not be made obsolete due to changes in graphic direction," says Pete Saari. 
Salomon were likewise committed to a 100% carryover of splitboard gear, as were West. "The good thing here is that we have plenty of stock, and we take the risk of stock for our clients, says David Lambert. "Shops always order splitboards with caution on quantities, and they know they can count on us to have enough stock through the season." Northwave's crampon-friendly Domain CR boot will also return for 2021/22 unchanged, which makes sense given its niche-within-a-niche target market.
Jones gave their splitboard line a major tech overhaul for 2020/21, so the following season will see a lot of carryover, aside from the fact that the clips will be upgraded to various versions of Karakoram's new 'Ultra' offerings. The high-end Ultracraft and Ultra Solution will be the only models on the market to feature the new Ultra 3C clips. 
Gigi Rüf is now taking orders for his third season as complete owner of Slash Snowboards and the brand marks its 10th anniversary in 21/22. "We debuted the Vertical Split for 20/21 and it's been a huge success, sold out in November! The only adaptations I'll be making for 21/22 will be to get rid of the through-bolts and update the other split in our line, the Brainstorm Split with insert mountings which will leave the base untouched and make it a storming price-value board. We've also updated graphics for both boards, which tie in with our Artificial Disorder theme for 21/22."

Another brand mixing up their fastenings (switching to Phantom Hercules hooks) but keeping everything else essentially the same is Stranda. It'll be the third year that their Shorty Backcountry splitboard will feature the same topsheet graphic. "Still a great seller for us", is shaper Mats Drougge's rationale, and it's one with which it's hard to argue. While the look stays the same, the size range is expanding, which is an approach you'll also see from Gara ("Why change something that works well?" – owner Ota Tyl) and Fjell ("With all the noise in the world, we think for us it will be even more important to keep the silent expression in our design" – Co-Founder Kjetil Bjørge) in 2021/22. Then there's Korua, arguably the masters of the carryover. "We have been doing this since the very beginning," explains Nicholas Wolken, "and it has been appreciated by our retailers."  
There's not much movement in the splitboard bindings category; most brands are staying the course for 2021/22, and SP are actually going in the opposite direction. It was a decision directly inspired by the COVID-19 situation, confirms Mats Engeker, Head of Product Engineering. "We wanted to make sure to support our partners in the best possible way. In order to give our retailers as much safety and security as possible, we will reduce our bindings portfolio for the next year to the needed basic colourways and models."
Union's Expedition binding has been renamed the Explorer, and will see some significant upgrades; both the ratchets and ankle straps have been improved for 2021/22, and the entire 'Forged Carbon' build has been spec'd up courtesy of a new forging press at Union's own factory. Meanwhile the Expedition name will transfer over to the brand's overall backcountry product line, which includes the Rover approach skis mentioned earlier. 
All this might mean fewer options for things that really pop on the shop floor, but given everything that's happening, it does seem to make sense. Plus, Amplid's Peter Bauer identifies another positive to be gleaned from the situation; "There is less pressure in RnD, and you can focus on new technologies with more time."

Online VS Instore
The age-old question 'is the internet ever an acceptable substitute for shop-floor service?' has taken on a new dimension in the age of COVID-19. All across the retail sphere, shops have had to get used to the idea that more and more of their customers will be coming to them online. Given the niche nature of splitboarding, the amount of technical info that needs explaining, and the importance of promoting mountain safety, the decline of face-to-face interaction could spell disaster. 
Unsurprisingly it's the dyed-in-the-wood splitboarding specialists who are making the strongest case for physical sales. "We believe the brick-and-mortar game for snowboard and splitboard gear will remain strong in the future," notes Spark R&D's Dan Ventura. Kyle HansenKahn at Karakoram agrees; "Small shops are vital in their role as community hubs. While that may look different for a while moving forward, I think that need for local community organisation will always have a place in snowboarding". Jessica Deiber, PR manager at G3, doesn't mince her words: "Our retailers are our lifeblood." 
Having said that, Plum's Thomas Debray makes the point that all brands should have already been offering the required info online even before COVID-19, saying that "there are not enough store retailers yet to correctly address all the end users so we do our best to inform people on our website with tutorial videos, product descriptions and spare parts."
Across the sector, most brands are striking a balance between the two – one that is likely to tip one way or the other, depending on what happens in the coming months. In short, retailers should be prepared for anything.

Conclusion
Even during a pandemic, it's wise to take a glass-half-full approach. However, in the case of splitboarding, it looks like fate might soon be topping said glass up to the brim. If brands and retailers alike can ride this wave of interest whilst pushing good information to customers of all levels, both in person and online, then expect 2022 to be the year that human-powered snowboarding got turbocharged.