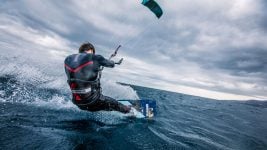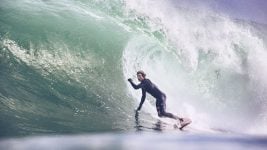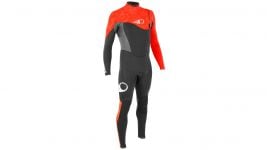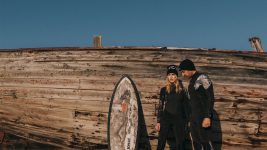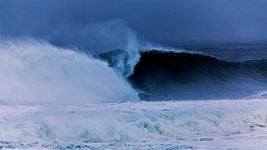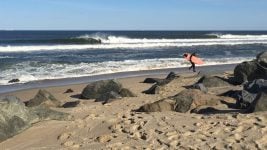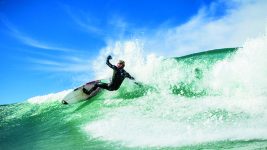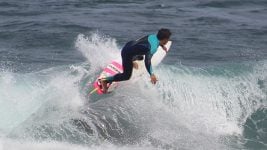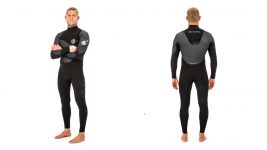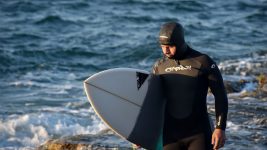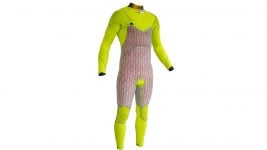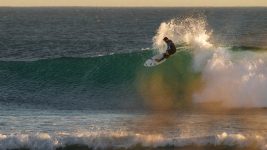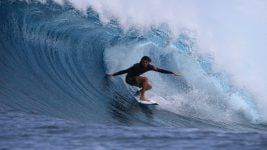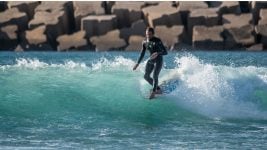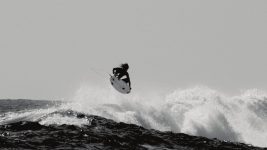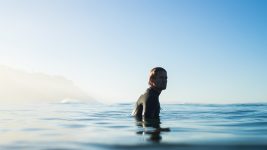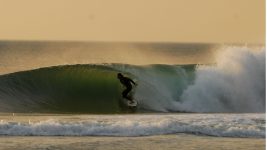 Without wanting to sound like a climate change doubter, it's still just as cold as ever in the winter line-up but there have never been so many frozen moustaches in the water at one time. Good or bad news for the grumpy surfer, this affluence can for the most part be put down to the work of brands, whose wetsuits are certainly pricier than ever before but are also ultra-high performance. And next winter (spoiler alert) there will be a whole new batch. Wetsuits buying guide autumn/winter 2019/20 by David Bianic.
Those who don't know the masochistic pleasure of slipping into a soggy 5/4/3mm on the beach with temperatures touching on zero haven't yet had the full winter surfing experience. While the changing part itself remains a transition of pure agony, cold water sessions are now sessions like any others thanks to these rubbery second skins that combine warmth, comfort and elasticity. "10 years ago you had to choose between a stretchy wetsuit or a warm wetsuit, now we are giving both with all our Flashbomb series." explains Jonathan Cetran, Core Division technical products manager at Rip Curl Europe. These technical garments make it possible to brave the throes of winter and are sending sales figures though the roof. "Just five years ago between December and March, a lot of people would stop surfing," remembers Benoît Brecq from Madness, "but today with the technological developments in wetsuits, there are more and more people in the water at this time of year," before going on to mention how surf clubs these days are open all year-round. Julien Durant from Picture Organic Clothing reminds us that this is an era where "customers are the most demanding when it comes to conditions and the extreme use of their equipment." For him there is no space for inadequate quality or useless gadgets but it is perhaps the best moment to introduce innovations: "You pass or crash." For surfers based in Northern Europe, a 5mm model can even embody an all-round wetsuit, confirms Irene Duncan, Product Chief at English brand Typhoon: "We have seen an increase in demand for an all-year-round wetsuit." Another symptom of the sector's good health is that for Soöruz' "cagoules and gloves have been out of stock since November," points out Co-Founder Yann Dalibot.
SMALL IS BEAUTIFUL?
The vibrancy of the neoprene market has allowed many 'small' brands to emerge, sometimes specialised in commercial niches, as well as opening doors to new distribution strategies, especially D2C. But is this new arena seen as good news? There's mixed feelings at Adelio, admits Director Brett Vergou: "It's one thing to make a product but if there's nothing else behind it then it feels a bit soulless to me and I feel there's more of that in the market at the moment which has damaged things." While he welcomes the healthy competition these new brands are injecting into the market, Bruce Moore, VP of Innovation at Hurley forecasts that "the D2C strategy is an aggressive price policy, while pricing is just one aspect of a wetsuit," and that the new players will at some point have to bring more in terms of added value. Benoit from Madness joins him by reiterating the importance of the after sales service that only the 'real' brands are able to provide. For Mike Pickering, Commercial and Marketing Director at GUL, the best protection against this phenomenon resides in the traditional distribution structure: "You cannot do better than get proper advice on fitting a suit than from a retailer whose staff actually surf/go into the water." And from the defence: "lots of brands created a second market with discounts all year long or big braderie (sales) with non sensical prices," states Mathieu Desaphie from Sen No Sen, who is happy with his D2C sales while he searches for high-quality physical partners. To fuel the debate, heed the words of Yann from Soöruz: "A healthy market needs niche brands to explore and take risks. The big brands are often stuck on rails." A word to the wise…
INNOVATION: WHAT'S UP DOC?
Technical advances seem rather modest overall and they tend to prove the high degree of accomplishment already attained by brands as opposed to suggesting immobility in the sector. However, it is impossible to bypass the new Flashbomb Heat Seeker from Rip Curl; this one promises to generate heat by stretching and rubbing fibres in the new Flex Energy liner, "which gains you between one and two degrees" asserts Jo Cetran. Rip Curl say they have doubled sales of their Flashbomb with this new model; there's no smoke without fire (inside a wetsuit): it works!
In the same spirit, XCEL Wetsuits are offering bewildering technology in their Drylock models aimed at the coldest conditions. "Celliant Black is an updated version of our FDA-validated Thermo Dry Celliant material, a material that promotes blood flow within the body and produces heat," reveals Lance Varon, Head of Global Product. How does it work? The smart fibre fabric contains thermo-reactive minerals that convert body heat into infrared rays: more heat as well as better vasodilation to provide better oxygenation of the fabrics and therefore more performance. Impressive eh?
Once more, the devil is in the detail. Torso/backs made of shark skin (this smooth coating is strategically placed to stop the effects of windchill) are less prevalent than in recent seasons, like at Adelio who are ensuring that the treatment applied to the smooth skin retains the same heat and provides a more flexible wetsuit that's also more durable. It's a similar story at pioneers O'Neill Wetsuits with their triple-layer TechnoButter 3 whose outer jersey is made of flexible hydrophobic thread.
After 60 years of existence, the wetsuit sector continues to look for better placements of seams. In 2019, to achieve this, Hurley will put the results of their studies carried out at San Marcos University, San Diego to use: "We have studied Biomechanics and Kinesiology extensively for a few years now," Bruce Moore tells us. "The short version is that seams are placed in compression areas of the body so they do not inhibit stretch." The search for the perfect fit may have just found an answer at the brand Solite who are offering thermomouldable booties, at home, in hot water! This is something that can inspire wetsuits… All the same Chris Grant from C-Skins does warn: "some brands are making suits so lightweight and stretchy that there are serious compromises on durability and fit retention." To avoid this, the British brand are announcing a new neoprene for 2019/20, Diamond Flex, whose external weave promises enhanced flex memory, stopping the wetsuit from deforming after wearing it for a few weeks.
Sometimes too hot, which is the final straw frankly, internal liners have increased the weight of wetsuits, especially once they get wet. It's this line of research that has motivated ION to end up with a 2.0 version of their Plasma Plush liner: "Thanks to its vertical structure, water drains super quickly," explains Marc Burhans, Head of Wetsuit Product, "and helps to take the suit on and off easily." Also of note is their interior coating 'Silk', featuring across the range, reminiscent of the soft touch of the fabric's namesake. Other details come from Madness, whose top-of-the-range Couture Edition models dispose of a Donuts Cuff system; a more tailored finish at the wrists to reduce water ingress. These waterways were part of the problem for the first zip-free wetsuits. This era seems to have passed but some brands are continuing to go down the route, for example, Onda Wetsuits and their Freedom Back Entry system with its zipless opening at the back.
LIKE OIL AND WATER
While the surfboard can easily hide its environmental impact under its immaculate white gloss, the black wetsuit is an incarnation of the evils of oil. This 'bad taste' violation will surely accelerate development in one way or another towards cleaner manufacturing and sourcing. The jury is still out about the use of Limestone-based neoprene, too wasteful in its extraction/production to represent a 100% clean alternative in the face of neoprene from the petrochemical industry but it's a good first step. These brands are using it on the entirety or part of their ranges: Adelio, GUL, ION, Typhoon, Sen No Sen, Solite, Soöruz, C-Skins, Onda, XCEL. There's another replacement choice at Picture, with their exclusive Eicoprene fabric, a foam made from recycled tyres (30%) and Limestone neoprene (70%). To this day the only sustainable alternative is still Yulex, the natural rubber from the hevea (or guayule) tree that Patagonia have been the best promoter of. It now benefits from a fair trade certification at the Sheico factory for whoever is willing to pay the price. Brands like Soöruz (Naturalprene based on guayule) and Sen No Sen (hevea Yulex) have since followed in their footsteps.
But these aren't the only manufacturing points to be reconsidered by brands, for example the dying methods "Traditionally used huge amounts of water," points out John Westlake, "Rubber Man" at Alder. As a result, the brand favours a process christened dope-dyed, "which adds colour at the weaving process;" a choice also prioritised by Patagonia, ION and O'Neill Wetsuits: "This method of dying not only reduces our environmental impact but it also stops the colours fading quickly and doesn't damage the fibres," adds Gabe Davies from Patagonia. Equally, the use of water based, non-solvent glues is now pretty standardised, "a great thing especially for the workers in the factories which we should never forget about," states Marc Burhans from ION.
BLACK IS BLACK
At least surfers have one thing in common with skaters: their love of black. Although spring/summer wetsuit ranges have brightened up in recent years through colours and livelier prints, winter models have sunken into stark conservatism. "Not only do our consumers prefer stealth colours, they also have technical benefits. Darker colours absorb more heat from ultraviolet radiation," explains Tom Copsey, Head of Product for Europe at O'Neill Wetsuits. To avoid black without losing its heat retaining properties, the brands have turned to colours such as navy blue, Bordeaux, dark green, mottled grey or they go for panels of bright colours or prints. "Concerning the men's line we are working with soft colours & melange colours. Designers worked on a Lofoten print, inspired by Svalbard landscape; a camo print & a wave one," adds Julien from Picture.
For a bit more creativity, cherchez la femme! The audacity expressed in feminine interseason and summer models also features in winter, confirms Benoît from Madness: "The female market has pushed the vision of wetsuits. Feminine fashion has infiltrated their style with colours, flowers, Navajo motifs, etc." It's the same idea at Picture, through a collection using pastels as well as abstract art prints and marble affects, basically motifs that you find on their outerwear and accessories, "as an opportunity for retailers to cross-merchandise."
To finish on a playful note, we asked brands what they think the major innovations of the wetsuit markets will be in the near future. Here are some of the ideas from this little fortune-telling game:
– A wetsuit custom made through bodymapping (Adelio, Onda)
– Connected accessories and smart fabrics (ION)
– 3D printed wetsuits using recyclable neoprene beads, after a body scan in the surfshop (Tiki)
– Wetsuits that adjust to your body, like the Nike E.A.R.L. (Jobe Sports)
– Wetsuits that change colours according to their temperature and/or contact with water (Jobe Sports)
Science fiction or simple anticipation, this brainstorming exercise does highlight the vitality that runs right through the surf wetsuit sector. Innovation and participant numbers (in winter) are intrinsically linked to this and that's why it's so important for retailers to go for brands that invest seriously in R&D.