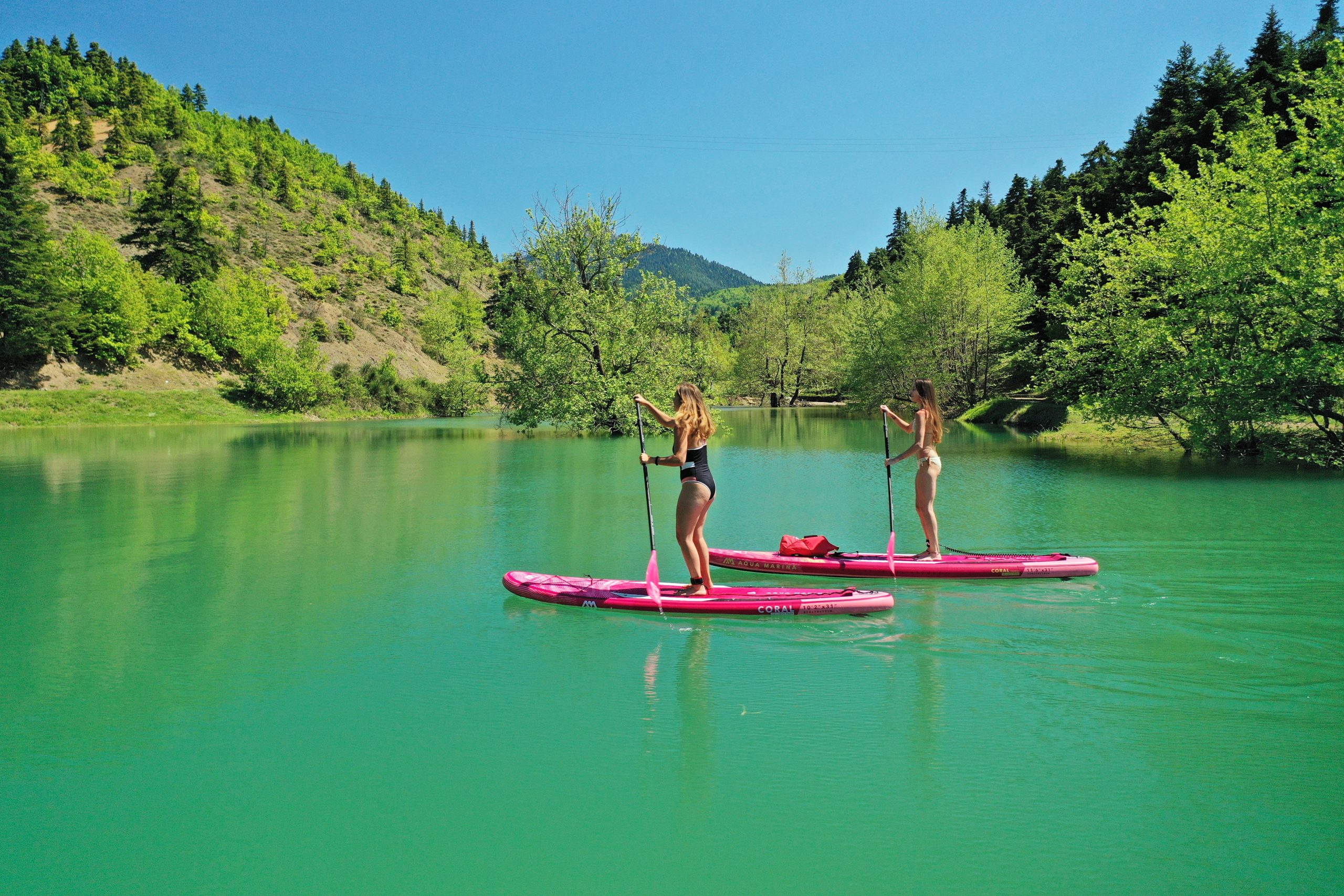 Aqua Marina 2022 SUP Preview
Retail Buyers Guide: SUP 2022 Retail Buyer's Guide
Brand: Aqua Marina
Interviewee: Chap Zhang, Senior Product Manager
Is Spring 2022 marking a comeback to a "normal" market? In other words, has production come back to the pre-covid pace, can you provide decent amount of stock to everyone?
It seems that our end-users are more rational when making their purchasing decisions, and we haven't seen a dramatic surge in demands as last year. But the volume has just remained more than doubled compared to pre-COVID period, so our operation department would still contribute to managing the production and material control as planned before the season. It's hard to reveal the exact stock amount as it remains confidential internally.
A careful attitude with plenty carryovers has been the go-to choice for a couple years. Will 2022 be the year of innovation for your brand?
For AQUA MARINA, innovation never ceases whether it be our products or our techniques. We have both short-term product line renewal plans and long-term product development targets, so we just keep pace with the brand planning and launch new products and technologies each year before the season as planned a long period ahead. 2022 will definitely be another important year of innovation for our brand, as we are carrying on a more aggressive green strategy for our whole collection. The new products would be not only designed but also produced based on this strategic approach. We believe our striking breakthroughs for products and techniques would largely reduce industrial and personal footprints that we get to create and craft the future of iSUP boarding.
How did you build your inflatable range in 2022? And which inflatable technologies are you implementing in 2022?
Basically, we refreshed our specialty boards for 2022 with some user-friendly features for better user experience, including long-distance racing, whitewater, surfing and windsurfing. Fused Double Layer Technology and Heat Fusion Technology are mainly used for these boards for ultimate rigidity while keeping them lightweight. The Drop Stitch Light Technology and High Frequency Welding Technology remain the key to our popular all-around and touring boards. What's worth mentioning is that we introduced the CFR™ Technology (Carbon Fiber Reinforced quadruple stringers) for a new racing model called "RACE ELITE" for 25% increase in stiffness and 60% more responsiveness. Together with the Fused Double Layer Technology, this board is ultra-rigid to help riders race against the clock in long-distance race events. The new whitewater board, RAPID, comes with the bonus newly designed ARCH EDGE™ Technology. With the raised rear edge and centered arch bar, river riders could focus on paddling with quicker response. For our new surf model – WAVE, a brand-new "PRESS-IN" thruster fin system is specially designed to catch waves and maneuver turns. This innovative easy-to-use fin system is introduced for fast secure fin attachment. Other new models, such as our ladies-specific touring board (CORAL TOURING), new kids all-around board (VIBRANT) and the windsurfing series (BLADE), are of great value and performance.
Hardboards: where is the category going according to you? A niche reserved for experienced riders only? 
We don't produce hardboards.
Is the Swiss Army SUP, that is to say multi-use designs (SUP/FOIL/WING/WIND/SURF) an ongoing trend in 2022?
We can't neglect the ongoing trend of some multi-use SUP boards like foils, wings, surf and windsurf SUPs, but they remain in the niche market compared to the all-around and touring shape boards. And according to our latest survey, there's an increasing popularity in using all-around boards for multi-purpose practices, such as learning surf techniques and exercising yoga poses. So, for AQUA MARINA, we will still focus on improving and developing the entry-level iSUP boards for the mass market, and making them truly "all-around".
Any piece of advice to give to brick & mortar retailers concerning their order sorting?
For brick & mortar retailers, it is fairly important to cooperate with big brands rather than OEM factories, as such suppliers may be easily affected by some uncertainties and thus can't provide in-time after-sales services and support. Budget-friendly all-around and touring shape boards may account for the most proportion when placing an order. Well-designed boards with a stunning look and finish are favored by most end-consumers and can effectively help boost sales volumes. Longer boards with a large loading capacity are welcomed among family buyers.
Best Sellers:
BEAST 10'6"
With a classic all-around size and shape, BEAST is the ultimate inflatable sup board that everyone can enjoy. This popular all-around advanced board is one of our bestsellers, offering fantastic versatility and boasting unrivalled quality, innovation and design. The Drop Stitch Light Technology makes the new BEAST one of the most valuable inflatable SUP on the market with an incredible stiffness and weight ratio.
CORAL TOURING 11'6"
CORAL TOURING is specifically designed for all levels of trekking enthusiasts to effortlessly cover longer distances with exceptional glide and maneuverability over calm waters or to catch some small waves. Constructed of Drop Stitch Light Technology and High Frequency Welding Technology, this board only weighs 9.6kg while allowing up to 130kg to be loaded up. The compact backpack makes the board convenient for travel, and to neatly pack all the accessories.
BLADE 10'6"
The new BLADE windsurf SUP board caters for all experience levels and performs perfect at both stand up paddle boarding and windsurfing. Upgraded with a 6" thickness this year, BLADE offers two sports in one by providing excellent maneuverability and all-around potential. It delivers unlimited fun for those who would like to hold the winds in arms.