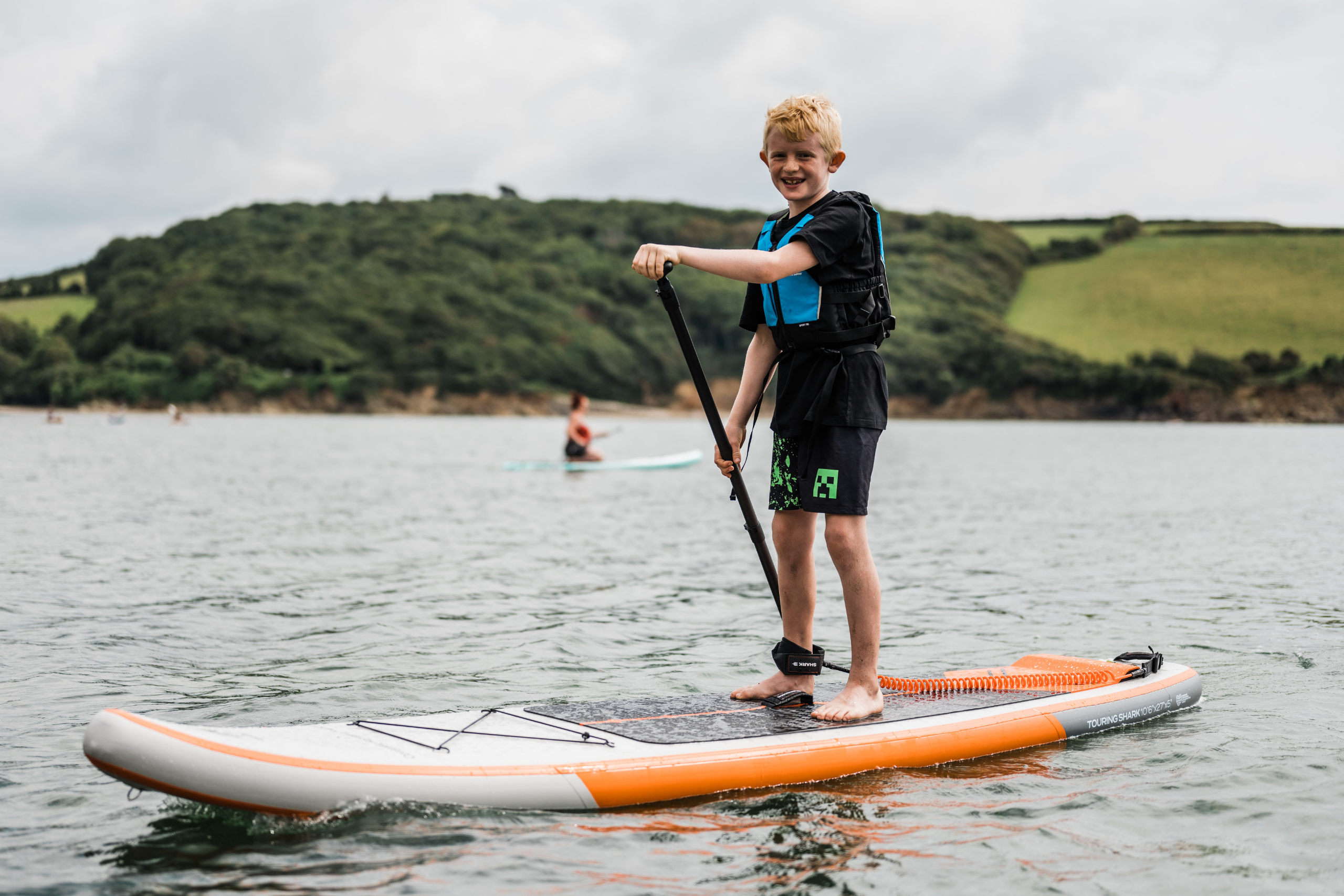 Shark 2022 SUP Preview
Retail Buyers Guide: SUP 2022 Retail Buyer's Guide
Brand: Shark
Interviewee: Alan Xu, CEO
Is Spring 2022 marking a comeback to a "normal" market? In other words, has production come back to the pre-covid pace, can you provide decent amount of stock to everyone?
We feel spring 2022 is back to normal for the market, with our production back to the pre-covid pace and we continue to meet the growing demand for our distribution network.
A careful attitude with plenty carryovers has been the go-to choice for a couple years. Will 2022 be the year of innovation for your brand?
Following our rebrand in 2020 which sees our brand continue to embed the spirit of the shark to be in "Constant Forward Motion", 2022 delivers another step forward for our brand's growth in the SUP industry. As a brand we are passionate about promoting positive on the water experiences for all by ensuring paddlers are matched to the right boards according to their height, weight and chosen discipline. For this reason we have extended our all round and touring iSUP ranges to include 5" and 6" drop stitch technology throughout the various sizes available. Given that SUP is a highly accessible sport we have also introduced a kids range consisting of an all round and touring model which have been developed specifically with a young paddlers height and weight proportions in mind. Aesthetically our brand continues to promote sustainability through careful design to ensure
reductions in the number of processes required at manufacture and thus reducing the amount of off-cut waste we produce when making our boards. We also continue to promote connection to our ocean environment and more specifically educating on the species of sharks which influence our designs which is evident throughout the design of our products. Our partnership with The Shark Trust, a world leading charity and influencer for shark conservation, continues to be integral to how we continue to promote a positive impact on the environment. Through this collaboration we are helping our community to become increasingly conscious of the environment they paddle
in and the ways in which they can too make a positive difference for the future of our planet.
How did you build your inflatable range in 2022? And which inflatable technologies are you implementing in 2022?
Our inflatable SUPs are manufactured from 5″ and 6" high density dropstitch with double layer laminated high density material and triple rail edge. This provides great stability and stiffness, with an optimum balance of weight and durability. We confidently back the quality of our boards by recommending 20PSI inflation with a max inflation of up to 25PSI. On specialist models you will also see additional features to promote function. For example the
introduction of our Performance Touring model for 2022 takes the water cut nose feature from the race range which acts to minimise drag and speeds up paddling through the water.
Hardboards: where is the category going according to you? A niche reserved for experienced riders only?
The will always be a place for hard boards given that they can and often do deliver a more premium performance over the likes of an inflatable product. That said, inflatable SUP products serve a significant purpose in promoting accessibility to the sport by providing multiple benefits
over the hardboard alternative. These include; ease of storage, ease of transportation, reduced initial investment, ease of care and durability of those products that are of quality build. Some of our innovations such as the water cut nose on the Race and Performance Tourer models help to
close the gap between hardboard and inflatables for our more advanced paddlers.
Is the Swiss Army SUP, that is to say multi-use designs (SUP/FOIL/WING/WIND/SURF) an ongoing trend in 2022?
We continue to develop our multi-purpose board, the 3-in-1 Wind SUP, and for 2022 have added the 10'6 x 32 with 5" thickness for the lighter rider who wants less volume.
Any piece of advice to give to brick & mortar retailers concerning their order sorting?
We recommend stocking all round and touring models across all sizes as the main focus to allow customers to purchase the correct size board in store. With regards to the more specialist models order numbers are going to be of lower quantities and often dependant on your location. For example if you are based in a coastal surf location having surf SUPs in stock is recommended, or if SUP racing is a theme in your region having a supply of these would be beneficial. Our retailers have experienced growth and increasing interest in people heading to stores to seek advice and guidance on the most suitable products to buy. This is particularly in light of the mass of digital content available which in some cases provides misinformation and often bamboozles our customer leaving them confused as opposed to confident in their purchasing decisions. Thus having the opportunity to gain advice from a retail specialist is becoming increasingly valuable to the consumer.
Best Sellers
Kids
With the interest in SUP continuing to grow, for 2022 we have introduced the kids range (all round and touring model). Unlike some other brands who market their short boards for children which often still hold too much volume, we have specifically designed a well proportioned 5" thick board to allow a young person to enter into the sport of SUP.
All Round
Our all round range is a classic shape balancing length, width and outline shape for the best performance when entering into the sport of SUP. Its versatility enables paddlers to try many disciplines including light touring, SUP surfing and yoga. Available in a range of sizes and depths, there is an all round board to suit every paddler.
Touring
For 2022 we have further enhanced our touring range to fit different sized riders. In particular we have introduced more SUP sizes in 5" dropstitch, allowing paddlers to feel more connected to the water. The touring range comes with front and rear bungees which enables paddlers to pack their board with plenty of kit for longer day paddles and overnight adventures.