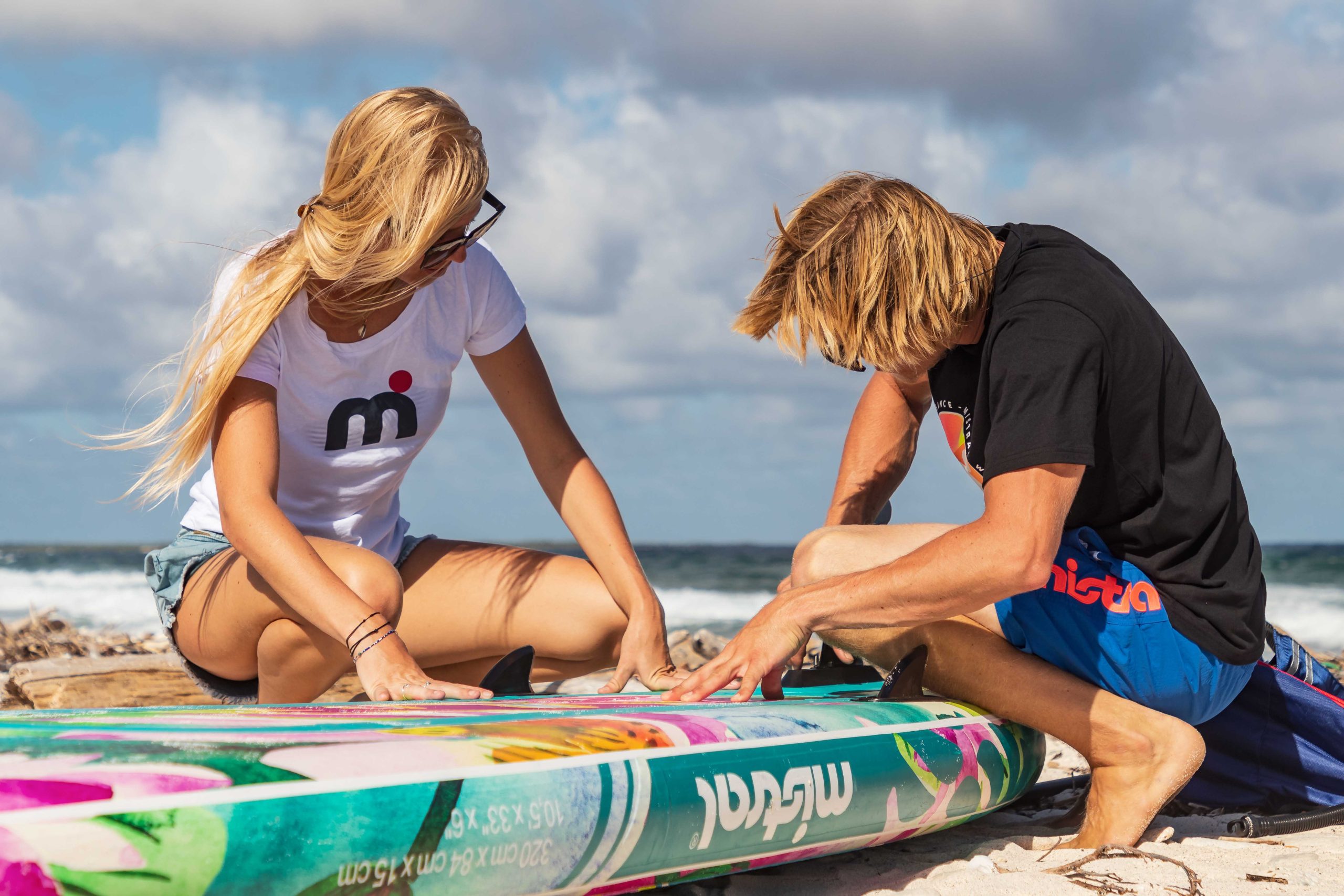 Mistral 2022 SUP Preview
Retail Buyers Guide: SUP 2022 Retail Buyer's Guide
Brand: Mistral
Interviewee: Steve West, Brand Manager
Is Spring 2022 marking a comeback to a "normal" market? In other words, has production come back to the pre-covid pace, can you provide decent amount of stock to everyone?
The day to day business of design and prototyping remain challenging due to production lead times being affected by a slow down of the supply of raw materials in some cases to our makers. A simple lack of deck pad material is enough the throw a spanner in the works. Add to this, long transit times, the high costs of containers out of the Far East, compounded by Covid continuing to affect factory staff levels and entire districts in some cases; it's far from normal. On the other hand, we acted very early during 2021 to bring forward our time line for design and testing of new gear and for placing our orders. This has meant added pressure on our buyers to buy in advance of their normal scheduled purchasing months.
A careful attitude with plenty carryovers has been the go-to choice for a couple years. Will 2022 be the year of innovation for your brand?
I can't say we took that view entirely, we've continued to innovate regardless. Of course graphics can be changed without affecting known performance characteristics of equipment; where brands were nervous was in the area of R&D and therefore we saw a stagnation of ODM product and greater reliance upon OEM designs. At the end of 2020, we pulled together a strong R&D team of specialists in hydrodynamics and CAD engineering in the UK, because we wanted to enter the wing foiling market in particular and we wanted original in-house designs. It's paid off with some truly great foils which are not OEM copies of copies which we know to be prevalent in the market. We worked with Hyde sails and created from the ground up Wing Sails designs and this same team are now busy with high end paddle and SUP race board designs and more. We've also now recent new investors, NMG based in Holland, who bring with them a dynamic team and much needed additional resources.
How did you build your inflatable range in 2022? And which inflatable technologies are you implementing in 2022?
SUP is fundamentally a recreation, not a sport as such for the masses. We noticed a love for 'art-boards', where the deck becomes a canvas upon which to express an artistic statement or perhaps a tropical flora and fauna scene. People love to be individuals even if part of a mass participation activity. So we've a few of these concepts in the line as they are best sellers. We opted this year for a 13'2" Adventure styled board getting away from the 12'6 / 14' race board constraints, a board that will take up to 60 kg of cargo. SUP can be kayaking standing up with similar aspirational merits for adventuring. Clip on a kayak seat, add in a double-ended paddle and you can go further, faster. We've remained with our DSFL (Double Skin Fusion Layer) material which offers 2,600 drop stitches over conventional fusion layer DS material. The nylon thread is thinner, but because there are more of them, greater longitudinal rigidity is created and for less weight.
Hardboards: where is the category going according to you? A niche reserved for experienced riders only?
The trend has been for aspirational iSUP owners to gravitate towards a laminated board. It's both a mindset and practical issue. Inflatable SUPs appeal to the type of person that largely only wants a casual relationship with a recreational distraction. Some have an epiphany to upgrade to a laminated board, seeking higher performance, so long as they can store and transport it. The way in which SUP is marketed, continues to have a lot to answer for. The only sound reason for investing in an iSUP, is because you have storage or transport issues or have set your mind on travelling the world with a board in a bag; in the absence of which, buy a hardboard every time. They last longer, are easier to repair, are higher performing, provide a better ride and on water experience in most all cases. Not least of which to mention, iSUPs are ultimately more disposable by default and more polluting to the environment? The idea that laminated boards are the domain of experienced riders only, is a catastrophic failure on the part of the industry to provide sound advice.
Is the Swiss Army SUP, that is to say multi-use designs (SUP/FOIL/WING/WIND/SURF) an ongoing trend in 2022?
When I hear of multi-use designs, compromise is the modus-operandi. The more you complicate a design by having greater expectations of it, expect a dilution of performance usually across all disciplines it claims to excel. Sure, some combos work on a limited basis, but the idea a board can be a Swiss-Army knife gives too much kudos to the metaphor. If I wanted to cut a tree down, I would use an axe, not one of the many blades the deluxe Swiss-Army knife offers. Additionally, we're doing end-users a disservice in my view. Foiling in particular, requires a mind set which is the antithesis of thought over ownership of an inflatable paddle board; it's an altogether different activity appealing to an altogether different animal and many are not so interested in multi-use designs, they're more interested in specificity.
Any piece of advice to give to brick & mortar retailers concerning their order sorting?
Focus on your geographical proximity and the nature of the environment and water closest to you. If inland, then your end users will have different needs to those in coastal areas. Even the type of accessories they require will be different. Urban buyers often like the idea of iSUPs because of space limits, but away from suburbia, many buyers have more space, so don't discount up-selling to a laminated board. Get to know your demographic and buyers better.
Best Sellers
Mistral Coral SUP Combo Set
A complete ready to Go-SUP package. The highly colourful Mistral Coral takes inspiration from tropical reefs. The Coral is the ultimate family board. Incorporates a printed EVA non slip deck, nose scuff pad towing D-ring, rear D-Ring leash point, single universal fin box and moulded side bite fins. DSFL material which provides some unique convenience and performance features.
SPHINX WING SAILS
Vastly improved wing rigidity. Wider wind range than most wings available. Innovative radial cut panelling. Simple 3 handle wide grip webbing. Windowless for improved aerodynamics and reduced weight. Large leading inflatable leading-edge keeps wing buoyant and stable. Single valve system. Highly responsive and efficient on all points of sail. 3.3 m for high winds, wave riding. 4.2 m for wide wind range and disciplines. 5.0 m the 'must' have work horse. 6.5 m light winder and heavier riders. 6.5 m includes GRP mini-battens. Wrist leash included. Sand anchor included. All wings stashed in quality back pack.
Mistral Kadavu Laminated SUP Board
All the benefits of a low impact soft top board with soft rails with hard epoxy underside. Super versatile, paddleboard or windsurf via an 8mm thread for conventional mast foot. Cargo net and mid-central fin to improve upwind sailing. The ultimate versatile board ideal for all comers, schools and hire. Suits smaller riders or skilled. Designed in the UK.