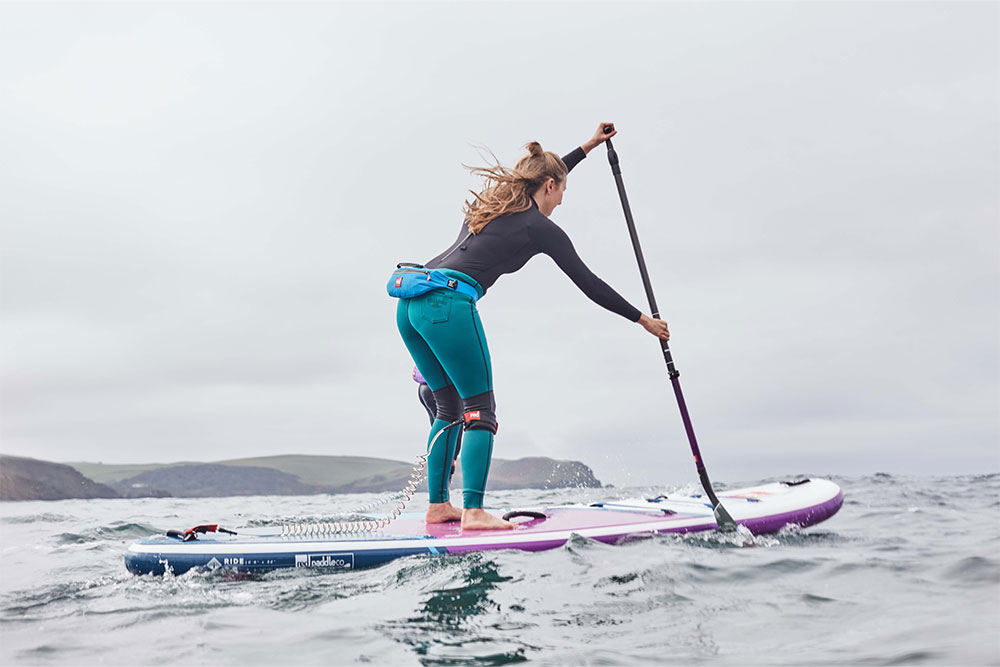 Red Paddle Co 2022 SUP Preview
Retail Buyers Guide: SUP 2022 Retail Buyer's Guide
Brand: Red Paddle Co
Interviewee: John Hibbard, Founder & CEO
Is Spring 2022 marking a comeback to a "normal" market? In other words, has production come back to the pre-covid pace, can you provide decent amount of stock to everyone?
We've been making boards since 2008 and so for us the Covid period was a fairly small time in our lifespan, we have been growing from day one and aside from the initial period of Covid, March – June 2020 we have been continuing with our business and growth plans, which were already ambitious. Due to managing our own production line we have been successful in scaling the production in line with our growth and demand we are not fighting it out in a factory with other brands. We also work with experienced teams in each of our markets who have a tried and tested delivery schedules and service. Aside from some shipping delays we have managed to get good stocks into the market through the Covid years and have only missed a small amount of stock at the end of the season. We are not a new brand who are jumping on a bandwagon and fighting for factory space and trying to work out the world of shipping, so we feel as though it has been business as usual for most of the Covid period just with a few extra challenges. On the whole the demand has been for stock earlier in the season and this is a trend I see softening a little but it won't go fully back to how it was pre-covid.
A careful attitude with plenty carryovers has been the go-to choice for a couple years. Will 2022 be the year of innovation for your brand?
We have launched an updated range each year through the Covid period, there was no carry over due to us mostly being able to land enough product during the season. Carry over would only need to happen if there were big delays in shipping or production, which we have on the whole managed to avoid. I think a lot of brands got caught out by landing stock very late into market and in some cases without warning to retailers. This lead to retailers pushing back and not needing stock from those brands, which in turn created the carry over necessity. This has not been an issue for us.
How did you build your inflatable range in 2022? And which inflatable technologies are you implementing in 2022?
Our patented Compact board range is going from strength to strength. This year we launched our 12' Compact and this is becoming a very popular board. We also launched a 12' x 28" version of our Voyager board, for lighter riders. These boards are towards the premium end of our ranges and the demand for these is testament to people wanting to invest in their hobby and get the board that is best suited to them. We are seeing big numbers of paddlers upgrading their board after starting off with a low price board as their intro to the sport.
Hardboards: where is the category going according to you? A niche reserved for experienced riders only?
They have their place for surfing or racing. There are some brilliant designs available for those sectors. They also may be a route for people who have been disappointed by the performance of their low price inflatable. We have been focused since day one on building inflatable boards that offer an authentic performance without compromise, so for anything other than surfing or racing I think a good quality, well designed inflatable offers so much more to the user and it is the technology that has made the sport what it is today.
Is the Swiss Army SUP, that is to say multi-use designs (SUP/FOIL/WING/WIND/SURF) an ongoing trend in 2022?
We see this as a bit of a compromise board and that to make it work for all of these disciplines (except maybe for kids) you end up out growing or limiting your progression fairly quickly. We are much more of a fan of the "right tool for the right job".
Any piece of advice to give to brick & mortar retailers concerning their order sorting?
Our advice remains the same. Partner with brands that offer you a great product and service that attracts a customer who will come back for more products. As a retailer you need to be offering something more than the cheap direct sell brands do. You need to be able sell quality and service and therefore need a brand that has the same vision. The retailers that focus their buying in this way are the ones that stay active for longest – that is the same in almost any sport not, just SUP.
10'6" Ride
This remains our best selling model. It comes with the double Chamber Titan II pump and the new Transporter ATB Board bag so it is packed with high quality features that really help stand it out from the crowd. At 32" wide it has enough stability as a first time board. It's high resale value adds to its value proposition.
12' x 28" Voyager
Packed with features such as our V-Hull and twin fin set up this smaller Voyager board opens up the Touring sector for the lighter rider. Easy to handle on land and water it's the perfect mile eater, winning fans the world over. It's a upgrade board and really packs a punch with the Transporter ATB bag and Titan II pump.
12' Compact
Taking the Patented Compact concept and rolling out a fantastic touring board that packs down to half the size of other touring boards. Made with our Tec Air precision and using our MSL Pact technology it delivers fantastic rigidity and fast inflation using the supplied Titan II pump. The 12' Compact is the latest addition to the award winning Compact range.