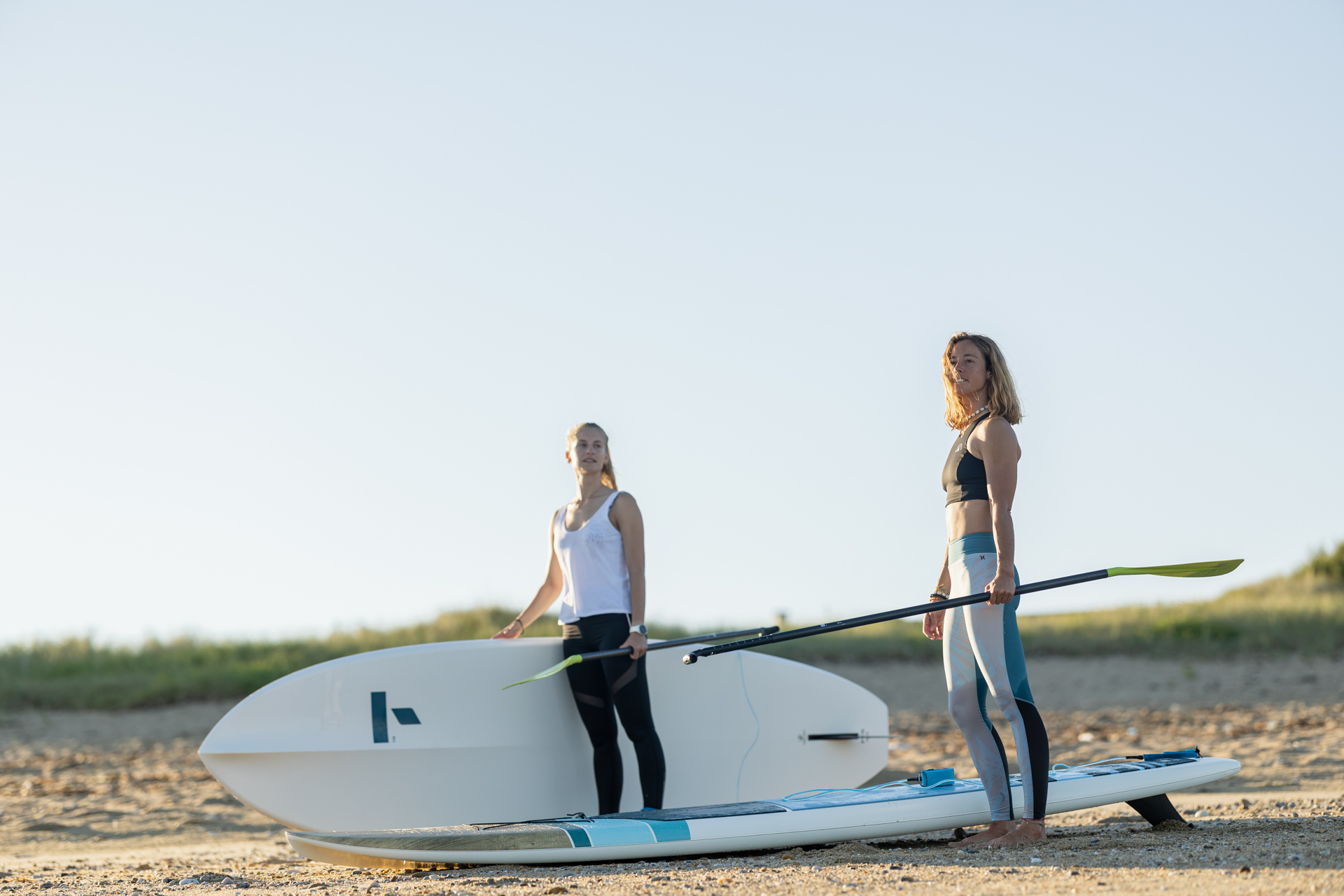 Tahe 2022 SUP Preview
Retail Buyers Guide: SUP 2022 Retail Buyer's Guide
Brand: Tahe
Interviewee: Jacques Freydrich, TAHE Global Brand Manager 
Is Spring 2022 marking a comeback to a "normal" market? In other words, has production come back to the pre-covid pace, can you provide a decent amount of stock to everyone?
With continued high demands worldwide, spring 2022 is still a "post covid" period for TAHE. Luckily, our hardboards are produced in our Vannes factory in France, which is working at 100% capacity. Additionally, we recently increased production by 40%, which is allowing us to put more boards out into the world. There are still a few sku's that we are unable to supply at the moment, but we're hoping this will improve by the third and fourth quarter. Products coming from Asia are still under very high pressure from suppliers who have been affected by COVID lockdowns since last summer. Regardless, we have been able to continue to deliver 80% of our fleet.
A careful attitude with plenty of carryovers has been the go-to choice for a couple of years. Will 2022 be the year of innovation for your brand?
Although carryovers are still in the game, innovation is in too. We're proud to announce that our hardboard SUP line is increasing. Soon we will be launching an E-power board, featuring an integrated engine and battery that provides additional propulsion to paddlers. This concept will be duplicated within some of our other product categories as well. Additionally, we have critical innovations for our 2023 collection—stay tuned.
How did you build your inflatable range in 2022? And which inflatable technologies are you implementing in 2022?
Our inflatable product range is capitalizing on last year's highly successful innovation: the hybrid SUP-YAK. Our newest launch will include a 9'0 kid / lightweight touring model and a 12'6 Breeze paddleboard.
Hardboards: where is the category going according to you? A niche reserved for experienced riders only?
The hardboard category encompasses a wide range of paddlers, from beginners to professionals. With our unique Ace-Tec & Tough-Tec technologies, we're selling a large quantity of hardboards to centers and individuals that aren't highly experienced. Well made, versatile, and offering the paddler plenty of room to improve, our hardboards are a great long-term investment. Note that our full composite hardboards are supplied by our sister brand, SIC.
Is the Swiss Army SUP, that is to say multi-use designs (SUP/FOIL/WING/WIND/SURF) an ongoing trend in 2022?
As mentioned above, our SUP-YAK products (standup paddleboards that convert into kayaks) have been extremely successful due to their dual usage. Crossover boards don't work well for most activities, but the SUP-Windsurf has also been working well for TAHE.
Any piece of advice to give to brick & mortar retailers concerning their order sorting?
Right now, everyone is choosing inflatables due to their value and accessibility. Although inflatable aren't the most sustainable design out there, it's important to factor in the environment when buying a board. Our Tough-Tec technology allow our boards to last a long time and be fully recyclable when they do reach the end of their lives, making them as eco friendly as possible.
Best Sellers
The 10'6 BEACH SUP-YAK is a stable, lightweight and easy to use 2-in-1 inflatable paddle board package. The optional evated seat, footrest and hybrid paddle are easy to set-up, converting from paddle board to sit-on-top kayak in seconds. The innovative design combines comfort and convenience for endless play time on the water with family and friends whether standing, seated or lounging around.
Looking for a board that you can use as a SUP on flat water, then ride as a classic surf board in the waves? Performer series boards are made for you! We've adapted our classic longboard shapes to give you great performance in the surf, but with a moderate rocker profile to provide more versatility and improved glide on flat water. Made in France.
An ultra-stable platform equally suited for first-timers, family fun, fitness, yoga, fishing or whatever your next SUP adventure may be. The unique 'hybrid' design of the Cross features a keeled nose for excellent tracking, full rail-to-rail volume for enhanced stability and maximum use of the entire deck, and a full waterline to increase speed and efficiency. Made in France and recyclable.