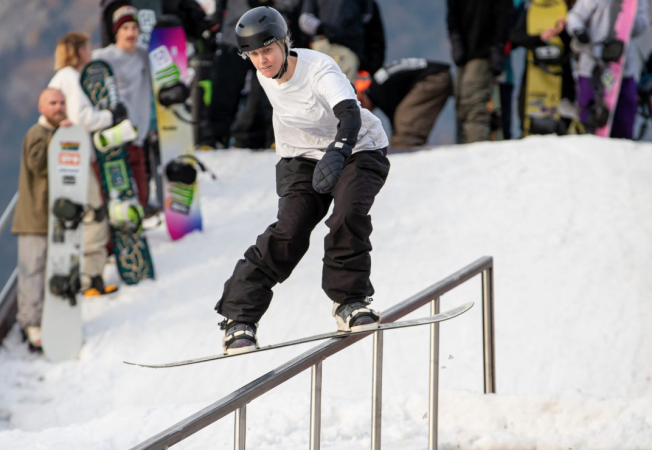 Drake Bindings 2023/24 Preview
Retail Buyers Guide: Bindings 2023/24 Retail Buyer's Guide
Brand: Drake
Interviewee: Davide Smania, Product & Communication Manager
How would you describe the current state of the snowboard market? Snowboarders were enthusiastic when Covid restrictions allowed them to go riding but it is not easy to be so optimistic considering increases in energy costs and inflations. What big developments, changes, challenges, and/or opportunities are you seeing and how is your brand navigating them?
We are working on an interesting project for strapless riding, but it requires some other steps before presenting it.
Everyone has been affected by raw materials and shipping price increases and transport issues. Have you had to make any significant changes with regard to manufacturing, sourcing, or logistics?
No big changes on the sourcing side, not so safe considering there are still some difficulties for travelling on production sites.
Are there any examples you can share of how your business pivoted effectively?
We are working to be more efficient on the logistics side, we also used the train to import from China.
Any positive developments with regard to these issues and the changes you've made?
Better relationships with actual suppliers in order to keep cost increases under control and more efficiency on the logistic side.
After two years of heavy carry over in the industry and more of a return to normalcy last season, what's your overall sales and production/inventory strategy for 23/24?
As said it is not easy to be so optimistic considering the Economic situation, we are worried the energy cost increases will affect the budget for tickets and gears. For this reason part of the collection is carryover, but we refreshed the mid-high end model with a brand component
Do you anticipate any shifts in the ratio of e-commerce sales vs. brick-and-mortar sales now that most Covid-19 restrictions are gone?
No big difference, we still have a good relationship with traditional sales channels, so we are not so aggressive on the e-commerce side.
Does your brand have any new developments concerning sustainability and/or how you are positioning any environmental messaging?
We are working on it, because it is not simple to keep same performance and safety standards with recycled materials, using an important percentage to really change the product and not just have « greenwashing ».
Are you introducing any new innovations in buckles, straps, highbacks, bases baseplates, heelcups, etc.?
New toe strap double injected which is minimal and it wraps the toe of the boot thanks to its adaptive shape.. and it is also so good looking 😊
Are you using any new materials in your bindings for 23/24? If so, what, and why? 
We are using more TPU and find new mixes thanks to double injections.
Are any quick-entry bindings in your collection for 23/24? Do you see that as the future of snowboard bindings or just as a functional alternative?
No, but we are already working on it, we want to have another testing season for fine-tuning before putting it officially in our collection. The system will be combined with a Northwave dedicated boot. 
We see it more as a functional alternative, « traditional strap » bindings are still more versatile in their usage, but we are also convinced that most of the riders can use them in several situations (piste, carving, easy freestyle and easy freeride) having a lot of fun and be faster in getting-in.
The main problem we see on systems that are already in the market is that it is really hard to get-in if you are not able to stand and want to do it sitted.
Does any new design or pattern approach in your 23/24 gear? Are any collaborations on the line?
Bringing on the partnership with Rusty Toothbrush on our historical model Fifty which was recently renewed thanks to the Delta Evo baseplate, which enhances the performance of this entry-level model to a higher step.
Pricewise, which area of the market do you cater to?
Mid range
What developments are you seeing with regard to product pricing?
Prices and costs are increasing, we are working to have some innovation which can help in containing them.
What are your top product marketing stories for next season? 
Bringing on the partnership with Rusty Toothbrush crew with a package of board and binding
Best Sellers/Hero/Key products
Supersport: 
Well-known model has recently been updated on the baseplate to make its performance lasting much more keeping the heelcup stable and secure. This combined with the Carbon Composite hiback and the Grand master double injected ankle strap and the toe wrap you'll be sure to have a reactive binding with no pressure point.
Reload:
Well-known model has recently been updated on the baseplate to make its performance lasting much more keeping the heelcup stable and secure. The Shovel flat hiback combined with the Change-up strap (with dual position, one for a more focused closure on the low part of the boot) will allow you to have the right mobility for a freestyle binding, but keeping it reactive on the longitudinal axe.
Fifty:
Renewed with the baseplate Delta Evo, it is a really performing and versatile binding  considering its price point, with a 3d EVA basepad to absorbs vibrations coming from the board. As for the higher models the baseplate is coinceived to make its performance lasting much more keeping the heelcup stable and secure.