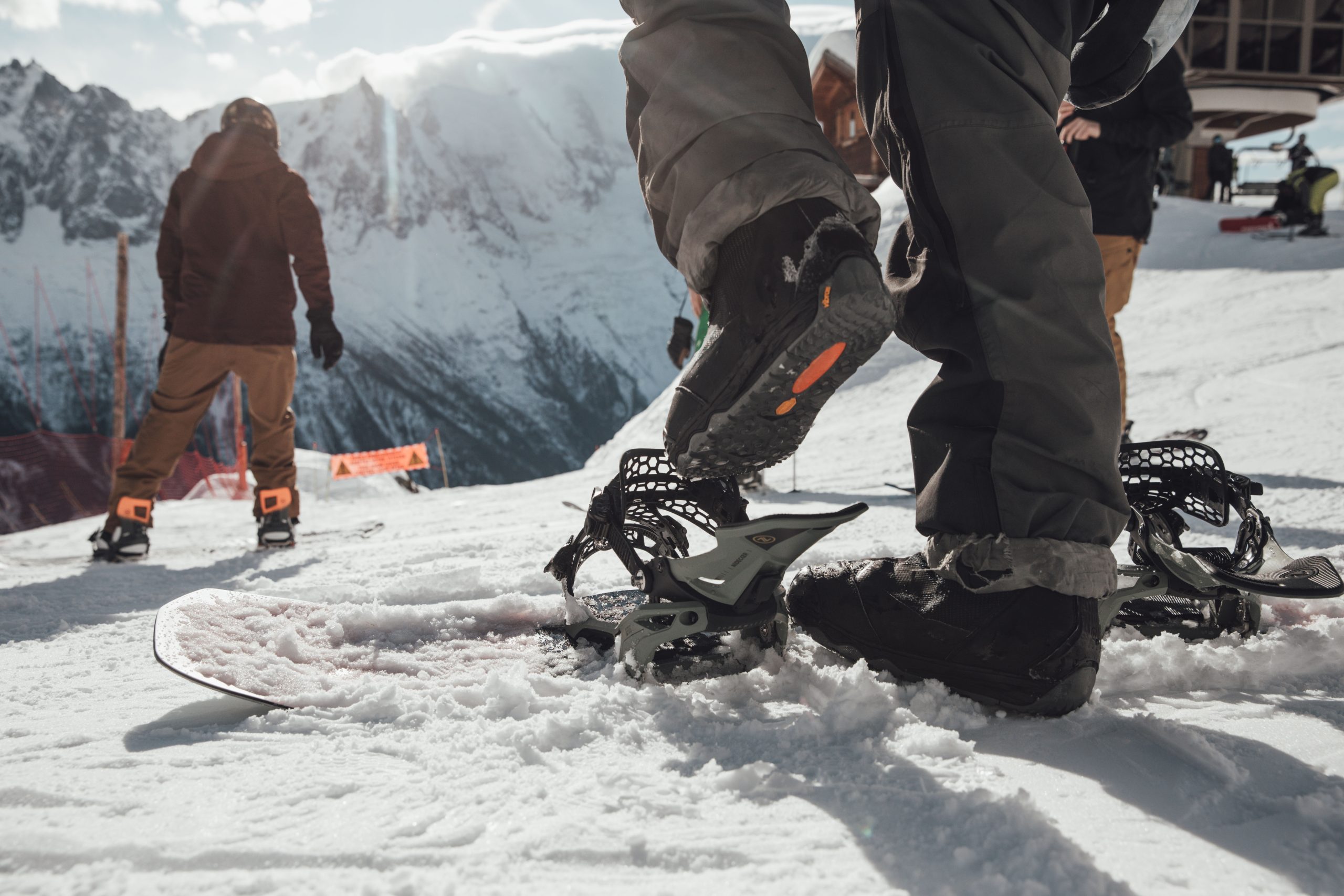 NIDECKER Bindings 2023/24 Preview
Retail Buyers Guide: Bindings 2023/24 Retail Buyer's Guide
Brand: Nidecker
Interviewee: LUCIEN VINK, Bindings Product Manager & Designer
How would you describe the current state of the snowboard market? What big developments, changes, challenges, and/or opportunities are you seeing and how is your brand navigating them?
I think last season was overall a pretty good one, although there were globally some areas that saw more challenges with snow and trailing effects of the pandemic. This season will definitely be another challenging one, especially due to the state of the economy; increasing inflation will make it more and more challenging for customers to decide where to spend their money. But with the investments we have made in new and exciting technologies, especially the new SuperMatic binding, we are optimistic because we see the demand is certainly there; everyone who sees or tests this binding is convinced that it is a game changer!
Everyone has been affected by raw materials and shipping price increases and transport issues. Have you had to make any significant changes with regard to manufacturing, sourcing, or logistics? Are there any examples you can share of how your business pivoted effectively? Any positive developments with regard to these issues and the changes you've made?
We have learned to be leaner, more efficient and more on-time, pushing our production schedules earlier to have a buffer for increased lead times and logistics.
After two years of heavy carry over in the industry and more of a return to normalcy last season, what're your overall sales and production/inventory strategy for 23/24?
We are actually keeping our product-mix pretty consistent from the last couple of years. Carry-over where it makes sense, some new and exciting colors and products to mix it up, and W24 will see more SuperMatic; 2 extra color-ways, and the highly anticipated addition of the XL-size so we now cover M+Lg+Xl.
Do you anticipate any shifts in the ratio of e-commerce sales vs. brick-and-mortar sales now that most Covid-19 restrictions are gone?
I don't foresee huge shifts. The pandemic for sure gave online sales a big boost, but brick-and-mortar is still the pillar of the snowboard community. In fact, for the release season of the SuperMatic we prioritized brick&mortar over e-commerce to support the roots of the sport.

Does your brand have any new developments concerning sustainability and/or how you are positioning any environmental messaging?
We are already pretty conscious in material usage, minimizing glueing and painting processes, and we are now making a push in making our packaging more environmentally friendly by reducing single-use plastic bags etc. And of course we continue to be a partner of '1% for the Planet'.
Are you introducing any new innovations in buckles, straps, highbacks, bases baseplates, heelcups, etc.?
I'll make the bold claim that the Dropin Technology from the SuperMatic binding is the single biggest innovation that snowboard bindings have seen in a long time. And we'll continue on that path.
Are you using any new materials in your bindings for 23/24? If so, what, and why? 
No, we are currently sticking to our tried&true materials.
Any quick entry bindings in your collection for 23/24? Do you see that as the future of snowboard bindings or just as a functional alternative?
Yes, the SuperMatic is the future of quick entry bindings, and I think it will be the future of bindings in general for 80% of the snowboarders out there. We know there will always be a core of die-hard convential bindings riders, loyalists to other quick-entry systems, but for the majority of the snowboarders out there the SuperMatic just makes sense;s all the familiarity of a 'regular' 2-strap binding with the convenience of automatic quick entry, and you're not limited to any kind of boot, it's the perfect trifecta!
Does any new design or pattern approach in your 23/24 gear? Are any collaborations on the line?
For our main line models, we are sticking with our pretty clean and technical design approach. We have a new Kaon-Plus colorway that collabs with our Instinct Series board graphics, and we have 2 great new color additions in the SuperMatic model.
Price wise, which area of the market do you cater to? What developments are you seeing with regard to product pricing? 
Product pricing has been seeing adjustments to the global supply chain, exchange-rate and economic challenges. We do offer models at many pricepoints though, from great value-for-money to top-shelf technology and material options. And we have managed to introduce the SuperMatic at what we feel is a great value for the amount of performance, convenience and technology you are getting.
What are your top product marketing stories for next season?
SuperMatic: This is a game changer. The Nidecker SuperMatic is what snowboarding has been waiting for, it is truly going to be a revolution for so many snowboarders from now on – the first Automatic, Universal and Dual-entry snowboard binding. Simple to use; you just drop your boot in and click down to engage, and you are ready to ride. To get out, just push a release lever gently and lift your foot up and out. These bindings work with every single snowboard boot brand and model available on the market today, so you won't need to change your boots to use the tech. And these bindings have ankle-straps and toe-caps with ratchet-buckles, so you will have that familiar locked-in feel, and the option to get in&out through the straps as well if you're in a situation that you'd rather do so. We firmly believe that Matic-Series bindings are the future of snowboarding. Whether you've got back problems, you're sick of sitting down in the snow, you're looking to smoke your skier friends off the lift, or you just want to experience what snowboarding's been waiting for since it was invented, the Nidecker SuperMatic is for you.
All Nidecker bindings are designed based on the Flow Axis-Series platform, so they pair perfectly with Nidecker boots and the FlowFit philosophy. With specific heelcups, hibacks, foot-straps, buckles and EVA-pads we left no detail untouched to offer you the latest innovations in 2-strap bindings.
Best Sellers/Hero/Key products
SuperMatic: To be honest, the introduction of the SuperMatic in W23 exceeded all our expectations. We knew we had something special, but the way it took off in the 1st 'soft-launch' season was amazing, and this binding should definitely be on your radar for W24! The SuperMatic is a mid-stiff binding, and the team has rated it as our most comfortable binding to date. It's a solid performer for any type of all-mountain riding, from first chair 'til last. The SuperMatic is truly revolutionary in its ease of use, universal boot-fit and dual-entry 2-strap function. Just drop your boots in and the SuperMatic automatically engages, closing the hiback and straps to fit your boot and feel a superior comfort and connectedness that make it an instant game-changer. Now available in 3 colors, and sizes M, Lg and XL!
Kaon-Plus APX: The APX is a new color-way for the popular Kaon-Plus model, matching style and color with the Instinct Snowboard Series. A great pairing, the Kaon-Plus is responsive for laying great carves but playful enough for a surfy feel riding berms and powder. The super comfortable Exokush Hybrid straps are a great upgrade over the regular Kaon-X model, so be sure to check these out.
Kaon-W Grey. The Kaon-W has quickly become a go-to binding and has won plaudits for its exceptional value-for-money; a ton of fun, super comfortable and all mountain-performance. Featuring a glass-filled Nylon rockered baseplate with PowerBeams, a fully adjustable Asymmetrical hiback, and ExoFrame Ankle-strap and Hexo toecap both with their unique hinged AuxTech pattern, to formfit your boots perfectly. The Kaon-W is perfect for female riders who like creating fun wherever they are on the hill, always on the lookout for side hits and powder stashes. This year it comes in Black and a new classy Grey colorway.