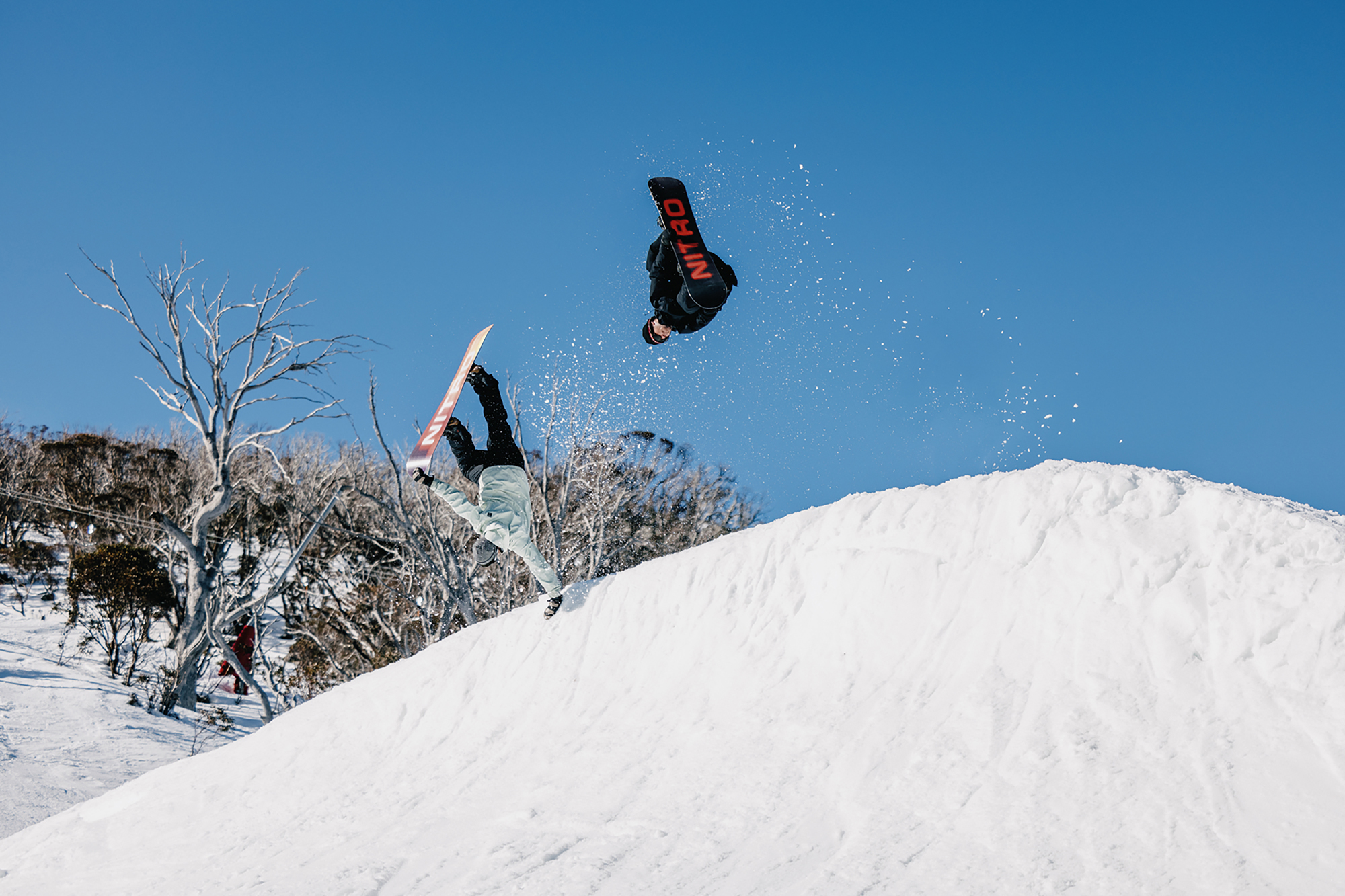 Nitro Bindings 2023/24 Preview
Retail Buyers Guide: Bindings 2023/24 Retail Buyer's Guide
Brand: Nitro
Interviewee: Dominik Fleissner, Product
How would you describe the current state of the snowboard market? What big developments, changes, challenges, and/or opportunities are you seeing and how is your brand navigating them?
The most relevant challenge for the 22/23 season was the overall growth in sales, resulting in production and shipping bottlenecks. We expect this to be temporary though, and numbers will balance out to be easier to manage for 23/24. We have long-term relationships and agreements with our vendors that help to work through these issues of course. Our general approach of mutual respect leads to open communication about these kinds of problems and their solutions.
Everyone has been affected by raw materials and shipping price increases and transport issues. Have you had to make any significant changes with regard to manufacturing, sourcing, or logistics? Are there any examples you can share of how your business pivoted effectively? Any positive developments with regard to these issues and the changes you've made?
Everyone felt the effects of the increased cost on every level. While we also had to increase retail prices, we avoided any mid-season price adjustments or transportation surcharges vis-à-vis our distributors and shops. As a brand, we felt we must take responsibility to protect our sales channels and absorb most of these additional charges. We did not make any general changes to our supply chain except for an adjustment in timing. The ordering/production/shipping process needs to start earlier to compensate for any upcoming obstacles.
After two years of heavy carry over in the industry and more of a return to normalcy last season, what's your overall sales and production/inventory strategy for 23/24?
Carry over has proven to be an efficient tool to manage the risk of stock and allowed our development team to work on new product concepts or partner with artists on Collab binding graphics.
Do you anticipate any shifts in the ratio of e-commerce sales vs. brick-and-mortar sales now that most Covid-19 restrictions are gone?
Some countries suffered hard from the lockdown last season, but with stores being able to open their doors this winter, the ratio will be shifting back. 
Does your brand have any new developments concerning sustainability and/or how you are positioning any environmental messaging?
We are currently working with a new raw plastic supplier to develop a new material for bindings that has a higher recycling rate at the same level of quality and durability. At the same time, we are revisiting every production step to reduce unnecessary materials. For example the poly bags in our binding boxes.
For all items we are on the way to engineer alternatives, we are collaborating with CLIMATE PARTNER to calculate our CO2 emissions. The goal is to reduce our CO2 footprint even more through the year 2023 and compensate the rest with CLIMATE PARTNER projects.
Are you introducing any new innovations in buckles, straps, highbacks, bases baseplates, heelcups, etc.?
We are introducing an all-new PHANTOM binding platform, a design-build around Nitro's unique AirDampening concept. This concept is shared between the models Phantom and Phantom +. 
Further, there will be new single-component ankle straps on multiple models such as our popular TEAM binding, to drive the recyclability and sustainability of our products.  
Also, the Vertical ST Splitbinding, our co-development with Spark R&D, will see significant upgrades on the touring bracket and heel lifters for improved durability and efficiency.
Are you using any new materials in your bindings for 23/24? If so, what, and why? 
AIR+, a newly developed combination of Nitro's proprietary Air Dampening Technology and an elastomeric foam pad, will revolutionize the ride and shock absorption of our binding. While Air is best suited to absorb impacts from flat landings or big kickers to save your heels, eTPU pads eliminate chatter and boost ollies due to their unmatched energy return.
Are any quick-entry bindings in your collection for 23/24? Do you see that as the future of snowboard bindings or just as a functional alternative?
Our partnership with Burton on the StepOn system has shown great interest and is a viable alternative for those looking for a convenience-driven binding design. 
Does any new design or pattern approach in your 23/24 gear? Are any collaborations on the line? 
The list of stand-out colorways and artist co-lab this year is long. Check out the ZERO Happy Days, the ONE Eye See You, Drink Sexy artwork by Yung Doli on the ONE binding, the PEACE LOVE NITRO theme on the COSMIC, and finally our collaboration on Ivy's graphic with EIVY clothing.
Pricewise, which area of the market do you cater to?
While we offer binding at every price point, the focus sets on offering the best product at a given price range
What developments are you seeing with regards to product pricing? 
The cost of energy, raw materials, and shipping in combination with highly volatile exchange rates lead to higher prices. At the same time, by setting up our factories to be more energy efficient, and reducing unnecessary packaging or logistics where possible, we work hard to minimize the impact on the product cost. 
What are your top product marketing stories for next season?
Our Ultimate Interface, PHANTOM PLUS, PHANTOM, and FACTORY CRAFT
Best Sellers/Hero/Key products
PHANTOM: 
Nitro's most iconic Model in the line has been re-engineered and updated with AIR+ Dampening, the most efficient shock-absorbing technology in binding design.
FACTORY CRAFT: 
Function before design, purpose before function, craftsmanship above all else.
ZERO Happy Days: 
A standout colorway in Nitro's 2023/24 lineup, the Happy Dayz will turn heads in the park.