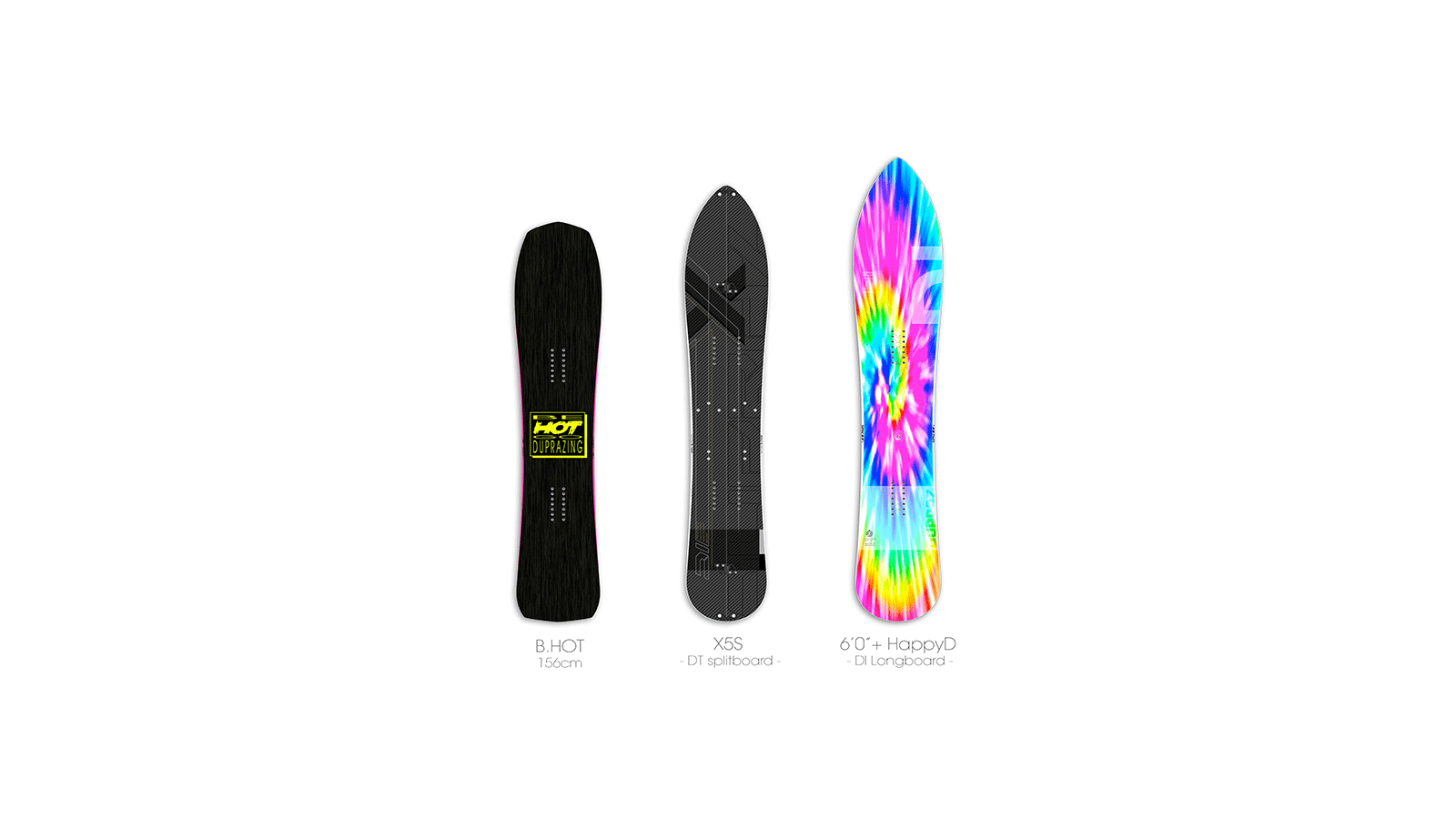 Dupraz FW19/20 Snowboard Preview
Retail Buyers Guide: Snowboards FW19/20
Brand: DUPRAZ & HOT SNOWBOARDS
Interviewee: Serge DUPRAZ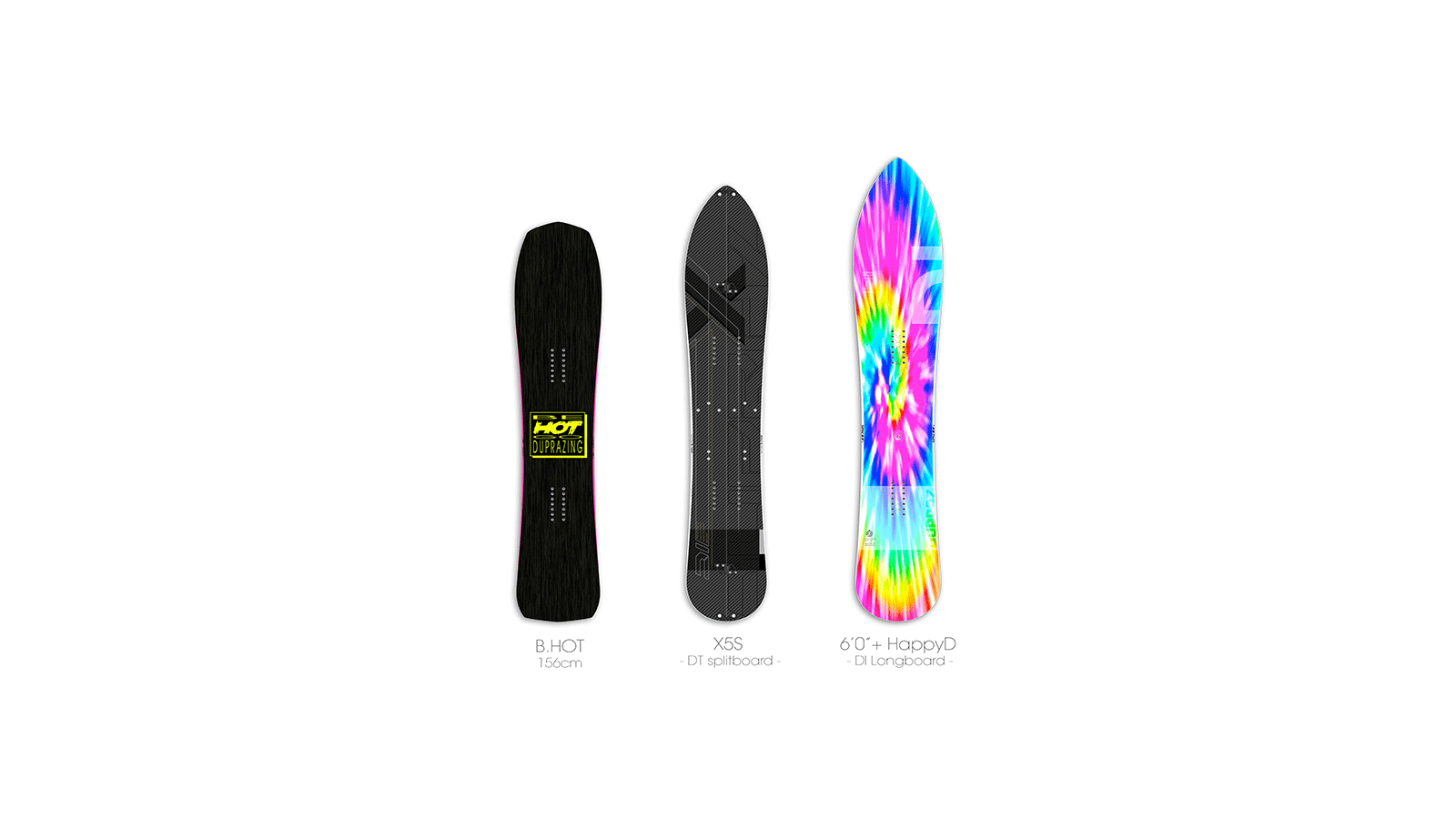 KEY PRODUCT FOCUS: Please pick the three most exciting boards from your new FW1920 line and tell us about them.
– B.Hot 156
So Fun! The mythical DI 5'5'' in an even more manoeuvrable shape. Integrated with some ingredients of the legendary "One Sixty" model of the late '80s…
– X5S – D-Tour Splitboard
The new split board version with an unexpected shred performance that our D1 introduced to the industry a while ago. Engineered with a carbon plus mixed core. Added fibres for that dream board missing in your quiver; the finest ever produced.
– DI 6'0'' HappyD
THE reference board for freeriding, often copied but never equalled. With the HappyD new design showing all the fun that a longboard can bring to the mountain.
Construction. This is the place where you can talk to us about the new ingredients in your boards, and how you are building differently. We're interested in anything new in inserts / edges / cores / sidewalls / glue / resin/ wood types / base material etc here.
More carbon, new cores, with the same goal to keep the return close to zero….
No need to big quiver: the best rubbish for the planet is the one we do not produce…
Where are you building, what factory in what country? No wrong answer. What makes this production facility the best solution for you?
We love the idea to be produced in Europe. By workers who know what they are doing, close to the mountains and resorts where they can go ride what they are producing. In productions located in a country like ours where democracy is existing, respect of social rights, minimum salary, health system, etc. Where productions are under the European rules concerning environmental questions, working conditions, etc. Pretty practical to go at our production, easy to test prototypes in one of the many resorts close by and open late evening right after finishing them.
Which price point is seeing the most action at retail? Premium, bottom or in the middle? What do the people want?
As our products are bringing so much to the riders, and because of the quality of construction, we are selling Dupraz in the premium segment. Hot snowboards is positioned more for the middle one
Consumers are more open than ever to unusual shapes. Got any super mad shapes next year? How long will this new shape direction last… is it a good thing for snowboarding?
From 25years+ with almost all boards similar to ''the wildest shape the coolest'', there is a huge gap… things will get stabilized after a period where the brands will slow doing foolish testings, probably when the customers will understand the limitations of the different funny shapes.
Unless a big proportion of snowboarders would start to ride switch as much as normal ride, I do not see why snowboard shapes should not keep on being directional, which means more adapted to the real use of the big majority of riders..
We're really interested in graphic themes running through your line. What is your art department feeding you for next year?
We are bringing very colourful ''Tie Dye'' designs that we've called 'HappyD', on all models of our DI range. It shows another aspect of our boards: how much fun they are to ride, pushing you in the curves, pushing you to play with the whole mountain, it shows how much pleasure and smiles they are generating…
The Hot Snowboards series, with his catchy logo in fluo colours, gives a big 'clin d'oeil' to the fun of the 80's we wish to bring back in snowboarding. The first feedbacks are just tremendous…
What are your top marketing stories for next season? This will help us to put the focus on the right decks.
– Nothing replaces real life experiences…
– Acts speak louder than words
– if you don't break the rules you miss all the fun
– best rubbish for the planet is the one we do not produce…