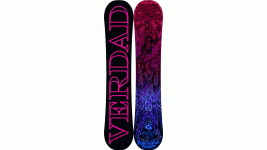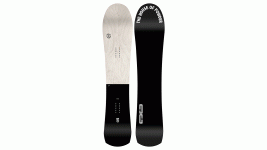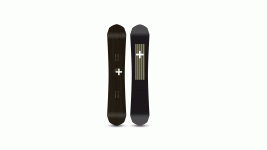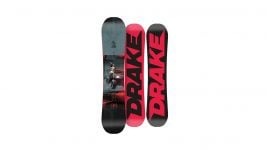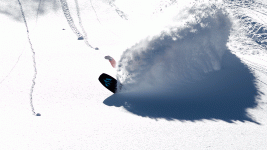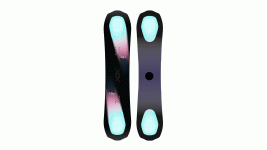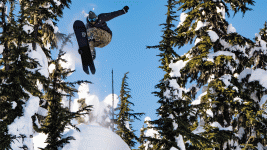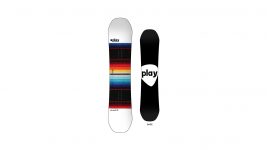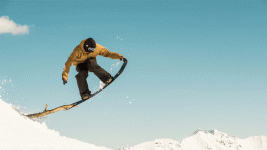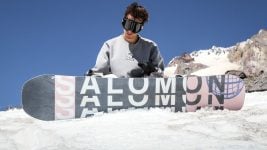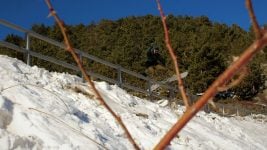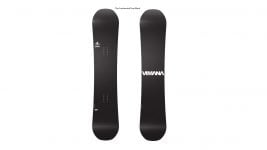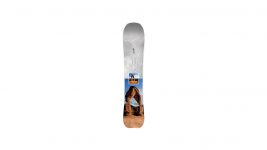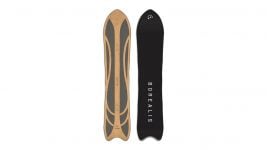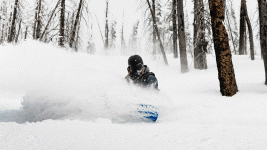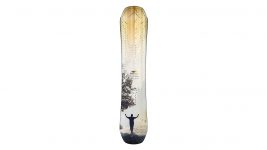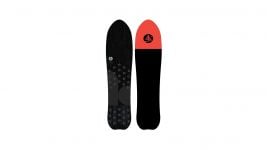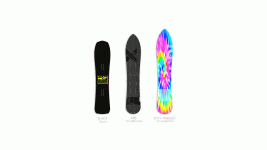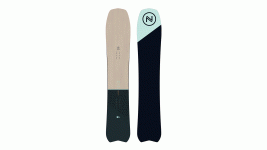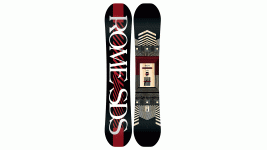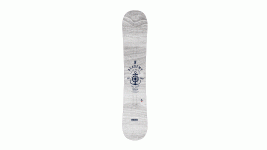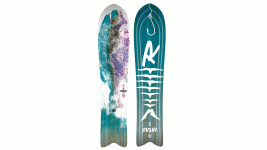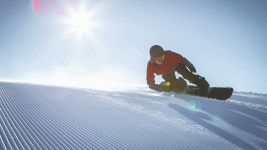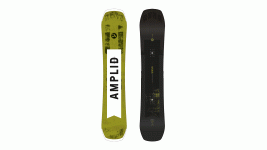 Hundreds of brands, thousands of models. Some with – breathe – pointy noses. Buying snowboards is a complex game nowadays, with bullshit abound… but plenty of hidden gems if you know what you're looking for. Let's roll up our sleeves and get shoulder-deep into the main trends of next winter's snowboards. Tom Wilson-North investigates.
FREERIDE STILL FOCUS
No surprises here, freeride boards remain the centre of interest, investment and influence in snowboarding today. Burton's long-missed Landlord is a welcome return to the Innsbruck team's line, kicking the Mystery Fish off the topspot of their premium Family Tree range. Jones have a banging new shape on the all-new Flagship to make it ride better than ever with refined Traction Tech, a new tapered shape and 3D Contour 3.0 base. We're stoked on the new Fjell MT1542 big mountain board, and Weston's first foray into carbon with the Backwoods is a masterpiece, well worth checking out under the striplights. At more accessible pricepoints, Burton's Steve Klassen-designed Leader Board, Slash's Portal and Capita's playful Powder Racers represent massive bang for freeride buck.
SIZE EXTREMES
The counter's a blur; the end of the snowboard size ranges are heading higher and lower than ever next year. Burton's Moonbuggy 168 has a monstrous 272mm waist, Nitro add a 203cm Cannon to their Quivver Series and Pogo's Wingergun 173 will be spot on for big days. But it's not just about the numbers; the execution is super important when you're dealing with monster decks. Borealis' Leviathan 164 is a next-level snowsurfer with a refined (albeit gigantic) nose rocker, whilst Stranda's 177cm Nallo has low camber and intelligent sidecut which offers an effective counterpoint to the short & fat trend seen of late.
But short & fat is still working too, with more brands getting in on the game next year.  Korua will offer a pocket rocket style deck in their Concept line, Gnu's Free Spirit ladies' model has mega floatation in a downsized platform, Sandy Shapes' Divina 132 has a rocker inspired by San Diego fish surfboards and Borealis' Marauder is a quick-turning pow board for tree runs & carving. Arguably the board that kicked off the S&F trend in the first place, Rossignol's XV Sushi has spawned a sibling – the XV Sashimi retains the playful Sushi feel but is a bit more do-it-all. "Sashimi schmears the line between playful, progressive and full send mode with L.I.T.E. Grip core, AmpTek Elite camber profile and on-demand sidecut radius adjustment. It is softer than the XV for ease of use, narrower and longer than the XV Sushi for manoeuvrability and float, but also very solid and balanced underfoot", according to Rossignol's Arnaud Repa. Find it in 152, 156 and 160 sizes.
SHAPES
Two years of shape experimentation has left a mark. Unusual shapes are now the norm, and you'd better have some in your shop if you're planning to sell some boards next year. The biggest trend is the classic deep European-style swallow with long tails and a blunt, round or tapered nose. "The Snommelier was inspired by the graceful powder guns which used to be the signature of France's big-mountain pioneers. This 166cm beauty blends a glug of future, a pinch of unusual and a whole scoop of retro," gushes Amplid's Rich Ewbank. We loved the bulbous nose of the Bataleon Surfer, the Endeavor Archetype looks like fun with muscle car-inspired black-and-red graphics, Phenix's Camaro is a thing of beauty and Wired's Chase is a big step forward for this small brand, alongside their awesome custom stuff. Just watch it with those long tails guys, it doesn't take much to pop 'em out.
Hard geometric nose and tail shapes are trending again next year. Arbor's Shiloh evokes the Bert Lamar Trick Stick with graphics by seminal designer Aaron Draplin, and West evolve their Hache into a premium full camber Hache Plus with new wood core. Take a look at the sharp angles of the Yes Hybrid too.
Other new shape standards include the 'pointy nose, flat tail' look embodied by the Korua Café Racer, Academy Chris Roach Master Series and Rome Warden… and the Hovercraft shape (directional, setback, blunt nose, no-rise tail, tiny swallow) which was inspired by the Gentemstick Manta Ray and has given rise to a thousand imitations since.
Are we in a new era of snowboard shapes? "We see the shape trend as something really positive as we feel that snowboard shapes have been kind of stagnant for a while", say Arbor. Nidecker agree: "Snowboarding is moving forward and we need to move on from round nose and tail. But it's very important we don't lose sight of WHY these shapes are being more accepted today than 10 years ago. Pro riders and board designers are looking for new ways to express themselves, and consumers take this opportunity as another way to show their individualism and have fun in a new, simpler way". That said, we heard rumblings of caution from brands who felt that this trend might peter out soon, and that sales slowed once shapes got too crazy anyway. "Maybe for new brands it can be a way to gain some visibility… a board with a mad shape can be a good second board, but does it make sense to invest money on moulds just to have a weird nose or tail while the geometries are almost the same?!?", asks Drake's Product & Marketing Manager Davide Smania.
Well, it didn't stop Moonchild, whose Vanilla Ice is shaped like an ice cream, complete with stick poking out the tail. "I doubt anything like it has been seen before, it's a weird shape and the stick acts like an ollie tail bar. Experimenting is good for everything – not only snowboarding. It is progress. The new shape direction is a Pandora's box and it can't be stopped once you start," confesses Moonchild builder Jure Sodja.
CARVING COOLING
Well, carving is cooling off a bit as a trend probably since pure carving boards have been a bit of a handful to handle for the average snowboarder. That said, Korua have a new carving board in their concept line, Endeavor's Alpha Series is a 157 with a much longer effective edge than normal and Goodboards' Vulcarvo carver has extra basalt for more torsion and grip.
The biggest news in carving boards next year is Head's Kizamu, which is a mere 2350g. "It's packed with literally everything our technology department has to offer, and designed for riders with high demands. Although very low in weight, the KIZAMU is a rocket both on- and off-piste. The flex of this board is rather stiff, which is necessary for its extraordinary carving performance. At the same time, the hybrid camber and setback make it good for pow. Speed is guaranteed with its sintered base, and the directional shape assures grip and control in all conditions," explains Head's Max Thurner.
KIDS KIDS KIDS
Don't say it too loudly, but there's good news. The Candide effect is waning as the postmilennial generation look for new heroes… and there's a faint possibility that they might be discovering snowboarding again. Well, they'll have their choice of boards, that's for sure. Verdad's V-Knight is their first ever kids' board and West's brand new K-West is a pint-sized pow ripper. And they're not the only ones. "We feel it's unfair that only adults are getting all these new board shapes, while the future of snowboarding is mostly restricted to some sort of lame twin tip. This is why we have added 137 and 142 sizes to the popular SQUASH Series, giving our young shredders a piece of the action," says Nitro's Tommy Delago. Look out for a new Bataleon Minishred and a Borealis Big Surf for junior riders. Spoiled rotten, kids nowadays. 
A nice note came in from Wi-Me, who have found a nearby high school and vocational college which offers composite programmes. They're planning on getting involved and helping out the next generation of builders down the line develop their skills for making the snowboards of tomorrow.
NEXT LEVEL SUSTAINABILITY
Customers expect sustainable manufacturing and corporate social responsibility nowadays. What are brands doing? Well, Burton is taking the surprising move of removing the lacquer from their boards. "Lacquer is soooo last season. Starting in 2020, we have removed the lacquering stage from the finishing process of all our snowboards to eliminate the negative environmental and human health effects of the high Volatile Organic Compound content found in traditional snowboard lacquers. We focused on maintaining a high-quality premium finish, while removing that nasty lacquer," says Burton's PR Hanna-Marie Mayer. In the same vein, we loved Gnu's bio beans topsheets on next years' range, which show off their sustainably-harvested wood cores and water based sublimated topsheets beautifully.
Buddybuddy have a board called the Emcee Eco Earthkeeper which comes with an original Earthkeepers Art image by Maurice Spees – sales help support Earthkeepers activities. Earthkeepers is a foundation that supports the wellbeing of the planet – particularly the importance of the human connection to nature and the earth. With a five year warranty it'll also be one you hang onto for longer, for bonus points. We were really impressed with Rossignol's partnership with NoK boards, whereby they upcycle B-grades into longboards, and we admire Phenix's attention to detail using wood veneer reconstitution or silviculture to avoid touching endangered noble wood species.
MODERN FREESTYLE EVOLUTION
Inspired by the avant-garde punk grooviness of the Spring Break Twin & Ride Twinpig of years past, modern freestyle is about asym shapes, blunt tip and tails and pronounced sidecuts. The Amplid UNW8 and new Capita Asymulator with Shovelhead tips do it right, and Yes' Jackpot is a thing of great beauty with sawed tips and tails. And, since 2019 is the Chinese Zodiac Year of the Pig, Ride have some extra additions to their Pig family. Oink. "We are totally behind our shape and technology in the Pig range and we are sure we have the board for you… one will make you stoked on every single turn," says Ride's Head Pig Farmer Joerg Schramm.
The K2 Party Platter, an important part of this evolutionary subtrend, has been retooled and revamped with longer running length and more tail volume for more pop and easier switch riding. Roxy's XOXO gets a nose and tail shape update too, for a little more steeze whilst hanging out in the park. And Head's new Anything with Hybrid DCT 2.0 construction has a longer effective backside edge and four extra contact points for more bite.
In the more conventional freestyle/twintip category, there's a few shuffles; Capita update the DOA with the introduction of the premium SuperDOA with lighter core and faster base. Salomon feed power pills to their Huck Knife resulting in the Huck Knife Pro – it's a true park board with a classic blunt shape, now upgraded with a Ghost Green Core and cork/honeycomb insert at the nose and the tail to reduce spin weight for quicker rotations.
Play's The Carpet is a classic all mountain freestyle board with low camber to flat and tip/tail rocker, and we're stoked to see Gnu's Whip in the flesh. "The Whip is for ladies who want more from their board, can't ride a skinny smaller version of the men's models, but want to whip their board around the whole mountain without any restrictions. The Whip is the exciting result of advanced geometries developed over 25 years by women, for women", says Gnu's Barrett Christy Cummins. There's a big change at stablemates Lib Tech too, who (finally) unveil a whole new and totally badass women's specific line. Luckily it's not just a size or a colour thing – there will be topsheet and base art from the most iconic Lib painters, and the decks will all have womens-specific tunes and features. We really liked the C2X No.43 all-mountain, quiver-killing directional twin. And hats off to Coalition, whose women's specific line features cores made from "tampons and the tears of fragile masculinity", as well as a bunch of other rad stuff, according to CEO Jen Gurecki.

Finally, look out for Neversummer's new Warlock, which they're calling the Dipstick, the DC 156 which was designed with Mons Roisland and Easy's new freestyle board, the Easy Killer.
GRAPHICS
Next year's graphics are a mixed bag, as usual. A couple of themes pop out though; there's a definite nautical vibe to a lot of boards. We particularly liked the yin and yang of sea and sky on Burton's Day Trader, and the anchors on the Academys we saw. Generally graphics are moving away from the retro 1990s thing of this year – although the art on the Sims Juice & Tom Sims Pro look great. They were done by OG Sims & Morrow designer Scott Clum, who was also on topsheet aesthetic duties on the Yes Hybrid.
There are fades, pastel colourblocks and gradients abound at Jones and Amplid, and on the Spring Break Powder Racers, while Nidecker use fluoro pop hits on darker underlays. DC go full digital distortion and digital/analog contrast, while we noticed a more whimsical and fantasy theme emerging too, particularly on girl's boards. Neversummer's Lady West is a great representation of this direction.
Then there's white, lots of white. Well, it's cheap, I suppose. Korua, Yes, Sims, Rossi, DC – everyone's into the paperwhite or hand drawn monochrome look. Roxy's Smoothie has Baldface guide Jessa Gilbert on graphical duties – her depiction of some of Robin Van Gyn's favourite spots is just drop-dead gorgeous and needs to be seen to be believed.
Outdoorism features heavily – unsurprisingly – with Rome describing their direction as "a healthy dose of surreal nihilism anchored with the ever-expanding textural universe of the great outdoors". Whew. There's a new Markku Koski signature line from Vimana next season as well, which is based upon icebreaker ships from the early 1900s.
Finally, hat tip to Verdad for their incredible Mobb Deep collaboration – over to Démir Julià to explain. "Mobb Deep is the best rap duo ever. Since the beginning they stayed loyal to themselves and never sold out their soul, blessing us with real street music, grimy and hardcore like it's supposed to be. What Mobb Deep did for hip hop, Verdad does for snowboarding." The Mobb Deep board has a new core, a mixture of wood hybrid fibres and carbon and kevlar stripes which gives the board a lot of extra strength and energy.
CONSTRUCTION
In terms of production, the big news is Burton moving parts of their production – principally the 3D-based Kilroy models – to SWS in Dubai, who already build for pioneers, The Bataleon family and have done so for years as well as the likes of Jones, Yes, Arbor and many others. This is a first for them, and shows just how good the SWS technical mastery of 3D has become.
Inside the boards themselves, sidewalls get some innovation at Borealis, with new Liquid Walls on the Leviathan. "This shock-absorbent sidewall is poured directly into the core in its liquid form before solidifying and creating an impenetrable and rock-solid barrier, protecting the board from obstacles," explains Borealis' Ben Hall. Over at Nidecker, there's a unique new sidewall in their Snowsurf quiver with constant thickness from tip to tail – the wood core covers the sidewall for a surfy type result. They're also using tinted resin, again, like in the surf industry. And Yunika are employing a poured liquid PU sidewall into core channels for increased stability on their Elias models.
It seems there are evolutions in dampening every year, and next year is no exception. Salomon's C/FX Basalt mixes basalt and glass to make the Super 8 and Bellevue boards more powerful, with a smoother ride. Amplid have a midrange damping tech called Viscodamp, which puts channels of special viscoelastic TPU down the middle of the core. It flexes with the core but absorbs energy as it moves to reduce vibrations. Meanwhile, Capita start using Technora boosters woven around aramid to eat up shocks. Happy days.
We were interested to see Goodboards use a new base material called Nivylen – it's faster, stronger and stores more wax, and the structure lasts longer. Over at Jones they'll be showing a new Ultra base, which is embedded with multiple wax types for a faster factory wax right out of the wrapper – they're claiming it's the fastest base they've ever tested. See you at the finish line.
CONCLUSION
So, there it is. A solid slice of new tech, new shapes, new graphics and some small production changes. There's a lot of choice out there nowadays, and it's our job to help clients to pick out the best of the bunch. On that note, let's kick it over to Konvoi's Ben Dietermann for the final word: "Just because someone tells you how good a board is or your best buddy rides the same board just doesn't mean it's really the right board for you and your riding style. And let's all start being honest about what we're going to do with it. Yes, we all love powder, but conditions here in the Alps vary quite a bit so you better have a board that can handle more than one type of snow. And maybe you used to ride park five years ago… but does that really mean that a freestyle board is still the right choice?" Let's help clients be honest with themselves, make the right choices and get stoked on snowboarding again.