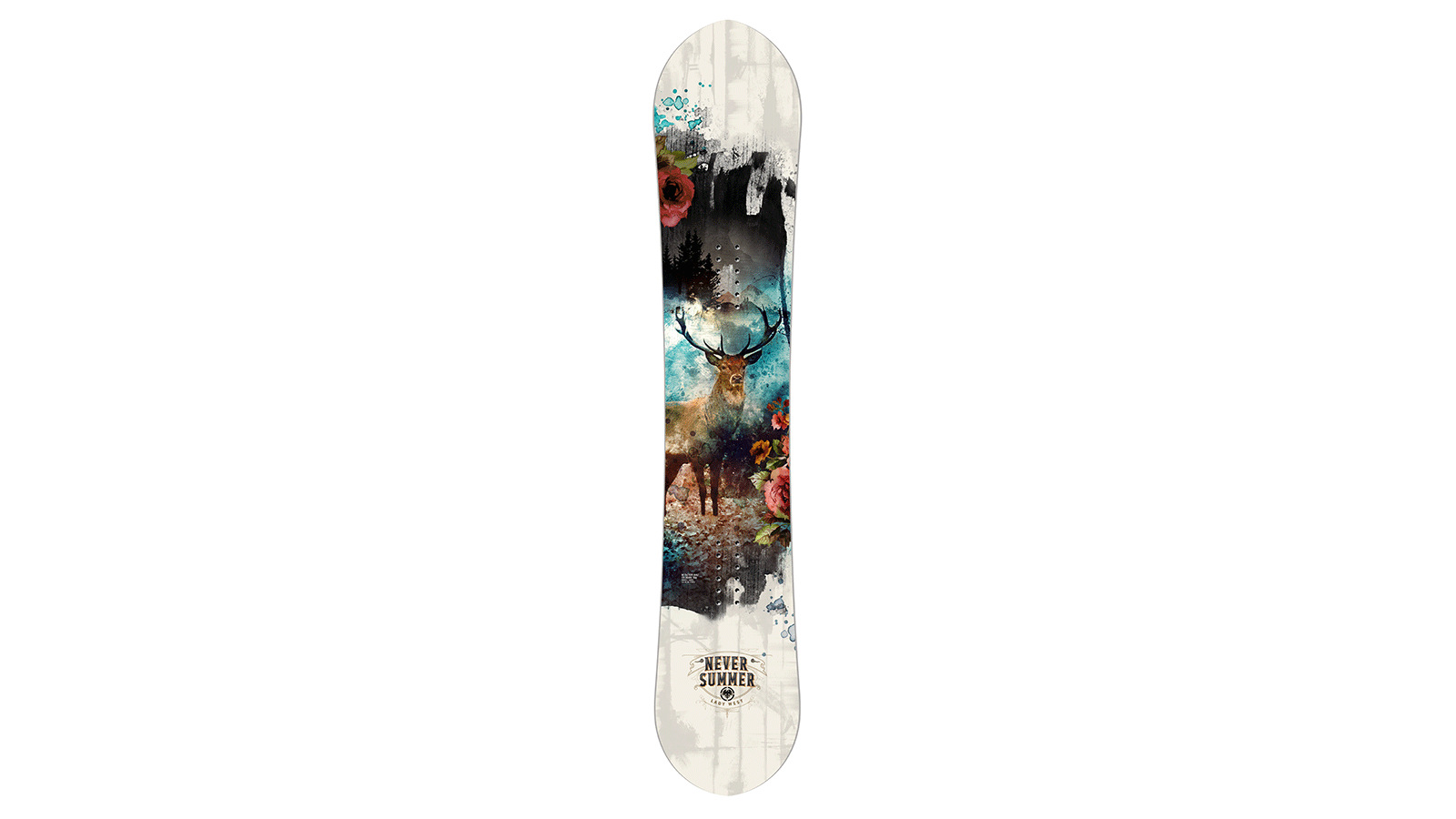 Never Summer FW19/20 Snowboard Preview
Retail Buyers Guide: Snowboards FW19/20
Brand: Never Summer Industries
Interviewee: Tony Sasgen – International Sales Manager
KEY PRODUCT FOCUS: Please pick the three most exciting boards from your new FW1920 line and tell us about them.
Key Models in the Never Summer Line up for the 19-20 season are the West Bound for Men and Lady's West in the all mountain category. This a redesign on the West and the Aura redesign for the Lady's West. These models will feature the Fusion profile which blends the Original Rocker camber in the nose with the RipSaw profile in the tail with a small amount of taper. For the park and pipe, we have revamped the Warlock into the Dipstick. A soft flex Original Rocker Camber profile true twin park slayer.
Construction. This is the place where you can talk to us about the new ingredients in your boards, and how you are building differently. We're interested in anything new in inserts / edges / cores / sidewalls / glue / resin/ wood types / base material etc here.
On construction, we are continuing with the P-tex sidewalls, Sintered P-tex bases, and our exclusive pre-tensioned STS fibreglass. For the Cores, we have a blend of different wood species to maximize the strength to weight ratio. These tried and true materials withstand the test of time and abuse. With top sheet materials, we are still experimenting with different textures to find that good balance between strength and durability with materials that also look good on the boards.
Where are you building, what factory in what country? No wrong answer. What makes this production facility the best solution for you?
We continue to build every Never Summer Snowboard in our Denver Colorado USA factory which allows us to come up with a concept, design it, build, then test in a short period of time. Our location gives us access to some of the best riding conditions in the world to perfect our creations. We handle every single step of the production process in-house. We shape and profile our own cores, bend our edges, as well as print and sublimate our top sheets with the graphics. Having control of each step in the production process gives us a handle on the quality control from start to finish.
Which pricepoint is seeing the most action at retail? Premium, bottom or in the middle? What do the people want?
For Never Summer, we have found the most success with the middle and higher end models within our lineup. We found that our customer base appreciates the quality and craftsmanship of our snowboards.
Consumers are more open than ever to unusual shapes. Got any super mad shapes next year? How long will this new shape direction last… is it a good thing for snowboarding?
We will continue to test and implement relevant shapes that will be effective in making the boards ride better. When board shapes get to outrageous, they can get out of the comfort zone of the consumer and sales on these models tend to slow down.
We're really interested in graphic themes running through your line. What is your art department feeding you for next year?
We tend to have common themes on certain models year to year. Next year builds on some of these concepts. The new models give our designer a chance to break out of the mould and offer different concepts.
What are your top marketing stories for next season? This will help us to put the focus on the right decks.
Some of our team riders have been very active in helping us dial in shapes and flexes that they prefer for their style of riding. Getting this feedback from riders like Chris Corning and Dylan Alito is great as they are pushing riding to new levels. Chris is on the Shaper Twin and Dylan on the Peacemaker. These guys are the future of snowboarding and having them riding boards that consumers can pull right off the shelf, purchase, and go ride says a lot. They are riding the same boards we ship to dealers. Our international team is ever growing and seeing some really talented riders getting on our program.