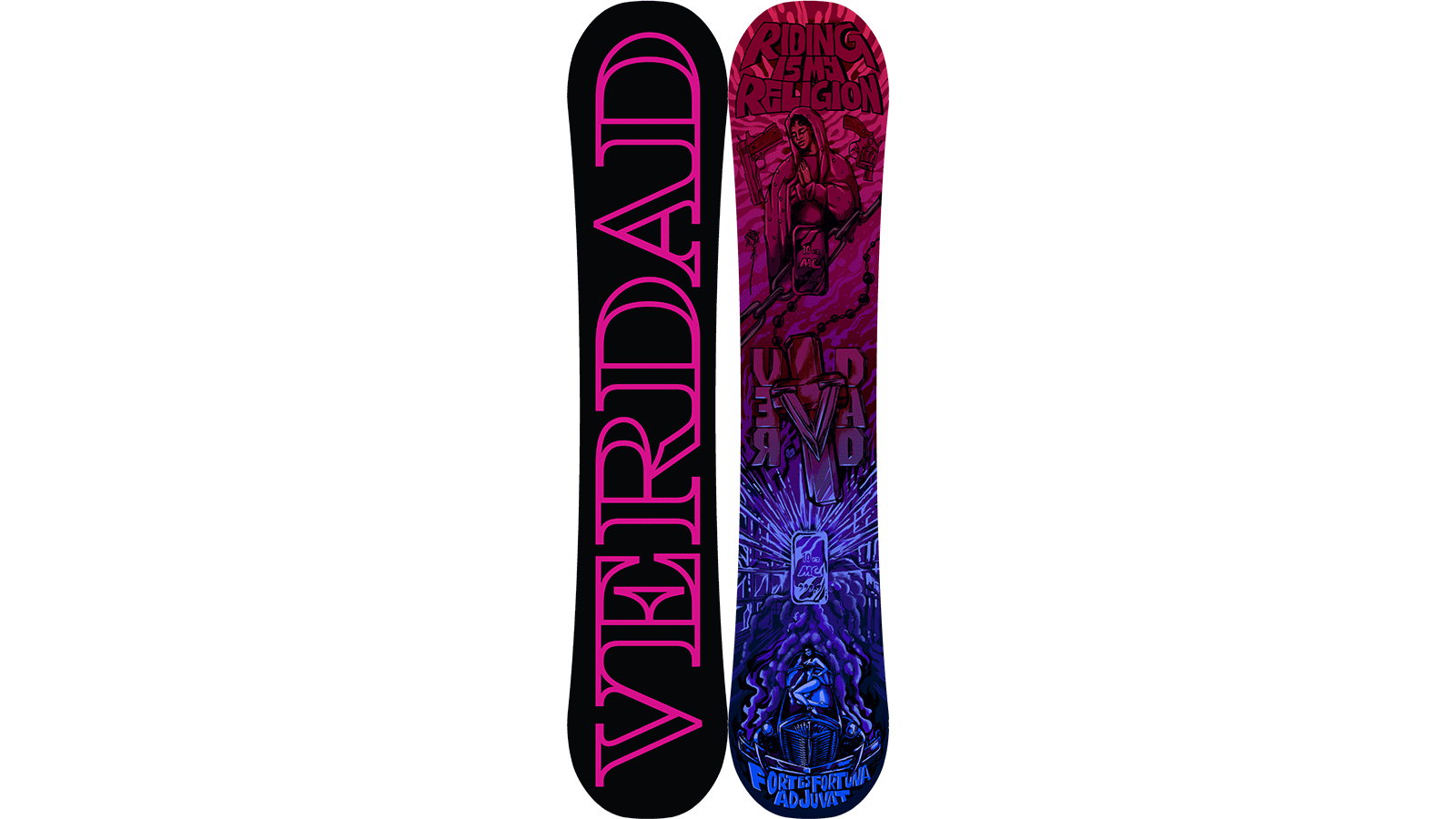 Verdad FW19/20 Snowboard Preview
Retail Buyers Guide: Snowboards FW19/20
Brand: Verdad
KEY PRODUCT FOCUS: Please pick the three most exciting boards from your new FW1920 line and tell us about them.
Mobb Deep
Last year we made two boards (survival of the fittest) as homage to the late Prodigy (RIP). This year we made what we were dreaming a long time to make, a real Mobb Deep board.
Mobb Deep is for us the best rap duo ever. Since the beginning they stayed loyal to themselves and never sold out their soul, blessing us with real street music, grimy and hardcore like it supposed to be. What Mobb Deep did for hip-hop, Verdad does it for snowboarding.
We stay authentic and true to our roots and flag all the way and don't follow anyone or anything. We ride in our own lane doing our own thang. We build boards for the real Snowlife people, self-made riders who do anything to get to the snow and ride every day like it's the last one.
The board is an ultimate freestyle weapon with a lot of performant features, made for any kind of freestyle riding, massif pop and edge total edge control, super stable at high speed, a lot of expressive torsions so this boards makes ride you better and stronger then before.
Only for experienced and pro riders.
Design made by Lana van der Stappen.
Riding is My Religion
This board is designed by Mickey Cohen, a very talented artist from Amsterdam! You can feel the energy and street vibes Amsterdam breaths and of course the mystic around our main slogan and lifestyle Philosophy; "Riding is My Religion".
The board is a freestyle gun. A full OG twin, featuring a full wood core with hybrid fibres and with carbon and kevlar stripes (core VCO4) to absorb all vibrations on any engaged freestyle terrain. The hybrid camber gives you extra stability and has an edge to edge control that is very vivid when hitting the slopes. Made for any kind of kickers and next level rail riding, this board can do it all. The RR is destined for confirmed and expert riders, who are looking for a very powerful all-around freestyle board. Performant all the way, she delivers instant satisfaction.
Winter is mine
Winter is Mine means that snow runs through our veins, it stands for that moment when you can finally breathe the fresh snow and the pure ice cold air into your lungs. Standing on the top of a mountain before dropping in, that feeling when your heart beats in complete balance with the mountain you stand on, that is the Winter is Mine!
She has a smooth directional shape with hybrid camber and is designed for all-mountain freeriding. She is very precise when it comes to carving on the slope and has a sharp edge to edge control. But she will be the happiest when she can drop into some fresh powder! She is destinated for intermediate to experienced riders who like to cruise the whole mountain!
The design symbolizes or endless love for the wildlife and it's habitats and was made by Mika Boutillet.
Construction. This is the place where you can talk to us about the new ingredients in your boards, and how you are building differently. We're interested in anything new in inserts / edges / cores / sidewalls / glue / resin/ wood types / base material etc here.
The Mobb Deep board has a new core, a mixture of wood hybrid fibres and carbon and kevlar stripes. The position where the carbon and kevlar stripes lay in the core gives the board a lot of extra strength and horsepower, a good rider will ride better with a super good board; this means torsion at high speed, shock absorption on bad terrain, super stable at high speed and a flex that forgives at low speed but with a lot of pop for all freestyle use.
Winter is mine is a bamboo construction with carbon stripes on the edges (VC03) makes a very performant freeride and carve board.
Where are you building, what factory in what country? No wrong answer. What makes this production facility the best solution for you?
We stay loyal to meditec in carthage, Tunis.
Which price point is seeing the most action at retail? Premium, bottom or in the middle? What do the people want?
We sell mostly the classic (our first price 359).
We also saw that a lot of 35/55-year-old riders wanting boards for cruising and carving, they don't care about the park or any freestyle riding they want a directional board that is stable and fast, so "winter is mine" and "grand cru" will be on the second position.
Consumers are more open than ever to unusual shapes. Got any super mad shapes next year? How long will this new shape direction last… is it a good thing for snowboarding?
We stay loyal to our own shape, we tried some other shapes but always came back to the original one. If the shape is perfect, why change, its the inside that always can be better
We're really interested in graphic themes running through your line. What is your art department feeding you for next year?
Verdad's 9th range is the best we made so far, we have 13 models and all graphics are on point! Some are sober and classy others are full designs with a lot of details, we need both to have a complete range.
What are your top marketing stories for next season? This will help us to put the focus on the right decks.
We have the V knight our first board for the kids, no toy the real deal for the youngsters, they're the future!
The Mobb Deep board is very special to us, we met havoc and big noyd in Brussels and they were stoked and surprised that there are some riders that listen to their work!
It's also the extreme opposite that makes this special, we're taking the streets to the mountains, we're talking the grimy life of Queensbridge against the idyllic lifestyle a lot of snowboarders have far from the darkness of QB.
It's important to understand that we live in the grey depressing city and that we dream every possible moment of the snow and the mountains
it's our way out, its what keeps us going, the never give up state of mind and from negative to positive