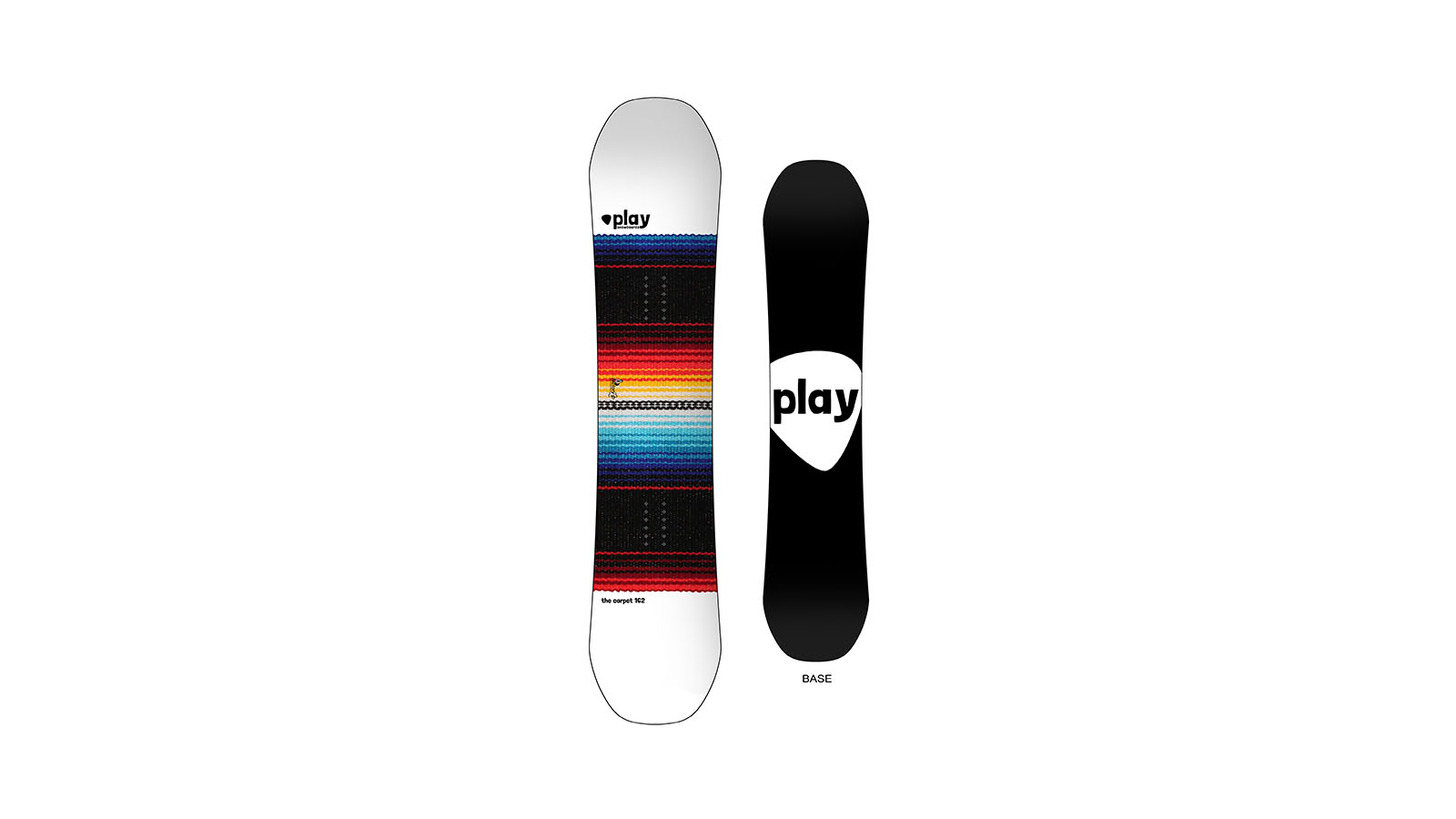 Play FW19/20 Snowboard Preview
Retail Buyers Guide: Snowboards FW19/20
Brand: Play Snowboards
Interviewee: Chris Spoerri / CEO Cloud 9 Distribution AG – Development and Production of Play Snowboards
KEY PRODUCT FOCUS: Please pick the three most exciting boards from your new FW1920 line and tell us about them.
The Carpet is the No 1 Pick if you are looking for a board that combines piste, park and off-piste performance! It's got a rather soft flex, yet a very fast pop. So you can really push the limits from performing small slope tricks to riding huge ramps. This Board has a slight camber reaching almost to nose and tail. But bevor nose and tail rise, the base is held flat which makes the board very freestyle-like and also helps to float in deep powder snow. The flat base area helps to perform easy looking nose and tail tricks and also helps on not so perfect landings. The cambered area makes the snowboard stable and easily controllable when you're carving.
In short: The Carpet is a great allrounder that will give you pleasure on, off and over the piste!
Price: CHF 789.00 (ca. EUR 680.-)
The Goldfish is the ultimate Powderboard for all who really want to feel snowboarding! The shape is a little retro, but of course, the board is stuffed with our latest technology and the shape is adapted in order to properly work also on the pistes. This board provides pure surf feeling on snow! The board has a slight camber from the tail to the front binding area. This gives perfect control when you're riding on piste. Right in front of the front binding the nose rises and provides the great floating abilities even in deepest pow. The stance is set back quite a lot and the nose is wider than the tail, which makes nose dives almost impossible. In short: The goldfish is a perfect powder board that also works properly on piste and provides the real surf feeling some of you are looking for. Price: CHF 799.00 (ca. EUR 690.-)
The Silence Splitboard will take you to the remotest terrain – if you are willing to take a few steps… The shape of the Silence is taken from our well approved Pow-Pow board, the Mako. Because this shape is perfect for all conditions and every terrain, it was just logical to take it as our splitboard shape! We just added some stiffness to the area between the bindings to make sure the board doesn't flex too much when you walk it. For perfect powder runs there is no better board among the middle length snowboards today but compared to a fish shape, this board will also work fine for piste or hard packed off piste conditions. The combination of camber, the rockered nose and the tapered outline, makes this board extremely fast and controllable in almost all terrain and snow conditions.  Price: CHF 949.00 (ca. EUR 820.-)
Construction. This is the place where you can talk to us about the new ingredients in your boards, and how you are building differently. We're interested in anything new in inserts / edges / cores / sidewalls / glue / resin/ wood types / base material etc here.
We've been working with quite a few snowboard pros for over ten years and have tried and figured out a lot of things. Therefore, our know-how in raw materials, technologies and construction processes is outstanding.
As we are making the boards in our own factory in Switzerland, it is obvious that we are not trying to build price point snowboards. Our boards contain only best materials that we exclusively get from suppliers from Switzerland and the EU.
Every board is laminated with wet resin and vacuum pressed for several hours at a temperature of 40°C. This process eliminates all the micro air bubbles in the resin and provides best curing of the resin which results in a stronger and lighter composite construction. This is the reason why our boards keep the flex and pop for a very very long time. We are using triax fibre glass combined with carbon stringers and patches, depending on the model. All our boards have a unique wood core made from ash, poplar and paulownia wood which is very light in weight with great flex properties and at the same time is very strong.
All Play Snowboards made at Factory 9 come with stainless steel edges which – obviously – don't rust but also stay a lot sharper for a longer time.
For the digital Prints on topsheet and base materials, we developed our own transfer process which allows us to print in very high quality and in very solid colours (black really is black…for example).
Where are you building, what factory in what country? No wrong answer. What makes this production facility the best solution for you?
We build all our snowboards, except for one model, in our own factory called 'Factory 9' (http://www.factory9.ch) which is based in Winterthur, Switzerland. We proudly stamp the 'made in Switzerland' label on all those snowboards!
At the same factory, we also make custom boards for several pro riders, shops, companies (brands, and end consumers who want to have their own 'pro model' made. So far, this has been the best for us because we are super flexible and we can change production steps very quickly if needed. And, of course, the quality management is 100% in our hands.
Currently, we have one model in the range which will be made at the Loxee Factory in Poland. We know their production quite well as we have been working very closely with Majesty Skis for quite a while now (we've made Telemark Skis for our own retail shop together with them). Loxee/Majesty is great to work with. We have a very good communication and the quality of their work is excellent.
Which price point is seeing the most action at retail? Premium, bottom or in the middle? What do the people want?
We only have boards in premium to middle price ranges. Starting at around EUR 500.- up to EUR 820.- (splitboard). For Swiss made snowboards shaped at one of the most successful custom factories, these are very fair prices, we believe.

Consumers are more open than ever to unusual shapes. Got any super mad shapes next year? How long will this new shape direction last… is it a good thing for snowboarding?
We don't go too extreme with our shapes. We have a few rather special shapes but what we hear from our customers is that most of them are still comfortable with rather 'conservative' shapes. Even though, they might buy something more unusual, they wouldn't specifically look for it. Personally, I think that more conservative shapes will sell well as there are more and more unusual things out there…
We're really interested in graphic themes running through your line. What is your art department feeding you for next year?
We'll stick to our rather calm graphics with subtle colours and patterns. Some models will also have some surf and/or mountain related photo-graphics and we'll have some hand sketches in there, too.
Generally, we'll always keep around 50% of the range for two years. This makes it a lot easier for everybody. From development to production to stocking the boards…
What are your top marketing stories for next season? This will help us to put the focus on the right decks.
Snowboarding is fun! That's our policy with Play Snowboards. Our name is program and if you are open to it, we guarantee you will have unlimited fun on our snowboards.
As we are working with many pro riders on the world tour, it is our focus to point out that story. Our boards have made it on the top of the most important podiums in the beautiful sport of snowboarding – Olympic Games, X-Games, World Championships, etc. We are very proud of it! Also, the fact that most of our boards are 'made in Switzerland' will be rolled out in all communication.