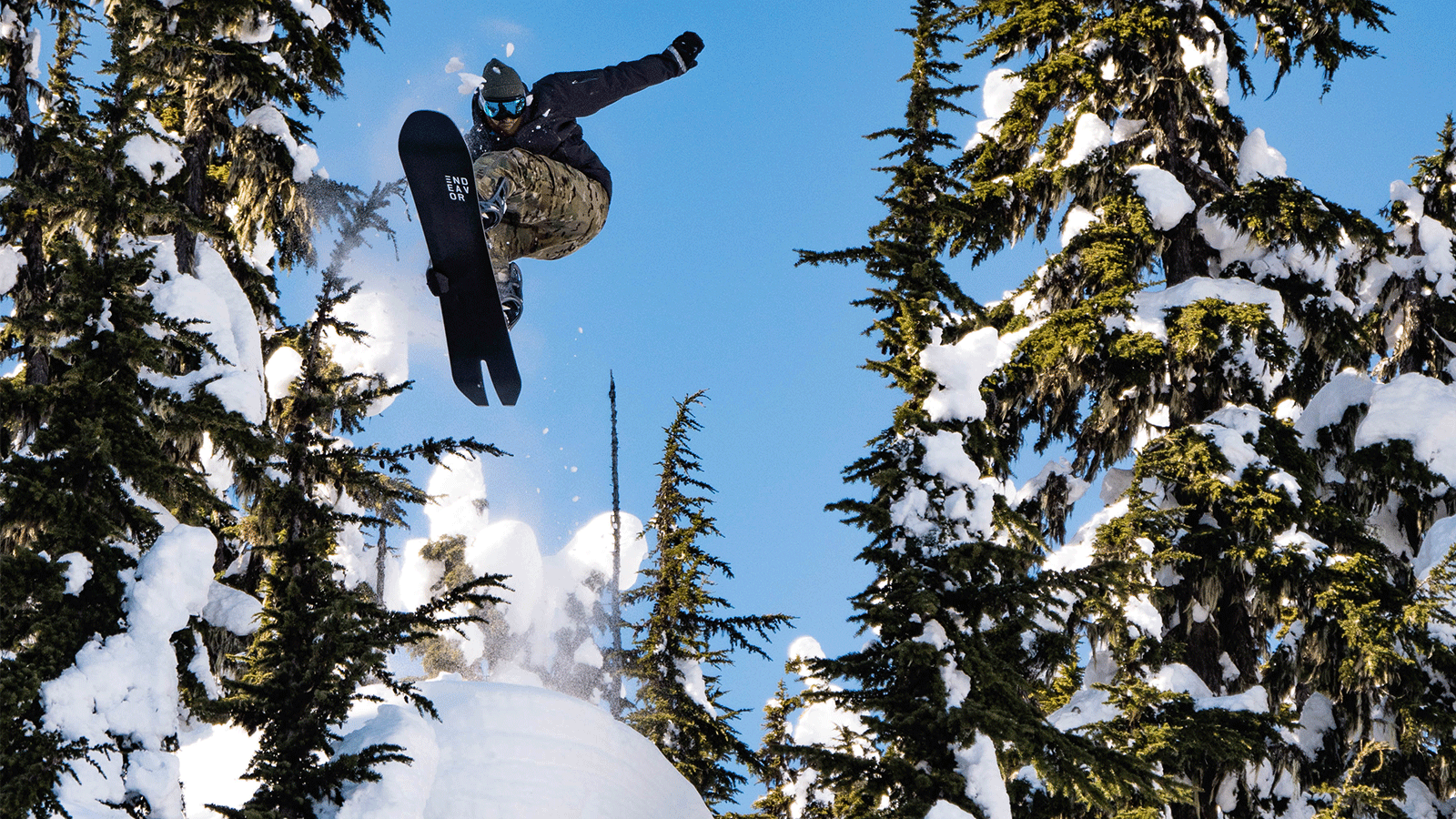 Endeavor FW19/20 Snowboard Preview
Retail Buyers Guide: Snowboards FW19/20
Brand: Endeavor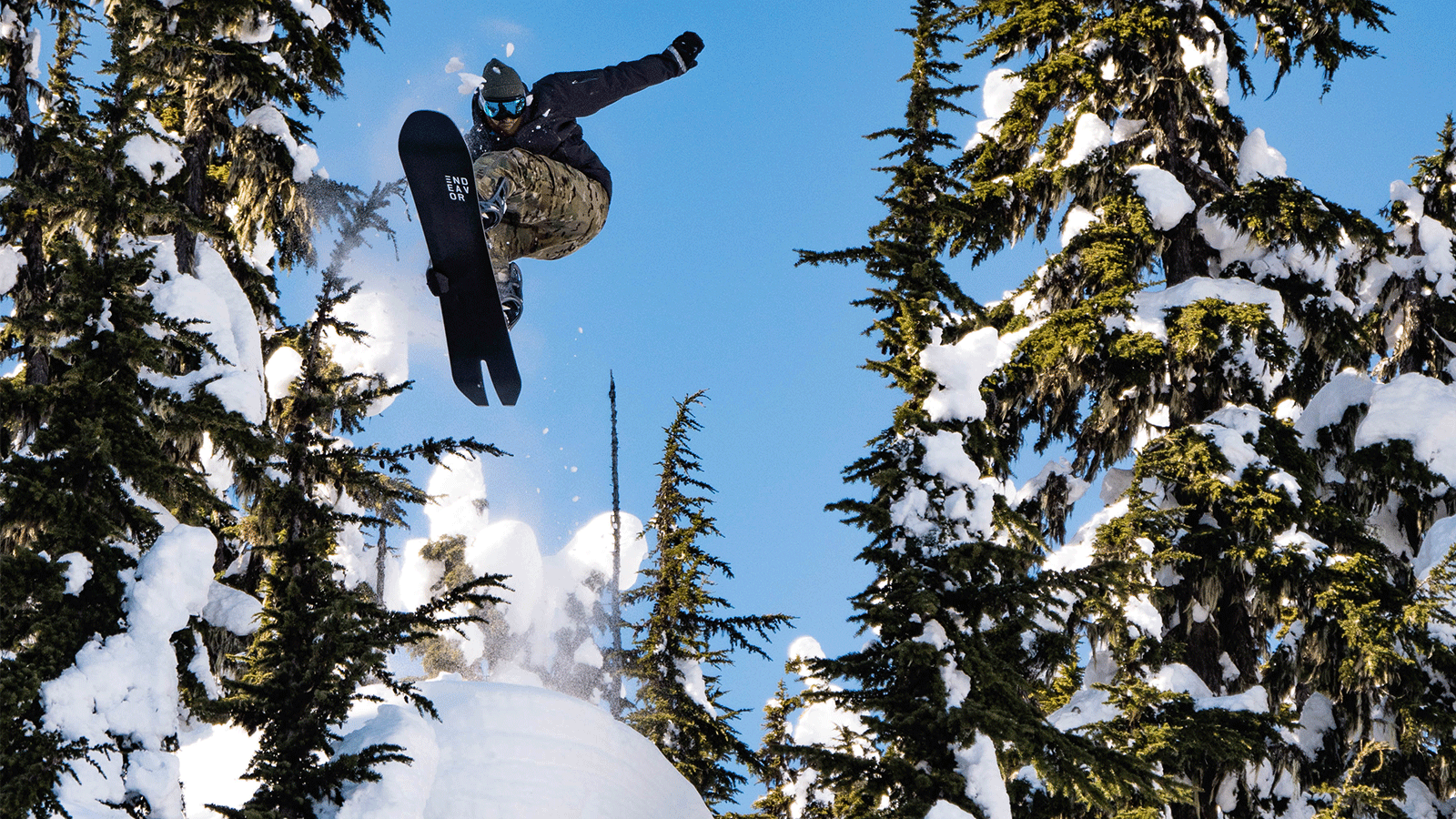 KEY PRODUCT FOCUS: Please pick the three most exciting boards from your new FW1920 line and tell us about them.
The Alpha Series: 
The Alpha is the speed addicts choice. The short nose and tail lengths and the long effective edge to board length ratio allows fast lengthy carves at ludicrous speeds. Combining pre-cured triax fibreglass, our lightweight core, precision aligned carbon beams, full traditional camber, and the hardest sintered base ever made the Alpha is unmatched for speed and stability. This is the corduroy killer.
The Clout Series:
The Clout is a big mountain freeride dream. Rusty Ockenden's napkin sketch comes to life with a completely updated Clout. Featuring a directional, elongated nose and tail for punching through deep landings and choppy slush and loaded with upgrades like our 3D camber profile, lightweight core, carbon beams, and Smoothride Sidewall, the Clout continues its legacy as the go to board for backcountry freestyle.
The Pioneer Series:
The Pioneer is designed for advanced freestyle riders. With its new nose and tail shape, the Pioneer exemplifies our vision of a premium freestyle snowboard. Lighter, more responsive, and packing way more pop, the lightweight core and carbon beams create a stiffer ride than the Ranger while the multi camber keeps it's playfulness. Be the first to clear the path for your crew.
Construction. This is the place where you can talk to us about the new ingredients in your boards, and how you are building differently. We're interested in anything new in inserts / edges / cores / sidewalls / glue / resin/ wood types / base material etc here.
Smoothride Sidewalls continues to be our main focus which is the process we won an ISPO Innovation Award for (previously called Seamless Sidewall Technology). It is a seamlessly poured urethane sidewall around the perimeter of the board which reduces chatter in choppy snow, preventing leg fatigue.
Endeavor continues to use the Channel binding system, as we believe it is not only the easiest way to get your perfect stance but also combined with EST bindings, provides the best riding experience.
Where are you building, what factory in what country? No wrong answer. What makes this production facility the best solution for you?
We produce in China and have done so for the last 12 years. We moved many years ago after producing in Vancouver at Option Snowboards (who I used to ride for and where I used to work during my summer holidays when I was 16). We had a disastrous production season locally with huge warranties. Moving to China that year meant we could finally get a margin that could sustain our business so we took the opportunity. After the first season, we had no warranties and have continued like this for the last 12 years. Production is never easy, no matter what country or factory you produce. The fact we change our product line every year is a challenge for both sides. Factoring in world economies, labour shortages, and raw material costs going up every year, it's certainly a moving target. We value our factories and view them as strong partners in our business – and we are lucky enough to include them as part of our extended family.
Which price point is seeing the most action at retail? Premium, bottom or in the middle? What do the people want?
Endeavor boards aren't inexpensive so we are proud to have a discerning customer who trusts we will deliver an amazing product that will give them a lot of smiles on the mountain. We certainly see that price doesn't come into the equation when you have a board like the Archetype Series.
Consumers are more open than ever to unusual shapes. Got any super mad shapes next year? How long will this new shape direction last… is it a good thing for snowboarding?
We've been considering a board for the days where you just want to turn and burn, bomb the hill, never leave the ground. We modeled the Alpha Series after a Lamborghini Aventador – if you look at the nose and tail shapes you'll see what I mean. This board is unique in the idea that you have a 157 but you have the effective edge of a much longer board. We looked to various boarder cross models and came up with a solution that best fit our needs. The Alpha is mean, lean, fast, and aggressive. I actually believe people will be ripping this beast in the park.
Shape stories are always a good thing – bringing creativity to board design, freshness to your quiver, and fulfilling needs you didn't even know you had. The Alpha certainly provides that.
We're really interested in graphic themes running through your line. What is your art department feeding you for next year?
We divided our themes into three collections.
Looking to the north, the Ranger / Live / BOD draw their aesthetic from military aviation and the planes that patrol the arctic. From the complex instrument panels to exterior camouflage, and ground-to-air emergency code to radar images and aeronautical maps, the Ranger, Live, and B.O.D. graphics come to life.
Collaboration is in our DNA. By definition, collaboration is the action of working with someone to create something. For this season, we looked outside our network to gain a new perspective. Tying
in our passions for architecture, furniture design and automobiles, we immediately knew the aesthetic direction for the Clout / Pioneer / Alpha. Battersby Howat is an award winning architecture firm across the street from the Endeavor office. David Battersby and Heather Howat take an integrated, multidisciplinary approach to design. To celebrate their amazing design aesthetic, we created a snowboard with their signature aesthetic elements through screen printing. Brent Comber's furniture workshop is at the foot of Mount Seymour where he can be found crafting large pieces of timber into incredible objects. World renowned, Brent was awarded Best Furniture at the 2017 International Contemporary Furniture Fair in New York. To capture his incredible work, the Scorched Shattered wood was photographed and visually interpreted through layers of screen printing to create not only an aesthetic but also a hand feel.
We were inspired by the Italian supercar showrooms we pass on the way into work. Infatuated by their aesthetic and addiction to speed, we took elements from these beautiful cars and translated it into not only the snowboard shape but also the screen prints and foil hits which create the boards graphics.
Taking aesthetic cues from the competition cars of Le Mans, Targa Florio, Sebring and the Nürburgring, we celebrate the German automotive icon in the Powder Series, which includes the Scout, Maverick, Archetype, and Patrol. Matte and gloss hits create board graphics that pay homage to classic race decaling while the red anodized Channels give a nod to the signature brake calliper found on these premium machines. Like the cars that inspired us, the Powder Quiver can be driven by anyone, of any age. The Hover camber lifts the nose out of fresh powder while varying levels of taper ensure the tail stays deep, acting as a rudder to carve through bottomless snow fields.
What are your top marketing stories for next season? This will help us to put the focus on the right decks.
We want to communicate our aesthetic stories, especially our unique collaborations. The Alpha is particularly unique, so we'll be doing some interesting content around that board.
Also the idea that the whole collection is once again unisex is important – no age or gender specific boards – but designs engineered to accommodate lighter riders are available.