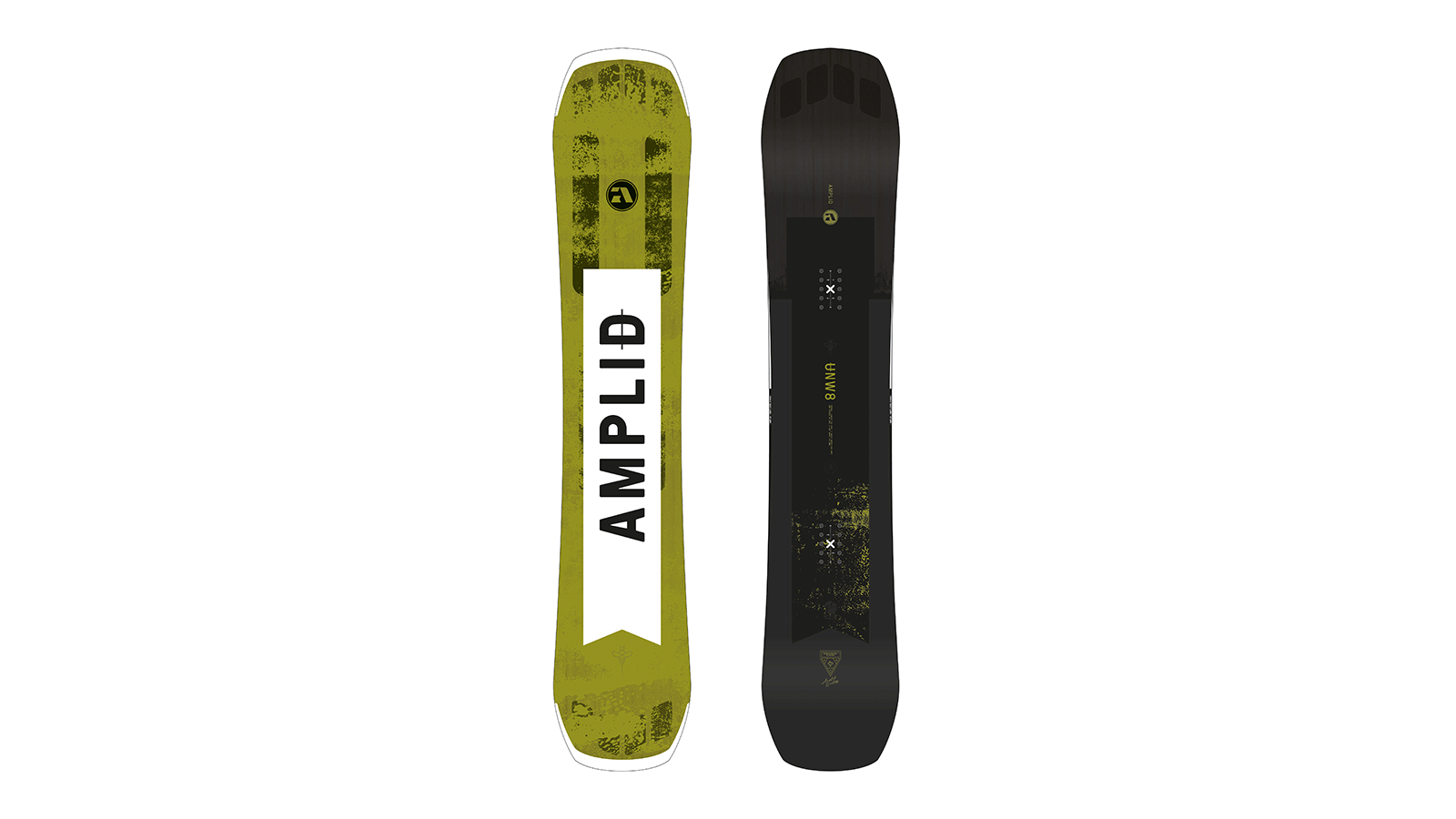 Amplid FW19/20 Snowboard Preview
Retail Buyers Guide: Snowboards FW19/20
Brand: Amplid
Interviewee: Rich Ewbank / Marketing
KEY PRODUCT FOCUS: Please pick the three most exciting boards from your new FW1920 line and tell us about them.
Paradigma – 15 years in Amplid's collection, the Paradigma deserves "legend" status. This year we added some of our home-cooked Viscodamp special sauce for an even smoother ride.
Snommelier – A futuristic interpretation of the classic French swallow for the sophisticated powder connoisseur.
Tour Operator – A bombproof, no-nonsense splitboard made so tough it will survive Armageddon or 200+ days in the skin track, depending on what comes first.
Construction. This is the place where you can talk to us about the new ingredients in your boards, and how you are building differently. We're interested in anything new in inserts / edges / cores / sidewalls / glue / resin/ wood types / base material etc here.
Viscodamp is Amplid's new middle price-range damping technology. Channels are strategically CNC-ed into the core of the board and filled with a low shore hardness Thermoplastic Polyurethane (TPU for short). The TPU material has a viscoelastic behaviour, meaning it deforms when force is applied and returns to its original shape, but absorbs energy in the process.
The snow surface beneath causes a board to flex/bend creating shear forces in the core. Viscodamp's TPU inserts, which are bonded to the top and bottom laminates, absorb energy during initial shear deformation AND during the elastic return to their original shape, sucking-up vibrational energy and delaying successive vibration oscillations. The damping effect is clear.
Viscodamp defers a smooth and stable nature to snowboards.
Where are you building, what factory in what country? No wrong answer. What makes this production facility the best solution for you?
Amplid moved its snowboard production to Playmaker, Taiwan, last summer. We're very impressed by our new partners and very grateful for the gargantuan effort the team at Playmaker made in order to produce for Amplid. The build quality and finish are top notch, and most importantly the way the boards' ride meets Peter's very particular demands. Looking into the future, we're excited to have the capability to deliver a world-class product to our customers on time.
Which pricepoint is seeing the most action at retail? Premium, bottom or in the middle? What do the people want?
Playing in the higher price arena allows Peter to be more adventurous with materials and geometries. Giving the MasterChef the breathing-space he needs to be creative is essential to Amplid's special recipes. With higher prices we're also able to target the real board nerds and tech geeks, the customers that understand Amplid and appreciate the innovate snowboards we produce.
Consumers are more open than ever to unusual shapes. Got any super mad shapes next year? How long will this new shape direction last… is it a good thing for snowboarding?
Future Shapes, our family of unusually shaped powder slaying curiosities, gets a new sibling for the 19/20 season. The Snommelier is a futuristic take on the classic French swallow tail shape. Inspired by the graceful powder guns which used to be the signature of France's Big-Mountain pioneers, this 166cm beauty blends a glug of "future", a pinch of "unusual" and a whole scoop of "retro".
As far as the "unusual shapes" trend goes, it is now in the mass market phase and even the skeptics and nay-sayers are on board. That's important for the brands that have invested heavily into updating their molds, because building new board shapes is an expensive business. I think we're approaching the saturation point, but then again, industry people are far more overexposed than the public, so there's probably plenty of life left in this trend. Anything that moves snowboarding in a new, creative direction is good for snowboarding.
We're really interested in graphic themes running through your line. What is your art department feeding you for next year?
I really sympathise for Amplid's art director Michi Hanauer, he must have the toughest job at Amplid. Every year Michi has to deliver, and somehow, he always creates an amazing brand aesthetic. 19/20 is a particularly fine vintage. Here's Michi's take on the new collection:
"We wanted to take an even cleaner, more mature approach to the new line and develop visual families for different product groups. Peter and I worked hard to simplify our typography and fine-tune the complexity of the designs… I feel they're now bolder and more on-point. And almost every design has some hand-painted textures or details.
At the same time, it was important to keep the core visual elements in Amplid's design DNA; complexity and design details that showcase technologies and create depth, but which aren't too predictable or straight-laced. Amplid has an arty approach to a technical appearance… a mixture of hand-painted textures and clean geometrical forms work together harmoniously. Haptics, communication through touch and feel, also plays a big role at Amplid. The combination of gloss and matt print brings some valence to the final product.
A real highlight was working with Johannes Brückner, the illustrator of last winter's Surfari graphic, again. He's created individual characters for each board in the Future Shapes series. His illustrations combined with loud, fun pop colours really brings these boards to life."
What are your top marketing stories for next season? This will help us to put the focus on the right decks.
Our marketing is becoming increasingly focused on long-term brand building. We want to continue to build deep relationships with the right ambassadors. Riders that live for the mountains and snowboarding, who create great content which we can share through owned media. Simultaneously, we want to forge stronger relationships with our existing customers. Test Pilot gives us real, money-can't-buy insight into what our customers want, but also allows Amplid to offer an experience that's totally unique to its customers.