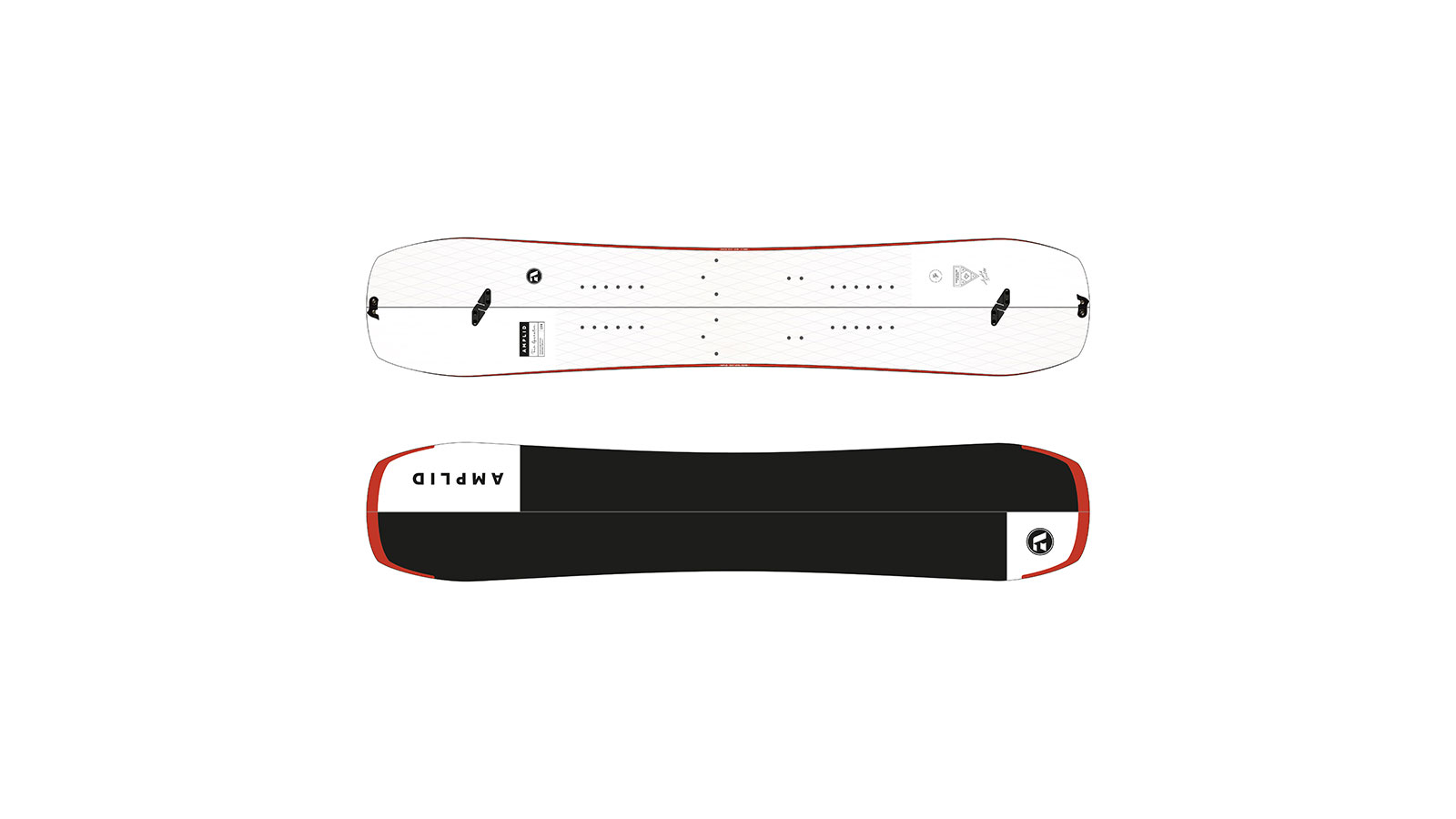 Amplid FW19/20 Splitboarding Preview
Retail Buyers Guide: Splitboarding FW19/20

Brand: Amplid
Interviewee:   Rich Ewbank – Marketing Oligarch
Please outline up to three new key products of interest to splitboarders in your line, and tell us what makes them so great.
Fresh updates to the Milligram and Millisurf, including tweaks to the geometry and construction, are keeping these boards ahead of the pack in terms of durability, ride quality and most importantly weight. Every year there are new challengers, so we keep moving the goal posts.
The Tour Operator is a new splitboard for winter 19/20. In my opinion, it has the perfect all-mountain shape, but that isn't it's USP. We stripped back the bells and whistles and built a rugged and performant splitboard at a sensible price. Pure functionality that, barring any particularly nasty shark attacks, will last the 200+ day skinning addict multiple seasons.
Construction.This is the place where you can talk to us about what's going on under the hood in your gear, and how you are building it.
Our customers are either looking for the highest performance products on the market in terms of how they ascend and descend or a splitboard which will give them years of service with little more than a wax and an edge tune. That's why our splitboards come in two constructions; Carbon, which delivers an unparalleled weight/performance advantage, and a bomb-proof construction, which is as tough as old boots and will last a lifetime.
On the Tour Operator, a Polyamide topsheet replaces the conventional TPU material. It has four times the impact and scratch resistance, without an increase in weight. In the lab, we've found the material we're using can resist 10x times more notch stress (lab terminology for replicating the stress applied when chipping happens). Thicker base material and edges with extended anchors increase the board's chances of surviving a rock strike. All black PTex along the running length makes unsightly repairs a problem of the past.
Onto functionality now; how do you make your stuff work better than the competition during skinning, during transitions and riding?
For us it's simple, hauling yourself and your gear up a mountain is exhausting, so the lighter we can make it and still deliver good skin-snow traction during touring, the better. Our focus with the Millisurf and Milligram is to make touring as efficient as possible without compromising the riding part.
Which pricepoint is seeing the most action at retail? Are splitboarders prepared to spend money on gear, or is becoming this a discount/budget marketplace?
Year-after-year the sell-through of our flagship splitboards is phenomenal. Constant innovation and limited production keep our boards from sitting on the shelf for long. We listen to our customers and they tell us that price is secondary to quality and innovation.
What unique features will splitboarders dig about your gear next year?
It's exciting to change the value proposition of Amplid's more affordable splitboards. If money is tight, you don't want to put all your savings into something you'll need to replace next year. I think every splitboarder is going to appreciate the simplicity and straight-up honesty of the Tour Operator: A no-nonsense board that rides like an Amplid and won't get trashed from season after season of heavy use.
How are graphics evolving in your splitboard-focussed lineup? Any particular trends going on?
Our splitboards boards are understated, but sophisticated. You'll find subtle branding and the occasional pop colour to tie-together the design, but on the whole it's a case of showing-off the premium materials and prioritizing functionality.
What's the ideal-world distribution channel for your gear as splitboarding evolves? B2C, speciality retail or wider? Do people still need advice on this stuff, or can they buy them by themselves?
We're building relationships with the right speciality retailers and selling directly to end customers. Our aim is to expand our footprint geographically into areas where you can't already find Amplid products and not to oversaturate areas where we already have a strong dealer network. We're working hard and making steps daily towards finding the perfect balance where everybody thrives, that's our ideal-world scenario and we're confident we'll get there.
In terms of size, which are your top three European markets for splitboard equipment?
Amplid has great partners in Norway and the UK who are doing a fantastic job of growing the brand in splitboarding, but it's primarily the countries in the heart of, and bordering, the Alps which account for most of our sales. As you'd expect, Germany, Amplid's domestic market, is its strongest.