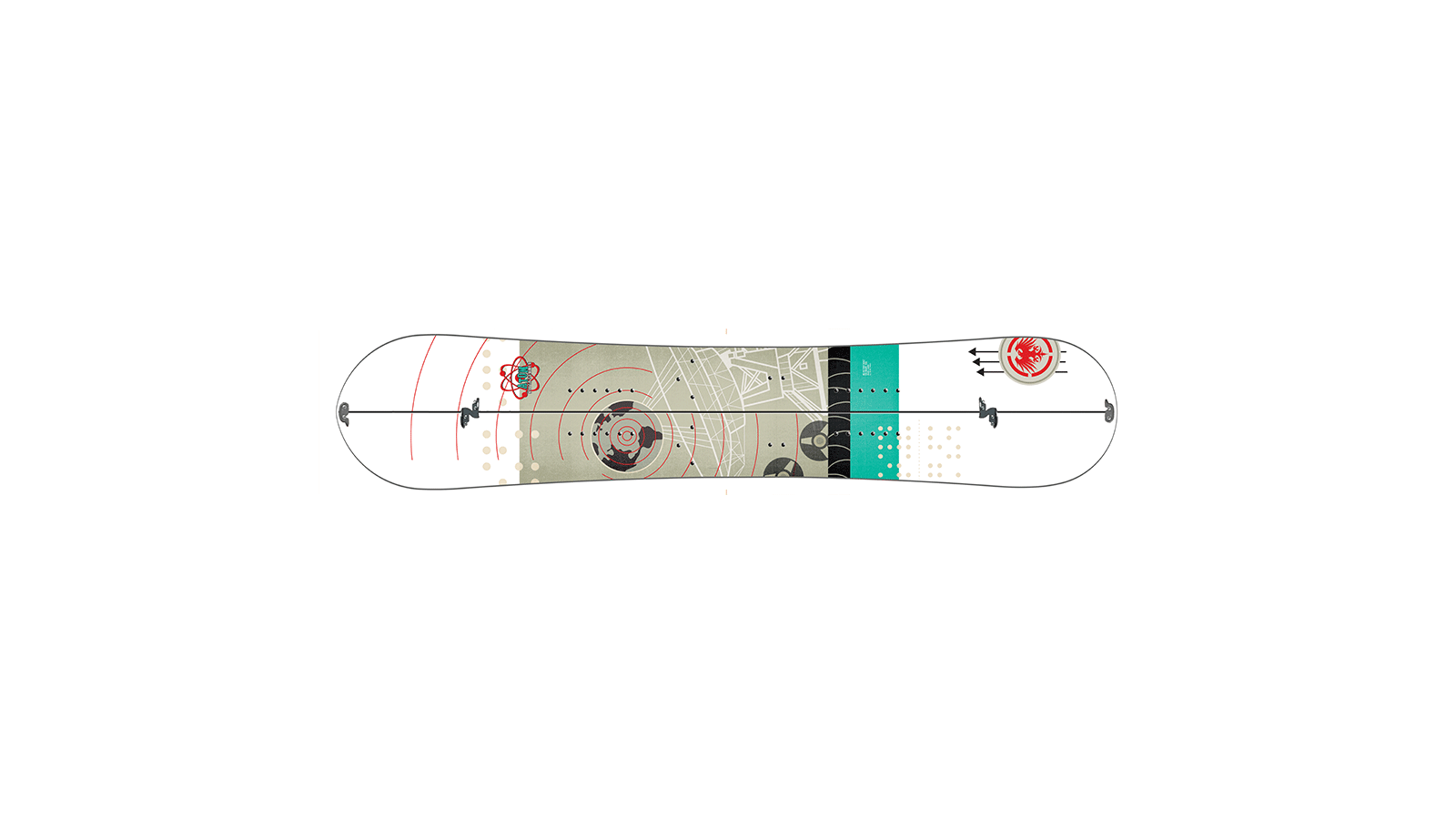 Never Summer FW19/20 Splitboarding Preview
Retail Buyers Guide: Splitboarding FW19/20

Brand: Never Summer Industries
Interviewee:  Vince Sanders – Chairman of the Board
Please outline up to three new key products of interest to splitboarders in your line, and tell us what makes them so great. We have three new splitboards for our 2019/20 line.
First we've successfully split The Atom. The Atom is the lightest snowboard mountaineering splitboard we've ever made. Blending wood species with a new Carbon Mesh to create our lightest weight core without sacrificing legendary Never Summer durability.  Utilizing a new Rocker Camber profile that extends camber to a high contact flat zone directly underfoot enables a climber to claw up any slope while providing stability down the most technical lines.  The Atom's early rise nose, slight taper combined with our Rocker Camber gives the board excellent powder floatation and precise but effortless turn initiation.
Next, we have the new West Split. A brand new streamlined shape that is slightly directional but still very balanced in stance and shape. Carbon Mesh reinforced for added power while holding the board's integrity and snap for years to come. Complete with our Fusion Rocker Camber profile, with edge gripping hold, spring out of turns of a camber heavy back profile with the surfy feel of a centre rocker and to a camber profile over the nose for stability.
Last but not least we have the new Ladies West Split. A women's specific flex, thinner waist width in a streamlined shape with a bevvy of technical features.
Construction.This is the place where you can talk to us about what's going on under the hood in your gear, and how you are building it.
All of our splits are constructed with a core specifically laminated for a splitboard. Placing harder wood species in the ride insert placement for solid performance and durability and blending lighter weight species throughout the rest of the block. Each block is then cut and UHMW is glued to both the middle and side of the block. Full wrap UHMW protection is by far the most durable construction, we've never had a sidewall or tip fill crack or break. The material maintains its integrity in colder temperatures it is then tapered to the millimetre for precise flex and laid over individually made bases with either a full wrap metal edge or aluminium tip/tail protectors. All our splits have a centre Carbon Fiber X that runs from outside ride inserts to outside ride inserts, to stabilize the mid-section of the board. They are all cut, finished and hardware mounted by craftsman Bentley Blaho, who has been building splitboards at Never Summer Industries since 2000.
Onto functionality now; how do you make your stuff work better than the competition during skinning, during transitions and riding?
For skinning, we've developed a new profile with camber on the front of board extending to a flat zone under touring brackets the rocker toward the back for extra traction. Touring bracket placement moved forward so it's more over the camber area. This prototype tours far better than my west split. Moving up the placement allows the tail to drop while doing kick turns. For transition ease, we're implementing Phantom Hercules Hooks Board.  The hooks make it feel like a solid, middle edge stays tight and they're extremely easy to install and use in the BC. Low volume and they eliminate the need of twisting in ride mode. The main benefit of our splitboards is the effectiveness of Rocker Camber in the ride mode. A centre rocker is a pivot point for edge-to-edge response, combined with camber over the tail of the board that when weighted forces the nose to "pop" up for superior float. It makes the board manageable in steep, technical lines while still giving optimal float in lower angle, deep powder or slush.
Which price point is seeing the most action at retail? Are splitboarders prepared to spend money on gear, or is becoming this a discount/budget marketplace?
I believe most sales will be in the premium category. People keep splitboards for longer periods then a solid and people are reluctant to upgrade on a yearly or even bi-annual basis. Also, I believe splitboarders are a tech-savvy group who do a lot of research on the product and are willing to spend more to get a high-performance product and the exact splitboard they want.
What unique features will splitboarders dig about your gear next year?
I think splitboarders will dig our new shapes, profiles, lighter weight cores, premium top-sheets and the addition of Phantom Hercules Hooks. Also, that we are expanding this category.
How are graphics evolving in your splitboard-focussed lineup? Our graphics are based off our popular versions of our solid boards Any particular trends going on?
When we have the opportunity to take a unique approach to a split graphic we do so. Our new Atom Split, for example, will have a retro 50's, Atomic age style. With space-age designs, geometric shapes, diagrammatic atoms and starbursts with pastel colours.
What's the ideal-world distribution channel for your gear as splitboarding evolves? B2C, speciality retail or wider? Do people still need advice on this stuff, or can they buy them by themselves?
The ideal distribution is through speciality retailers who support the splitboard category. This helps someone new to splitboarding get the information hands-on how all the product works and set up properly with binding interfaces and skins that work best with the splitboard they're getting. Additionally, these speciality shops will have the knowledge, essential gear and education for backcountry safety.
In terms of size, which are your top three European markets for splitboard equipment?
Switzerland, Germany/Austria and the United Kingdom.