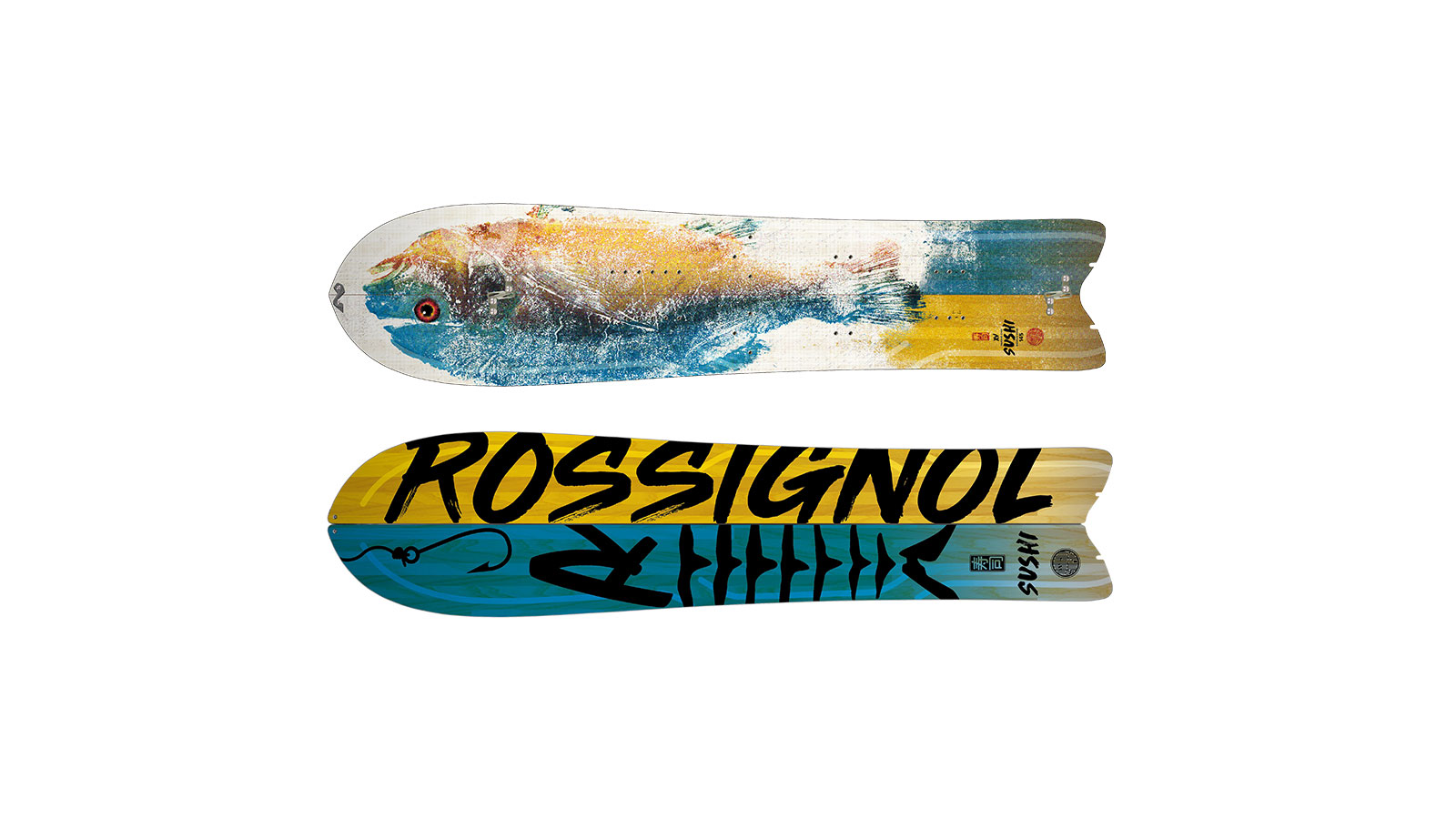 Rossignol FW19/20 Splitboarding Preview
Retail Buyers Guide: Splitboarding FW19/20

Brand: ROSSIGNOL SNOWBOARDS
Interviewee: ARNAUD REPA / PRODUCT MGMT
Please outline up to three new key products of interest to splitboarders in your line, and tell us what makes them so great.
One new product is Xavier De Le Rue's signature touring foldable poles and a series of refined details on the Diva and XV Sushi Split as well as on Xavier's signature bindings and skins that are taking some weight off and making skinning easier.
XV's signature poles are 476gms per pair and feature 16 to 14mm 100% aluminium three-section shafts with Dyneema® cord deployment, 245mm oversized EVA foam grips, 224mm Nylon® straps and plastic ladder-lock buckle, 85mm powder baskets with five-section pole capture and carbide tips for added grip on the hard or slippery surface.
On the boards' side, both the Diva Split and XV Sushi Split now feature tail clips because tail-less skins are no longer appropriate.
As a consequence, all XV signature skins now come with tail clips AND are pre-cut to each board's dimension for ease of use and perfect fit.
Last, but never the least, we have modified the design of the baseplate and pucks on Xavier's signature split bindings to save 130 grams while maintaining the same level of performance and durability.
Construction. This is the place where you can talk to us about what's going on under the hood in your gear, and how you are building it.
It's no news that the splitboard market is maturing and end consumers are looking for higher quality and highly efficiency products. Which is what pro gear is made of. We just make both ends of the spectrum meet, ie. our customer base and our team riders. And infuse our gear with what riders like Xavier De Le Rue and Marion Haerty rock: ski-like construction with full-wrap edges, torsion boxes and Roller tips on the XV splitboard series, 100% FSC woodcores, Elite AmpTek camber/rocker profiles and UHMW bases on all our splitboards, Basalt and Aramid fibers, Reversed Directional flex profiles, RadCut sidecut radius adjustment, 5 or 7 bumps Serrated Edges, 100% Nylon® or 70% Mohair/30% Nylon® pre-cut skins, CNC machined 7075 T6 aluminum bindings, 3D molded straps and edge-to-edge compression IceBreaker pucks to name but a few.
Onto functionality now; how do you make your stuff work better than the competition during skinning, during transitions and riding?
Getting the right plush and adhesive brings easier skinning, faster touring and transitioning. We have teamed up with 1957 Swiss skin-company Pomoca® since 2014 and all our skins feature Ever Dry life-long anti-glopping treatment and Safer Skin waterproof membrane that maximizes glueing and folding capacity with adhesive stability through time, humidity and temperature variations. They use 1150 g/m² fibres and either 100% Nylon® for long-lasting grip or 70% Mohair-30% Nylon® with custom Glide treatment to offer superior glide while maintaining a high level of resistance to twisting and abrasion.
On the bindings' side, CNC machined 7075 T6 aluminium baseplates, v-shaped IceBreaker imprints, puck base and riding/touring rod bold designs are also significantly reducing the transition time.
Now, riding comes down to shape, flex and camber profiles, construction, UHMW bases and skis alignment, right? To this regards, the XV series have proven their value to the market for some time now.
Which pricepoint is seeing the most action at retail? Are splitboarders prepared to spend money on gear, or is becoming this a discount/budget marketplace?
Our splitboards go from 599 to 749 euros MSRP and we haven't seen a shift in action that we can correlate to pricing. We do see more action on fresh shapes and women's splitboarding though. With a bigger market comes a bigger offer but splitboarders are still prepared to spend money, only on highly competitive and qualitative gear. And women will obviously buy products that address their specific morphology.
What unique features will splitboarders dig about your gear next year?
The fact that all our splitboard gear is endorsed by iconic rider Xavier De Le Rue and 2017 FWT winner Marion Haerty.
The ease of use, durability and new lightness of Xavier De Le Rue's split bindings.
Xavier De Le Rue's three-part shafts signature poles with the oversize foam grip.
The XV Sushi and Diva split-specific new pre-cut tail-clip skins.
How are graphics evolving in your splitboard-focussed lineup? Any particular trends going on?
We listen to Xavier, Marion and a selection of key European and North-American dealers for graphics and focused on mid-tones and neutrals for FW1920 to give more depth and duality to our styles.
What's the ideal-world distribution channel for your gear as splitboarding evolves? B2C, speciality retail or wider? Do people still need advice on this stuff, or can they buy them by themselves?
B2C for trained specialists and speciality retail for first timers to advanced riders. Taking into account that no matter the channel, giving technical and mounting advice is mandatory.
In terms of size, which are your top three European markets for splitboard equipment?
Germany, France and Italy.