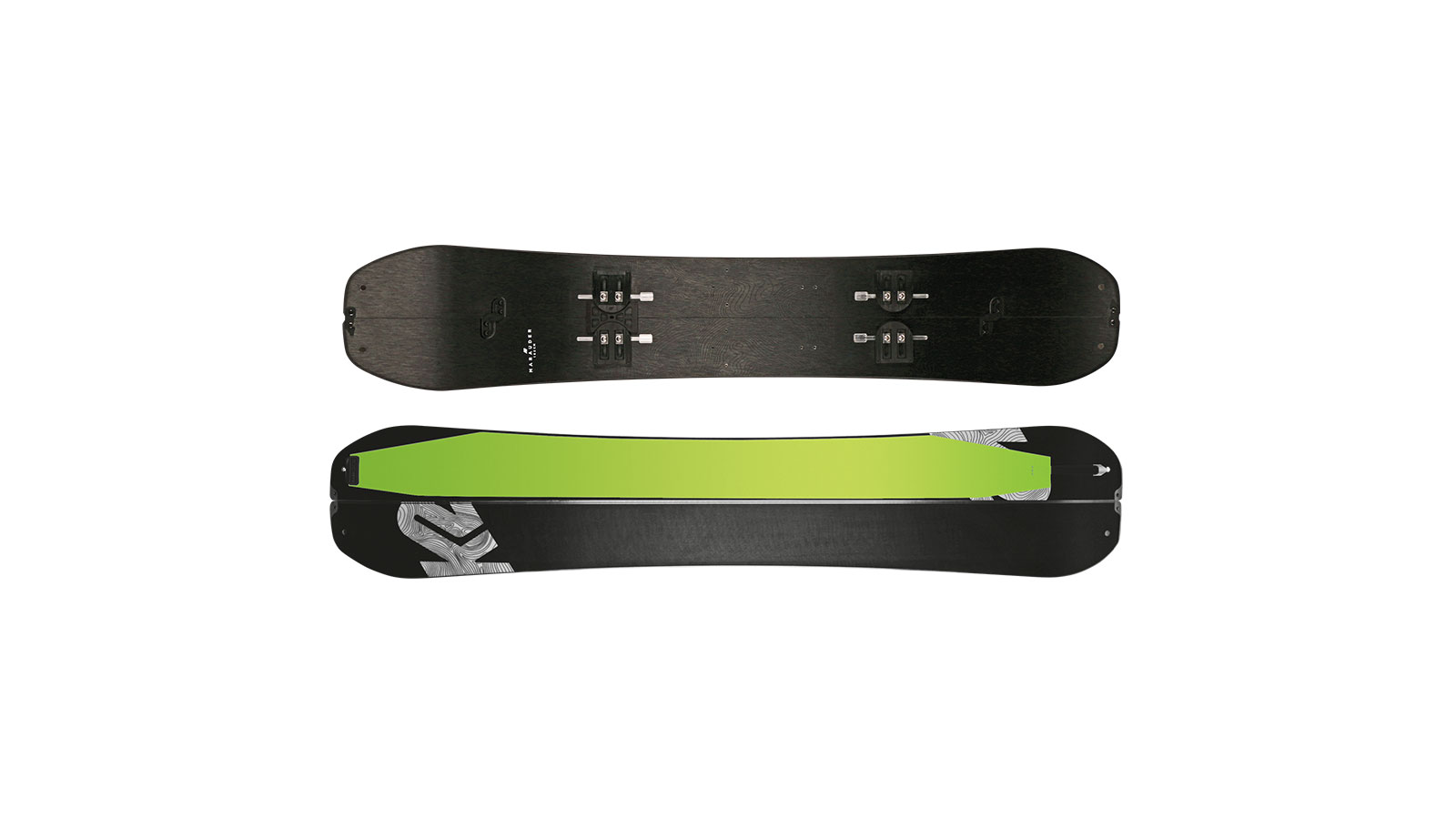 K2 FW19/20 Splitboarding Preview
Retail Buyers Guide: Splitboarding FW19/20

Brand: K2 Snowboarding           Interviewee:  Meagn Stark / Product Line Manager
Please outline up to three new key products of interest to splitboarders in your line, and tell us what makes them so great.
The Maurauder splitboard is a new addition to our 2019 line. It is an all mountain splitboard that features a Directional Camber Baseline and hidden hardware. We added a brushed nylon topsheet for durability and to shed snow faster than it can fall. We offer our splitboard in a package with mohair blend Pomoca skins and binding mounting pucks for purchasing ease.
Our Splitbean has a fresh new look for 2019 and still packs a punch at 143cm. Shorter and wider, the Splitbean's Volume Shift allows this board to be nimble through the trees and floats through powder runs.
The Swift Stick is our no-nonsense splitboard pole that fits in a backpack. The Swift Stick is a collapsable 4-segment pole that packs down to 13" long, making it the smallest volume splitboard pole on the market. This four-season pole also ships with a tip cap, for dual use in the summertime.
Construction. This is the place where you can talk to us about what's going on under the hood in your gear, and how you are building it.
The Maurauder splitboard has a Directional Combination Camber Baseline and BAP Core. Complete with ICG 10 Biax Glass with Carbon topsheet and a Sintered 4000 Base to allow for deeper wax absorption for unrivalled glide and durability. The Maurarder is rounded out with a Split Track mounting system for infinite puck adjustability.
The Splitbean has a Directional Rocker Baseline for medium-rise in the tip and lower rise in the tail. Complete with a BAP Core and Biaxial Glass topsheet that provides a forgiving flex pattern and no-frills design.
Onto functionality now; how do you make your stuff work better than the competition during skinning, during transitions and riding?
Our Integrated K2 Climbing Skins come pre-cut, or trim-to-fit. The innovative, minimalist design of the Z Clip and Universal Attachment systems provide a secure hold whilst reducing weight, and are quick in transition. The Z Clip takes the already industry-leading attachment system to a new level of secure attachment and ease of use. By angling the end of the skin you get the maximum amount of adhesion surface area and lowest profile clip. Our skins also feature a mohair blend to ensure a smooth glide and Split Track mounting systems for pucks to allow for easy adjustability and a customizable stance.
What unique features will splitboarders dig about your gear next year?
Our 2019 line introduces the Mauraurder splitboard that packs a punch at an affordable price. We have decided to package the board, pucks and skins for purchasing ease and for added value for our customer. We have spent the past year dialling the features of this board to ensure the rider the best possible experience.
How are graphics evolving in your splitboard-focussed lineup? Any particular trends going on?
Our 2019 graphics mix neutrals with pops of colour. The Maurauder features a brushed topsheet for durability and functionality to shed snow. The Splitbean features a textured and scratch resistant topsheet to enhance the board's simplistic design and unique shape.