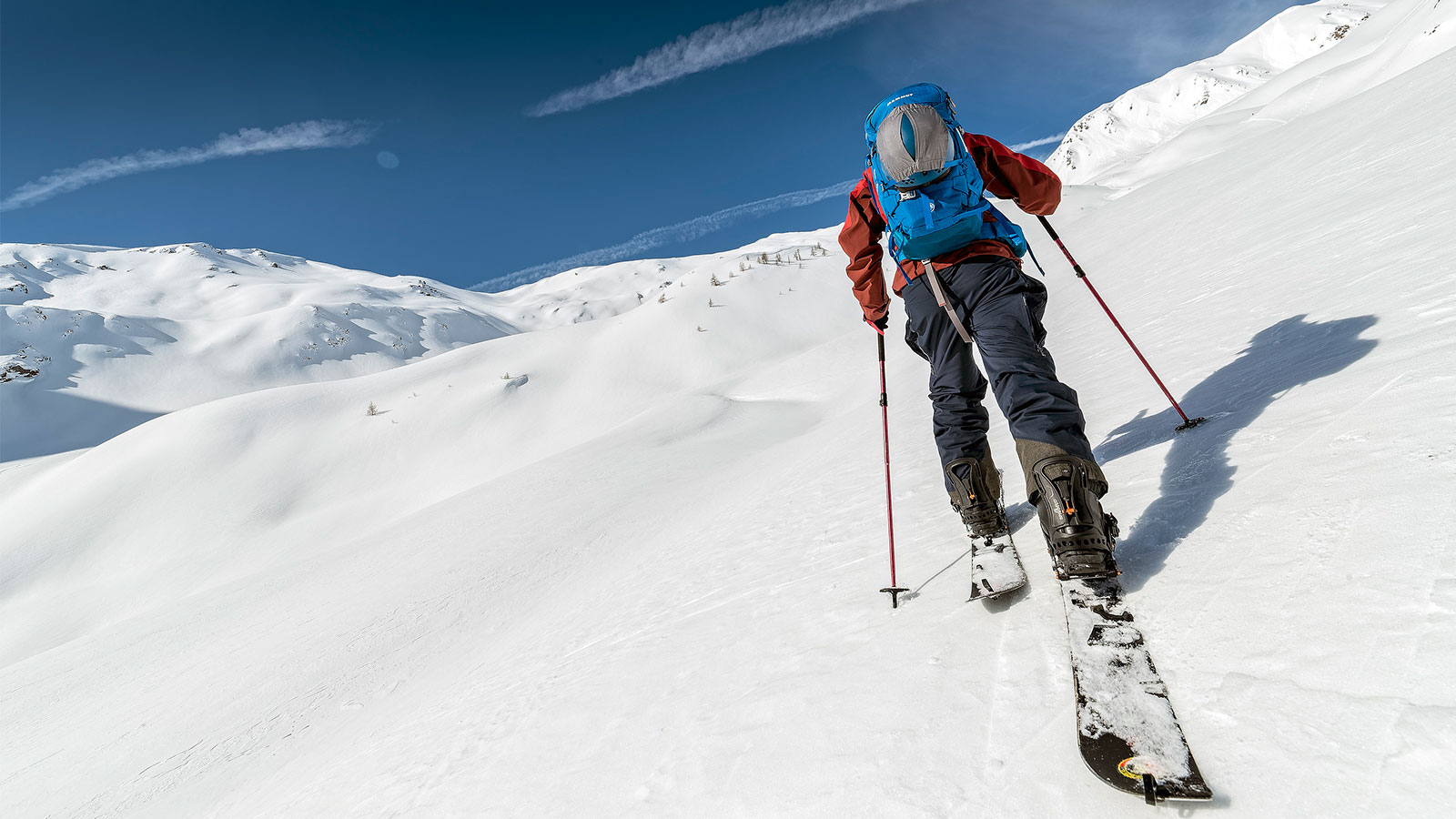 Spark R&D FW19/20 Splitboarding Preview
Retail Buyers Guide: Splitboarding FW19/20

Brand: Spark R&D
Interviewee:  Dan Ventura, Marketing Manager
Please outline up to three new key products of interest to splitboarders in your line, and tell us what makes them so great.
Pro Bindings – Debuting during the 18/19 winter season, the Pro Bindings have been a huge hit. Lightweight materials, easy to understand tech, and a sharp look all come together to help these move easily off our dealers' shelves. With custom 7075 aluminium components and hardware, carbon reinforced highbacks, and premium Pebax® plastics, they've made a great addition to our full line up of split bindings. They give both the customer shopping in the higher price point strata and the diehard splitboarder looking for an upgrade the option to buy the best and understand where that extra money is going. Pro Bindings will be back in 19/20 and we're already making plans to increase production on them based on the demand in their first year.
Solid Board Pucks – While there are some riders who only use a splitboard, most snowboarders own one or more solid boards and do some resort riding as well as splitboarding in the backcountry. Our solid board pucks make owning just one set of bindings for both your splitty and solid setup super easy. They're perfect for several different types of riders: some just love their Spark bindings and don't see a need for a separate set of bindings, some riders make a few resort laps before heading out the gates, others travel a lot and need that precious space in their board bag. Boards stack in a bag or the trunk of your car much better without bindings on them!
Hardboot Revolution – Hardboot snowboarding is not for everyone, but those that are into it, are fanatic! Our Dyno DH Bindings, Spark Tech Toes, and Climbing Wires are all made in-house and are built to feed this growing market of alpinist snowboarders. This ice axe toting, gram counting, rope carrying group of riders is super specific about their gear and passionate about riding big lines. Every year we're making more hard boot gear for this crowd.
Construction. This is the place where you can talk to us about what's going on under the hood in your gear, and how you are building it.
Every piece of our bindings is made at our shop in Bozeman, MT save for a few screws and the buckles. Aluminum is our main jam for manufacturing. It constitutes the majority of our bindings. We have 9 CNC machines in our shop all run by talented machinists and engineers, who are also I might add, pretty sick splitboarders too. They take a lot of pride in all the pieces that come off their machines, from the tiniest screws, pins, and rivets, to the bigger pieces like baseplates and heel loops.
In the last few years, we've come a long way in our work with plastics. After we dialled in some of our standard pieces and were able to manufacture them in-house – pucks, snap blocks, and highbacks – we introduced our own injection-moulded straps for the 17/18 season. The Pillow Line straps were a big success for us, but we didn't stop there, we began prototyping with materials like Pebax® and carbon. Both of these materials are challenging to work with, but have some great advantages including weight savings, improved tolerance to cold temps, and responsiveness. We ended up using both Pebax® and carbon reinforced nylon in our Pro Series bindings.
Onto functionality now; how do you make your stuff work better than the competition during skinning, during transitions and riding?
Touring – Our bindings are super lightweight. In fact, our standard models are lighter than other brands' premium ones. Our award-winning Rip 'N' Flip highbacks and Whammy Bar climbing wires are easy to use and make for efficient and comfortable progress up the skin track.
Transitions – From the most conceptual level, our bindings are built for transitions as they are self-cleaning when it comes to going on the pucks or onto the touring brackets. From a usability standpoint, there is one moving part, so the transition process itself is self-explanatory. With their minimal part count, our bindings are the most dependable in the industry, and there are fewer parts to ice up and bring a transition to a halt.
Riding – It all starts with the fit. Our highbacks and straps were designed from 3D scans of the boots themselves for a perfect match between shapes. Beyond that it's the flex, coming in a mix of materials and shapes, each user can find the binding feel they like with our mix straps and highbacks.
Which price point is seeing the most action at retail? Are splitboarders prepared to spend money on gear, or is becoming this a discount/budget marketplace?
The most action is with our higher pricepoint Pro Series bindings. They're new and sexy so demand is high and they're moving better than we initially anticipated. That said, volume is still clearly with our standard line of Arc and Surge bindings. They're a middle pricepoint product both in our line and in the general splitboard binding market. They've hit a tremendous sweet spot in terms of industry recognition as a superior product and general affordability for consumers. To that point, we've worked extremely hard to keep bindings at a consistent price. In fact, our wholesale price has not changed since we introduced the Tesla system six years ago, which is a source of pride for us.
What unique features will splitboarders dig about your gear next year?
They'll dig the tried and true tech. We're not doing anything wild with the line in 19/20. The Tesla T1 system is super simple and splitboarders love that. The Pillow Line straps and Rip 'N' Flip highbacks are splitboard specific components. The straps are injection-moulded plastic so they're lightweight, don't take on water, and are extremely durable. The highbacks have a multitude of distinct, splitboard specific features that are as easy for shop employees to explain as they are for the end consumer to understand and appreciate.
Sure, they work great in a resort, but they're not reverse engineered to just 'get by' in the backcountry; they're made for splitboarding specifically.
Splitboarders will also dig the depth of our accessory line. Bindings might be our bread and butter, but accessories really change the game in the backcountry. We have accessories that are appreciated by all splitboarders universally, options for the mountaineer couloir hunter, and a ton of small ways to make a beginner splitboarder's first season on the skin track that much better. We offer options from Tip and Tail Clips and Zip Strips to more standard equipment like crampons and Backcountry Kits.
How are graphics evolving in your splitboard-focused lineup? Any particular trends going on?
We pay close attention to our colour pallet each season and enjoy finding banger highlight colours for our graphics, but at the end of the day, black or darker colourways always remain supreme. Graphics are important, but tech and pricepoint drive the bus for Spark R&D.
What's the ideal-world distribution channel for your gear as splitboarding evolves? B2C, speciality retail or wider? Do people still need advice on this stuff, or can they buy them by themselves?
Although we utilize both B2B and B2C models, we still see a strong need for brick and mortar shops who provide valuable service and education. Over the years they've all helped us grow as a brand, and likewise, grow the popularity of splitboarding. I think the core and speciality shops will continue to play an important role in educating consumers about the tech and backcountry in general. I also believe that the core and speciality shops play an important role as backcountry ambassadors and helping consumers understand the difference between resort riding and backcountry riding. When a customer walks into a shop and buys a grip of sweet gear and says he or she is ready to tackle the backcountry, shop employees are in a good position to ask a couple of key questions regarding whether they own safety gear yet and whether they have learned how to use it.
We've seen online sales pick up over the last few years. People are more familiar with our products now so purchasing online isn't as intimidating as it was 5 or 6 years ago. We're 12 years deep into making splitboard bindings, some people on are their third or maybe even fourth set. That customer may be more comfortable purchasing online. There's a need and room for both brick & mortar operations as well as online shops.
In terms of size, which are your top three European markets for splitboard equipment?
In terms of dealer density, Switzerland. If we're talking volume, it's mostly packed into Switzerland, Austria, Germany, and France.