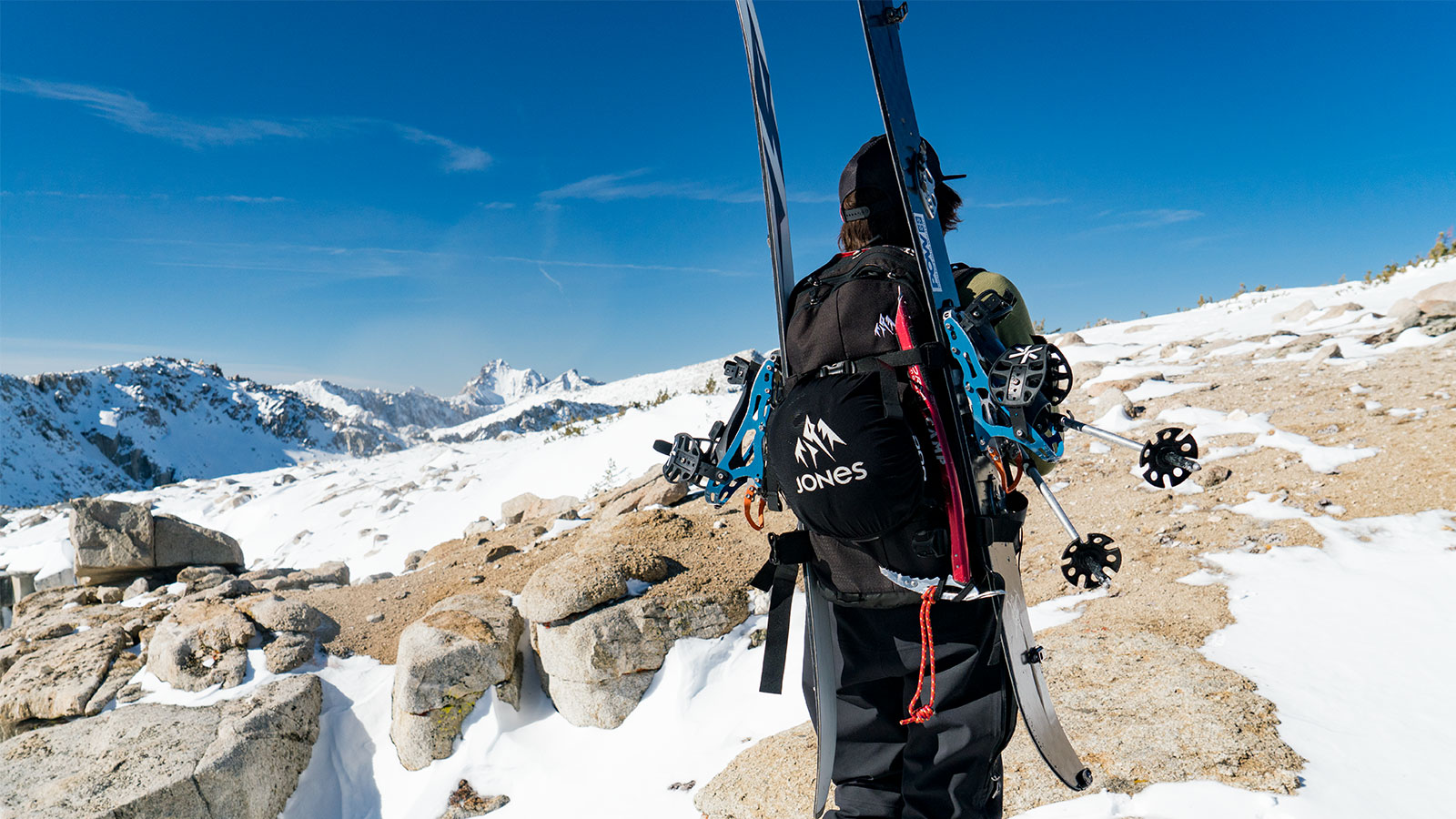 Jones FW19/20 Splitboarding Preview
Retail Buyers Guide: Splitboarding FW19/20

Brand:  Jones Snowboards
Interviewee: Jones – Seth Lightcap – Marketing Director
Please outline up to three new key products of interest to splitboarders in your line, and tell us what makes them so great.
Women's Hovercraft Split
The new Women's Hovercraft Split offers a women's specific alternative to your average directional freeride shaped split. It's nimble, squat outline provides the float of a much longer board, and the short running length makes it super manoeuvrable in the tight trees and skinning up. For added edge grip on icy skin tracks or firm descents, the Hovercraft Split features Inner/Outer Traction Tech 2.0 edges. The Women's Hovercraft Split is also built with an FSC Engineered Veneer Topsheet and Rounded Recycled ABS Sidewalls for improved topsheet durability.
Nomad Pro Skins –
Jones Nomad Pro skins are some of the highest performance split skins money can buy. They are compact, durable and the glide to grip ratio is perfect for long flat approaches or steep switchbacks. Paired with a Jones split, the Quick Tension tail clip system is also unmatched in terms of ease of use and adjustability.
Talon Carbon Poles –
Splitboarders looking for a simple, solid, ultralight and highly functional pole look no further than the new Talon Carbon. The Jones Talon Carbon Pole features a new Scraper Grip that has an ice/snow scraper built into an extended foam handle and a new basket that designed for exceptional traction on firm or soft snow. The top two sections of the three section pole are made from carbon to cut down on weight and the bottom section is made from Titanal aluminium for added durability.
Construction. This is the place where you can talk to us about what's going on under the hood in your gear, and how you are building it.
New for 1920 all Jones splits now feature FSC certified wood cores for improved product sustainability. The best selling Solution and Women's Solution are also now built with sustainable Basalt split stringers. All Jones splits aside from the Discovery are compatible with our Quick Tension skin tail clip system.
Onto functionality now; how do you make your stuff work better than the competition during skinning, during transitions and riding?
Jones splitboards are some of the highest performance splits on the market because we pay attention to the construction of each split ski. We don't just make a solid board and cut it in half. The wood cores and stringers of each ski are specially profiled for even flex in ski mode or ride mode. We also use proven tech that undoubtedly improves your ascent or descent experiences like inside and outside Traction Tech, Boltless Bridge + Karakoram Ultra Clips and our Quick Tension tail clip system. Jones splits feel really solid going up or down.
Which price point is seeing the most action at retail? Are splitboarders prepared to spend money on gear, or is becoming this a discount/budget marketplace?
Experienced splitboarders are prepared to spend money to ride the highest performing equipment while riders just getting into the skin track for the first time are focused on price because they also have to buy all the necessary accessories and BC safety equipment. In the middle of the split market are a wide variety of niche regional brands that pick up some customers here and there, plus a growing used market of lightly used premium splits at a discount price. It doesn't look likely that the low low end of the split market will ever get too big because most split customers are experienced riders who are willing to pay for legit performance and it is quite difficult to produce a solid splitboard for cheap.
What unique features will splitboarders dig about your gear next year?
We've refined the inside and outside edge Traction Tech design on all our split models for improved edge grip on firm snow. The Hovercraft and new Women's Hovercraft Split are now built with FSC wood veneers for added product sustainability and experienced riders will appreciate the upgrade to Karakoram Tip Lock clips on the Ultracraft and Carbon Solution.
How are graphics evolving in your splitboard-focussed lineup? Any particular trends going on?
Our split graphics echo that of our solid boards as we feature modern mountain art and material focused top sheets.
What's the ideal-world distribution channel for your gear as splitboarding evolves?
Customers look to both speciality retail and online dealers for splitboard gear purchases. Retail shops still have the opportunity to educate customers about the gear but they need to know what they are talking about as customers are increasingly savvy to the latest product tech thanks to a wide variety of media outlets now covering splitboard gear.
In terms of size, which are your top three European markets for splitboard equipment?
France, Germany, Austria