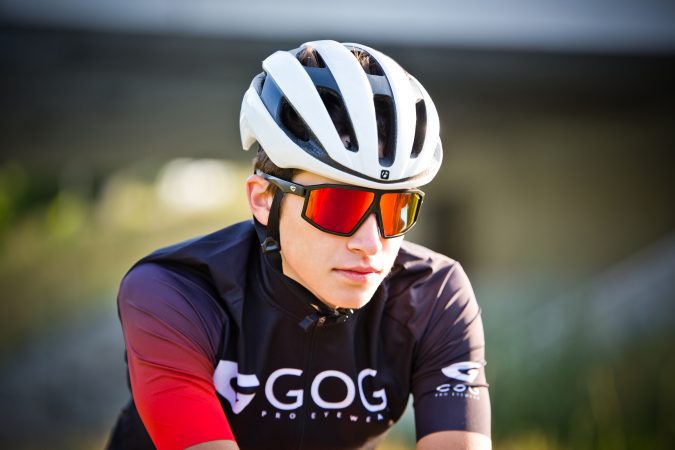 Gog S/S 2024 SUNGLASSES Preview
Retail Buyers Guide: Sunglasses S/S 2024 Retail Buyer's Guide
Brand: Gog
Interviewee: Bartosz Flieger, brand manager
What are the key trends in sunglasses for board sports for Spring/Summer 2024?
The main trend are shields sunglasses with mirrored lenses. We have been developing this category for last two years and we can see it is still booming. Second growing trend are sunglasses with side shields. It is not only about fashion but mostly the practical aspect. Side shields prevent user's face from sunlight, sand, wind etc. to maximize the performance.
How have your sales been in 2023 so far?
We are satisfied with sales this year, as we have just came back to the numbers from the pandemic.
How are you segmenting your sunglasses?
The GOG sunglasses are divided into 4 specialized sections. It starts with sunglasses for outdoor sports, glacier and high mountains. Further our wide selection of high quality performance sunglasses for cycling and running. We also deal with perfect for everyday wear lifestyle sunglasses and durable sunglasses for kids and juniors. The collection is completed with sunglasses for cross-country skiing and ski goggles.
What frame shapes and colours do you offer in your SS24 collection?
The market is currently focusing on big sunglasses covering as much of the user's face as possible and we try to follow this trend. Our new SS24 offer will be full of new angular and round frame designs. As for the frame colors black is still black but we will also launch many models in neon colors.
What materials are you using in your SS24 collection?
Vast majority of GOG sunglasses frames are made of TR90 grilamid. It is distinguished by its increased flexibility and outstanding durability. Sunglasses frames made of TR90 are ultralight and hypoallergenic. The rest of adult sunglasses frames are made of high-end polycarbonate which is very light and resistant to mechanical damages. To improve safety and comfort of the youngest users, kids sunglasses frames are made of modern thermoplastic elastomere named HYTREL. This material ensures very high flexibility and durability.
What lens technologies do you offer in your SS24 collection?
All GOG sunglasses are equipped with durable lenses made of impact resistant materials. Our lenses meet european, american and australian standards to ensure 100% protection against UVA and UVB harmful radiation. The main GOG lens technologies in SS24 will be:
PC LENS: polycarbonate lenses are lightweight and resistant to damages and scratches. Thanks to the multilayer character of polycarbonate lens its thickness is ideally even to eliminate all deformations and vision disorders. Polycarbonate lenses are perfect choice for sport sunglasses.
POLARIZED G-LENS: polarized lenses block irritating glare from light reflecting off flat surfaces eg. road, water and snow. These advanced lenses are perfect choice for all types of outdoor activities on bright sunny days. Lenses with polarized filter improve visual clarity and color contrast to enhance visual comfort and increase safety of the user. Polarized lenses reduce eye strain.
TRANSMATIC G-LENS: photochromic lenses efficiently adapt to various light conditions. Under the influence of solar radiation TRANSMATIC lenses are ranging from cat. 1 to cat. 3. The photochromic lenses guarantee permanent viewing comfort in various shades of light.
CHROMATIC G-LENS: photochromic lenses with color mirror coating efficiently adapt to various light conditions. Under the influence of solar radiation CHROMATIC lenses are ranging from cat. 1 to cat. 3. The photochromic lenses guarantee permanent viewing comfort in various shades of light. Additional mirror coating guarantees better UV protection and significantly reduces reflections to improve visual comfort.
HDX G-LENS: sport lenses in HDX G-LENS technology enhance color contrast to improve the eye comfort and visual acuity. Sharp vision helps to recognize details in the environment to ensure better sport performance and safety of athletes. HDX contrast lenses maximize visual experience of all kind of outdoor sports.
G-LENS CHANGE SYSTEM: a practical system that allows to change lenses to match current weather and light conditions. Eyeglasses equipped with the intuitive lens replacement system come with at least one set of additional lenses and a hard case. Each model with an exchange system comes with a base lens that finds use on sunny days. Depending on the model, the set may also include clear lenses to protect the eyes from wind, mud, insects, or contrast-enhancing lenses (yellow/orange/pink) that are perfect for low-light conditions.
FOG BLOCK G-LENS: a hydrophilic coating permanently bonded to the inner side of the lens to provide properties minimizing fogging up. The lenses with FOG BLOCK G-LENS special coating require special care.
REFLEX G-LENS: sunglasses equipped with mirror coated lenses available in various color options. Special coating guarantees better UV protection and significantly reduces reflections to improve visual comfort. Sunglasses with REFLEX G-LENS are widely recommended in heavy sunlight.
HYDROPHOBIC: special coating designed to repel water from the lens surface. Water on the hydrophobic lens forms a water droplet and run-off easily without causing visual distortion. Due to lenses with hydrophobic coating are anti-static, they require less cleaning, as they are less likely attracted to dust.
SUPER DARK 4 G-LENS: glacier/mountain sunglasses with maximum filter category 4 that lets through only 3% to 8% of visible light. Recommended for very strong sunlight, mainly on glaciers and in the mountains.
Which lens colours and tints will you be offering in SS24?
Smoke tint as a basic one and variety of smoke and amber tints with color mirror coating. We will mainly focus on blue and red mirror coating but in SS24 You will also find models with silver, gold, green and pink mirror coating.
Will you offer prescription glasses in SS24?
As usually, we will offer many sunglasses models designed for people with vision defects. Sunglasses with OPTICAL RIM G-SYSTEM are available with plastic optical rim for corrective lenses installed inside the sunglasses frame.
What are your marketing stories?
GOG sunglasses brand belongs to polish eyewear company PROSTAF founded in 1991. We are one of the leaders in sport sunglasses and ski goggles industry in Poland. We started our journey in 2004 and today GOG spectacles are present in more than 20 countries all over the world. We create our products in close co-operation with experts and athletes from all over the world. This way we can deliver high-end eyewear with innovative technologies. Our mission is to provide professional eyewear and ensure eye protection whatever the weather. The brand philosophy refers to three simple words: Good Or Greater.
How are you supporting retailers to sell this category?
We can supply our partners with sunglasses displays as well as variety of advertising materials (catalogs, ballpens, stickers, polarized testers). We also offer a wide range of social media images available to download online.
What is your situation regarding stock and deliveries?
We present new sunglasses collection on a yearly basis. The new collection appears in January. We work on stock base.