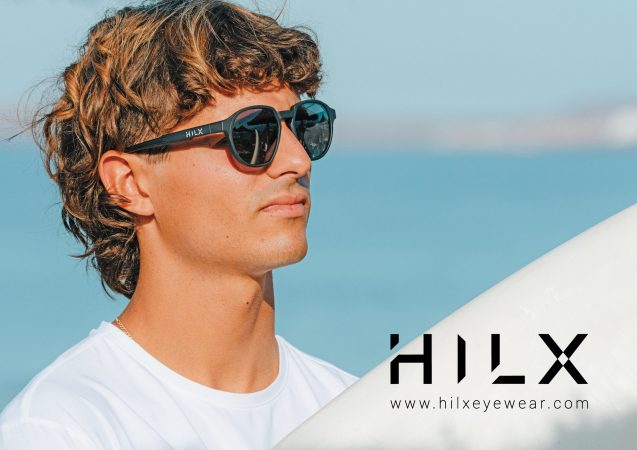 HILX EYEWEAR S/S 2024 SUNGLASSES Preview
Retail Buyers Guide: Sunglasses S/S 2024 Retail Buyer's Guide
Brand: Hilx
Interviewee: Nicolas Montagny / International Sales Manager
What are the key trends in sunglasses for board sports for Spring/Summer 2024?
The shield sunglasses, the sports sunglasses, the mirror lenses, the Photochromic lens and a focus on sustainability.
How have your sales been in 2023 so far?
We have opened new markets with new distributors in Europe so we continue our development as HILX is still a young brand and we are keep looking for new partners (Germany, Austria, Switzerland, Spain, Portugal, England, UAE) to distribute HILX collections.
How are you segmenting your sunglasses?
We have Sunglasses for cycling, hiking, running and lifestyle/everyday
What frame shapes and colours do you offer in your SS24 collection?
We have different frames shapes and fresh colours, for both men and women and also with Asian fitting available.
What materials are you using in your SS24 collection?
We mainly use Swiss Imported TR90 (a.k.a Plastic Titanium) as it is famous for possessing tensile strength and being unbelievably lightweight but we are also working on new styles using Rilsan G850, a high-performance copolyimide with 45% bio-based raw materials from Arkema.
What lens technologies do you offer in your SS24 collection?
We have PC and Nylon lenses with mirror coating, Polarized lens, Photochromic lenses and our patented XVIZ™ lens that uses colour spectrum manipulation to emphasize the terrain that matters while eliminating contrast that does not.
Which lens colours and tints will you be offering in SS24?
Grey, pink, blue, red and green with multilayer mirrored as well as full black
Will you offer prescription glasses in SS24?
We have an Optical series called HILX VIZO, with 10 styles, all equipped with our patented four-directional AKTIV™ hinge and we are also launching soon a new collection with adjustable hinge and extendable end-tips.
Any new sustainable practices in your production and shipping processes?
HILX will go greener with a new sustainable sunglasses series, using Rilsan G850, a high-performance copolyimide with 45% bio-based raw materials + biodegradable PC Polarized sun lens.
What are your marketing stories?
HILX Eyewear is a sport eyewear brand born in Squamish, the Outdoor Recreation Capital of Canada. We have a range of Sunglasses and Goggles made for all your Adventures. Focus on inventing highly functional performance and sustainable eyewear at affordable prices, Hilx constantly challenge themselves by adapting the latest technologies and aims to inspire individuals by their next innovative design. By creating a strong community of aspiring athletes from all winter and summer sports, Hilx encourages likeminded people to come together and embrace their own uniqueness.
How are you supporting retailers to sell this category?
HILX is a young brand but retailers are looking for niche brands as all of them are selling same products. We are building the HILX brand by building a solid following on Facebook, Instagram, Twitter, Youtube and other social media channels. We create visuals and videos to get attention and easily shared via social media. We are sponsoring athletes and partnering with sports events. We are working on quality marketing materials in order to sell to the customers.
What is your situation regarding stock and deliveries?
We offer products with stock available as our distributors prefer having visibility into stock levels, so we usually share our inventory with them and they can forecast the sales and orders with a reasonable delivery date.