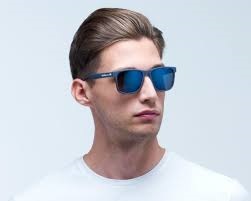 Red Bull Spect Eyewear S/S 2024 SUNGLASSES Preview
Retail Buyers Guide: Sunglasses S/S 2024 Retail Buyer's Guide
Brand: Red Bull SPECT
Interviewee: Nicolas Mélin, European Sales Director
What are the key trends in sunglasses for board sports for Spring/Summer 2024?
Still eco-friendly and sustainable materials, cylindrical mono-lenses (shields), technical features for improving comfort and performance.
How have your sales been in 2023 so far?
2023 has been our best year ever in terms of sell-in and is also good in terms of sell-out with repeat orders since May onwards.
How are you segmenting your sunglasses? Action and Leisure.
What frame shapes and colours do you offer in your SS24 collection?
Still cylindrical mono-lenses (shields), playing with bi-colors temples options.
What materials are you using in your SS24 collection?
All our new styles come in G850 fabric (more eco-friendly).
What lens technologies do you offer in your SS24 collection?
Still pushing polarized lenses at a great quality/price ratio. Developing more and more our photochromic program with the Chrom°X technology.
Which lens colours and tints will you be offering in SS24?
Brown with Red Mirror is the one we are using the most for its fire effect outside and comfort vision.
Will you offer prescription glasses in SS24?
There will be a new program in collaboration with a premium prescription glass brand able to make RX-able mono-lenses! The collab will be released from SS24 onwards! Be patient!
Any new sustainable practices in your production and shipping processes?
In addition to G850 eco-friendly fabric, we have also changed all our packaging with recycled materials.
What are your marketing stories?
The FLS Floating Lens System 2.0 (already patented in 2019). Increased comfort through shock absorption. The new version can be activated and de-activated on demand! We'll have two styles, Stun and Fuse at 130 € RRP.
How are you supporting retailers to sell this category?
The more important for our retailers is the POS and Display Program to showcase Red Bull SPECT Eyewear in stores. It's the key. We have developed many options to fit all kind of situations! The aim, make the end consumer see our worldwide known Red Bull logo!
What is your situation regarding stock and deliveries?
Good. We created a Never Out of Stock (NOS) Program to ensure constant deliveries during the peak season.