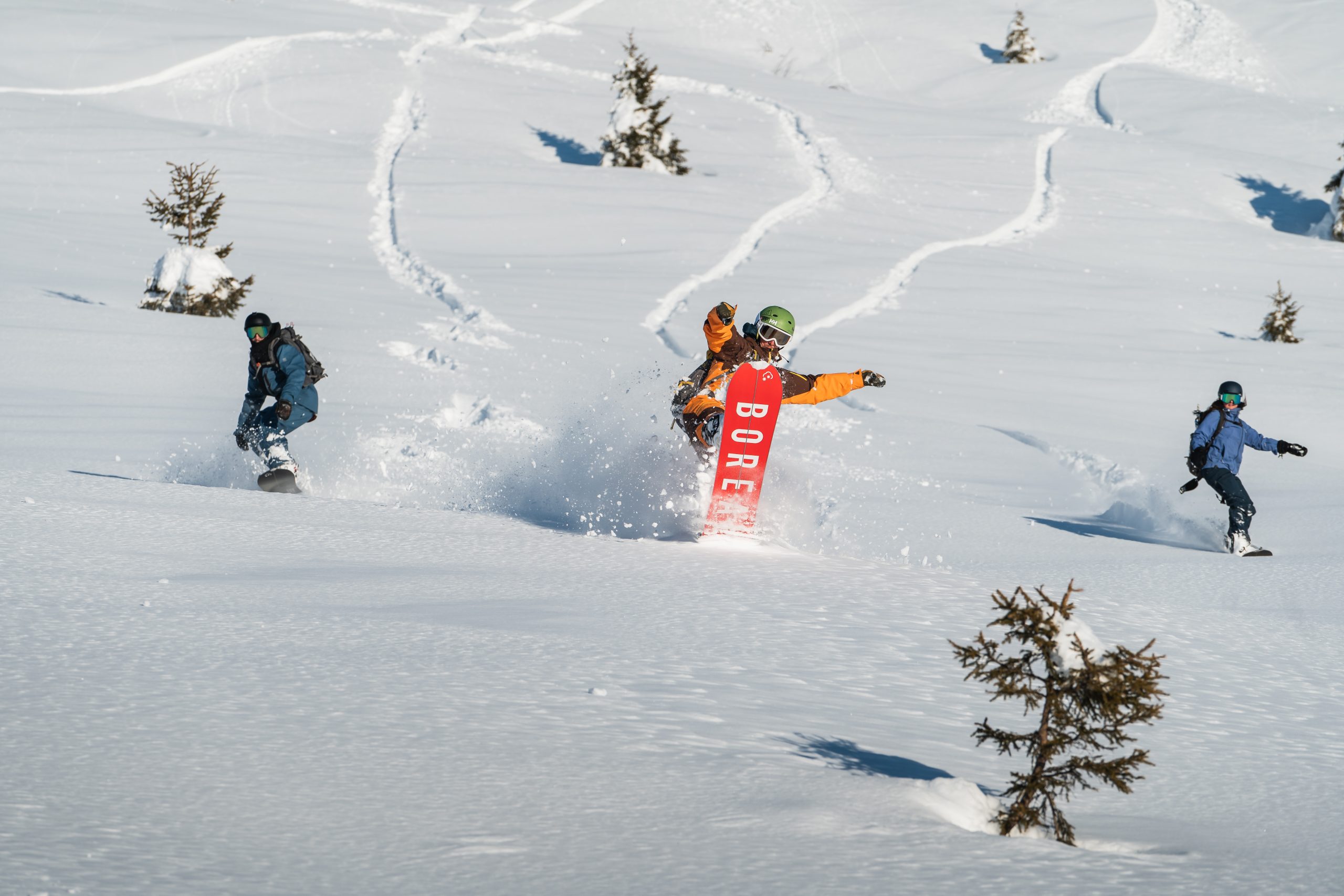 Borealis 2023/24 Splitboarding Preview
Retail Buyers Guide: Splitboarding 2023/24 Retail Buyer's Guide
Brand: Borealis
Interviewee: Ben Hall, Founder/Owner
Please provide an overview of how 2023/24 is shaping up for your brand within the splitboard market.
For 2023/2024, Borealis will celebrate its 10th anniversary! We will continue our quest to provide the coolest-looking, most high-performance, most durable and most sustainably-built splitboards on the market!
The award-winning Alpine Pro Split (21-22 and 22-23 Best Big Mountain Splitboard award by Splitboard Magazine) – which is our team rider and FWT veteran Clément Bochatay's pro model – will see its graphics and construction updated in a continuous effort to improve the line year after year wherever we can.
The Koi Split will also reveal new intricate graphics and undergo a minor construction update to make it even more fun and efficient in both hard icy couloir-like conditions and in deep powder. The Ramen Express, our backcountry freestyle model will stay the same as carry-over.
Everyone has been affected by raw materials and shipping prices increases and transport issues. Have you had to make any significant changes with regards to manufacturing, sourcing, or logistics? Are there any examples you can share of how your business pivoted effectively? Any positive developments with regards to these issues and the changes you've made?
We haven't had much change in terms of manufacturing except having to order from the factory earlier. This is always a bit difficult as shops are right in the middle of their season and some have trouble projecting what their needs will be for the next.
After two years of heavy carry over in the industry and more of a return to normalcy last season, what's your overall sales and production/inventory strategy for 23/24?
For 23/24 we will continue with the same carry over strategy we've been following for the past ten years except we will set a 2-season lifespan for each graphics. We will order early.
Do you anticipate any shifts in the ratio of e-commerce sales vs. brick-and-mortar sales now that most Covid-19 restrictions are gone? For selling splitboard equipment, are brick-and-mortar retailers especially important?
I think e-commerce is growing inexorably but I think people will visit shops more easily for sure. I think brick-and-mortar shops are good for anything if clients can get good advice from the people working in the shop. As long as people are well-trained and know what they are talking about, I think nothing will be able to replace these shops.
Does your brand have any new developments concerning sustainability and/or how you are positioning any environmental messaging?
At Borealis, that's what we specialise in: to offer high-performance, ultra-resilient splitboards made as sustainably as possible using any alternative material at our disposal, from bio-based topsheets to biodegradable organic wax. Our message is shared with a few other brands: every effort counts and choosing gear that is firstly durable and secondly made using alternative eco-materials is a decision that counts if lowering your impact on the environment is important to you. As brands, it is also our responsibility to look into alternative solutions.
Boards:
What about new board construction, innovation, or shape trends? Any big advancements in functionality? Skinning, transitions, etc, as well as riding? Any specific effort on ranges for 23/24? If yes, where and why?
The construction of our splitboards evolves whenever we update them based on feedback collected from team riders, shops and other Borealis board owners.
For 23-24, new graphics on the Alpine Pro Split, Koi Split, and updated construction on both.
Are you using any new materials in your splitboard for 23/24? If so, what, and why? We're interested in anything new in inserts / edges / cores / sidewalls / glue / resin/ wood types / base material, top sheet here.
New not necessarily, but aalternative yes, such as Zero-VOC resin, damping PU sidewalls, DNA bioplastic topsheets, biodegradable BioGreen wax, recycled steel edges, etc.
Any new design or pattern approaches in your 23/24 gear? Any collabs on the line?
Yes, new graphics for the Alpine Pro Split with a nature-inspired semi-transparent fir tree covering most of the board and showing the woodcore. On the Koi Split, we used an intricate Japanese traditional pattern (wagara) and a minimalist elegant deep blue gradient.
Best Sellers
Alpine Pro Split
Award-winning big mountain splitboard which cannot be categorized only as a big mountain board. Its special design and advanced technology make it probably the most versatile splitboard out there. Ride steep icy couloirs, drop off big cliffs, ride and land switch, slash powder and all this without breaking your knees thanks to a carefully-tuned flex and adapted sidecut radius. Twice awarded Best Big Mountain Splitboard by Splitboard Mag (21-22 & 22-23).
Koi Split
The fish-shaped Koi Split, is our solution for waist-deep powder slashing and forest adventures. Created as a tribute to Hokkaido's unique snow conditions, this tapered directional splitboard turns on a pin head and holds an edge like a Japanese sushi chef slicing sashimi. Foorest runs, open freeriding, steep couloirs, it handles pretty much any terrain.
As on all our splitboards, it comes with a sturdy DNA Bioplastic Topsheet, FSC-Certified wood core, Zero-VOC resin, recycled steel edges and many more perks.
Ramen Express
Launched two years ago, the Ramen Express is our entry-priced all-mountain splitboard with a taste for backcountry-freestyle. This slightly set-back twin split comes with a medium flex and smaller sidecut radius than other splits in our line, making super lively, responsive and poppy. It was designed for those who enjoy playing with natural features, riding and landing switch and sending tricks in the backcountry.