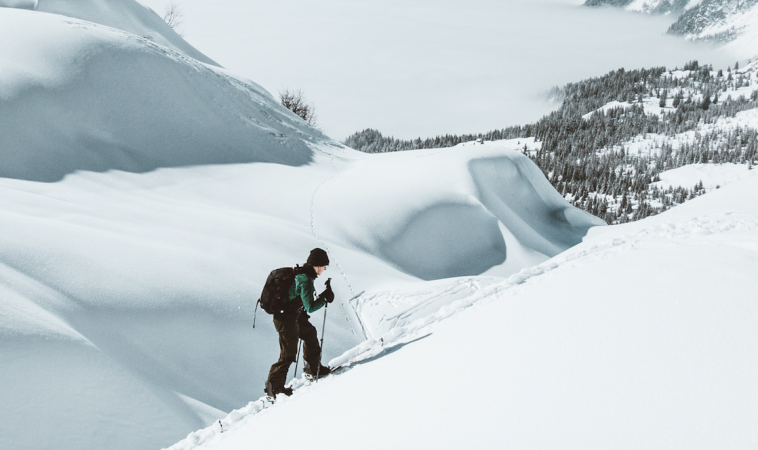 Rossignol 2023/24 Splitboarding Preview
Retail Buyers Guide: Splitboarding 2023/24 Retail Buyer's Guide
Brand: Rossignol
Interviewee: Arnaud Repa, SNB Product Management
Please provide an overview of how 2023/24 is shaping up for your brand within the splitboard market.
Our backcountry equipment saw standout performance last year and our 23/24 forecasts show significant growth on the new Xavier De Le Rue's new signature splitboard and a double-digit growth on our returning Escaper Split directional twin series.
Developed to minimize fossil fuel use in accordance with Xavier's will, his new signature split combines new Light Poplar veneers with self-regenerating-no-fertilizer Bamboo laminates, allowing us to stay away from Carbon, Basalt and Kevlar fibers while reducing weight and maintaining shock absorption and grip at their original level. The XV Split also features a 33% bio based Epoxy, recycled sidewalls taken from the factory's scrap, as well as Xavier's signature directional shape, Reverse flex profile, Serrated edges, 80% camber AmpTek Elite profile and Roller tips to attack the biggest, boldest and most remote backcountry lines.
As part of the global Escaper offer that encompasses all product lines, the Escaper Split is the perfect all-mountain freestyle splitboard for beginner to advanced riders. Featuring FSC woodcores, twin tips for switch landing, a balanced flex that is slightly stiffer under the front foot for added control and softer under the rear foot for smoother turns, RadCut for playful turn variations and seamless edge-to-edge transitions, a 4.4k sintered base and our most versatile AmpTek All-Mountain 50% rocker-50% camber profile that supplies the right blend of power, pop and float to keep pace no matter where the snow takes you. Sizes run from 49 to 61 wide to cover all junior, women and men categories with only 1 model. Skins will be available separately. They are 100% Nylon and cut to the dimensions of the boards.
Everyone has been affected by raw materials and shipping prices increases and transport issues. Have you had to make any significant changes with regards to manufacturing, sourcing, or logistics? Are there any examples you can share of how your business pivoted effectively? Any positive developments with regards to these issues and the changes you've made?
We developed a three-season inventory and sales management plan that is continuously updated according to the circumstances. Meaning optimized stock distribution across countries, reduced buying targets, minimized end-of-season discounts, anticipated product availability and rationalized production (ie. managing raw material and scrap inventories to optimize stock monetization and profitability). We haven't been able to relocate some of our production due to MOQs and raw materials availability across the planet but the factories we work with are as conscious as we are of the need to be flexible, from capacity to country of origin.
After two years of heavy carry over in the industry and more of a return to normalcy last season, what's your overall sales and production/inventory strategy for 23/24?
If there is one category of products where the level of demand and environmental stakes justify carry overs, it is splitboarding. Our sales are up 25% this season and we'll probably carry-over 60% of our 22/23 snb products to 23/24. When it comes to production/inventory strategy, we are prioritizing flexibility with brick-and-mortar stores while making sure our products are available online and the digital customer experience is up the stakes.
Do you anticipate any shifts in the ratio of e-commerce sales vs. brick-and-mortar sales now that most Covid-19 restrictions are gone? For selling splitboard equipment, are brick-and-mortar retailers especially important?
As much as we anticipate the COVID-19 shift towards online shopping will have a long-term impact on brick-and-mortar retailers, with Ecom sales counting from 10% to 20% of the market in the coming seasons, the benefits of in-person shopping, from fit to ease of return, second-hand offer, tips and tour guides, for the splitboard category are likely to maintain physical sales through time.
Does your brand have any new developments concerning sustainability and/or how you are positioning any environmental messaging?
We have transitioned 80% of our splitboard woodcores to FSC production and will continue until we cover the whole line.
100% of our splitboards' artworks are either DDP, sublimated or diecut with no post UV hit. Therefore staying away from silk screens, aluminum frames, UV exposure and minimizing water use.
100% of our splitboards use a 33% bio-based epoxy and feature sidewalls that are taken from the factory's scrap.
100% of our splitboards ship with FSC cardboard boxes.
Our next challenge is the resin, inks, bases and, most importantly, the analysis of the contribution of our product life cycle stages to the overall environmental load, through Life Cycle Assessment, to prioritize improvements on products or processes.
Boards:
What about new board construction, innovation, or shape trends? Any big advancements in functionality? Skinning, transitions, etc, as well as riding? Any specific effort on ranges for 23/24? If yes, where and why?
We're bringing a lighter core version of Xavier De Le Rue's signature Splitboard that makes his board 200grs lighter than his previous model.
We also look forward to feature FSC woodcore in 100% of our splitboard line by FW25. And are gradually replacing carbon, basalt and kevlar fibers with blends of FSC-certified wood veneers.
Any new design or pattern approaches in your 23/24 gear? Any collabs on the line?
Xavier De Le Rue wanted his new signature splitboard to be lighter and feel good just right out of the box. We swapped Paulownia with Light Poplar and mixed it with Bamboo to shave 200 grams off from last year's version and kill the break in time.We also brought RadCut in to ensure incomparable edge control.
And kept everything else the same for effortless float and maneuverability, laser precision and superior confidence.
On the collab side of things, we are proud to work with Salt Lake City graphic artist Andy Earl (https://andyearlcreative.bigcartel.com/, https://www.instagram.com/wasatchandy/) on the XV Sashimi split and Sushi split series.
Bindings:
Have you made any new innovations in buckles, straps, highbacks, bases baseplates, heelcups, etc.?
We are still collaborating with French Splitboard bindings company Plum for Xavier De Le Rue's signature model XV split but brought in a more affordable splitboard bindings model last season through a collective work between Austria's based snb bindings company SP and Salt Lake City's Voilé under the name Escaper Splitboard Multientry and will continue to do so for FW23/24. They feature aluminum baseplates with built-in Voilé slider tracks for lightness and durability, canted EVA footbeds that will provide comfort and stress relief, and offer dual entry capacity through easy in-easy out speed entry Highbacks or via the straps. They have been marketed for 10+ years and fit very well with the associated board Escaper Split.
Accessoires:
Skins, Poles, Crampons, anything new and outstanding in your proposal?
We are still collaborating with Swiss company Pomoca for all our skins and will continue to do so for FW23/24 because we not only access superior quality but also great flexibility on product development.
Speaking of which, while the majority of our skins are made with 70% Mohair and 30% Nylon fibers, the Escaper's pre-cut climbing skins feature tail clips, 100 % Nylon fibers and a PFC-free lining. They are easy to use and offer excellent gliding performance with superior traction and durability.
What are your three biggest European markets for splitboard accessories?
France, Italy and Austria.
Pricewise, which area of the market do you cater to?
What developments are you seeing with regards to product pricing?
While 80% of our splitboard line sits in the 700+ euros MSRP price category, our biggest demand is that 550 to 600 euros MSRP price range where we offer AmpTek rocker, RadCut, sintered bases and superior ride-ability.
Consumers look for technology that services performance at that price and its common knowledge that we, as a bigger company, are extremely competitive when it comes to price/quality and ride-ability ratio. We make products that ride well and last long before anything.
To reply to your last point, the 550 to 600 euros MSRP price range is the perfect balance between pricing, quality, costing and margin for us. No changes were needed here, so far.
Best Sellers
XV Split
Xavier De Le Rue's award-winning XV Split is back with the same directional shape, large, stiff nose and narrower tapered tail for effortless float and maneuverability. But now comes with GreenLightPop woodcore to reduce weight and RadCut to ensure incomparable edge control for the precision and confidence to plant your front foot and pin it over anything in your path.
Escaper Split
The Escaper Split is the perfect all-mountain freestyle splitboard for beginner to advanced riders. Featuring twin tips for switch landing, a slightly reversed flex for front foot control, RadCut for playful turn variations, a 4.4k sintered base and our most versatile AmpTek All-Mountain 50% rocker-50% camber profile for power, pop and float. Sizes run from 49 to 61 wide.
After Hours Split
Developed with four-times FWT winner Marion Haerty for the intermediate to expert woman, the split version of the After Hours combines a setback camber on 80% of its running length with pintail and multiple positive and negative sidecut radiuses that are centered on the stance. Creating a twin freestyle feeling on a freeride board with a unique carving ability.