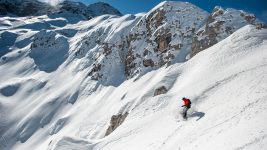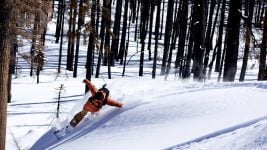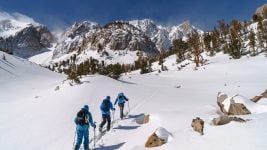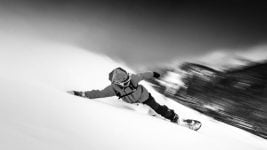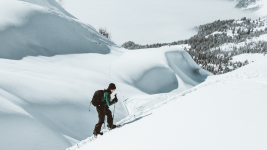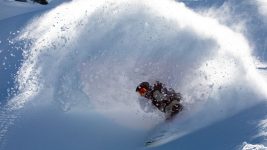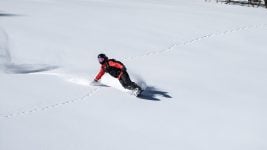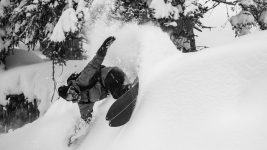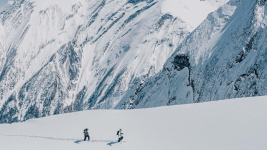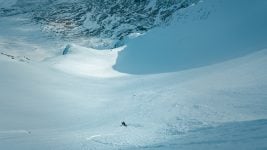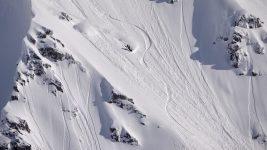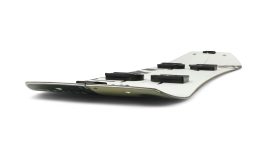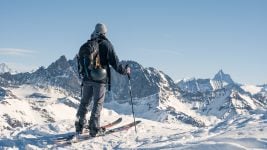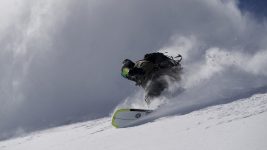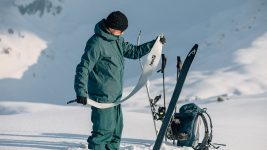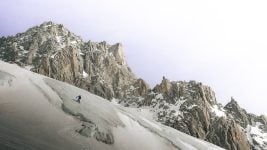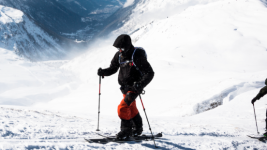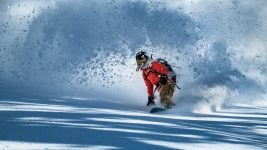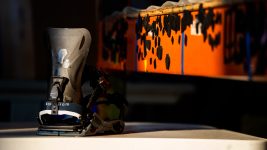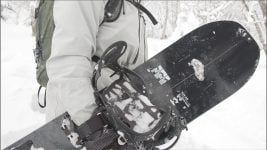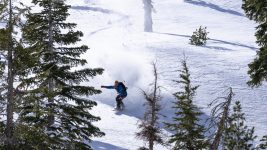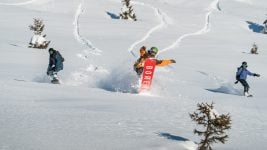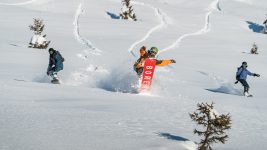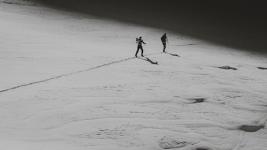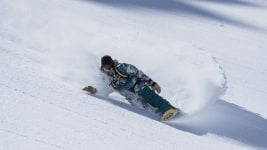 Splitboarding 2023/24 Retail Buyer's Guide
Undoubtedly, the pandemic fuelled significant growth in the splitboard market throughout the past two seasons. Now, as an energy shortage stands to increase the price of lift tickets – and simply getting to the mountain – will splitboarding continue to blossom and benefit from a market free of excess inventory? While waiting for the white gold and answers to our questions, let's get a preview of what the industry will bring to the table for next season. Ladies and gents, welcome to next winter's Snowboard Splitboard Hardware 23/24 Retail Buyer's Guide, brought to you by Matthieu Perez.
When it comes to the stability and continuity of its business, 23/24 is shaping up to be another strong year for Rome, who isn't making any major changes in its approach to the splitboard market for this season. Matt Stillman confirms that the brand continues to offer just one board, the Uprise split. It features the same carry over graphic it did when it first came to market. 
West is remaining true to the approach it has benefited from in the past. The brand has enjoyed success in this segment of the industry, thanks, in part, to the high mountains and alpine market that shape its surroundings. David Lambert states, "We increased and renewed our range for the current season and will consolidate the existing products."
Dupraz remains true to its original approach of being produced in a country committed to democratic values and a respect for the workers producing the brand's boards in its European factories. Serge Dupraz, legendary snowboard wizard, adds, "Social rights means something to us. Cultural knowledge of what these workers are producing is also key for us, as resorts are less than one hour from the factories. We are very proud and happy to have made these choices in the past and when we are now entering our twentieth winter!"
At Slash Gigi Rüf has been tinkering with his splitboards, but has dialled the Brainstorm & Vertical splits to his likings, so retailers can expect the same premium boards made with high-end beech and poplar wood cores plus ice ice-slicing Traction Bump, but with updated graphics for some freshness in 23/24.

Given the overall context and increasing prices for lift passes, Amplid believes splitboarding will continue the same growth it's enjoyed the past few seasons. According to the brand's founder, Peter Bauer – who has led the charge the past decade in developing some of the most advanced snowboard technology and designs – the brand will add a few lengths and new models to its existing line-up to meet this ongoing demand. 
Brands that are newcomers to the splitboard scene, such as Nidecker, are also hyped. As Antoine Floquet says, "Winter 23-24 looks very promising! We just introduced our first splitboard in the Nidecker line this season (22-23) and pre–orders went very well. And by the way, our Escape Split just won Whitelines Best Splitboard Award. We're so stoked, so grateful for a first year launch and the first split in our line!" What a start!
For many others, an ongoing dedication to a model or trend has been the way to go. Both global snowboard manufacturers and split nerds keep pushing the envelope by simply supporting the cause. Mervin Manufacturing – the parent company of Gnu and Lib–Tech – is part of this crew. Gnu's head designer and spirit animal, Shawn Bishop, loves to earn his turns in the terrain near the Mervin factory. Undoubtedly, this passion helps shape how the brand approaches the splitboard scene. And thanks to this passion and lessons learned from the pandemic, Mervin claims it's stronger than ever. According to Mervin Founder and VP of Creativity Pete Saari, "We have created a focused supply chain team to manage through the constant changes and obstacles brought on by the pandemic. All the attention to detail in our process and factory environment has improved our efficiency and the quality of our boards…so there is a silver lining to all hell breaking loose on the daily." 
Brands that are more splitboard-specific and specialized have been especially grateful for the ability to do their own manufacturing in order to quickly adapt to new challenges and be flexible in an ever-evolving market. According to Spark R&D, this approach has proven critical, allowing the brand to continually problem solve. Karakoram shares this sentiment and envisions 23/24 to be the first year the brand can feel settled into its new headquarters. Kyle HansenKahn can finally see all of the production improvements and product developments the brand has been working on come into play. Game on! Chamonix-based Plum – another member of the community of brands that focus on making bindings for the splitboard community – also firmly believes in the value of controlling its own manufacturing. The brand proudly asserts, "Our products are locally made, most of the parts are made in-house, which allow us to be flexible and reactive." 
True to its name, Easy Snowboards aims to keep things simple with an approach guided by the belief that the product should do the marketing. It aims to keep its products intuitive and affordable, which the brand believes can help it better adjust when the shit hits the fan. 
SMART OR DIE!
If there is a single product category in snowboarding where developing carryover models was more than a trend or a temporary solution, it is undoubtedly splitboard hardgoods. While sales went through the roof in Europe during the pandemic, brands were still able to smartly manage their collections and inventory by simply keeping products and pricing in place in order to enjoy the momentum.
Pioneers like Serge Dupraz states, "When I launched the now mythical D1 in 2003, I directly chose the carryover approach. No one was doing that." This approach must be working, as Dupraz notes, "We're sold out on our carbon splits. Facts speak louder than words." For Capita, Mark Dangler explains, "There was no carry over in our solid board collection besides our Neo Slasher splitboard. We feel this has been a successful approach for us over the past two years, but we will bring a new split this year!"
West's range was fully renewed for 22/23, so its splitboard range will be carried over in its entirety for the 23-24 season. Stranda is also firmly committed to carryover products, believing that aesthetic updates should simply be tied to technological advancements. According to the brand, it believes in "Changing topsheet designs if there is a big change in construction. [Any changes in construction] need to be reflected in a new design." Amplid takes a similar approach. Approximately 50% of its boards are two-season models. The brand was already using this approach prior to Covid. It helps retailers keep the value of their inventory and avoid a price deathmatch right after Christmas. Endeavor's Patrol Splitboard has been a carryover model for three seasons now and continues to be a mainstay in the brand's timeless Legacy collection. Lib–Tech has always been a build-to-order company, but it has a few carryover products, primarily in the splitboard category. Rome aims to offer the best possible split it can at an affordable price. The brand determined the best way to do this is by creating a carryover model that attempts to be timeless with regards to its graphic, shape, tech, and price. For 23/24, Borealis will continue the same carryover strategy it's been following for the past ten years, except it will now set a two-season lifespan for each graphic. 
For 23/24, Never Summer is carrying forward many of the splitboard shapes it offered last season. It is also currently testing a triple camber Proto FR splitboard and will soon make the final decision on its production.
Easy is also committed to offering carryover models as a way to help retailers maintain healthy margins. The brand ensures its splitboard models are in the line for a minimum of two or three years. Similarly, Spark R & D aims to play things safe. The brand anticipates that 23/24 will be an equalizing year after the sharp increase in demand for splitboard gear during the past couple of seasons. Spark expects splitboarding's rate of growth will slow so the brand's upcoming 23/24 collection will be based around carryover products. After making its debut this season, Nidecker's Escape Split will be a carryover model for 23/24. Yet the brand is currently working on technical advancements and weight reductions for 24/25. 
Sean Eno at Weston offers a strong summary of how carryover products are redefining the industry. He asserts, "We've decided to make a statement and say that some carryover is here to stay. The industry has long been dominated by this churn and burn of topsheet graphics that obsolete the previous season's boards and destroy margins while driving unnecessary consumerism and impact on our planet."
Yet not all brands are firm believers in carryover products. As Ride's Linnberg states, "If you sell out, you don't have to carry over. New split pig graphic this year!"
When discussing the state of the industry, many brands are quick to emphasize the importance of brick-and-mortar retailers–and their growing commitment to support these shops. According to Gnu, there is nothing like the cultural experience and fun of going to your local shop to talk with the crew, touch the latest toys, and determine what products are right for you.
For a premium product like the splitboards made by Telos, brick-and-mortar retailers are especially important. Jones feels the same way. According to Seth Lightcap, "As we know, our customers look to our dealers for expert product info specific to the local terrain and snow conditions." However, the brand's e-commerce business continues to grow, and especially in Europe where it started selling direct in 2022. For Enfuse, it is crucial for customers to see the brand's binding in person. Consequently, it's trying to find more customers from brick-and-mortar retailers, even if most of its sales are currently via e-commerce.
Stranda is also quick to emphasize the importance of brick-and-mortar retailers. It has observed that shops with passionate owners and staff who carry all sorts of backcountry equipment are by far the best way to grow splitboarding and sales. But it also realizes that direct-to-consumer sales are just getting stronger. And one of the reasons for the sustained growth of ecommerce, according to Gnu, is that some of the best retailers do both brick-and-mortar and online sales.
Still, Gara suggests that traditional board shops are not ideal for selling splitboards. Ota Tyl argues, "Our partners are primarily specialized in splitboarding and dedicated to its development. A splitboardis a complex and more complicated product than a snowboard. The mix of components and the final setup is the basis of customer satisfaction. The next direction for us is to work with partners who have their own market and their own vision of splitboarding."
GREENER THAN EVER?
On the sustainability side of things, diverse approaches continue to emerge. First and foremost, "The best rubbish is the one we do not produce," hammers Serge Dupraz. "Our choice of making super-long lasting boards is also part of our environmental approach and commitment towards our customers." David Lambert at West builds on these sentiments, offering "100% sourced and produced within EU may be the best you can do in terms of [reducing the splitboard industry's] carbon footprint – High standard product with the best quality raw materials for the longest-lasting boards… consume better and for longer. To be explained to the green washers please!"
Spark R&D is constantly evaluating its manufacturing processes to lessen its environmental impacts. Marketing Manager Dan Ventura explains, "Approximately 12% of our electricity use comes through our solar array. For the remaining energy, we purchase carbon credits equivalent to our use, to fund the Northern Great Plains Regenerative Grazing Project." Nitro is calculating its current CO2 output with Climate Partner to inform changes to its material choices,  production processes, and shipping. Nitro's goal is to reduce its CO2 footprint even more and compensate for the rest by supporting Climate Partner projects.
For Head, every step counts and sustainability now plays a role in every decision the brand makes.  It is also working on making these steps more transparent for its business partners and consumers. 
At Jones, Lightcap offers, "Our commitment to producing the most responsibly made splitboards we possibly can only grows stronger for 23/24. We will introduce several new sustainably-made materials in 23-24, including a revolutionary new snowboard recycling process that allows us to use materials from old snowboards to make new splitboards."  
Many movers and shakers are zeroing in on the details, carefully considering the impact of each material they use. Rossignol has transitioned 80% of its splitboard woodcores to FSC-certified production. The brand is also working to reduce the impact of its topsheets, bases, and artwork, eliminating the traditional processes that typically take a heavy toll on the earth. Instead, it is using treatments that rely on DDP, sublimated designs, or diecut bases. Rossignol is also using a 33% bio-based epoxy and its boards feature sidewalls produced from the factory's scraps. According to Rossignol Snowboard Product Manager Arnaud Repo, the next frontier for the brand is rooted in "Resin, inks, bases, and, most importantly, the analysis of the contribution of our product life cycle stages to the overall environmental load." According to Borealis Founder and Owner Ben Hall, sustainability is a core component of the brand's identity. He offers, "At Borealis, that's what we specialise in: offering high-performance, ultra-resilient splitboards made as sustainably as possible using any alternative material at our disposal, from bio-based topsheets to biodegradable organic wax." Gnu uses low VOC plant-based bio resins and water-based sublimation inks and recycles all ofits wood dust into compost.
Brands are also asserting the importance of products that are manufactured locally and that are easily repairable. Enfuse tries to produce most of its binding parts locally to reduce its impact, and makes its bindings from high-grade materials so they last as long as possible. Most of the brand's parts are interchangeable so customers can repair their bindings instead of buying new ones. Plum is also committed to creating bindings that can readily be repaired. Jérémy Deya, sales manager, explains,"We definitely want to reinforce the repairability of our equipment [by offering] all the spare parts necessary to fix the bindings, which is the priority when it comes to sustainability. For the rest, we will stick to our DNA and philosophy of producing locally in France but still try to find new opportunities."
Last but not least, production facilities themselves play a crucial role in reducing the industry's impact. "Talking about sustainability in snowboard production is a dangerous terrain and as a Chinese production facility [in existence for] 35 years, we're always trying to optimize our environmental footprint," offers Kolja Grischa Keetman, Telos European sales manager. Capita continues to reinforce its deep commitment to reducing its impact. "Our commitment to clean-energy-powered manufacturing at The Mothership remains as strong as ever," explains Dangler. "Last year we implemented a significant solar install on the roof to improve the efficiency of the building's ability to self-generate the energy needed in production. We are expanding on certain sustainable materials used in our collection and we are also finalizing the process to be a certified B-corp." Pedal to the metal!
WHAT'S HOT?
Despite the abundance of carryover products, there's no shortage of new developments and emerging trends within the industry.  According to Lightcap, "23-24 is shaping up to be a huge year for the Jones splitboard line. We will introduce two brand-new split models, two completely redesigned split models, and significant new performance and sustainability focused tech." Amplid is continuing its quest for the lightest splitboard on the market. Its carbon construction in combination with the brand's patented Stratospheric Topsheet make Amplid splitboards some of the lightest on the market. For Head, lighter boards is the name of the game in 23-24 so the brand is using its LYT Board Architecture in the VOY splitboard, which includes a new lightweight poplar wood core design. "This weight reduction transfers into boards that are light, yet long-lasting and full of power," affirms Katharina Acham. Nitro has worked on both ends of the price spectrum with its splitboard line. "The Vertical, our super lightweight splitboard designed for the high alpine explorer, just won the award of Best Skinning Splitboard. On the other end of the offering, the NOMAD and VOLTA both set the mark for being one of the most–if not the most–affordable splitboards in the market," explains Product Manager Florian Lang. Korua will be introducing the new Pro clips and hooks from Union bindings, which allow for finer adjustments. Korua's Plus line splitboards now feature a snow repellent topsheetbut still stick to the brand's well-known colours and designs.    
Weston is stoked to drop the Carbon Riva Splitboard, as it will fill a void in the market for riders of smaller stature or with smaller feet. "This is a category of rider that is predominantly populated by our female shredders out there who are underserved when it comes to ripping gear. We will be releasing one the first, if not the first, mass-produced carbon splitboards for smaller and female riders with the size range dropping to a 150," says Marketing Manager Sean Eno.
Splitboard bindings – and how brands are approaching their production and distribution – are also continuing to evolve. Last season, Rossignol created the Escaper Splitboard Multientry and will continue to offer it for 23/24. The Escaper is a more affordable splitboard binding and stems from a collaborative effort with SP – the Austrian-based binding company – and Salt Lake City's Voilé. Enfuse's strategy places a strong emphasis on selling pre-orders and using them to inform production, ensuring they have little excess inventory. Currently, Enfuse is working on two new bindings, one of which will debut in 2024 while the other will arrive in 2025. Both are now in their testing phase. In the meantime, the brand has developed new lightweight straps, upgraded its orbital locking system, created new designs for its heel risers and hexagon highback angle adjuster. Plum developed a new "WOR" (walk or ride) system for the Eterlou's highbacks. This system allows you to better adjust the angle of the bindings and is tailored to the unique needs of splitboarding. Karakoram is introducing its new Wayfinder binding, which is specifically designed so that riders with smaller feet don't feel like an afterthought. The brand is also benefiting from new materials. Karakoram explains, "Carbon Nyolite has allowed us to make big strides with weight savings that don't sacrifice performance. It is incredibly light without making big compromises on stiffness."
Gara has spent quite some time working on a new splitboard binding design, the Solo. According to Ota Tyl, "The Solo binding effectively transfers the force from the binding to the splitboard and prevents the ski from moving. The base plate and parts are CNC machined so they are solid. The straps are from a quality supplier, super light, and comfortable. We are very happy with the result." 
And another band joins the gig, Ride has made a whole new splitboard binding. Linnberg affirms, "It's AWESOME. A-BC.  It will work perfect on your split pig.  Or other boards if you are still saving up to get a split pig."
Nitro and K2 are also debuting two boots that stand to be of interest to splitboarders. Nitro's popular Skylab TLS boot has received a women's counterpart: the Ronda TLS. According to Nitro, it's the brand's most anticipated new boot model. With a focus on adventure and versatility, it offers all-mountain, resort-driven comfort and fit, as well as all of the features needed for weekend splitboardadventures to escape the crowds at the resorts. K2's new Waive Boot features a walk mode supported by BOA that can enhance efficiency when skinning.
Now that you've peered into splitboarding's crystal ball for 2023/2024, it's time to get outside and explore everything Mother Nature has to offer. Cheers to a great season and stay safe.