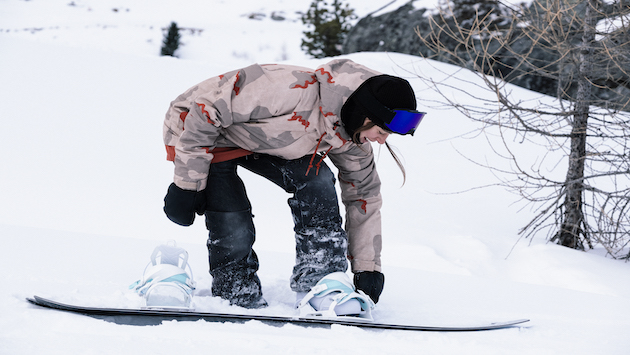 Flow 2022/23 Snowboard Bindings Preview
Retail Buyers Guide: Snowboard Bindings 2022/23 Retail Buyer's Guide
Brand: Flow
Interviewee: Lucien Vink, Bindings Product Manager & Designer
Please provide an overview of how 2022/23 is shaping up for your brand.
We are going into W22 with great optimism and confidence. Unfortunately, Europe was hardest hit in W21 with resort closures and other limitations due to COVID, but globally our sales-through was much better than expected. For us this proves that our product designs, line adjustments and sales strategies worked well and that our customers are loyal to our brand & unique selling points, or excited to get on board. Therefore we will continue with this direction into W23 as well. All we can hope for now is lots of snow, good conditions and weather, and for COVID to lay low so we can all feel the stoke of being in the mountains again.
Everyone has been affected by impacts from Covid-19 in one way or another. Have you had to change manufacturing or sourcing processes and can you explain any good examples of how your business has pivoted effectively?
Due to our longstanding relations with our factories and sourcing partners, we were lucky to be minimally affected except for transitioning from in-person visits to more frequent virtual meetings. But excessive cost increases in raw materials, currency exchange rates and shipping/logistics are undeniably putting a lot of stress on the final cost of goods.
Carry-over was a hot topic for 21/22 bindings. Where did your brand sit on the matter and has this changed for 22/23?
For W22 we had adjusted our ratio of carry-over from around 25% to around 50%, to mitigate stock risk and pressure because nobody knew how the W21 season would affect the W22 market. Even though hopes are high, we know there are still uncertainties and there is quite a lot of stock out there, so we keep our carry-over strategy pretty similar for W23.
The bricks and mortar model is changing rapidly. How are you working with retailers and your ecommerce channel to ensure as little conflict as possible?
For us, Brick & Mortar has been and will remain the cornerstone of snowboarding; they build community, create culture and m­aintain good vibes. We also deeply believe that ecomm – when done properly – can be beneficial for these physical stores and we have multiple programs in place to support and invest in our B&M partners. For instance, our inventory is shared between ecomm and our partners, so we take the stock risk on our side and the shop will be able to sell using this inventory.  For W23 we are tripling our advertising budget with a focus on brand building and our storytelling. We are not doing any ads with « buy now » buttons or infer to come in our e-commerce. We also won't and will never participate in any discounts below our MAP policy, and we won't participate in sales like Black Friday or any events that compete against our partners. Instead, we've created a state-of-the-art Dealer Locator that showcases the closest shop near you right below the « add to cart » button to drive the customers to brick&mortar, and we've created an Event Locator that supports retailers to promote their events. We value our deep partnership with shops, they were here to support us from the start, and we will be there for them in tough times; this is what every partnership needs to be.
What's your company doing to improve its carbon footprint/eco consciousness?
Flow bindings are designed to stand the test of time, which in and of itself contributes to a certain level of sustainability. We also strive to be as environmentally conscious in our material selections as long as durability and safety are guaranteed, and by design we try to avoid as much burdensome processes like gluing and painting etc as possible, within reason. Similarly, we also try to be as environmentally friendly in our packaging and logistics approach. For instance, a large part of our goods travel by train from our factories to Europe, which leaves a much smaller carbon footprint compared to sea or air freight. We all want to continue to ride pow for as many years to come and we try to do our part.
Are you using any new materials in your bindings for 22/23? If so, what, and why?
No not really, for most components we rely on our true and tested materials, specifically engineered for the uniqueness of Flow bindings. But we do use a new carbon-composite matrix in the Slip-N-Grip footbed-plates on the new NX2-Carbon model, which makes getting into and out of the binding even more of a breeze.
Please tell us about the dominant visual themes in next year's binding line, including any interesting artist collabs you have lined up.
A big part of the line lives in the safe and tonal zone but we strive to keep them visually interesting and rich with nice badging, material selections and small details. But as always, we also create some pop colorways and models with stronger visual graphics.
Prices: Where is your brand going? Higher? Lower?
Unfortunately the cost of goods has excessively risen and so far we have absorbed it, but for W23 we foresee some prices going up. We are working our hardest to implement additional measures like using earlier order and production windows to offset cost and shipping issues, and we will try to keep price increases as minimal as possible.
Looking at the specific components, have you made any new advancements in buckles, straps, highbacks, bases?
For W22 we introduced new BankBeds with Slip-N-Grip footbed-plates on the NX2-TM, to facilitate sliding your boots in&out even more effortlessly. This was very well received, and we implemented this design on the new NX2-Carbon footbeds too. But we lengthened the plates and chose a carbon-composite matrix for the plate material to really help drive power into the baseplate and towards the toeside edges.
Will you be doing step-in, or similar, in 22/23? If so, are you licensing or developing it yourself?
Flow is basically the inventor and market-leader of the modern-day easy-in easy-out binding solution. Our SpeedEntry system has the perfect mix of convenience, comfort and performance to suit everybody's needs, whether it's a customer who is new to snowboarding, or a long-time rider who loves powder, park, groomers and/or everything in-between.
Will your production process (factories, equipment) be changing at all for 22/23?
No. COVID has definitely made it a bit more challenging for design, development and production by not being able to visit our manufacturing and supply partners and work with them in-person. But luckily all Flow bindings are made and assembled by the same team that we have been using for many many years, and this partnership has allowed to mitigate those issues and with frequent visual calls we were able to stay on point. In addition, we employ our own local QC personnel, who monitor the full production process full-time, to ensure that we continue to offer the best and most consistent product quality even in these extraordinary times.
What are your top marketing stories for next season?
SpeedEntry: Flow bindings are convenient to use, easy-in easy-out, without sacrificing comfort or performance. In fact, because of the energy transmission of the steel PowerTriangle cable, and the energy transmission and comfort of our boot-hugging and pressure-relieving PowerStrap footstraps, even if you were to not use the reclining hiback feature, Flow bindings are arguably the most comfortable and performance-oriented bindings on the market!
Set-it and Forget-it: Adjust your Flow bindings to your boot once, and then enjoy the simple easy-in and easy-out convenience of the reclining hiback.
Versatility: Flow bindings fit almost all boots on the market, are offered in 2 types of straps to suit your personal preference (a boot-hugging 1-piece Fusion PowerStrap or a toe-gripping cap-strap in our Hybrid PowerStrap), and feature full-sized Locking Slap Ratchets for the option to get in and out of your bindings through the easy-in easy-out reclining hiback or use the ratchets to get in&out through the side by opening the footstrap. The possibilities are limitless.
Best Sellers/Hero products
NX2-Carbon (Fusion+Hybrid). New for W23, we upgraded the previous NX2-CX model with new EVA canted BankBeds with Slip-N-Grip footbed-plates. Compared to the NX2-TM, we lengthened the plates and chose a carbon-composite matrix for the plate-material to really help drive power into the baseplate and towards the toe-side edges. We topped the Carbon-infused Nylon Asym Hibacks off with new lower-profile EVA hibackpads and wrapped it all up in a stealth matte black/graphite color, to make the lightweight NX2-Carbon our most responsive binding yet.
NX2-TM FrostBite (Fusion+Hybrid). The NX2-TM is light, lean and functional, and is a team-favorite for its simplicity, efficiency and reliability. The rockered Aluminum NX2 baseplate is famous for being stiff and responsive, but still allows natural boardflex. Other features are the medium-stiff Asymmetrical hiback and ExoFrame PowerStraps. ActiveStrap Technology and the Slip-N-Grip footbed-plates make getting in&out the easiest ever. Less is certainly more for the NX2-TMs, which makes them ideal for riding everywhere on the mountain with total confidence and fun. Colorways: FrostBiteand Black.
The Fenix-Plus BurntSage (and Mayon-Plus, both in Fusion+Hybrid). We upgraded the popular Fenix/Mayon bindings with ExoKush Powerstraps and custom graphics to turn it up a notch on riding experience, comfort and style. They feature freestyle-friendly rockered-baseplates with canted footbeds, Expanded-EVA ExoKush straps for extra comfort, and the Asym hiback for support and playfulness. The Fenix-Plus is for riders looking for something between a freestyle and a freeride binding that will let them explore the whole mountain. They offer a lot of value so they should definitely make it on your wall. Colors: BurntSage and GunmetalBlack.