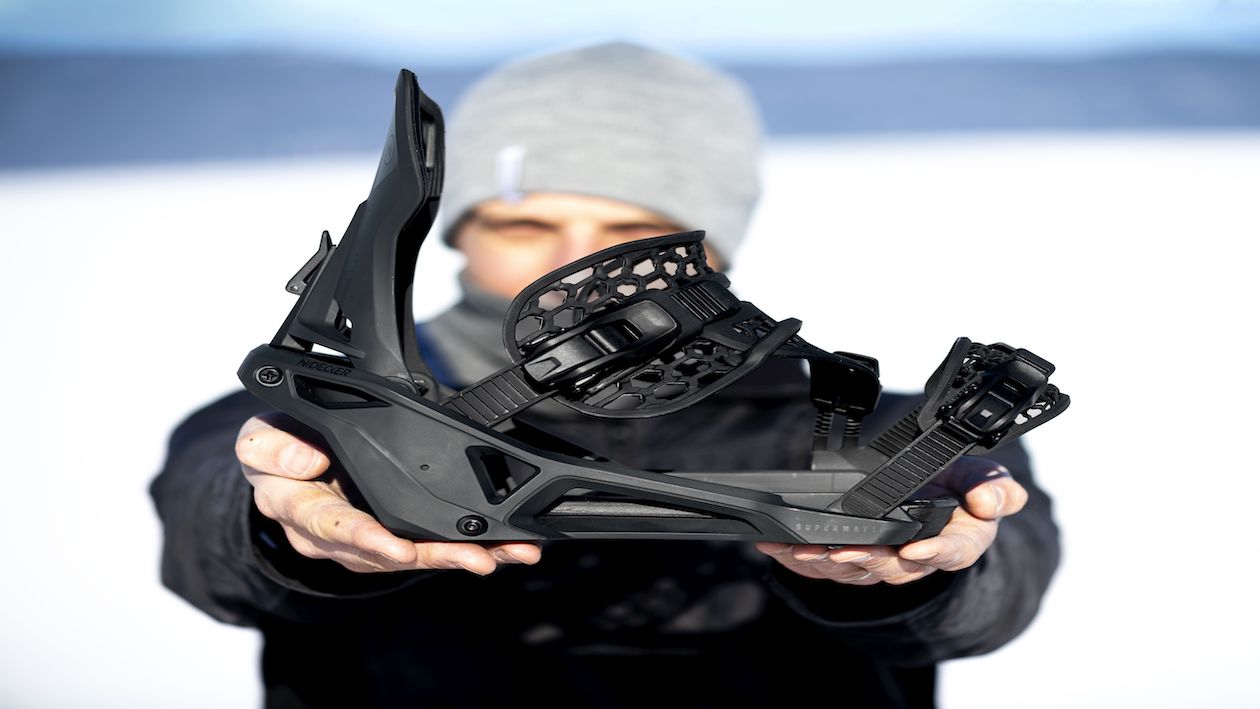 Nidecker 2022/23 Snowboard Bindings Preview
Retail Buyers Guide: Snowboard Bindings 2022/23 Retail Buyer's Guide
Brand: Nidecker
Interviewee: Lucien Vink, Bindings Product Manager & Designer
Please provide an overview of how 2022/23 is shaping up for your brand.
W21 was a big year of change. Not only did we redesign 100% of the Nidecker Binding line, it was also when COVID hit and turned everything upside down, especially in Europe which was hit hardest by resort closures and other limitations. Despite these difficulties, the new bindings were well received and found their way to many customers globally. For W22 we set a trajectory of gradual design updates, a slightly increased carry-over mix and introduction of new models where we see fit to strengthen our product-line offering. And we will continue to carry this direction into W23 as well.
But the biggest announcement by far from us is that we're ready to introduce an all-new automatic binding, the SuperMatic, which we're betting will make W23 a year of major disruption for snowboard bindings moving forward.
Everyone has been affected by impacts from Covid-19 in one way or another. Have you had to change manufacturing or sourcing processes and can you explain any good examples of how your business has pivoted effectively?
Due to our longstanding relations with our factories and sourcing partners, we were lucky to be minimally affected except for transitioning from in-person visits to more frequent virtual meetings. But excessive cost increases in raw materials, currency exchange rates and shipping/logistics are undeniably putting a lot of stress on the final cost of goods.
Carry-over was a hot topic for 21/22 bindings. Where did your brand sit on the matter and has this changed for 22/23?
For W22 we had planned for around 60/40% new to carry-over, and we ended up at pretty much 50/50%. Even though we are hopeful for the W23 winter season, we know there are uncertainties and there is quite a lot of stock out there, so we kept our carry-over strategy pretty similar for W23.
The bricks and mortar model is changing rapidly. How are you working with retailers and your ecommerce channel to ensure as little conflict as possible?
For us, Brick & Mortar has been and will remain the cornerstone of snowboarding; they build community, create culture and m­aintain good vibes. We also deeply believe that ecomm – when done properly – can be beneficial for these physical stores and we have multiple programs in place to support and invest in our B&M partners. For instance, our inventory is shared between ecomm and our partners, so we take the stock risk on our side and the shop will be able to sell using this inventory.  For W23 we are tripling our advertising budget with a focus on brand building and our storytelling. We are not doing any ads with « buy now » buttons or infer to come in our e-commerce. We also won't and will never participate in any discounts below our MAP policy, and we won't participate in sales like Black Friday or any events that compete against our partners. Instead, we've created a state-of-the-art Dealer Locator that showcases the closest shop near you right below the « add to cart » button to drive the customers to brick&mortar, and we've created an Event Locator that supports retailers to promote their events. We value our deep partnership with shops, they were here to support us from the start, and we will be there for them in tough times; this is what every partnership needs to be.
What's your company doing to improve its carbon footprint/eco consciousness?
We strive to be as environmentally conscious in our material selections as long as durability and safety are guaranteed, and by design we try to avoid as much burdensome processes like gluing and painting etc as possible, within reason. Similarly, we also try to be just as environmentally friendly in our packaging and logistics approach. For instance, a large part of our goods travel by train from our factories to Europe, which leaves a much smaller carbon footprint compared to sea or air freight. And we are a proud member of 1% for the Planet, where we give back 1% of our total sales directly to sustainability-oriented non-profits to fight against climate change. We all want to continue to ride pow for as many years to come and we try to do our part.
Are you using any new materials in your bindings for 22/23? If so, what, and why?
For most components we rely on true and tested materials, specifically engineered for the uniqueness of snowboard bindings and use in freezing cold temperatures.
Please tell us about the dominant visual themes in next year's binding line, including any interesting artist collabs you have lined up.
We are keeping the main models in the safe zone, and even toned down a couple compared to last year, to reduce objections and mis-matching with other gear the customer may already have. But safe isn't necessarily boring, we try to keep it visually interesting and rich with tonal effects, badging, good material-selections and other nice details. We added a new extra color-way on the Kaon-Plus, and the new Kaon-W Plus womens binding is a nice match with the new Rift-W boot.
Prices: Where is your brand going? Higher? Lower?
Unfortunately the cost of goods has excessively risen and so far we have absorbed it, but for W23 we foresee some prices going up. We are working our hardest to implement additional measures like using earlier order and production windows to offset cost and shipping issues, and we will try to keep price increases as minimal as possible.
Looking at the specific components, have you made any new advancements in buckles, straps, highbacks, bases?
W21 was a big year for us with introducing all-new binding models for a 100% all-new line, so W22 & W23 we are taking the time to refine and round off the line like adding the new W23 Kaon-W Plus which features the Hybrid ExoKush strap, which is the first womens binding in the Nidecker line with a Hybrid strap. Hybrid straps link the ankle-strap up with the toe-area of the baseplate, resulting in more control and less loss of energy transfer, which reduces the need to wear the straps excessively tight, so your feet stay happier and warmer; win-win! And we could write another whole paragraph here about the new SuperMatic binding, but there is so much innovation and future-forward technology packed into this model that you better go test it out for yourself.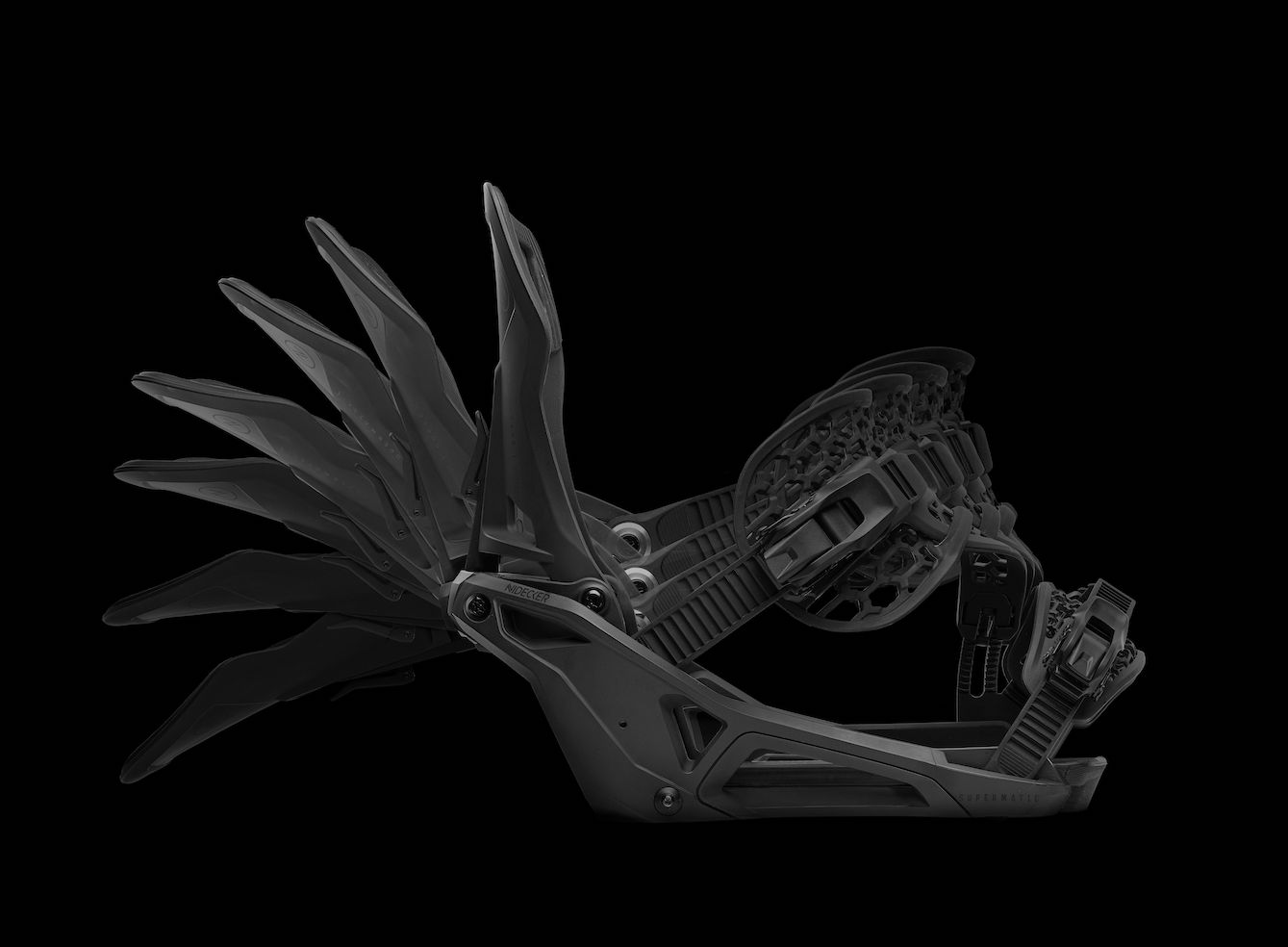 Will you be doing step-in, or similar, in 22/23? If so, are you licensing or developing it yourself?
Nidecker is proud that after years of in-house design, development and testing, we can finally reveal the 1st model in the new Matic Series to the world; the SuperMatic. The SuperMatic binding is what snowboarding has been waiting for; an Automatic, Universal and Dual-Entry binding that is so easy to use, and that will feel both revolutionary and yet satisfyingly familiar at the same time. This is a no-system binding, so you can take your current boots, any kind of boot, and just drop your boot into the binding, step down to engage, and ride away. That's it. To get out, just push a lever and lift your foot out. These bindings have straps with ratchet-buckles on them, so you get that familiar locked-in ridefeel of straps, but since it's self-closing you set them up once and then you won't need to tighten them again that day. We firmly believe that Matic Series bindings are the future of snowboarding. Whether you've got back problems, you're sick of sitting down in the snow, you're looking to smoke your skier friends off the lift, or you just want to experience what snowboarding's been waiting for since it was invented, the Nidecker SuperMatic is for you.
Will your production process (factories, equipment) be changing at all for 22/23?
No. In W21 we redesigned our binding line and joined forces with Flow to offer a range of products that complement well with the FlowFit designs of our Nidecker boots, but also to offer a strong and reliable supply-chain with simplified logistics to our business partners. All Nidecker bindings are now made and assembled by the same team at Pegasus Sports that we have been using for many many years with Flow. In addition, we employ our own local QC personnel, who monitor the full production process, to ensure that we offer the best and most consistent product quality, which has been incredibly valuable in these challenging times of COVID with all the travel restrictions and so forth.
What are your top marketing stories for next season?
SuperMatic: This is a game changer. The Nidecker SuperMatic is what snowboarding has been waiting for, it is truly going to be a revolution for so many snowboarders from now on – the first Automatic, Universal and Dual-entry snowboard binding. Simple to use; you just drop your boot in and click down to engage, and you are ready to ride. To get out, just push a release lever gently and lift your foot up and out. These bindings work with every single snowboard boot brand and model available on the market today, so you won't need to change your boots to use the tech. And these bindings have ankle-straps and toe-caps with ratchet-buckles, so you will have that familiar locked-in feel, and the option to get in&out through the straps as well if you're in a situation that you'd rather do so. We firmly believe that Matic-Series bindings are the future of snowboarding. Whether you've got back problems, you're sick of sitting down in the snow, you're looking to smoke your skier friends off the lift, or you just want to experience what snowboarding's been waiting for since it was invented, the Nidecker SuperMatic is for you.
All Nidecker bindings are designed based on the Flow Axis-Series platform, so they pair perfectly with Nidecker boots and the FlowFit philosophy. With specific heelcups, hibacks, foot-straps, buckles and EVA-pads we left no detail untouched to offer you the latest innovations in 2-strap bindings.
Best Sellers/Hero products
While we are planning a limited release for W23, this is something that you should at the very least try drop your boots in and ride this winter, and definitely get into your shop if you have the opportunity. The SuperMatic is a mid-stiff binding, and the team have rated it as our most comfortable binding to date. It's a solid performer for any type of all-mountain riding, from first chair 'til last. The SuperMatic is truly revolutionary in its ease of use, universal boot-fit and dual-entry 2-strap function. Just drop your boots in and the SuperMatic automatically engages, closing the hiback and straps to fit your boot and feel a superior comfort and connectedness that make it an instant game-changer.
Kaon-W Plus. New for W23, we are introducing a Hybrid-strap option in the womens lineup with the comfy Hybrid ExoKush on the Kaon-W Plus. Hybrid straps link the ankle-strap up with the toe-area of the baseplate, resulting in more control and less loss of energy transfer, which reduces the need to wear the straps excessively tight, so your feet stay happier and warmer; win-win! We gave the Kaon-W Plus a subtle but lively design in muted colors, and they're beautiful on their own or a perfect match with our new Rift-W boots.
Kaon-X BlackIce. The Kaon-X has quickly become a go-to binding and has won plaudits for its exceptional value-for-money; a ton of fun, super comfortable and all mountain-performance. Featuring a glass-filled Nylon rockered baseplate with PowerBeams, a fully adjustable Asymmetrical hiback, and ExoFrame Ankle-strap and Hexo toecap both with their unique hinged AuxTech pattern, to formfit your boots perfectly. The Kaon-X is perfect for riders who like creating fun wherever they are on the hill, always on the lookout for side hits and powder stashes. This year it comes in Black, Petrol-Blue and a new BlackIce colorway, and we expect its popularity to increase further.