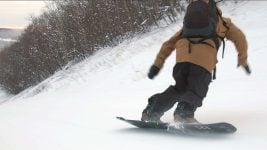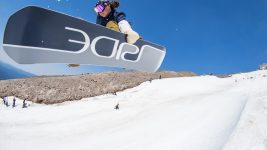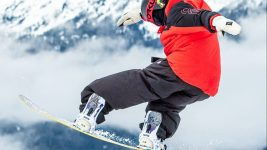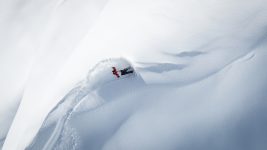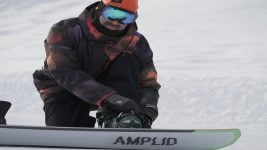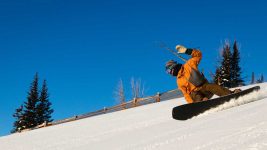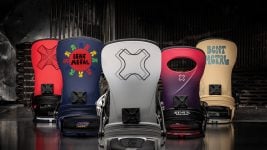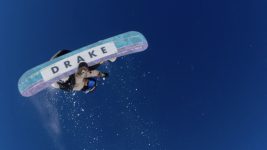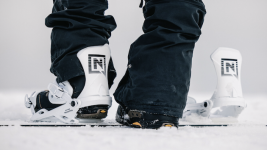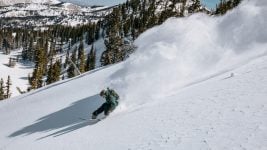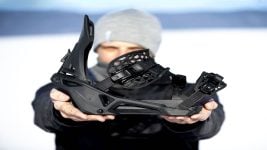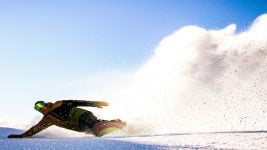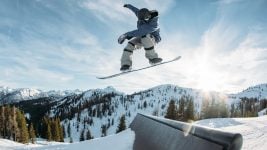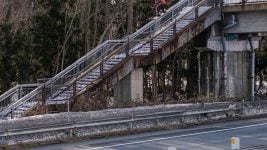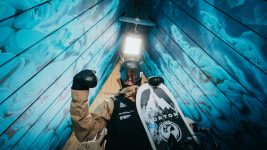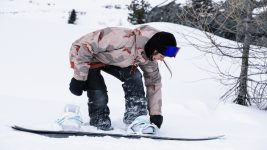 Snowboard Bindings 2022/23 Retail Buyer's Guide
No matter a rider's style, bindings are an essential interface that bring everything to life. No wonder veteran manufacturers and newcomers alike work relentlessly to develop new designs while also refining proven models. Ladies and gentlemen, welcome to the Snowboard Binding 2022/23 Retail Buyer's Guide.
For every brand, the search for the perfect interface serves as the foundation of its efforts. As Florian Lang at Nitro states: "Designing the 'ultimate interface' is the driving story of our binding program." Despite how challenging life on planet earth can be at the moment, brands continue to offer new designs and refined collections in order to be loyal to the retailers and the end consumers.
Whether discussing brick and mortar sales, ecommerce or sales through physical stores with an online portal, most brands believe it's all about finding the right balance and creating transparent relationships —while still placing a strong focus on retailers with a physical presence. George Kleckner states that "Brick and Mortar is the backbone of Union's business" and Lucien Vink at Flow asserts that "Brick & Mortar has been and will remain the cornerstone of snowboarding." Klecknercontinues, "We are delivering retailers' product on time, complete and they are making full margin on it. When we perform, they succeed."
Brands also emphasize the importance of keeping their fingers on the pulse of the industry and local retail. Baptiste Chaussignand at Salomon argues that in the midst of the pandemic, "being close to our local organizations and managing our business with a sweet dose of common sense, is the right way to go."
What's Up Folks?
On the battle field, brands are throwing down lots of major moves — from fuelling innovation tocontrolling all stages of a binding's production.
As an example of what brands have accomplished in these difficult times, Karakoram, a well-established splitboard binding provider, brought its first solid binding to the market this winter while also completing the first year in its new factory in North Bend, Washington. Revealing just what it takes these days to run a binding business profitably and sustainably, Karakoram's marketing director Kyle Hansenkhan comments, "getting quality bindings out the door in the face of adversity has forced us to take a lean approach to everything from our ordering processes to packing processes."
On another note, Kyosuke Ogata notes that winter 22/23, will be "FLUX's turning point. FLUX will return to the origin of manufacturing and propose to pursue the 'fun of snowboarding' for FLUX 30th anniversary."
Following others brands' recent binding developments, Nidecker is ready to introduce an all-new automatic binding, the SuperMatic. Lucien Vink reveals, "We're betting this will make Winter 22/23 a year of major disruption for snowboard bindings moving forward." Who said brands are keeping a low profile?
Brands are finding solutions, building new strategies, and investing in their vendors, but nevertheless, like Florian Lang at Nitro states, "the raw material and power shortages, as well as massive delays in shipping have caused the timelines to shift quite a bit this year, and will continue to impact our ordering/production and delivery timelines for 22/23."
Given the pandemic's impact on production, some brands are especially grateful for their business model and approach to operations. According to Kleckner, Union is experiencing "a constant evolution. Now more than ever we are happy to own and control our supply chain and manufacturing." Fix shares a similar sentiment, as the brand controls its own production facility and can lock in raw materials and produce components well in advance of when they are needed. This enables Fix to be nimble and react to whatever challenges may arise with the pandemic.
To Carry Over or not To Carry Over…
During the past two winters, brands began placing a greater emphasis on carryover offerings—especially models in black colourways and kid's products. Numerous players are claiming that this isthe way to go. Let's go around the globe to see what the brands are doing.
At Now, rider-owned brand from the Pacific Northwest, JF Pelchat explains, "Most black bindings are carried over from 22 and for a good reason, I think this is a win-win situation for everyone and it's more sustainable in the long run."
In Europe, Peter Bauer, another Big Wig and lifetime ripper, explains that for Amplid "the concept of 2-season carry-over models was already introduced in our range already one year before covid. It turned out to be a very positive thing for retailers as well as for brands."
The Japanese based brand Flux will have some carry over as well, as it is avoiding colour changes on entry price point models to mitigate sales risk and stock excess.
Some brands are placing an even greater emphasis on carry-over offerings. Rossignol, for instance, will carry over 80% of its collection while Flow and Nidecker will keep their carry-over strategy pretty similar for Winter 22/23 with 50% of their collections.
Then you can find the brands that keep on pushing things forward. SP has renewed or redesigned most of its models. Karakoram's focus for 22/23 is on expanding its line and Union will be offering a line that is 100% new with NO carry over.
Whatever their strategy is for winter 22/23, retailers have the opportunity to deliver excitement – and fulfil basic needs.
The Green Way or a Dirty Footprint?      
Despite all the recent challenges and the continual need to focus on keeping their head above the water, brands are taking greater action to reduce their footprint and rethink how they design, produce, ship, and sell their products. And while most brands admit that injecting plastic and producing waste is not the greenest way to handle their business, they are doing what they can to reduce their impact.Starting with raw materials, Now is working hard to make as many parts as possible from recycledplastic and also using material that can be recycled. And for quite some time now, Ride has been only using recycled aluminium for building its bindings.
On the product side of things, brands have been offering lifetime warranties on baseplates or even all components for many years. This focus on building durable products is part of the solution for reducing a brand's impact. As Flow's Lucien Vink mentioned, "Flow bindings are designed to stand the test of time, which in and of itself contributes to a certain level of sustainability. We all want to continue to ride pow for as many years to come and we try to do our part."
Then comes the packaging and shipping. Flux works with local suppliers to avoid shipping materialsback and forth across the planet. And the same goes for Union which now has a full year of production in its new "BOX" facility in Italy. Union has completely redesigned all its packaging. GeorgeKleckner explains, "This has allowed us to get 25% more product on a shipping container, as well as working with new FSC partners for any cardboard used."
Last but not least, Nidecker is a proud member of 1% for the Planet, and gives back 1% of its total sales directly to sustainability-oriented non-profits to fight against climate change.
All hail the binding industry! Keep the good work up!
Tech or Die.
"COVID-19 and the lockdowns gave us the breathing space to develop the best line of bindings we've ever made," says Now founder JF Pelchat. And based on all of the new models, components, technology, and refined offerings in the industry, this seems to also be the case for most brands.
Among those with game-changing innovation, Head is pushing its LYT (read "Light") weight materials which play a decisive role in their bindings. For Salomon, the brand asserts that its Shadow Fit technology remains the best way to connect your boots to your board.
While Ride claims "We are a two strap company!", SP has just always done bindings with comfortable rear-entry based on its very own FASTEC Patent and Flow claims to basically be the inventor and market-leader of the modern-day, easy-in and easy-out binding solution.
Are step-in bindings snowboarding's new Holy Grail? Burton's Step On bindings are the brand'sbiggest innovation in recent years, and the brand will continue to evolve this line over the coming seasons. We can also expect to see an increase in the number of other brands offering this pinnacle technology.
Clew, German-based binding brand, came up with its own system several seasons ago and K2 continues to put significant effort into its Clicker X HB collection.
Winter 22/23 will also see the landing of Nidecker's brand new SuperMatic, an automatic, universaland dual-entry binding, "that is so easy to use, and that will feel both revolutionary and yet satisfyingly familiar at the same time," explains Lucien Vink. "We firmly believe that Matic Series bindings are the future of snowboarding."
Word is out that Drake is also working on its own system with Northwave boots, which they are continuing to test this winter. More news on this as it develops.
No Pop, No Style?
For binding brands, black, white, grey and earth tones are the most popular colourways. Flow goes safe with tonal offerings but it also creates some poppy colourways and models with stronger visual graphics. Rossignol stays dark or uses black colourway. It also offers transparent design elementswhere a fabric allows it and has colour pops on cushion areas. Head uses simple colour themes – like black, white, and brown – to match a wide range of boots, boards, and clothing.
According to Ride, there's no need to reinvent the black colourway, the brand continues to offer black, gender-neutral bindings in sizes small, medium, and large. And it's the same for SP, as the brand focuses on durability, function, and performance rather than make up.
On the other hand, Flux will offer a 30th anniversary colourway for every model as a team colour. And Drake will celebrate legendary rider Gumby's 50th birthday with a dedicated graphic by his good pal Pentagram Pizza.
Price War.
Thanks to full control by owned factories or same suppliers/vendors since many years, brands managed to keep a low profile the last two years but the situation is morphing fast. Currency exchange rates, raw materials, and transportation and logistic expenses, have, forced brands to add a few bucks to their price lists. Union's positioning is clear. As Kleckner explains, "Our goals are to focus on offering the best product on the market at each price point. It's doubtful prices are ever going down in snowboarding. I think it's the same for all brands." And while prices continue to increase for consumers, some brands are trying to insulate them from drastic changes. SP, for example, believesthat "we need to support snowboarding and this means take a hit if needed". Despite all these challenges, Rome – a brand preparing for its 20th anniversary collection—reminds us that "The positive outlook continues as the market's appetite remains strong. " says Matt Stillman.
This lays the stage for retailers to carefully examine what their customers truly need and then work diligently to get these products to them. And a great opportunity to do this can be found at the B2B on-snow demos, whether Shop1st Try in Austria or Winter Pro #1 in France, where retailers can test, touch and feel next winter's bindings.
And despite all of the challenges the world has encountered during the past two years, Lucien Vink at Flow provides a much needed sense of optimism, "All we can hope for now is lots of snow, good conditions and weather, and for COVID to lay low so we can all feel the stoke of being in the mountains again". Strap in!
P.S.: For those who made it through this "binding science analysis", I want to dedicate these words to Marko 'Grilo' Grilc, who left us just days ago as we were writing this piece. Grilo was a positive and communicative high-energy character, who dedicated his life to the snowboard community, landed some major video parts, outstanding contest appearances and shared an unforgettable smile and laugh no matter what was up and what would go down. He did so much to support snowboarding as a whole and to share his passion. Rest easy Grilo. Much love.