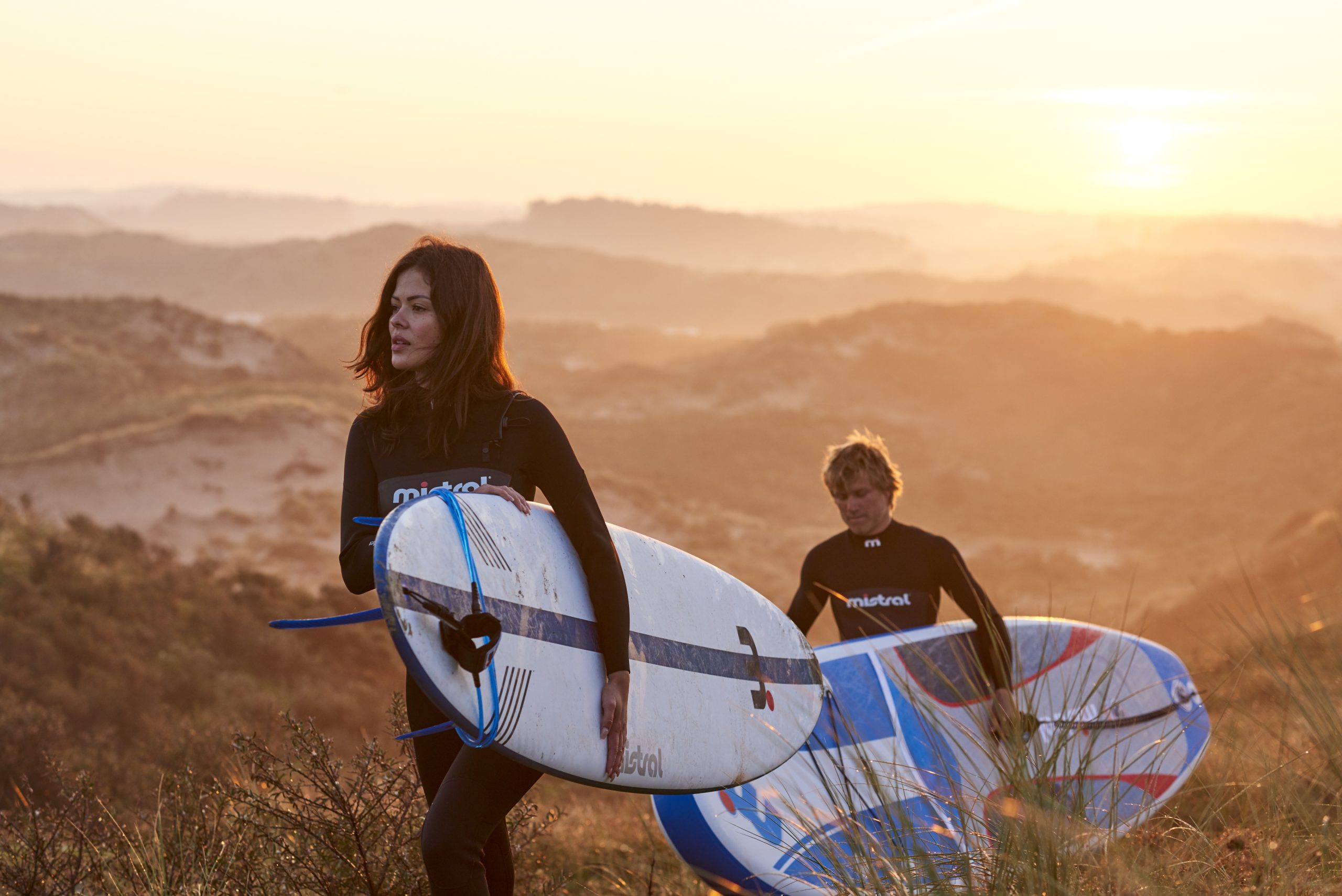 Mistral 2023 S/S SUP Preview
Retail Buyers Guide: SUP S/S 2023 Retail Buyer's Guide
Brand: Mistral
Interviewee: Steve West, Management Consultancy
Many SUP brands expected a comeback to a more rational market in 2022, with a moderate and sound growth. How did things play out eventually?
It's no secret that rising inflation in the cost of living across Europe has led to reduced disposable income. Post covid, the war in Ukraine and increased energy prices have all compacted the situation. We were well ahead on our deliveries with most SUP products for 2022, which was a positive, though the turn-over on SUP products was slower than the previous year during 2021. As it stands, there's pressure to raise prices on goods and freight to maintain profitable margins. 2021 was undoubtedly a bounce-back year post covid for SUP and other water sports. 2022, by comparison, would make you believe SUP has finally reached saturation point. In truth, it's a combination of factors, including late deliveries for many brands that missed out on spring sales. There's growing interest in free-surfing amongst the SUP segment in addition to wing-foiling reinforcing a maturation process of SUP in end-users morphing interests towards other board sports.
Will you attend Paddle Sports Show in Lyon? Do you think trade shows remain a place where things happen, after a couple years of (quite successful) Zooms & virtual showrooms?
You could ask the same question of distributor meetings, which have become redundant to some degree. It costs everyone something to attend. Because online sales have hugely affected the vertical chain of sales, trade shows may cater to an ever-shrinking number of distributors and retailers. Most brands continue to develop their B2C channels where feasible to cut the fat off retail prices, increase margins or reduce logistics of dealing with distributors or retailers. 'Show and Tell' technology makes for personable, one-on-one sales communication if managed well. Of course, there's no substitute for seeing products up close and personal; ironically, shows are ideal venues for plagiarising ideas and always interest design teams and sales personnel to relay new developments and ideas back to HQ. If you can land one solid contact leading to bigger things, attendance is more than covered. On the other hand, public viewing shows are a different type of offering, where the public can interact face to face with a brand and its products, which is a very positive benefit. Probably not is the answer.
What is your strategy to ensure the SS23 products will end up in stores early in the '23 season?
Mistral has new enthusiastic owners at the helm, which came about early in the new year. Developing unique designs and rethinking Mistral's image through its graphics became a very early consideration as has the business model. We've been busy working on early sampling, testing, product shots and catalogue creation to ensure buyers have all the tools at their disposal to make an early commitment, which in turn allows us to forecast our buying with our factories so that we can take delivery of stock well in time for spring 2023. There remains a disconnect between schools and hire outlets, who traditionally end their season in September; take time off, check their POL situation and consider what replacement items they need for the new season. Realistically, if factories do not have your order by the latest, end of September, you will receive the product in late May or early June. Ironically, there is a silver lining in switching to a B2C sales strategy in that the public, for the most part, waits until the weather shows signs of warming up significantly, which means June onwards for the most part in Europe.
In 2022, the majority of SUP brands did cope with the increased costs of material/shipping, not reflected (that much) of the MSRPs. What about the 2023 models?
We had no choice but to raise our prices nominally for 2023 to cover increases in materials and shipping. Costs seemed to have stabilised for the moment, but this can all change concerning how the factories are influenced and affected by their inflationary rises, notwithstanding transit prices which we will not know until it comes time to ship as far away as six and eight months. We always aim for high quality at an affordable price, but as we know, Mistral has never claimed to be the cheapest brand; we like to think we are 'reassuringly expense' enough to back up the quality of manufacture, design and service. We're a legacy brand, not a recent start-up.
Please forgive the recurrent question: Beyond the all-around supremacy, any noticeable movement to report in the other categories (touring, SUP surfing, race, river, foiling…)?
We tried niche board designs back in 2018 for yoga, river, race, touring, and yachting, and while the American market was ready for it, the European market was less mature at that time; accepting SUP yoga and pilates. I recently sailed along part of the Cornish coastline, stopping at key yachting mooring destinations. At least a third of yachts had SUP boards, mostly 10'6 x 34″. We call this a 'mooring toy' for pleasure or ship to shore when taking the inflatable boat is unnecessary. Niches exist, and careful attention to design details for these niches is essential. For example, if you want to sell to the yachting fraternity, design the board accordingly to their needs and advertise it in a yachting magazine; for river touring, an outdoor magazine a so on. The industry has been poor at targeting specific markets outside a minimal marketing window of thought ie within SUP magazines and sites. Wing foiling is our current push, and we're reluctant to over-capitalise inflatable SUP development until we see how things progress. It remains a recreation, not a sport, and will remain a key design limiter. 
Inflatables: Which new technologies & models are you implementing in 2021?
We're sticking with our current drop stitch material for 2023 as it's proven it's worth. We believe there's a point where further development and cost would over-shoot the market. End-users in a recreational context can only be expected to buy up to a certain level of technology before the return on their investment exceeds their needs. The devil remains in the detail. Concerning new models, there's a need to address users who want to use a wing sail on a board without foil. For learning, a stable board is an excellent platform from which to learn, with the addition of side-bite fins. Some users may gravitate to wing foiling; some are just as happy with the board and wing option. We've therefore added boards capable of being wing surfed rather than wing foiled.
Hardboards: Which new technologies & models are you implementing in 2021?
No groundbreaking laminations or construction, but a few boards are being given the same treatment as the inflatables in having side bite fins for play with a wing sail. We have a new touring board called 'The Traveller' which is not surprising given the interest in this fast-moving, stable board style.
When it comes to the order forms, do you have any piece of advice for retailers? (quantities, categories, inflatable to hardboard ratio, restocking schedule…)
Established retailers will already know their customer demographic and in line with this, the local water environment closest to their doorstep. These all dictate your clientele needs to some degree; if you're near a lake, river, estuary, or surf beach. While inflatables remain the biggest sellers, it's often down to small space retailers not having the room to display a perfectly sound alternative hardboard design. Hardboards are better performing, yet inflatables constantly take centre stage. Sales staff are often poorly versed in selling hardboards, having been bombarded with the positives of the inflatable. If stores have the room, offering hardboards by a one to two-thirds ratio seems attainable. Early spring, early summer and mid-summer are typical restocking schedules; they should consider next season's needs by mid-summer based on trends.
Key Products
Our new 10'5 x 32" x 4.75" inflatable Sunburst is modelled on our highly successful Sunburst rigid board and features twin mounted side bites placed well forward for wing-surfing capability. Step back pad, cargo net, bow scuff pad, towing rings and handles placed for ease of handling on shore and when remounting from the water. 
An inflatable wing foil board 6'6 x 32" x 6" with carbon US Box plate, offers the ideal learning and travelling design option that can also be SUP foiled. Features, surf styled foot straps for ease of foot entry and exit, carry handle, leash ring and bow scuff pad and towing ring
Super fun board for the smaller rider, 9'6 x 30" x 4.75". Ride a wave, recreation paddling, or wing surf assisted by twin mounted side bites placed well forward for maximum efficiency. Step back pad, cargo net, 3 handles, bow scuff pad, front and rear towing rings and leash ring a highly versatile board.