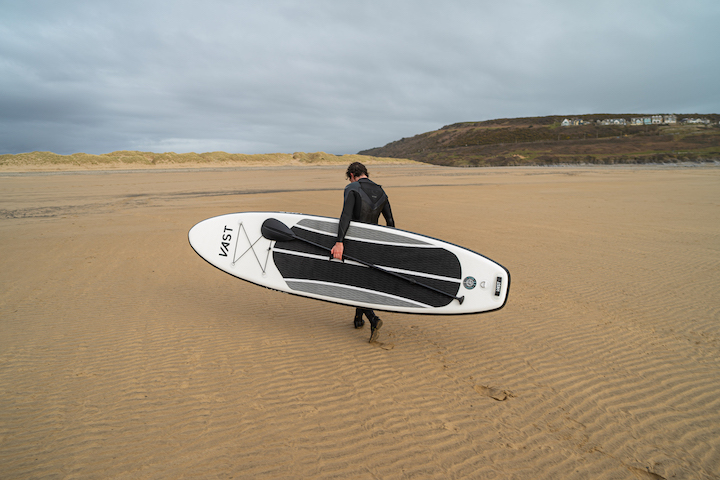 VAST 2023 SUP S/S Preview
Retail Buyers Guide: SUP S/S 2023 Retail Buyer's Guide
Brand: VAST
Interviewee: Tom Lazarus, Sales Ops Manager
Many SUP brands expected a comeback to a more rational market in 2022, with a moderate and sound growth. How did things play out eventually?
We actually thrived this year as a newer brand to the mid-price point market with record sales. Our growth was actually steady against last year and has led to further developments planned for next year. 
Will you attend Paddle Sports Show in Lyon? Do you think trade shows remain a place where things happen, after a couple years of (quite successful) Zooms & virtual showrooms?
We will attend but not to show. Its always good to network with other brands but we always put a premium on visiting our customers at their place of work so that they feel as comfortable as possible.
What is your strategy to ensure the SS23 products will end up in stores early in the '23 season?
We stock boards year round for our Global markets and are more than willing to sit on stock in our South Wales warehouse so stock issues don't ever really exist. We plan clearly with our customers the delivery dates they require and have not missed one yet.
In 2022, the majority of SUP brands did cope with the increased costs of material/shipping, not reflected (that much) of the MSRPs. What about the 2023 models?
We have not increased our MSRPs for two years and have no plans to do so for 2023. Margins have become exceptionally tight, but whereas a lot of brands are passing this on to the retailers, we are absorbing the hit for now to ensure great relationships and stronger growth with our resellers.
Please forgive the recurrent question: Beyond the all-around supremacy, any noticeable movement to report in the other categories (touring, SUP surfing, race, river, foiling…)?
Slight increase in touring sales where the boom of beginners from 2020 are looking for smaller touring board options now as their advancement in the sport. Ideal size looks to be around the 11'6 length, so keeping towards the lower end of touring boards. 
Inflatables: Which new technologies & models are you implementing in 2023?
For 2023, we have looked to focus down on details with in the construction of the board to ensure it is lighter than ever before without losing any of its strength and rigidity. We have also pushed our technology into a drop stitch inflatable kayak that will be released early 2023.
When it comes to the order forms, do you have any piece of advice for retailers? (quantities, categories, inflatable to hardboard ratio, restocking schedule…)
Really consider which brands work for you and will actually work to help you. A number of brands have over-stretched the retailer base this year by demanding that they stick to their pre-orders, leading to a number of stores still heavily overstocked this late in summer. VAST worked with our retailers to ensure that they only received the stock they really needed and happily sat on the remaining stock to take the pressure off our resellers. 
Key Products:
10'6 Aurora  Charcoal
VAST Boardsports is a family. A family created through the desire to produce the best possible iSUP we can, at a fair and approachable price point. Our aim is to ensure that we can encourage as many people as possible to enjoy the water in a safe manner. Which is what led to the design of our bestselling iSUP Package, the VAST Aurora 10'6″, offering fantastic versatility and unrivalled quality for a package at an affordable pricepoint. Constructed with industry leading Thermo-Fused Double skin PVC, the Aurora is one of the lightest, yet most stable boards available.
11'6 Flare  Black White Red
A shorted thermo dual-fused sports tourer allows advancing paddlers to develop into a touring board without the big jump to the large shapes. This sleak and elegant design works through the water with ease, whilst providing the stability expected of a VAST iSUP.
8'6 Astro Aqua
At VAST, we want to make sure that iSUP and the Paddleboarding lifestyle is open and safe for all. Which is why we have developed a lighter, kids size package that has all the technology and accessories of the more expensive adult sets. For us, there is zero room for compromise on the safety of anyone on the water, so the VAST Astro is designed to be the ultimate in junior iSUP packages.