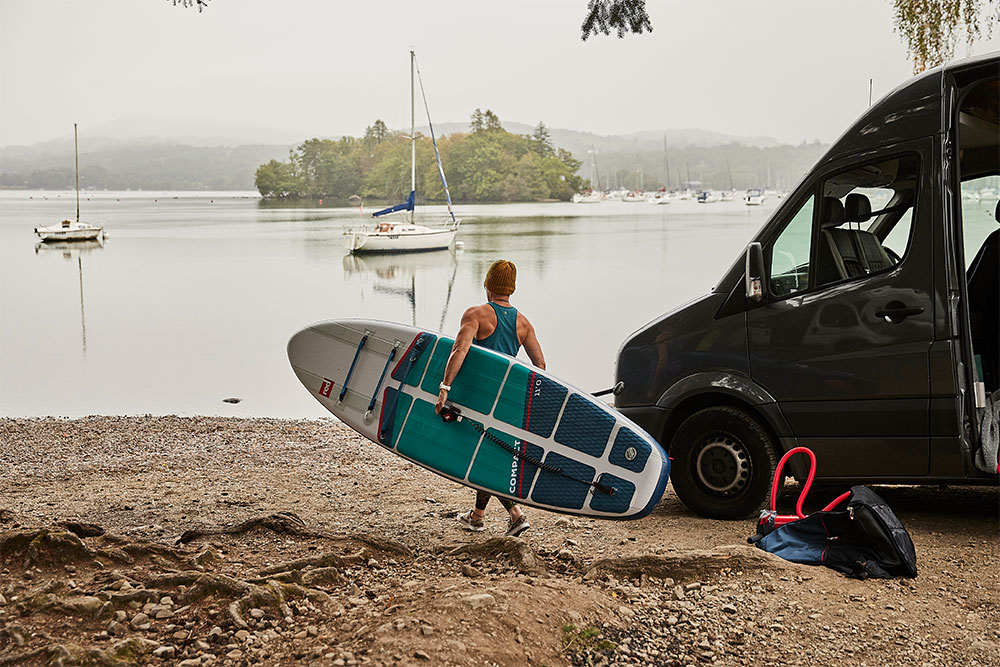 Red Paddle 2023 S/S SUP Preview
Retail Buyers Guide: SUP S/S 2023 Retail Buyer's Guide
Brand: Red Paddle Co
Interviewee: John Hibbard, CEO
Many SUP brands expected a comeback to a more rational market in 2022, with a moderate and sound growth. How did things play out eventually?
We had a good season and yes consumers have returned to buying products in season as opposed to a rainy Wednesday in any given month. We prefer that it has gone back to normal as this is what we are used to.
Will you attend Paddle Sports Show in Lyon? Do you think trade shows remain a place where things happen, after a couple years of (quite successful) Zooms & virtual showrooms?
We are not attending this year. We tend to operate on a biannual basis with shows.
What is your strategy to ensure the SS23 products will end up in stores early in the '23 season?
We have been able to keep a good consistent supply of products coming through to our retailers and do not anticipate any delays going forward.
In 2022, the majority of SUP brands did cope with the increased costs of material/shipping, not reflected (that much) of the MSRPs. What about the 2023 models?
We absorbed most of the increases during '22. These were mostly transport costs and not material costs. Things are slowly getting back to normal levels, so we don't anticipate needing to adjust pricing for this. We are keeping a keen eye on exchange rates as this can have a big impact.

Please forgive the recurrent question: Beyond the all-around supremacy, any noticeable movement to report in the other categories (touring, SUP surfing, race, river, foiling…)?
Touring and just general upgrading to high quality products that offer value for money is a consistent trend for us. SUP has a huge addressable market, so we don't feel the need to move away from our core business. People come to us either at the start of their SUP Journey or once they decide it is the sport for them. We are seeing customer lifetime value climb higher and higher each year as our customers become more committed and passionate about paddling and align themselves with the Red brand.
Inflatables: Which new technologies & models are you implementing in 2023?
We are seeing continual growth in our most premium segment. Our Compact and Voyager ranges are very popular.
When it comes to the order forms, do you have any piece of advice for retailers? (quantities, categories, inflatable to hardboard ratio, restocking schedule…)
With a huge range of pricing, we always encourage retailers to focus on their USPs and the USPs of the brands they stock. We ask them to think about why a customer comes to shop with them. In terms of SUP, it often comes down to their knowledge, experience, and location. You can't win if you are offering the same as everyone else and you almost certainly can't win any price battles, so we encourage retailers to think about quality and value for money and to make sure their instore merchandising reflects this. When it comes to ordering we encourage a full season view. As a rule, our Wholesale teams are not pushing retailers to take lots of stock in single drops. We would rather they focus on selling through and taking multiple drops through the season. We are here for a long time not a quick win so are focussed on building long term business with retailers who have a similar vision.
Key Products:
1 11'0″ COMPACT MSL PACT INFLATABLE PADDLE BOARD PACKAGE: A patented compact board design that allows for easy travel and storage, without compromising performance: An ideal stable touring board which is ultra compact and easy to transport, the 11'0" Compact paddle board has a weight capacity of 110kg/243lbs. The 32″ width and narrow nose profile allows the board to cut through the water, whilst still giving enough stability for a range of conditions.
12'0″ VOYAGER MSL INFLATABLE PADDLE BOARD PACKAGE:
Designed for lighter or more experienced riders who are looking for a board with more speed and agility.
The 12'0″ Voyager MSL has been designed with a petite paddler or more experienced paddler in mind. It still packs plenty of volume allowing you to carry more kit for your adventures.
10'6″ RIDE PURPLE MSL INFLATABLE PADDLE BOARD PACKAGE:
The ultimate award-winning all-round board in a special edition purple colour, perfect for every type of rider. An inflatable paddle board that will see you right in all conditions. Red Paddle Co's multi-award-winning 10'6" Ride MSL is our most popular board available in two colours, our special edition purple or classic blue. Designed for versatility, whether leisurely paddling or going out into the surf.